It's time to explore Thailand's crazy capital and discover the 3 best hostels in Bangkok. This is your perfect list and starter kit for your hostels travels and South East Asia adventure.
Believe us when we say that this vibrant city has stunning hostels that offer something for solo travellers, groups and couples alike. There's actually something for every kind of traveller here!
The streets of Bangkok can get a little overwhelming, so it's important to have a safe, friendly and comfortable hostel to return to at the end of the day.
Take that in combination of more than 530 hostels in Bangkok – and you are freakin' overwhelmed for sure.
We've worked hard to create this list of the absolute top Bangkok hostels.
Your shortcut:
We did the leg work for you, so you can spend your time otherwise like training your taste buds for spicy food…
This guide is perfect for those that are:
tired of bad hostels
overwhelmed by the hostels choice anyways
happy to spend 1-2€ for an improved experience
worried about cleanliness
This is your absolute ultimate guide to hosteling in Bangkok.
We cover EVERYTHING from the basics, to the 3 coolest hostels in Bangkok, to scams, and even a map with all major sights.
Basically, this guide is what we would have loved when we were first-timers visiting Bangkok.
It's time to get excited about:
If you're not sure about Bangkok but want to discover more of Asia; we have plenty of hostel reviews and 5 star hostels in Asia for you to check out.
Besides the coolest places to stay, here's our guide to 23 fun Things to do in Bangkok.
Quick Introduction to Bangkok Hostels
Average price for a bed: A bed in a dorm can be as cheap as 6€ – 15€ per night. You see, Bangkok Hostels are really affordable. This is a rough average to give you an idea. Prices always depend on season and holidays.
Please always check exact rates on Hostelworld.com or Booking.com.
Check-In and Check Out: The average check-in time is from 15:00 (3pm), while the Check Out time is before 11:00 (11am). Hostels usually offer luggage storage in case you arrive earlier or leave later. Make sure you check if luggage storage is free or if there is an extra cost.
Scams: In Thailand and Bangkok you will have the typical taxi-driver scam: your hotel is full/ closed/ doesn't exist. Do not fall for it. It is a common traveller scam to bring you to a different hostel or hotel and charge you more; plus the cab driver gets a cut from your payment. Do not fall for it!
Thai Beds vs Western Beds: in Thailand you will find many hostels, hotels and resorts offering rooms with the so-called Thai-mattress. The Thai mattress is seriously hard and in the beginning it feels like sleeping on a rock.
If you want cozy mattresses, keep an eye for hostels with western-style mattresses.
Leave your shoes outside: In Thai Culture shoes have to remain outside. This goes for accommodations as well as many shops, temples, and other places too.
We seriously enjoyed this, because it makes the place automatically cleaner, and it gives you a feeling of home. Just be aware that is a thing.
Quality of hostels in Bangkok: A couple of the most stunning Hostels in the world are home in Bangkok. The quality here is insanely high. There is more than 530 hostels in Bangkok. And more than 140 have a higher rating than 9/10 stars.
Airport transfer: The taxi drivers tend to give you a higher price on the airport. Consider booking a hassle free airport transfer to/from Suvarnabhumi. We always do this.
New to Hostels? Read our full hostel starter guide here. We especially recommend to read:
3 Awesome Hostels in Bangkok
Let's speed things up to the pace of Bangkok city and get straight to it.
The 3 greatest hostels in Bangkok are…
Once Again Hostel – best hostel for digital nomads
Yim Huai Khwang Hostel – great for female solo travellers
Barn & Bed Hostel – top choice for solo travellers
1. Once Again Hostel (clean, safe + private)
Our absolute best hostel Bangkok is this one: ONCE AGAIN HOSTEL!
If you're seeking an authentic Thai local experience, look no further. Once Again Hostel is in the heart of local Bangkok communities.
Once Again has the best location of all the recommended places on that list.
You know you've hit the jackpot when the building design is as beautiful as this one.
Step through the doors and you're welcomed by smiling staff, spacious social spaces and incredibly cosy rooms.
We'd say this is possibly the best backpacker hostel in Bangkok!
Compare prices and read reviews at: Booking.com | Hostelworld
The wide capsule beds and sturdy bunk frames may have you giggling with joy.
Opt for a 6-bed dorm (female only available) if you like your privacy, and a 12-bed if you're looking to socialise.
Tip: book the 8-bed superior dorm for amazing temple views.
By now you've surely had a sneaky peek at the photos. Did you spot the awesome rooftop?!
Not only that, but you can happily relax and enjoy a coffee in the in-house cafe and restaurant.
What's great is the restaurant has been designed with guests in mind.
There's no pressure to buy – just find a spot and chill out if you wish.
Read: 46 Things that tell you: this hostel is gonna to be awesome!
Other perks:
Free breakfast
Bike rental + tours
Pool table + world sharing map
Free water, coffee + tea
Book exchange
For those that appreciate some serious downtime, you will be happy to hear there is an obligatory TV room.
Everyday activities are arranged to help bring people together. Ask the staff what's happening whilst you're around.
Once Again Hostel is a top choice for:

Digital Nomads
Backpackers
Compare prices and read reviews at: Booking.com | Hostelworld
2. Yim Huai Khwang Hostel (modern, clean design hostel)
Let's kick start with a funky design hostel that's the perfect place to relax; Yim Huai Khwang Hostel.
Yim means "smile" in Thai and no doubt there'll be one plastered on your face during your stay at the only 5 star hostel in Bangkok.
The motto here is 'your friends in Bangkok' and it's the staff that really brings the words to life. They're at hand 24/7 to help!
Did you already see the striking photographs?
Not only are there two large common areas and an outdoor balcony, but they're beautifully designed too.
Read: 25 Beautiful Hostels through the Instagram filter
Compare prices and read reviews at: Booking.com | Hostelworld
To kick start the relaxing process; let's have a look at the rooms. Choose from:
4-bed (female) + 6-bed mixed dorms
Twin bed w/ balcony
Double private w/ balcony
Double private w/ garden
To top it off all rooms have their very own en-suite and the dorms have cosy POD style beds.
Alongside comfortable mattresses, there is a lovely little ledge next to the bed which is perfect for storing smaller items.
This is certainly a super duper clean hostel which the ladies out there will appreciate.
Check out these little extras that go a long way:
Free luggage storage for up to two months!
Security key card access
Free shampoo + shower gel
Breakfast included
Wonderful nightlife is just a 3 minute walk and the closest MRT is a mere 50 metres away.
Yim Huai Khwang is the best hostel in Bangkok for:
Female solo travellers
Couples
Compare prices and read reviews at: Booking.com | Hostelworld
3. Barn & Bed Hostel (large dorms, great staff)
Prepare as you're about to step foot into a giant wooden barn decorated with hanging plants and minimalist decor. Let's introduce Barn & Bed Hostel.
This is a great option for those looking to enjoy Bangkok's urban lifestyle from dawn until dusk.
Easily done when you're just steps away from the main BTS station, restaurants and street food vendors.
Compare prices and read reviews at: Booking.com | Hostelworld
At this hostel, affordable shared rooms get priority. There are in fact no private rooms here.
A lot of effort has gone into the unique design of the 4, 5 and 10-bed dorms and each includes:
Cosy wooden bunk w/ curtain
Personal reading light
USB charger + power socket
Linen + towel
Lockers
Tip: opt for the 4-bed and enjoy a barn-style pod bed for added privacy and cosiness.
Although there aren't many social spaces, there is a lovely garden and a small common room to enjoy.
If you're a keen cook; there is a kitchen available. This is where you'll find the free breakfast every morning, too.
Read: 7 Types of Hostels – Boutique, Party, 5 Star + more
The staff gets constant mention on their helpful, friendly personalities so make sure test their local knowledge.
Barn & Bed Hostel is the coolest Bangkok hostel for:
Compare prices and read reviews at: Booking.com | Hostelworld
Other Amazing Hostels in Bangkok
Alright, alright, we have already covered the most epic Bangkok hostels. We think you will love these already.
However, this list would not be complete without the following budget accommodations. There's more really good hostels in Bangkok.
You can imagine with more than 140 hostels having a rating of 9/10 and more, there has to be some unique hostels in Bangkok for sure.
What if we tell you there is more gorgeous hostels in Bangkok with following amenities:
Swimmin gpool
Jacuzzi
Playstation 4
Cinema
Slide
Billiard Table
Terrace with a river view
So, here you go.
4. Here Hostel (swimming Pool and slide)
When was the last time you saw an actual slide inside a hostel?
Well, here you go: HERE Hostel comes with an in-house slide and swimming pool.
It does not stop there. They also have a big garden, perfect for games and hang out.
Here Hostel is a fantastic hostel for solo-travellers, especially backpackers. It is not only a good hostel in Bangkok, but a fun one!
Compare prices and read reviews at: Booking.com | Hostelworld
5. Sleep Owl Hostel (walking distance to Don Muang International Airport)
In case you need to catch a super early flight from Don Muang International Airport, you can stay in a cool hostel.
Sleep Owl Hostel is just in walking distance. It takes you around 8 minutes to get to the Airport.
It is an easy-going, beautiful place, designed to hang-out, relax, and obviously get to the airport super easy.
If you are about to explore Bangkok city center, it might not be the best choice though.
Yet again, for arriving late to Bangkok or for catching an early flight, Sleep Owl is perfect.
Good to know: The beds in the dorms come with curtains. However, these curtains are a bit transparent. A bit annoying in our opinion.
Compare prices and read reviews at: Booking.com | Hostelworld
6. The Posh Phayathai (billiards and Jacuzzi)
We cannot call this an epic guide to the coolest hostels in Bangkok without The Posh Phayathai.
If you are into Jacuzzi and billiard pool, this is your place. I am more a fan of foosball, but billiard is super fun too, right?!
Compare prices and read reviews at: Booking.com | Hostelworld
7. Hostel Urby (Terrace with river view)
Hostel Urby is more a family-friendly hostel, so it is perfect to unwind.
The top spot to do so is the terrace with the river view.
8. The Cocoon Hostel (Cinema + Work Space)
Let's continue this journey of super cool hostels in Bangkok with a cinema.
The Cocoon Hostel has a cute and neat cinema. It is great to watch a few episodes of games of Thrones or the classic "The Hangover" movie playing Bangkok.
After all, your need some inspiration for the night out.
The Cocoon Hostel is also the best accommodation choice for digital nomads.
They have a community table with lots of space. Many digital nomads stay here and get some work done at these tables.
Compare prices and read reviews at: Booking | Hostelworld
9. Holy Sheet Hostel (with Playstation 4)
A cute, little hostel with a big heart and lots of activities. In their own words they claim to be the "best hostel in Bangkok for solo travellers"!
Holy Sheet Hostel is one of the hostels with a playstation 4 and plenty of games to play.
Now, obviously we recommend you to get out there and explore the city. Yet, it is not a race, and playstation can be fun; we get it.
Another super cool thing about Holy Sheet Hostels (besides the fun hostel name…) is their "pool parties".
While Holy Sheet Hostel does not have an own swimming pool, they team up with other hotels and bring their guests there for an epic pool party. Super cool!
Check their black board and ask the staff, so you won't miss it.
On that note: You should obviously pack your bikini and swim suit when travelling to Thailand!
Fun Fact: the dorm names here are super fun. If you feel adventurous, go for the "The Holy Orgy" Room. No worries, it's nothing weird, just a fun name.
Compare prices and read reviews at: Booking.com | Hostelworld
10. Heyyyy Bangkok – The Boutique Hostels in Bangkok
Another hostel right from the category "are you freakin' kidding me?" – hostel.
Yes, that bad boy is another one of the epic boutique hostels in Bangkok out there.
Heyyyy Bangkok a perfect hostel as well for families. It is a quiet, easy-going hostel in style.
The breakfast here is included. Yet, as in most hostels, very basic.
Compare prices and read reviews at: Booking.com | Hostelworld
Best Hostels in Bangkok for Solo Travellers
It was quite easy to find suitable hostels in Bangkok for solo travellers.
Perhaps you're in search of the cool hostels to meet people Bangkok?
Don't worry, we realise the term 'solo traveller' can mean many things. This is why we've chosen a few great options for you.
As already mentioned, Holy Sheet Hostel is a wonderful choice for both male and female solo travellers.
Barn & Bed Hostel is a top choice for the solo traveller that seeks some privacy and downtime.
For an all-rounder choice which is ideal for solo travelling women and men that love cleanliness; opt for The Cube Hostel.
This hostel has cube-style beds so the privacy is there if you need it.
When you want some company, head on down to the common area and mingle.
Compare prices and read reviews at: Booking.com | Hostelworld
Looking for a home-like place that's sociable and friendly? Solo travellers will love Udee Bangkok.
The staff here is highly rated for their off-the-beaten-track knowledge and for creating a real go-with-the-flow atmosphere.
As there are no curtains on the beds, it's easier to get chatting to your new room mates.
Compare prices and read reviews at: Booking.com | Hostelworld
If you are looking for something between a quiet place and a party hostel, then go with Holy Sheet Hostel. It is a great place to mingle, to join activities and relax at the same time.
Both female and male solo travelers love to stay here.
Remember, they even organize pool parties outside the hostel.
Best Guesthouse in Bangkok
If you are looking for a guesthouse and not a hostel, we have also you covered.
Bed and Bike is a genuine accomodation and one of the most loved places to stay in Bangkok for many backpackers while visiting the capital city.
With its unique vibe and cool design, it is a great place to meet other travelers, as they do also have common areas.
We have to say, the diffrence between guesthouse and hostel in Thailand is basically the type of licence the accommodation gets. You can find many guesthouses with dorms, as well as some hostels with only private rooms… We know, it is a bit confusing. But as William Shakespeare says
A rose by another name would smell as sweet
There is just a factor you should pay attention on: the social vibes. Some guesthouses could be also as crazy as a party hostel. Or have no vibes at all.
If you are looking for a cute, well-design guesthouse, where you can meet other travelers and join activities, Bed and Bike is your place.
Compare prices and read reviews at: Booking.com | Hostelworld
Best Hostels in Bangkok for Groups?
For those travelling as a small group, it can sometimes be tricky finding a hostel that will host you.
In general, larger hostels are more than happy to accept groups because they have a lot more room and are less affected by last minute cancellations.
After searching high and low we found The Yard Hostel which is great for groups.
There are 6-bed mixed and female dorms – great for any type of travelling group.
Occasional events are arranged and it's situated close-by to restaurants, street good vendors and sky train stations.
Compare prices and read reviews at: Booking.com | Hostelworld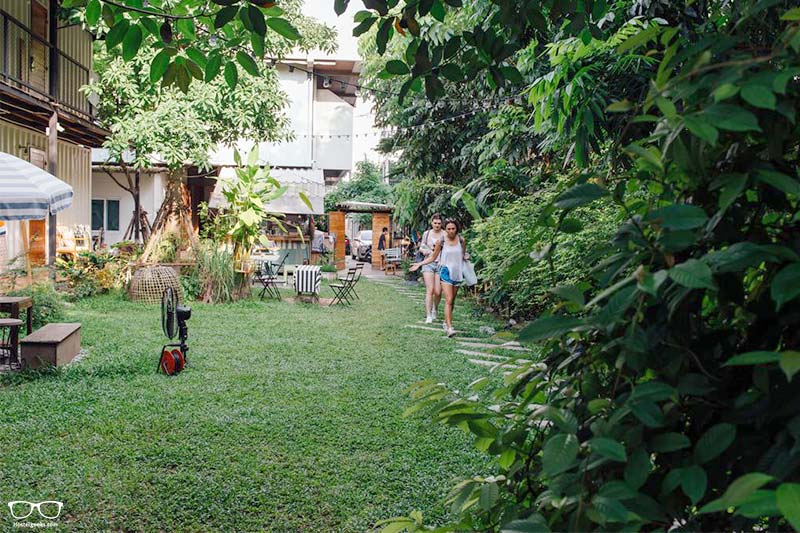 Party Hostels in Bangkok
Alright, so you want to party hard in Bangkok? Well, you have come to the right place. There is quite a few epic party hostels in Bangkok.
And obviously you should not miss ping-pong shows and the Khao San Road.
The coolest fun party hostels in Bangkok are:
Go ahead and press the play button. A super cool video giving you an idea what to expect from Mad Monkey Backpackers.
Cheapest Hostels in Bangkok
Of course, there are always cheap hostels. And certainly there is cheaper hostels than the ones we listed here.
We think, it's not worth it to go with the cheapest hostel out in the Thai capital.
Why?
The difference is usually 1-2€ ($1-2) per night, and a lot of amenities are not included. This can be breakfast or linen. Although, keep in mind a bad location far away from the city center costs you more in transport.
Good to know: The difference in quality for 1€-2€ more (or less) is actually insane. Paying 1€ less per night in a cheap hostel in Bangkok could easy come with cockroaches, dodgy location, unclean sheets, etc.
Rule of Thumb: Never go with the cheapest hostels in South East Asia. Always pay a tiny bit more, and you won't have any issues with bed bugs or anything.
However, if you are traveling on a shoe-string budget and you wanna save every penny, there are ways to find the cheapest places to stay in Bangkok.
Open Hostelworld with full list of accommodations in Bangkok
Order the listing by price
Here you go. It is simple. Yet again, we recommend to "invest" 1-2€ more per night. That goes a long way and you will feel and see the difference in hostel quality.
Any Discounts?
Currently, we have no special hostel discounts in Bangkok, Thailand.
You can subscribe to our newsletter to receive our newest hostel discounts always to your inbox.
We do also have a 35€ discount for Airbnb here.
Map of Bangkok Hostels and TOP Sights
The next step is to find your chosen hostel on a map so planning can commence. We've already done it for you!
There's so much to see and do in this eclectic city. Here are the top sights put on the map:
Khaosan Road
Wat Arun
Temple of the Emerald Buddha
Chatuchak Weekend Market
Asiatique The Riverfront
Lumphini Park
Again, there is so much to do in Bangkok! Here is a list of excursions we think you'll love during your visit:
Top tip: Avoid hassle to/from Suvarnabhumi airport and book a private airport transfer.
Flights to Bangkok
When you are starting your Thailand adventure, Bangkok will be most likely your starting point. There is many cheap flights directly to Bangkok.
We enjoy Kiwi.com to find cheap flights at all times across the world, including Bangkok, Kuala Lumpur and others.
Kiwi is a new website with super cool features like the so-called radius search. Again, just draw a circle over Thailand or Asia and find the cheapest rates for the area.
Here is our full review of Kiwi.
More Epic Hostels in Asia
Alright alright. By now you have found your coolest Bangkok hostel, and the top hostels in Thailand.
You know what, we have written even more guides for you.
We at Hostelgeeks are here to help you to stay in safe and epic hostels around the world. Check out the finest hostels in the world, the 5 Star Hostels.
For more cool hostel guides around Thailand, check out:
We also have more hostel guides around Asia:
How about great 5 Star Hostels? Check out these beauties:
Find all our hostel guides around the world here.
Over to you
By now you're more aware of the awesome hostels in Bangkok. It's going to be hard to choose, that's for sure!
Do you have any questions, doubts?
Then please please leave us a comment. This list should be as informative and useful as possible.
Your question(s) will help me to understand what I have missed to mention. You will have your questions answered and help both Hostelgeeks and fellow travellers in their quest for an awesome trip.
Therefore, do not be shy, drop us a comment, we are always keen to help and connect with our readers!
Last note: Our commitment
This is a genuine article to help you travel a bit smarter and find the best place on a budget! We ONLY recommend places we know you will enjoy, no matter what.
Hostelgeeks will never recommend you any place we haven't evaluated or are not convinced by. We only share with you places we also recommend to our best friends and family!
Enjoy this fine hostel selection and all 5 Star Hostels.
 – – –
pin it for later
Your Smart Packing List
It is time to see what you should pack in your backpack or suitcase. Make sure you always pick a quality hostel, it totally reduces the things you need to pack. Here is our ultimate hostel packing list. It features 23 items you should really throw in your backpack.

The most important things to pack are: Read the full packing list here.