Are you ready to discover the absolute best hostels in Siem Reap? You've landed on the right page – the only guide you need is right here.
With over 130 hostels to choose from, that can be super overwhelming. We've done the hard work and found the absolute coolest hostels for you.
Siem Reap is your gateway to the famous Angkor Wat, an absolute must-see within this part of Southeast Asia.
There is amazing street food to taste, tuktuks to ride and awesome hostels to sleep in.
This collection won't disappoint. Our hand-picked collection includes rooftop swimming pools, fun bars and dorm beds with stairs.
Your shortcut:

Onederz Hostel Siem Reap – best for female solo travellers
Lub d Siem Reap – top pick for couples
Cozy Cloud – one for older travellers

Looking for an excellent Siem Reap pub hostel, aka party hostel? We've got you covered.
This guide is perfect for YOU, when …
tired of bad and crappy hostels
want to avoid the "young party kids"
happy to spend 1-2€ for a better experience
Make sure you also check out our guide to the best hostels in Phnom Penh.

What we cover in this article?
You can find all 5 Star Hostels here with Hostelgeeks and all guides to "Best Hostels In" here.
Quick Introduction to Siem Reap
Average price for a bed: Hostels in Siem Reap cost 3€ – 7€ per night for a bed in a dorm. A private room starts from 7€ up to 25€ per night. That's CHEAP! This is a rough average just to give you an idea.
Prices always depend on season and holidays. Please always check exact rates on Hostelworld.com or Booking.com.
Check-In and Check Out: The average check-in time is from 15:00 (3pm), while the Check Out time is before 11:00 (11am). Hostels usually offer luggage storage in case you arrive earlier or leave later. Make sure you check if luggage storage is free or if there is an extra cost.
Walkable City: Siem Reap is relatively small and so getting around is easy. It's possible to walk to see all of the immediate sights. Otherwise, tuktuks are found everywhere as a cheap alternative to getting around.

New to Hostels? Read our full hostel starter guide here. We especially recommend to read:
The 3 Best Hostels in Siem Reap
Let's jump right into the boutique hostels in Siem Reap.
We put all three accommodation on the map, you will find the map at the end of the article.
1. Onederz Hostel Siem Reap
Ladies and gentleman, we'd like to kick start this guide with the #1 hostel Onederz Hostel Siem Reap.
An easy choice if you like the sound of:
2 swimming pools – one on the rooftop!
A peaceful yet convenient location
Free airport pick-up (before 9pm)
On-site restaurant, cafe & bar
These are just a few of the enticing perks that make this hostel stand out from the rest.
In fact, it has won awards for being one of the best large hostels in the world, and is voted most popular hostel in Siem Reap.
We're not surprised!
Thanks to the large lounge area and pools, it's easy to meet people here. There's even a TV room where you can do nothing together.
Everyone is welcome and this is reflected in the room choices available.
Super cool: there is a 'sunrise breakfast' (4am-4:30am) for those heading out to watch the sunrise at Angkor Wat.
Dorms come with 4, 6 and 12-bed options, with an added 6-bed strictly for female solo travellers.
We are big fans of the private rooms. They're designed much like a hotel room, with a kettle and bottled water as an added extra. Oh and you get your own private bathroom, too.
Feeling sociable? Get your costume ready for a good ole pool party, or wind down at a movie night.
That being said, this is not classed as a party hostel. Instead, it is designed with socialising in mind.
Location: 5-minute walk to Pub Street, Old Market and Angkor Night Market. Pretty perfect if you ask me.
This is one of the best hostels in Siem Reap for
Female solo travellers
Backpackers
Compare prices and read reviews at: Booking.com | Hostelworld
2. Lub d Siem Reap
Next up is the largest, newest and most modern hostel in the centre of Siem Reap; Lub d Siem Reap!
Honestly, this hostel recommendation ticks many of the same boxes as the first.
It's social, has a pool (just one though, sorry) and is located close-by to all of the main areas of the city. What more could you need?
Well obviously the design of this hostel is different. Perhaps it's more your style.
If you like the sound of a Khmer-chic inspired property, look no further!
There are a few added bonuses of choosing this cool hostel:
Games area inc. pool table
ALL-DAY breakfast in The Little Red Fox Bar & Cafe
Co-working space ideal for bloggers/digital nomads
Helpful tour desk
As for the size; it's still big but not overwhelming.
The rooms come in three choices. There are two 10-bed dorms, one mixed and one female-only. Couples can opt for a deluxe private which comes with a fridge, air-con and smart TV.
Yet we strongly advise you to choose a dorm – the design is epic!
Huge spaces, stairs instead of ladders and plenty of light flooding in. There's a curtain for privacy and a personal light and socket for added comfiness. Sold.
Location: Once again, within walking distance of Pub Street, Siem Reap river & just 20-minutes from the airport.
This is one of the best hostels in Siem Reap for
Compare prices and read reviews at: Booking.com | Hostelworld
3. Cozy Cloud
No doubt the hostel name has given you a big clue as to what kind of hostel this is.
Forget a big party place that never stops; Cozy Cloud is, well, cozy! The casual social scene is one for older travellers, no doubt.
First of all, you'll be welcomed by smiley, multi-lingual and helpful staff – a great way to kick start your Siem Reap experience!
Don't be surprised if you see lots of cute cats running around, too.
Read: Pets at 5 Star Hostels
Whilst the dorms are basic, they do come with that all-important privacy curtain. Woo!
You can choose between 4, 6 and 8-beds. Female solo travellers have the added option of a 6-bed dorm and couples can book the king room with private bathroom.
So, what about the spaces? Wind down and enjoy a slice of paradise thanks to the…
Outdoor swimming pool
Numerous beanbag loungers
Cozy library
24 hour reception
Though breakfast is not included, there is a cozy breakfast and coffee available for a small fee.
Location: from here it's 7km to Angkor Wat and 12km to the airport. The famous Pub Street is less than 1km away, so walking there is easy.
This is one of the best hostels in Siem Reap for
Older travellers
Peace seekers
Compare prices and read reviews at: Booking.com | Hostelworld
What about cheapest hostels in Siem Reap?
Of course, there are always cheap hostels.
We think, it's not worth it to go with the cheapest hostel out there.
Why?
The difference is usually 1-2€ ($1-2) per night, and a lot of amenities are not included. This can be breakfast or linen.
However, if you are traveling on a shoe-string budget and you wanna save every penny, there are ways to find the cheapest places in Siem Reap.
Open Hostelworld with full list of budget places to stay in Siem Reap
Order the listing by price
Simple as that.
Read: 15 hacks for booking hostels
Make sure you use then the other filters and rank per price.
Also keep a close eye on the ratings, especially the "extreme ratings". Meaning, the best and worst. These ratings can give great insight on what to expect.
Best Hostels in Siem Reap for Solo Travellers?
What is seriously the best hostel in Siem Reap for solo-travellers?
Quite honestly, all of the hand-picked fun hostels in Siem Reap are great for solo travellers. They're social, offer tons of shared spaces and nice sized rooms.
Here's a quick rundown for you:
For female solo travellers: Onederz Hostel Siem Reap, because of the female-only dorms
For sociable solo travellers: Lub d Siem Reap, because of the bar & pool
For introverted solo travellers: Cozy Cloud, because it is small & has privacy curtains
If we HAD to choose one, we'd go with Onederz Siem Reap. It has all the makings of a social hostel ideal for solo travellers, but without the forced fun that many party hostels offer. And because it's not our #1 recommendation for nothing!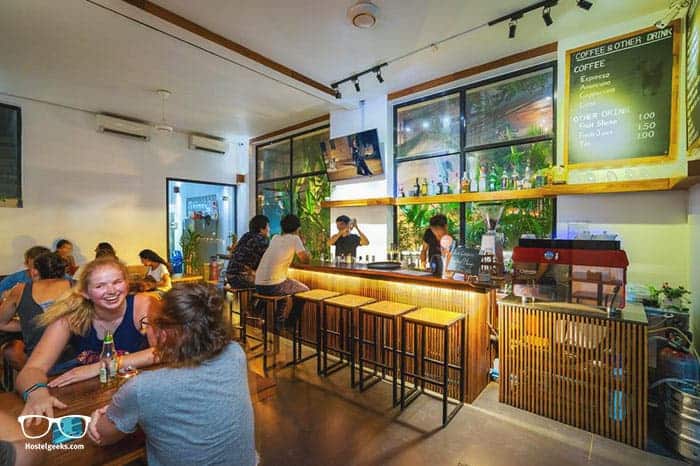 Party Hostels in Siem Reap
Hands up if finding the best party hostels in Siem Reap is the only reason you're here!
Alright, alright. Let's get on with it then. We actually have 2 awesome party hostels to introduce you to.
Funky Flashpacker
Looking for the largest amount of fun possible? Best you stay in the largest party hostel in Siem Reap, then.
Funky Flashpacker has 31 rooms with almost 200 beds!
With that many people plus nightly events and parties throughout the year, you're bound to have a successful party (or two).
Get set for pool parties, bar crawls and drinking games that will test your beer pong skills.
The sky bar – which serves food and drinks 24/7 – is open for non-paying guests, too. So if you happen to make friends with those in other hostels, you can invite them to the party.
Location: Less than half a kilometre from Pub Street. That's all you need to know, right?
Compare prices and read reviews at: Booking.com | Hostelworld
Mad Monkey Siem Reap
You'll find Mad Monkey hostels all around the world, offering fun party vibes that create lasting memories.
Mad Monkey Siem Reap is no exception! Get ready for:
Free shots
Table dancing
Nightly events
Great music
Rooftop bar & restaurant
Outdoor swimming pool
Once the party is in full swing, join the crew at Pub Street and dance the night away – it's just 5-minutes away.
Chat to staff about tours, bus tickets etc, and collapse on your oversized single mattress in your ready-made bed.
Compare prices and read reviews at: Booking.com | Hostelworld
How to book?
We recommend using Booking.com or Hostelworld for your reservations.
Hostelworld is the most popular website when it comes to hostel bookings.
Read: step-by-step guide on how to book with Hostelworld
On both platforms your credit card is 100% protected and the booking 100% confirmed.
We included the handy links to each of the recommended hostel. Just click on the hostel name. The link will lead you to check prices and availability.
Here is the overview:
We recommend booking your hostel as early as possible!
All of Siem Reap best hostels are popular; especially in high-season. To make sure you end up in those stylish hostels, secure your room or bed as soon as you have your travel dates fix.
Any Discounts?
Currently, we have no special hostel discounts in Siem Reap. I know, it's a pity. You can subscribe to our newsletter to receive our newest hostel discounts always to your inbox.
You can find all our hostel discounts worldwide here.
All 3 Hostels put on a map + sights
Let us have a look on the map. Below we list all three best Siem Reap hostels on a map.
Personally, we love to plan our trips with a map having all sights and potential hostels on it. We thought this map will help you with planning your trip too.
We also included the main tourist attractions you've to know in this list:
Bayon Temple
Ta Prohm Kel Temple
Pub Street Siem Reap
Angkor Thom
ANM Khmer Market
Flights to Siem Reap?
We enjoy Omio.com and Kiwi.com to find cheap flights all over Siem Reap.
This new website has super cool features like a so-called radius search. Just draw a circle over Asia and find the cheapest rates for the area.
Here is our review of Kiwi.
More guides
Alright, this is your answer to where to stay in Siem Reap.
We did the leg work for you and bring you more hostel guides to destinations:
You can find all our new and updates articles for Best Hostels in here.
We also created a huge guide to hostels. Here we cover how to build lifetime friendships in hostels, the perfect packing list and more.
Over to you
Was this useful? Do you have any questions, doubts?
Then please please leave us a comment. This list of awesome Siem Reap hostels should be as informative and useful as possible.
Your question will help me to understand what I have missed to mention.
Therefore, drop us a comment, we are keen to help you!
Last note: Our commitment

This is a genuine article to help you travel a bit smarter and find the best place on a budget! We ONLY recommend places we know you will enjoy, no matter what.
We will never recommend you any place we haven't evaluated or are not convinced by. We only share with you places we also recommend to our best friends and family!
Enjoy this fine hostel selection and all 5 Star Hostels.
– – –
pin it for later

Your Smart Packing List
It is time to see what you should pack in your backpack or suitcase. Make sure you always pick a quality hostel, it totally reduces the things you need to pack. Here is our ultimate hostel packing list. It features 23 items you should really throw in your backpack.

The most important things to pack are: Read the full packing list here.