We're not surprised you're here to suss out the best hostels in Pai. With nearby gorges, hot springs and gorgeous waterfalls to discover, Pai is a top adventurous traveller destination!
Our collection of hostels will suit solo travellers, couples and anyone looking to wind down and chill.
If you're a foody then you're going to really enjoy the awesome food stalls Pai has to offer.
Your shortcut:

Juno Hostel – top pick for older travellers
Common Grounds Pai – great for backpackers
Hummingbird Hostel – ideal for female solo travellers

This guide is perfect for YOU, when …
tired of bad and crappy hostels
want to avoid the "young party kids"
happy to spend 1-2€ for a better experience
Don't stop there. Thailand is home to some seriously fantastic hostels. We put together this ultimate guide to the 57 coolest hostels in Thailand.
You can find all 5 Star Hostels here with Hostelgeeks and all guides to "Best Hostels In" here.
Quick Introduction to Pai
Average price for a bed: Hostels in Pai cost 3€ – 9€ per night for a bed in a dorm. A private room starts from 8€ up to 25€ per night. This is a rough average just to give you an idea.
Prices always depend on season and holidays. Please always check exact rates on Hostelworld.com or Booking.com.
Check-In and Check Out: The average check-in time is from 15:00 (3pm), while the Check Out time is before 11:00 (11am). Hostels usually offer luggage storage in case you arrive earlier or leave later. Make sure you check if luggage storage is free or if there is an extra cost.
New to Hostels? Read our full hostel starter guide here. We especially recommend to read:
The 3 Best Hostels in Pai
Let's jump right into the boutique hostels in Pai.
We put all three accommodation on the map, you will find the map at the end of the article.
1. Juno Hostel
Intimate and cosy are the two words to best describe Juno Hostel.
This is a nice hostel best suited to travellers looking for a relaxed, homely place to put their feet up.
It's thanks to the small number of rooms that give Juno that warm feeling. There are in fact a total of 18 beds spread over 3 dorm rooms here.
Either keep it small with a 4-bed dorm, or widen your social options with a 6 or 8-bed dorm. All of the dorms are mixed and come with that all important air-conditioning.
Some of them have bunks, and others single beds on the floor – check which is which before you book.
So yes, couples will need to keep scrolling in order to discover great private rooms.
Do you know what we love? The fact these dorms come with 2 pillows each!
Reading in bed just got a whole lot easier.
If you're feeling an inside day coming on, take advantage of:
Free bread, jam + snacks
Free water top ups + coffee
Complimentary towel + toiletries
Near reception you will find an attached hangout area. This too is quaint but offers a nice space to meet other people.
The hosts are wonderfully sociable and always up for a chat so no worries if the hostel is quiet.
Location: Just around the corner you'll find the main walking street in Pai. Great food and shops are at your disposal.
This is one of the best hostels in Pai for
Older travellers
Peace seekers
Compare prices and read reviews at: Booking.com | Hostelworld
2. Common Grounds Pai
Welcome to the coolest backpacker hostel with the best location in Pai. Common Grounds Pai is all about the social vibes and is the perfect hangout.
Though strictly NOT a party hostel, Common Grounds offers:
Social day trips
Nightly events
Great communal area w/ pool table
Cosy 6-bed dorms & 3-bed privates
Join the gang and head out to the streets of Pai for a great night out, and then return to a quiet, comfortable accommodation to enjoy a good nights sleep.
Isn't that just the perfect balance?
Events include everything from a local pub crawl, to quizzes and dance parties. Whatever is happening, it all kick starts in the communal area and ends there at 9pm.
This is where you'll also find hammocks and cushions aplenty in a fresh, outside setting.
A few other perks include free water refills, tea & coffee and that all important Wi-Fi.
Location: a mere 50 metres from the main walking street, close enough to all that you could possibly need outside of Common Grounds hostel.
This is one of the coolest hostels in Pai for
Backpackers
Solo travellers
Compare prices and read reviews at: Booking.com | Hostelworld
3. Hummingbird Hostel
Come as you are and Hummingbird Hostel will welcome you with open arms. This is the place to be your ultimate self in a home-away-from-home setting.
This is truly a cute hostel and one of the best hostels in Pai for female solo travellers.
Why, do we hear you ask? Well, there's…
An air-conditioned living room
Fun day tours on offer
Free breakfast
Free, safe drinking water
The dorms come with 8 ready-made and sturdy beds, yet if you fancy some privacy, there is a double with en-suite available at a great price.
Note: this hostel requires a minimum of 2 nights stay.
We really like the little courtyard round the back – a nifty little hidden space ideal for sunbathing.
From 10pm onwards there is a Quiet Time rule.
Instead of upsetting your fellow travellers, head out to the nearby pubs and enjoy your night with the reassuring knowledge that you can look forward to a lovely, quiet sleep when you get back.
Location: if you can manage a 4-minute stroll you can enjoy the popular walking street of Pai along with the nearby restaurants, bars and street food.
This is one of the top hostels in Pai for
Female solo traveller
Couples
Compare prices and read reviews at: Booking.com | Hostelworld
What about cheapest hostels in Pai?
If you are traveling on a shoe-string budget and you wanna save every penny, there are ways to find the cheapest places in Pai.
Open Hostelworld with full list of budget places to stay in Pai
Order the listing by price
Simple as that.
Read: 15 hacks for booking hostels
Make sure you use then the other filters and rank per price.
Also keep a close eye on the ratings, especially the "extreme ratings". Meaning, the best and worst. These ratings can give great insight on what to expect.
Best Hostels in Pai for Solo Travellers?
Easily the top choice here has to go to Common Grounds Pai.
It's a great place to meet people and ever so easy to do by joining one of the many day and night activities on offer.
There is also plenty of chance to wind down with yourself in one of the hammocks and well kitted out beds.
For the female solo travellers we highly recommend opting for Hummingbird Hostel.
It's a lovely low-key hostel with ample air-conditioning and a safe, friendly environment that will ease any solo lady in to Pai graciously and without pressure.
Party Hostels in Pai
What we really enjoy about many of the Pai hostels is the seemingly shared respect for both party animals and travellers looking to sleep soundly.
At Common Grounds Pai the staff encourage social gatherings in their communal lounge, but ask that everyone heads out in to town after 9pm to let sloths sleep soundly.
It's a similar deal at Hummingbird Hostel. These guys love organising daytime activities to get the social vibes rolling, and have put a Quiet Time rule in place for after 10pm.
Though not technically party hostels in Pai, they offer great options for a good time because of their handy location close to cool bars. The communal areas are super, too!
However, if you're looking for that real crazy full on party hostel you're probably going to love Purple Monkey Backpackers.
This one has its very own on-site bar and no fun cut-off time, woohoo!
Kick start the fun with a game of basketball in the huge backyard, and continue by joining one of the many weekly activies including beer pong, pub crawls and themed parties.
The rooms range from budget backpackers to fancy flash packers so everyone can join in the good vibes.
Compare prices and read reviews at: Booking.com | Hostelworld
More Hostels Worth a Mention
Baan Mai Sak
There's one more hostel we'd like to put on the radar and its name is Baan Mai Sak.
It's a lovely quiet hostel that has more of a home-stay feel to it thanks to the friendly staff and homely decor.
The chill lounge has hammocks and they kindly ask for quiet after 11pm.
This place deserves respect and we think older travellers that enjoy having the option to socialise will absolutely love it here.
Compare prices and read reviews at: Booking.com | Hostelworld
Famous Pai Circus Hostel
Famous Pai Circus Hostel will give you a unique experience. The beds are in a hut and the view of the mountain is breathtaking. Just incredible!
Fire dancing, swimming and yoga are some of the activities you should try while staying in the hostel. The vibe and atmosphere is absolutely perfect for meeting new souls.
Scooter rental is available so you can go explore the place. The buffet is also worth it! It is cheap but  so tasty.

Hostel Highlights:
Swimming pool
Free parking
Airport shuttle
Bar
Good breakfast
Location: Pai circus hostel is a convenient 10-minute walk to Pai Walking Street. he resort is a 10-minute drive to Pai Airport. It is a 15-minute ride to Wat Phra That Mae Yen and Mo Paeng Waterfall.
Compare prices and read reviews at: Booking.com | Hostelworld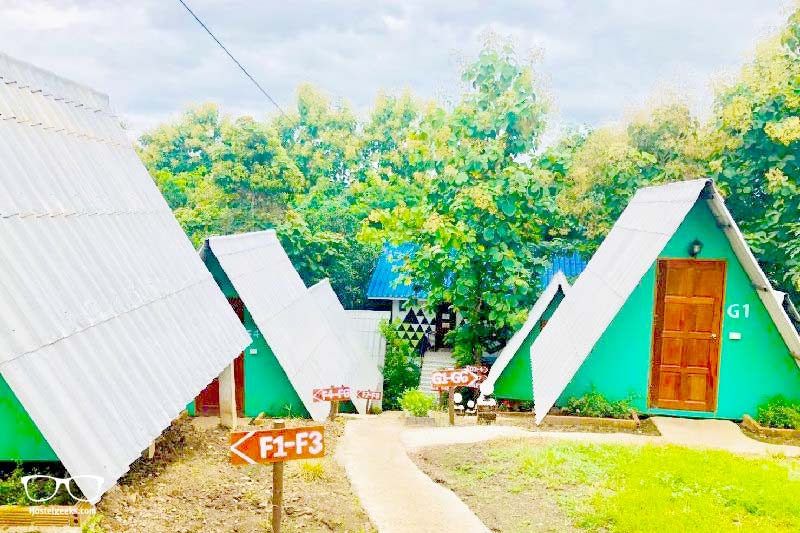 How to book?
We recommend using Booking.com or Hostelworld for your reservations.
Hostelworld is the most popular website when it comes to hostel bookings.
Read: step-by-step guide on how to book with Hostelworld
On both platforms your credit card is 100% protected and the booking 100% confirmed.
We included the handy links to each of the recommended hostel. Just click on the hostel name. The link will lead you to check prices and availability.
Here is the overview:
Juno Hostel: Booking.com | Hostelworld
Common Grounds Pai: Booking.com | Hostelworld
Hummingbird Hostel: Booking.com | Hostelworld
We recommend booking your hostel as early as possible!
All of Pai best hostels are popular; especially in high-season. To make sure you end up in those stylish hostels, secure your room or bed as soon as you have your travel dates fix.
Any Discounts?
Currently, we have no special hostel discounts in Pai. I know, it's a pity. You can subscribe to our newsletter to receive our newest hostel discounts always to your inbox.
You can find all our hostel discounts worldwide here.
All 3 Hostels put on a map + sights
Let us have a look on the map. Below we list all three best Pai hostels on a map.
Personally, we love to plan our trips with a map having all sights and potential hostels on it. We thought this map will help you with planning your trip too.
We also included the main tourist attractions you've to know in this list:
Pai Walking Street
Santichon Village
Pai Canyon
Pai Historical Village
Pai Hotsprings
Mor Pang Waterfall
Flights to Pai?
We enjoy Omio.com and Kiwi.com to find cheap flights all over Pai.
This new website has super cool features like a so-called radius search. Just draw a circle over Asia and find the cheapest rates for the area.
Here is our review of Kiwi.
More guides
Alright, this is your answer to where to stay in Pai.
We did the leg work for you and bring you more hostel guides to destinations:
You can find all our new and updates articles for Best Hostels in here.
We also created a huge guide to hostels. Here we cover how to build lifetime friendships in hostels, the perfect packing list and more.
Over to you
Was this useful? Do you have any questions, doubts?
Then please please leave us a comment. This list of awesome Pai hostels should be as informative and useful as possible.
Your question will help me to understand what I have missed to mention.
Therefore, drop us a comment, we are keen to help you!
Last note: Our commitment

This is a genuine article to help you travel a bit smarter and find the best place on a budget! We ONLY recommend places we know you will enjoy, no matter what.
We will never recommend you any place we haven't evaluated or are not convinced by. We only share with you places we also recommend to our best friends and family!
Enjoy this fine hostel selection and all 5 Star Hostels.
– – –
pin it for later

Your Smart Packing List
It is time to see what you should pack in your backpack or suitcase. Make sure you always pick a quality hostel, it totally reduces the things you need to pack. Here is our ultimate hostel packing list. It features 23 items you should really throw in your backpack.

The most important things to pack are: Read the full packing list here.