Congrats on choosing Cambodia as your next destination. We want to introduce you to the 3 best hostels in Phnom Penh to kick start your adventure.
In this list we share our own favorite places we enjoyed the the fullest; perfect for solo-travellers, couples, and also adult travellers.
This busy capital is a rainbow of opportunity. And it's very affordable!
Not only was this once the hub for the Khmer Empire, it now has a walkable riverfront lined with bars, parks and must-see sights.
As for great hostels in Phnom Penh? Prepare for outdoor pools and great dorms  -and lots of fun.
Your shortcut:

Mad Monkey Phnom Penh – perfect for solo travellers

Onederz Hostel – great for female solo travellers

Eighty8 Backpackers Hostel – top pick for backpackers
Perhaps surprisingly, Phnom Penh is known for its party scene.
In this guide you will come across a mix of hostels that offer party vibes and a more relaxed atmosphere.
This guide is perfect for YOU, when …
tired of bad and crappy hostels
want to avoid the "young party kids"
happy to spend 1-2€ for a better experience
We want all traveller types to be happy – scroll through and find the best hostel for you.
You can find all 5 Star Hostels here with Hostelgeeks and all guides to "Best Hostels In" here.
Quick Introduction to Phnom Penh
Average price for a bed: Hostels in Phnom Penh cost 4€ – 8€ per night for a bed in a dorm. A private room starts from 16€ up to 40€ per night. This is a rough average just to give you an idea.
Prices always depend on season and holidays. Please always check exact rates on Hostelworld.com or Booking.com.
Check-In and Check Out: The average check-in time is from 15:00 (3pm), while the Check Out time is before 11:00 (11am). Hostels usually offer luggage storage in case you arrive earlier or leave later. Make sure you check if luggage storage is free or if there is an extra cost.
New to Hostels? Read our full hostel starter guide here. We especially recommend to read:
The 3 Best Hostels in Phnom Penh
Let's jump right into the boutique hostels in Phnom Penh.
We put all three accommodation on the map, you will find the map at the end of the article.
1. Mad Monkey Phnom Penh
Take off your shoes and come inside to discover the original Mad Monkey Phnom Penh hostel.
Mad Monkey has a seriously strong hostel game and is easily one of the best hostels in Phnom Penh.
Actually scrap that: it is THE best hostel!
This is without doubt the choice for social butterflies, whether you're travelling solo or with your friends.
Don't even think about leaving the hostel until you have done these 5 things:
Swim in the outdoor pool
2. Sign up for at least 1 of the awesome tours
3. Enjoy a drink at the poolside bar
4. Challenge someone to a game of foosball
5. Check out the restaurant menu
I mean come on, why would you want to leave when you have all of that to enjoy?
And of course there is even more to mention.
Let us touch upon the rooms, though don't get over-excited as they are rather basic.
That's because Mad Monkey wants you to dump your bags and join the fun.
There's so much opportunity to socialise and chill – it's your choice.
Dorms range from 6-22 beds, with a lovely 8-bed female dorm thrown in for good measure.
Each bed has a plug socket, light, linen & under bed storage. Yet, there are no privacy curtains here which is a shame.
Be aware: most dorms are close to the bar so noise can be heard. The female dorm is the quietest option.
On top of that there are double, triple and twin privates available.
If you love activities and tours, Mad Monkey won't disappoint. Here they offer all kinds of things from pub crawls to trips to the Killing Fields.
No doubt the best place to wind down is the pool. Equally this is the best place to get the night started before heading up to the rooftop bar.
Location: although central, the main sights are still a little walk from the hostel. There is access to public transport which the staff will happily help you with.
This is one of the best hostels in Phnom Penh for
Solo travellers
Party lovers
Compare prices and read reviews at: Booking.com | Hostelworld
2. Onederz Hostel
Onederz Hostel is an easy choice if what you're after is top of the line facilities, fantastic location and a chilled ambience.
Our #2 recommendation veers away from the party scene. It's time to kick back and relax!
Without doubt the coolest part about this hostel is the rooftop with river view.
Up here it is possible to enjoy the views either under the sun or more comfortably in the shade. There's even a little bar selling cold drinks!
Let's have a sneaky peak at the room options:
4 & 8-bed female dorms
4 & 8-bed mixed dorms
Private double room
The box-like bunks have all the little necessities including a light, plug, mirror and little shelf.
Everyone is entitled to their own large locker, and the staff will even lend you a padlock if you don't have one!
In case you need to check your emails, there are 2 computers available 24 hours a day. That goes for reception, too.
Down in the lounge you'll find a sofa, beanbags and a TV in case none of the books take your fancy.
For a few extra coins you can choose between 5 breakfast menus to kick start your day. We think it's brilliant value for money.
Yet never fear – tea and coffee is available for free throughout the day.
Location: Onederz is located in the riverside area which is both safe and quiet. There's a great public walk way along the river perfect for that morning run or a gentle stroll.
This is one of the best hostels in Phnom Penh for
Female solo travellers
Older travellers
Compare prices and read reviews at: Booking.com | Hostelworld
3. Eighty8 Backpackers Hostel
The number eight is considered very lucky in Asia. Stay at Eighty8 Backpackers Hostel and enjoy a double dose of luck!
And trust us; you're going to feel pretty lucky you found this guide when you discover what this hostel has to offer.
This is certainly one of the best hostels in Phnom Penh as the balance of social and chill vibes is spot on.
For those looking to meet new people we suggest:
Joining a cooking class and/or tour to the Killing Fields
Popping along to the Happy Hour (17:00-19:00)
Challenging someone to a game of pool/ping pong
Or perhaps you're looking to get to know yourself in a social setting. Solo travellers enjoy…
A dip in the swimming pool
The free book swap library
Hiding in your kitted out pod bed
Did someone say pod bed? Yes, that was us..literally just now.
These pods are super cool, there is no denying it!
Each one can be fully closed off to the world. Inside there is AC, USB chargers, reading light and a fan.
Forget being woken in the night by the light going on – in here, you're in charge.
There are also more traditional-style dorms that have over-sized single beds and lots of space.
Let's not forget the wonderful private options, either.
All have en-suites and tea & coffee stations, whereas others have a balcony.
Eighty8 has a great common area with restaurant and bar serving both Khmer delights and delish cocktails.
Got the late night munchies? There's a menu especially designed for you which is available from 10pm-12am.
Be sure to query the staff if you have any travel-related questions. They offer a free travel desk and can help with ongoing transport tickets.
Location: Eighty8 Hostel is located near Wat Phnom, the traditional city centre. All of the essential nightlife and sights are a hop, skip and jump from the property.
This is one of the best hostels in Phnom Penh for
Compare prices and read reviews at: Booking.com | Hostelworld
What about cheapest hostels in Phnom Penh?
Of course, there are always cheap hostels.
We think, it's not worth it to go with the cheapest hostel out there.
Why?
The difference is usually 1-2€ ($1-2) per night, and a lot of amenities are not included. This can be breakfast or linen.
However, if you are traveling on a shoe-string budget and you wanna save every penny, there are ways to find the cheapest places in Phnom Penh.
Open Hostelworld with full list of budget places to stay in Phnom Penh
Order the listing by price
Simple as that.
Read: 15 hacks for booking hostels
Make sure you use then the other filters and rank per price.
Also keep a close eye on the ratings, especially the "extreme ratings". Meaning, the best and worst. These ratings can give great insight on what to expect.
Best Hostels in Phnom Penh for Solo Travellers?
What is seriously the best hostel in Phnom Penh for solo-travellers?
We actually have a few options for you, dear reader.
If we have to choose only one, we'd go with Mad Monkey Phnom Penh.
It accommodates a wide range of travellers thanks to the room options and offers a welcoming, inclusive atmosphere.
Party Hostels in Phnom Penh
By now it should be quite obvious that Phnom Penh is a top destination if you're looking to party.
There are actually a few places that create the best party hostels in Phnom Penh.
Our favourite has to be Billabong Hostel Phnom Penh.
That's because this is not too over the top, offering the chance to have a good time in a controlled kind of way.
It has all the ingredients to get the good times rolling:
Large saltwater pool
Garden area
Restaurant & bar
Cosy chill out area
From here the local nightlife is a short walk away. It's also only 1km to the riverfront and minutes from the central market.
Compare prices and read reviews at: Booking.com | Hostelworld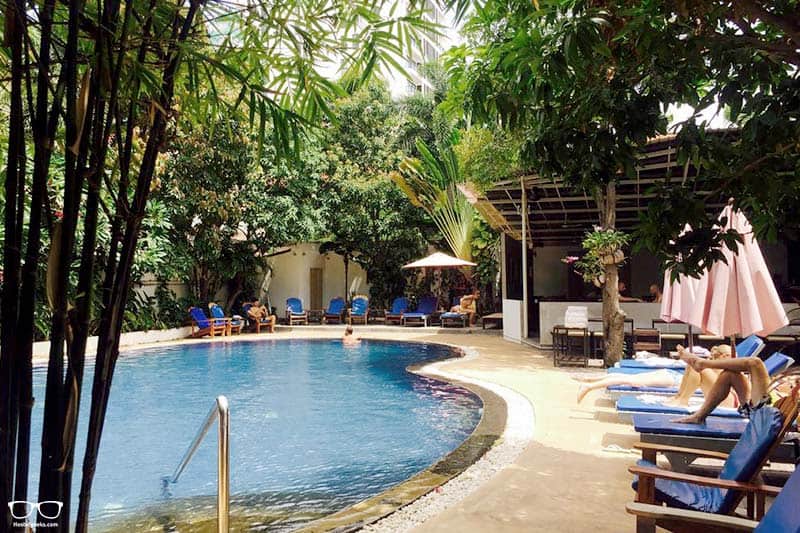 If you should be in need of a crazy party hostel, head to Mad Monkey Phnom Penh – our #1 hostel in the city.
Here's a little recap for you as to why this stands to be one of the coolest hostels in Phnom Penh.
There's a pool, happy hour, pub crawl events and on-site restaurant. Need we say more?
Compare prices and read reviews at: Booking.com | Hostelworld
How to book?
We recommend using Booking.com or Hostelworld for your reservations.
Hostelworld is the most popular website when it comes to hostel bookings.
Read: step-by-step guide on how to book with Hostelworld
On both platforms your credit card is 100% protected and the booking 100% confirmed.
We included the handy links to each of the recommended hostel. Just click on the hostel name. The link will lead you to check prices and availability.
Here is the overview:
We recommend booking your hostel as early as possible!
All of Phnom Penh best hostels are popular; especially in high-season. To make sure you end up in those stylish hostels, secure your room or bed as soon as you have your travel dates fix.
Any Discounts?
Currently, we have no special hostel discounts in Phnom Penh. I know, it's a pity. You can subscribe to our newsletter to receive our newest hostel discounts always to your inbox.
You can find all our hostel discounts worldwide here.
All 3 Hostels put on a map + sights
Let us have a look on the map. Below we list all three best Phnom Penh hostels on a map.
Personally, we love to plan our trips with a map having all sights and potential hostels on it. We thought this map will help you with planning your trip too.
We also included the main tourist attractions you've to know in this list:
Royal Palace Phnom Penh
Tuol Sleng Genocide Museum
Wat Phnom
Central Market Phnom Penh
National Museum of Cambodia
Phnom Penh Night Market
One of the MUST DO things whilst you're in Phnom Penh is to visit the Phom Penh Killing Fields and S21 Prison.
More cool ideas:
Flights to Phnom Penh?
We enjoy Omio.com and Kiwi.com to find cheap flights all over Phnom Penh.
This new website has super cool features like a so-called radius search. Just draw a circle over Asia and find the cheapest rates for the area.
Here is our review of Kiwi.
More guides
Alright, this is your answer to where to stay in Phnom Penh.
We did the leg work for you and bring you more hostel guides to destinations:
You can find all our new and updates articles for Best Hostels in here.
We also created a huge guide to hostels. Here we cover how to build lifetime friendships in hostels, the perfect packing list and more.
Over to you
Was this useful? Do you have any questions, doubts?
Then please please leave us a comment. This list of awesome best hostel Phnom Penh should be as informative and useful as possible.
Your question will help me to understand what I have missed to mention.
Therefore, drop us a comment, we are keen to help you!
Last note: Our commitment

This is a genuine article to help you travel a bit smarter and find the best place on a budget! We ONLY recommend places we know you will enjoy, no matter what.
We will never recommend you any place we haven't evaluated or are not convinced by. We only share with you places we also recommend to our best friends and family!
Enjoy this fine hostel selection and all 5 Star Hostels.
– – –
pin it for later

Your Smart Packing List
It is time to see what you should pack in your backpack or suitcase. Make sure you always pick a quality hostel, it totally reduces the things you need to pack. Here is our ultimate hostel packing list. It features 23 items you should really throw in your backpack.

The most important things to pack are: Read the full packing list here.