The BEST Hostels in Barcelona? Well, we have a great selection including a fabulous 5 Star Hostel.
We've got you covered.
We handpicked the 3 absolute best hostels in Barcelona. The hostels we handpicked come with a swimming pool, incredible cool design and a whole BCN-Experience.
This is the only guide you need!
Did you know? We actually LIVE in Barcelona. This is our city; we know it 100%! If you have any questions, just leave a comment below. We will reply back to you in person!
This guide is perfect for YOU, when …
tired of bad and crappy hostels
want to avoid the "young party kids"
happy to spend 1-2€ for a better experience
We condensed it all to the 3 coolest hostels in Barcelona.
Although we do not share hostel-lists, so many of you kept asking us for the best hostels in Barcelona, Spain. We decided to put together some of them.
No wait, we put together the most epic ones. After all, you only need 1 cool hostel!
What we cover in this article?
Remember, we put all hostels and sights on a map here.
It will be super helpful for you to plan your itinerary and trip!
We even wrote a secret guide to Barcelona which you can download for free!
You can find all 5 Star Hostels here with Hostelgeeks and all guides to "Best Hostels In" here.
Quick Introduction to Barcelona Hostels
Average price for a bed: Quite pricey for European standards, yet a budget option. A bed in a dorm can be as cheap as 15€-20€ per night in winter and easily up to 35€ per night or more in summer. This is a rough average just to give you an idea.
Prices always depend on season and holidays. Please always check exact rates on Hostelworld.com or Booking.com.
Check-In and Check Out: The average check-in time is from 15:00 (3pm), while the Check Out time is before 11:00 (11am). Hostels usually offer luggage storage in case you arrive earlier or leave later. Make sure you check if luggage storage is free or if there is an extra cost.
Barcelona Tourism Tax: Travelers staying in Barcelona Hostels pay 0,75€ (75 cents) city tax per person per night. This tax is usually not included in the prices.
Safety: Unfortunately there's a lot of pick-pocketing in our home town Barcelona. We included a safety guide below. On the bright side, pickpockets only care about your phone, wallet and valuables, physical abuse is very very rare!
New to Hostels? Read our full hostel starter guide here. We especially recommend to read:
The 3 Best Hostels in Barcelona
Let's jump right into the boutique hostels in Barcelona. There is a lot to see.
Quick overview:
Rodamón Hostel – best for couples and families
Casa Gracia – best for solo-travelers and groups
YEAH Barcelona – best for backpackers
We put all three accommodation on the map, you will find the map at the end of the article.
Important: All hostels come with a kitchen, free WiFi, a great location and social vibes.
We picked these three hostels as they stand out due to their design, facilities and vibes.
We visited all hostels and know them personally!
Besides hostels, we recommend having a look as well at AirBnb. Although Airbnb is not popular among locals, it can be an option.
With our link you get a €35 discount on AirBnb.
1. Rodamón Hostel
Our #1 choice on this list and recommendation is Rodamón Hostel.
The location is outstanding, since you will be staying on the top of famous Passeig de Gracia, just a short walk from bustling Gracia (perfect for bohemians and nightlife).
It's also just a 10 minute walk away from Placa Catalunya and the old town with its Las Ramblas.
This design hostel in Barcelona offers free walking tours, free alternative walking tours as well as original tapas tours.
This is pretty cool since we always recommend to join these activities.
The rooms are top-notch, and of course super clean. Hostel Rodamón is perfect for the stylish traveler.
Compare prices and read reviews at: Booking.com | Hostelworld
The luxury hostel has no free breakfast included, it costs 5.50€.
There is however free tea and coffee all day long. As for breakfast, we recommend bakeries nearby. There are many bars in the area offering a croissant and café con leche for 2€.
For breakfast, we really like Jamaica coffee in Carrer Mallorca 253. A croissant with a café con leche costs around 2€. Check it out, it's around the corner.
Location of Hostel Rodamon: Perfect!
You are next to Gracia, a district known for the nightlife, artsy scene and small boutique shops. Come here for a drink at night with the locals.
I especially recommend Placa del Sol to hang out with locals and mingle.
There is also a great tapas bar, just a 5 minutes walk from Casa Rodamon. The name is Nou Candanchu. If you speak Spanish or Catalan, call them before to reserve a table. If not, just come here before ±7:30pm and you should get a table.
From Casa Rodamon it takes you around 15 minutes to walk downtown.
You have the La Pedrera House and Casa Batllo by Gaudi in the famous Passeig de Gracia just a 5 minutes walk away.
In the direct area you've plenty of bars and restaurants as well as a direct metro connection to the beach.
Who stays here?
Everyone who loves a cool hostel with style!
Casa Rodamon (the official name is Rodamón Barcelona Hostel) has guests from all over the world: Japan, Germany, USA, UK, Australia, Italy, Netherlands, Korea, Argentina, you name it. No nationality really dominates the scene.
Thanks to the lounge, you can mingle and connect with other fellow peeps.
Again, this is our #1 recommendation!
This is one of the best design hostels in Barcelona for
Compare prices and read reviews at: Booking.com | Hostelworld
2. Casa Gracia (5 Star Hostel + Fun!)
If we were you, we would stay at Casa Gracia!
Casa Gracia is located in an in impressive modernism building, right at the end of Passeig de Gracia.
The building will make you wow right away.
It gets even better inside. The design is carefully picked and it feels really like an exclusive hostel.
There are plenty of common areas. From the library, the lounge to terraces. Some of the rooms come as well with ensuite terraces. So, that's pretty cool!
Good to know: If we were you, we would pick CASA GRACIA to stay!
Compare prices and read reviews at: Booking.com | Hostelworld | Full Review
Location:
Same as Rodámon Hostel, it is located at the end of Passeig de Gracia. This is a super safe hostel in Barcelona with a safe location!
This street is the shopping mile with all famous shops and the two famous buildings by Gaudi: Casa Mila and Casa Batllo. From here it takes you 15 min to walk to Las Ramblas and the very downtown.
You are right next to bohemian Gracia district.
This is the BETTER district for a night out.
This is where students go, artists hang out. Head over to Placa del Solo and have a drink there, it's especially awesome in summer when everybody just sits with a drink in hand on the square.
Who stays here?
Here you find a mix of young people from all over the world.
This is a great spot for solo-travelers, small groups as well as couples! It is one of the hostels in Barcelona with private rooms and a top location.
You won't find the cheap backpacker here since Casa Gracia costs more than the cheap hostels you can find all around. This is worth it since it comes with a top location, a cool design and so many events to join.
Casa Gracia is our top hostels in Barcelona for solo-travelers and groups.
Compare prices and read reviews at: Booking.com | Hostelworld | Full Review
3. YEAH Barcelona – Backpacker Hostel in Barcelona
The #3 on our list is YEAH Barcelona.
The rooms are less luxury than Casa Gracia and Rodamon Hostel, yet, they are cool and comfy.
Choose a range of different rooms to stay in.
YEAH Hostel is the best option out there for the solo-traveler, in our opinion. It is easy to socialize and the clients here are usually younger. A youth hostel, if you will.
So if this is what you are looking for, go for it. This is more the backpacker-kind of cool hostel.
The location is again great.
You can have a good sleep at night, and discover the busy city by day.
Compare prices and read reviews at: Booking.com | Hostelworld
Extra Feature: The Hostel has its own roof top swimming pool! Pretty epic!
Location:
The YEAH is located near a metro station with access to downtown. You can also take a bus to Placa Catalunya. By walking, it takes you around 15-20 minutes to enter downtown.
The area is more local and fun than busy old town.
You can walk from here to Sagrada Familia, it takes you around 10 minutes.
Who stays here?
YEAH is the perfect hybrid if you enjoy a cool hostel on a cheaper price than the other two accommodations in this list.
If you happened to search for 'places to stay in Barcelona cheap', you've found your hostel!
The average age is young, between 18 and 24. If you are looking for a bit more party and nights out, this is the place to be.
Recommended for:
Backpacker
young traveler
more "party"-oriented
Compare prices and read reviews at: Booking.com | Hostelworld
What about cheapest hostels in Barcelona?
Of course, there are always cheap hostels.
It can be tempting to opt for the cheap places to stay in and only look for a Barcelona cheap stay.
We think, it's not worth it to go with the cheapest hostel out there.
Why?
The difference is usually 1-2€ ($1-2) per night, and a lot of amenities are not included. This can be breakfast or linen. Although, keep in mind a bad location – or seemingly cheap areas to stay in – far away from the city center costs you more in transport.
Also, some insider knowledge: Many of the very cheap places in Barcelona are illegal, without proper license to run.
However, if you are traveling on a shoe-string budget and you wanna save every penny, there are ways to find the cheap lodging in Barcelona.
One great way of finding where to stay in Barcelona cheap is to:
Open Hostelworld with full list of budget accommodations in Barcelona
Order the listing by price
Hostelworld usually offers the best rates as well as deals.
Read: How to book hostels with Hostelworld.
My recommendation for cheap hostels in BCN
A cheap and super family-style hostel is Barcelona Central Garden. They also have a fully equipped kitchen and laundry facilities, really useful!
It is a family run hostel, with a small terrace inside.
They also run their own little events like Paella Nights (but not regularly!). If you fancy a super cute, family-vibes hostel, make it BCN Central Garden.
Read our full review about Barcelona central garden here.
Compare prices and read reviews at: Booking.com | Hostelworld
Best Hostels in Barcelona for Solo Travellers?
What is the serious, best hostel in Barcelona for solo-travellers? As someone conquering the world on your own, you need a fun, clean and cool hostel to meet and greet. Right?
In the beginning we already mentioned it.
There is basically 3 hostels we would recommend to the social solo-traveler here.
Casa Gracia is best for groups and solo-travellers in luxury version
YEAH Hostel is best for young solo-travellers and backpacker
Pars Tailors Hostel – a great mix of party and fun backpacker place
Good to know: Not all hostels in Barcelona are social! Many are just cheap accommodations with dorms to sleep in. Make sure you pick a great hostel in Barcelona for solo-traveller; like the ones above!
Casa Gracia is our top recommendation for solo-travellers looking for the best and also a safe hostel in Barcelona.
It is a luxury gem with an in-house bar, plenty of events, and even karaoke. Easy to connect, easy to have fun – all that in the hostel luxury.
The beds in the dorm rooms do not have curtains though. There is a huge communal equipped kitchen and lots of social areas.
Compare prices and read reviews at: Booking.com | Hostelworld | Full Review
We already introduced you to YEAH Hostel.
It is perfect for the younger traveler, and now even has an instagrammy swimming pool on their roof top.
It is best for the young solo-backpacker, looking to meet people of their own age and have a drink at the bar and go out at night.
Compare prices and read reviews at: Booking.com | Hostelworld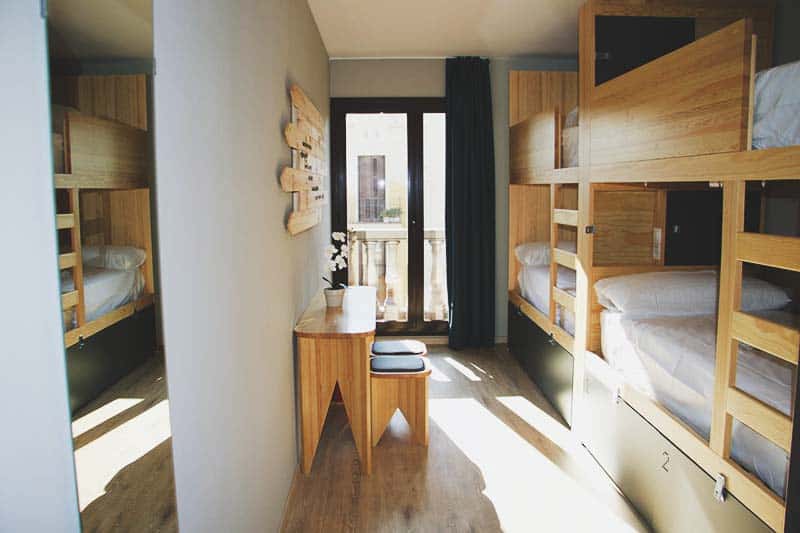 Our 3rd recommendation for best hostels in Barcelona for solo traveler is Pars Tailors Hostel.
It is the best option when you are traveling backpacker style and want a bit of party and international flair. The rooms are simple and there is only shared facilities such as dorms and shared bathrooms. No private rooms.
The glory here comes from its social life. They have a Foosball, pool billiard and a stylish common area.
It is the coolest Hipster Hostel in Barcelona!
Their Paella nights are legend.
The hostel also organizes many events inside and outside the hostel for little money. So if you are in search of where to stay in Barcelona on a budget and you're more the backpacker kind of traveler, Pars Tailors Hostel is a top choice.
At night, they also host a Pub Crawl. So seriously, Pars Tailors is fantastic!
Compare rates at: Hostelworld | Booking.com
Party Hostels in Barcelona
If you are planning to go wild, then there are a few party hostels in Barcelona to choose from.
However, you can also stay at one of the top hostels we mentioned above and then join a Pub Crawl.
The Barcelona party hostels we recommend are:
Pars Tailors Hostel in Sant Antoni (downtown with Paella nights and Pub Crawls – our best recommendation for party)
St Christophers at Placa Catalunya (super central with a huge in-house bar and live tv for sport events)
Kabul Hostel at Placa Reial (top location if you want to party every day)
Our #1 choice for partying and to have a cool backpacker time is Pars Tailors Hostel.
It is a smaller hostel, very clean, and they even organize trips and activities like Paella Nights. They even organize going together to the Bunker del Carmel for the Sunset – a panorama view over the city.
What we also really like: the rooms are separated from the common area.
So you can either have a drink and listen to music downstairs, or sleep in the upper floors without being bothered.
Any Discounts?
Currently, we have no special hostel discounts in Barcelona.
I know, it's a pity. You can subscribe to our newsletter to receive our newest hostel discounts always to your inbox.
We would love to offer you there promo codes to Casa Gracia, Hostel Rodamon and all the other cool places.
You can find all our hostel discounts worldwide here.
Airbnb in Barcelona
Airbnb is always an interesting option, right?! It can be cheaper, more comfy even.
Forget searching for Barcelona hotel cheap and boring; Airbnb is a hostel hotel hybrid.
However, please note that renting a full apartment in Airbnb in Barcelona can be illegal. Not for your part as a tourist, but since the owner most likely will not have a proper license to rent.
Anyways, you can also rent a private room in Airbnb. This is not illegal, and can be a fantastic way to meet locals.
When looking for rooms on Airbnb, read the reviews to see if the owners of the place actually socialize and mingle or simply rent out.
Good to know: We even heard of a traveler that did not receive the keys from the owners. He had to call the owner all the time to check if someone was at home so he can get in. One night he went out for a few drinks. And since he didn't want to disturb, he booked another night in an expensive hotel.
Make sure this is not what will happen to you!
In case you are a first-timer on Airbnb, here is our 35€ discount for Airbnb – and a guide how to use Airbnb.
Here you'll find places up there with comfort and design of affordable hotels in Barcelona.
All 3 Hostels put on a map + sights
Let us have a look on the map. Below we list all three best Barcelona hostels on a map.
We also included the main tourist attractions you've to know in this list:
Casa Batllo
Las Ramblas
Magic Fountain
Barceloneta Beach
All accommodations are located near a metro stop and bus stop. So you can get to every single sight and old town within no time or even in walking distance.
Below I included a neighborhood guide.
Here I show you what the areas are about and perfect for. We share details of the districts and what to do there below the map. Scroll down.
Blue is Gracia (great for art, small shops and nightlife bars)
Yellow is Eixample (the "chess" field district with Sagrada Familia)
Red is Old Town (including the parts El Gotico, El Born and El Raval)
Green is beach (we recommend Bogatell Beach, muss less people than Barceloneta)
The OLD TOWN is the district you find Las Ramblas and all the narrow, beautiful streets. In Gracia you find the bohemian nightlife we recommend.
Read our guide on fun things to do in Barcelona. Here we share a bunch of the coolest stuff we do as locals.
(you can activate and deactivate the layers in the left sidebar. Open the map in a new tab here.)
Neighborhood Guide for Barcelona Hostels
Barcelona is quite big. I want to give you a quick overview of the different districts.
All the hostels we cover in this article are perfectly located to go out and have fun at night and enjoy sights by day.
The four main areas you need to know are colored in the map above.
Downtown Areas (red)

The downtown area is actually the historic part. The part with all the narrow streets. The districts here are:
Gotico is known for shopping, and the lower part near the harbor for bars and tapas bars. El Gotico is also known as Gothic Quarter. There is plenty of hostels in Gothic Quarter Barcelona. However, they are loud at night.
I would stick to the hostels we recommend above to have a quiet night sleep!
El Born is one of my favorite parts of town. For having a drink, I recommend the area around Passeig del Born. Here you can also eat really great tapas at La Luna.
For having a burger, I recommend Pim Pam Burger.
Anyhow, you will find many bars, cocktail bars and tapas places around. Just get lost!
Last but not least, El Raval. This is the "rough" part of town. Here you will find more alternative bars and at the same time more prostitutes and drug dealers, thieves. It is a really interesting place, actually quite safe. Just do not show how much money you have and leave your smartphone in your jacket.
In Raval you find the famous bar Marsella.
This is where Ernest Hemingway had his drinks. It is an Absinthe bar. Come here, it's pure fun!!
Gracia (blue)
This is the more bohemian part of town. Here you find many small boutique shops, artists, students, expats. Especially Placa del Solo is awesome to hang out at night. People here have a drink on the square, eat tapas.
Casa Gracia and Hostel Rodamon are nearby.
Eixample with Sagrada Familia (yellow)
The famous "chess-fields" neighborhood in Barcelona is called Eixample. You will find here the famous Sagrada Familia, Casa Mila ad Casa Batllo.
This neighborhood was built for connecting the old town with the surrounding villages like Gracia. Eixample was planned on the table and it was supposed to be as useful as possible. The idea was to have the space optimized and in case of an emergency the firemen could cross the city within no time.
Anyhow, walk around this area. It's interesting. A walk from Sagrada Familia to Casa Mila will take you around 20-25 minutes.
Beach Area (green)
We all love beach and Barcelona has a selection to choose from.
The beach area in Barceloneta starts from W Hotel to the Port Olimpic. Here is where most pickpockets are and it is always packed in summer.
A more local beach area is the one behind Port Olimpic, the beach is called Bogatell. Come here, play volleyball with locals or expats, and enjoy a 1€ beer on the beach.
Find here a full guide to where to stay in Barcelona (+ neighborhood guide and handpicked hotels)
10 Best Things To Do in Barcelona
We know Barcelona like no other city in the world. This is our home, this is our home base.
So, we welcome you to join our best things to do in Barcelona. These are the things that I consider you've to do when coming over:
Visit Sagrada Familia – but the right way, get the skip the line ticket BEFORE wasting 2 hours in line
Wander Park Güell – and enter, but you've to book before getting there
Wander Las Ramblas – that's free!
Enter La Boqueria Market with its fresh fruits and vegetables. Get a smoothie here
Climb up the Columbus Statue (for a small entrance fee)
Get lost in el Gotico and El Born
Have an Absinthe in the oldest bar in Barcelona, Marsella
Visit the Magic Fountain and its show at night
Have a drink in bohemian Gracia district
Head to the beach and slow down
We created a huge list of:
Tickets you have to pre-book
If you want to do sightseeing in Barcelona, then this is a must-read too.
Because: You need to pre-book Sagrada Familia Tower and Park Güell before! these are the two only sights you should pre-book as soon as you can!
1. Sagrada Familia (Visit the Towers)
You may already done your research and saw that there is always a long queue for entering Sagrada Familia. The queue can be easily 2 hours long.
Anyways, you cannot book and visit any of the Towers when queuing. This is only possible online!
Therefore: Yes, you can queue and can enter without booking. But I highly recommend climbing up the towers. It is impressive, you have a panoramic view over the city and you see so much more of the Sagrada Familia.
Seriously, once you go up or down the towers, you will notice so many more details.
How to book the towers? You can book the entrance ticket along with your tower visit. There is usually only 1 tower open for visit since they are still working, so this always changes.
You can find available tower tickets here.
2. Park Güell (13€ only)
Of course you want to visit the famous Park Güell. After all, this is the iconic photo of Barcelona.
However, there is a limited entrance now to see the main area of Park Güell. It is limited by people per entrance, and it is usually sold out for the next 7 days (except these 8am spots nobody wants…).
You can also enter for free when the sun sets and 20 minutes before closing. I personally do not like this. So so soooooo many people do exactly that. So you save 13€ for the ticket but suddenly you have to fight for your iconic photo.
Sorry, for 13€ I won't do this…
You can buy your Park Güell ticket here.
Safety tip for Barcelona (Please read!)
I am really sorry, but we have to include this one here.
I want you to be safe!! Please read this section.
I am not your mommy, but I consider our readers very good friends. And I want my friends to be safe!

Barcelona is a SAFE city,

but there are many pickpockets.
You don't have to worry about physical abuse (generally speaking!), but you've to watch out for your belongings. Especially in the downtown area, you will notice pickpockets.
Keep your belongings near you and you are fine.
Do not leave your valuables unattended on the beach or in a bar.
When you head to the beach, do not leave your belongings back on the towel without someone watching over it. You can ask the group next to you to keep an eye out.
This usually works well, and the other group is usually grateful when you return the favor.
Or, if you go in a group, someone has to stay back on the towels. Make also sure you have your valuables in front of you, and not behind.
Pickpockets are clever here….unfortunately.
My best recommendation would be to leave your valuables at home. Sure, you want to bring your smartphone to take photos, that's normal.
Then, again, ask your neighbors group to keep an eye or one of you has to stay.
There's no need to get paranoid, just pay a tiny bit of attention and you're fine.
As for las Ramblas: Here you will find many pickpockets and scams. Do not fall for it. Do not let anyone "dance" towards you and especially "touch" you.
Remember, you can only get pickpocketed when someone touches you.
A common trick is to pass you a football, and play. Another trick is to pretend they are drunk and start wanting to "sing" with you by hugging you and such.
Pay attention.
Another common place to pay more attention is the metro.
When the metro stops and people go in and out, some people push – therefore, there is contact. You won't notice in this moment when someone opens your backpack and takes out your wallet.
Again: No need to be paranoid. Just don't be naive! 🙂
We consider the bus is the safest way to travel around in Barcelona.
Please follow my proud tradition: Many many friends of mine visited me in Barcelona, our home. Not a single friend got robbed. I always told them to stay safe and all the safety tips I just gave you. Again, not a single one got robbed or anything.
Please, please please: Follow this proud tradition of mine! 🙂
Sex in Barcelona Hostel
Sex is part of the hostel life, especially when staying at Party hostels. There is no need to pretend it is not. That is not to say, hostels are only about sex – NOT AT ALL!
We wrote a big guide with 5 dos and donts of having sex in Hostels.
Especially rule #5 is important to remember. Otherwise you may end up being a porn-star. Because: hostels have cameras!
Read: How to have sex in hostels in Barcelona here.
Here is another hostel sex story from Barcelona. Two friends stayed in a dormitory with another guy. He warned them that he's going to have sex tonight in the dorm. They did not listen.
Read: The Hostel Sex Story from Barcelona.
Flights to Barcelona?
Barcelona has fantastic connections all over Europe. You can even fly to the Canary Islands from here cheaply. We scored a flight for 15€ to Fuerteventura from Barcelona.
There's three airports in and near Barcelona:
Barcelona El Prat (The City Airport)
Girona, 100km North of Barcelona at the Costa Brava
Reus, 100km South of Barcelona
From all 3 airports you have good connection to the city center, there's always buses. If you can, then chose El Prat as your arrival airport, it's much easier, faster and cheaper to get to the center from there.
We enjoy Kiwi.com to find cheap flights all over Europe including Barcelona and Madrid.
This new website has super cool features like a so-called radius search. Just draw a circle over Europe and find the cheapest rates for the area.
Here is our review of Kiwi.
More guides around Spain and Europe
Alright, we now covered our hometown, Barcelona. Yet, there are more epic destinations around Spain and Europe.
Here's our huge guide with the best hostels in Spain – including a map and beach hostels.
We did the leg work for you and bring you more hostel guides to great destinations:
Other cities in Europe:
You can find all our new and updates articles for Best Hostels in here.
We also created a huge guide to hostels. Here we cover how to build lifetime friendships in hostels, the perfect packing list and more.
Over to you
Was this useful? Do you have any questions, doubts?
Then please please leave us a comment. This list of awesome Barcelona hostels should be as informative and useful as possible.
Your question will help me to understand what I have missed to mention.
Therefore, drop us a comment below, we are very very keen to help you!
Last note: Our commitment

This is a genuine article to help you travel a bit smarter and find the best place on a budget! We ONLY recommend places we know you will enjoy, no matter what.
We will never recommend you any place we haven't evaluated or are not convinced by. We only share with you places we also recommend to our best friends and family!
Enjoy this fine hostel selection and all 5 Star Hostels.
Safe travels,
The Hostelgeeks
– – –
pin it for later
Your Smart Packing List
It is time to see what you should pack in your backpack or suitcase. Make sure you always pick a quality hostel, it totally reduces the things you need to pack. Here is our ultimate hostel packing list. It features 23 items you should really throw in your backpack.

The most important things to pack are: Read the full packing list here.