The Memory Hostel is a remarkable budget accommodation, perfect for every traveler looking for a unique hostel with character.
Of all the best hostels in Da Nang, Memory Hostel stands out. Read here our complete guide to best hostels in Da Nang.
Update: The owners of Memory now built a brand-new The Memory Hostel near the beach. It is even better than this one. So the New Memory Hostel is the new 5 Star Hostel in Da Nang.
We will introduce you the accommodation in Da Nang, a large city in the center of Vietnam, located right on the coast at the opening end of the Han River.
Make sure you also read our handwritten guide for 34 cool things to do in Da Nang.
Read: list of our favorite and best design coffee shops in Da Nang.
We are Hostelgeeks, and we are awarding 5 Star Hostels all around the world.
For every destination, there is only one stunning 5 Star Hostel. This makes us your shortcut to find the best Hostel in your upcoming destinations.
You can find all official 5 Star Hostels at Hostelgeeks.
There are more outstanding hostels around Vietnam:
Here's the full guide to best hostels in Vietnam – your backpacking guide!
Find all the best hostels in Asia here.
Before we start, pack smart…
Remember to pack accordingly for staying in a hostel – yet, do not overpack.
Here's our full packing list, including Noise-Cancelling ear plugs and your padlocks.
Memory Hostel in a review
How about we walk you through this best hostel in Da Nang?
We can start at the reception desk, all the way up to the roof top terrace with a special river and panoramic view.
From the roof top terrace, you can see an actual dragon…
There is a lot to discover, so let's get started.
1. Sustainable inside and outside
We absolutely love the floor tiles of Memory Hostel.
An absolute eye-catching element which is repeating itself all over the hostel.
From the reception, to the rest rooms and sleeping areas.
It gives the budget accommodation a different, unique vibe.
Right from the start point, Memory Hostel planned to be an environmentally friendly hostel.
They wanted the building to be as energy efficient as possible, leaving only a tiny, if not non-existent co2 foot print behind.
That is why they used bricks without painting on the outside look.
Brick is a material which gets less warm than other materials.
That helps the building to maintain the air and stay fresh, so the consumption of air conditioning can be lower.
In the interior design, walls are kept as concrete, with no additional painting.
Besides the industrial effect, it also helps the building be more energy efficient during hot days.
No doubt, Memory Hostel has found the magic formula to combine a cool, hip industrial design with sustainable, energy efficient goals: simple concrete walls mixed with stylish cement tiles.
An eye-catching, smart concept.
The Hostel is located right in the city center.
The building is quite narrow, very common in downtown Da Nang.
The team of Memory Hostel decided to decorate the common areas, rest room, and reception with different plants.
They also planted a tree wall on the façade like a symbol to recognize the building.
This green touch is a great add-on to the industrial vibe.
As for the hot water system, Memory Hostel installed solar panels on the roof top.
Just in the rare case of no sun, they can switch to municipal power supply.
However, Vietnam is a tropical country.
Therefore there is a considerable amount of sunny days during the year.
Throughout the hostel decoration, the Memory Hostel team re-used many recycling materials: repurposed old windows, door frames, shutters…
You will see these decor elements when wandering around the 5 Star Hostel.
Another lovely detail we enjoy are the wooden hangers and key holders.
And it is not just about the decoration. Memory Hostel also uses environmental-friendly paper cups and bags made from biodegradable plastic.
The team is still young, and they are always keen to improve. They like to go the extra mile and come up with new ideas for recycling, reducing plastic usage and more.
2. Champa design
The owner was determined to create a green building, suitable for backpackers and travelers.
But the goal was also, to have more than a simple backpacker accommodation.
The hostel was planned to have a special Vietnamese touch.
The Memory Hostel teamed up with an architecture company in Ho Chi Minh City, south of Vietnam.
Together they planned to design a building inspired from Champa architecture.
The Champa was a former Kingdom, existing in Central and southern Vietnam from approximately the 2nd century until the 19th century.
It was finally absorbed and annexed by the Vietnamese State.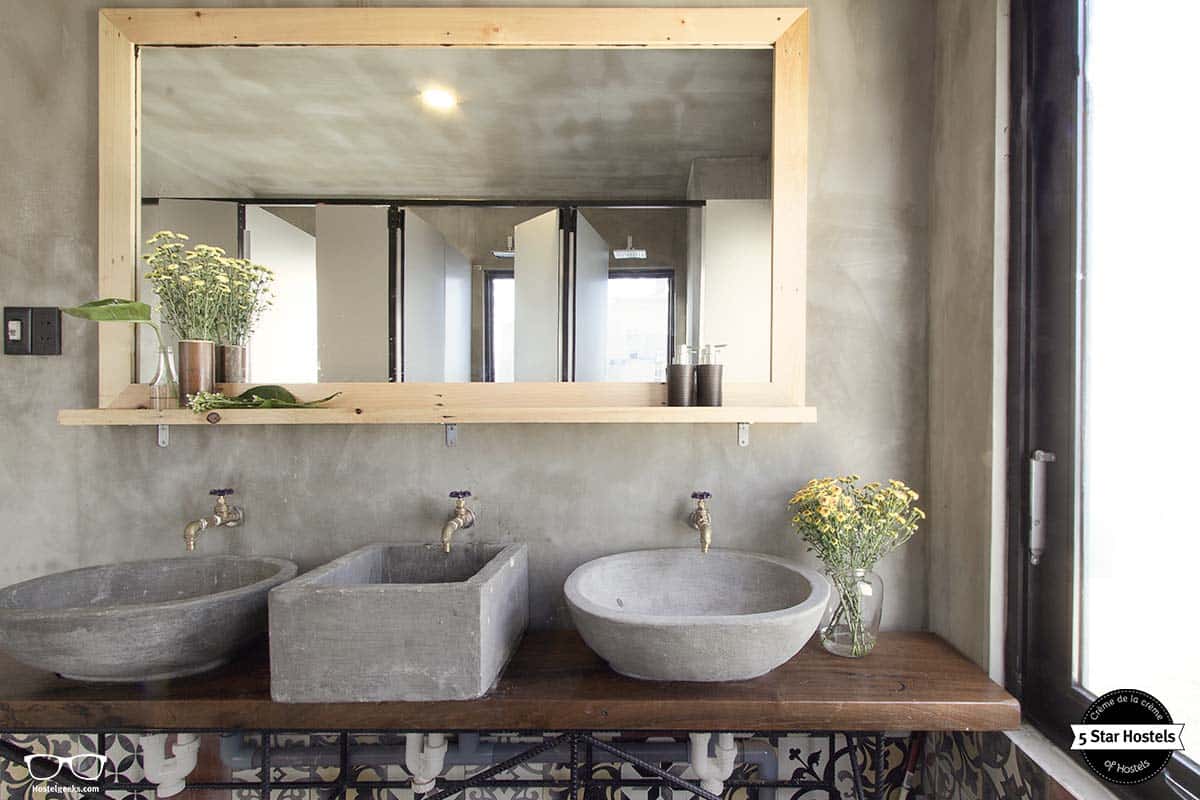 The Champa country does no longer appear on any map in the world after that.
Its cultural heritage however – and especially their architectural style – is still existing and is attractive because of its unique values.
One technique Champa uses is to build houses, as well as temples, out of brick.
That is one reason why Memory Hostel used refined brick as main their material in the building.
It's simply a proven architectural specificity. The industrial and vintage vibe will translate you to the nostalgic Vietnamese feeling of the Champa kingdom.
Concrete is present also in the bathrooms, where they mix a hip design with travel comfort.
Besides adding Champa architecture, the Memory Hostel wanted to reflect the spirit of the people living in there, with decoration elements from many places all over the country.
Many different materials were collected from the countryside and villages.
All that emanates a special local vibe and nostalgic feeling inside the hostel.
3. Industrial interior with Vietnamese Hospitality
The uniqueness of Memory Hostel comes from their unique combo of industrial design with the friendly and passionate Vietnamese hospitality.
Bricks, old windows, cement sinks, and finally the colorful floor tiles throughout Memory Hostel… all this is unique in Da Nang City.
This was one reason why Memory Hostel and their architect team decided on this specific interior design.
The contrast between the cultural roots and the cities transformation of rhythm gives travelers an insight to the modern Vietnam.
The dorms and private rooms have large windows flooding the rooms with natural light.
Depending on which room you are staying in, you will have wonderful views above the river and bridges.
Especially at night this gets quite impressive.
Another small detail we enjoy at Memory Hostel and many 5 Star Hostels are the curtains on the bunk beds.
This adds a little privacy even to the dorm rooms, right?!
We collected all different hostel room types for you so you can get an idea.
The Memory Hostel itself sees its staff as the unique part of the hostel.
"The design", they say, "is unique now, but who knows how long it will remain unique and different once other accommodation pick their up on the design."
Therefore, for them it's the staff making the difference.
With a smile on their face, and a travel passion in their heart, the Memory team enjoys having international travelers all around, introducing them to their own home.
4. Good times and laughs with a panoramic dragon view
Did we mention the super cool rooftop terrace?
Memory Hostel is a great place to mingle, gather around and make new friends.
The Hostel organizes BQQ parties right on their own rooftop terrace; panoramic view included, to bring their guests closer together.
From the roof top terrace you have a great view to the popular Dragon Bridge "Cầu Tàu Tình Yêu Đà Nẵng".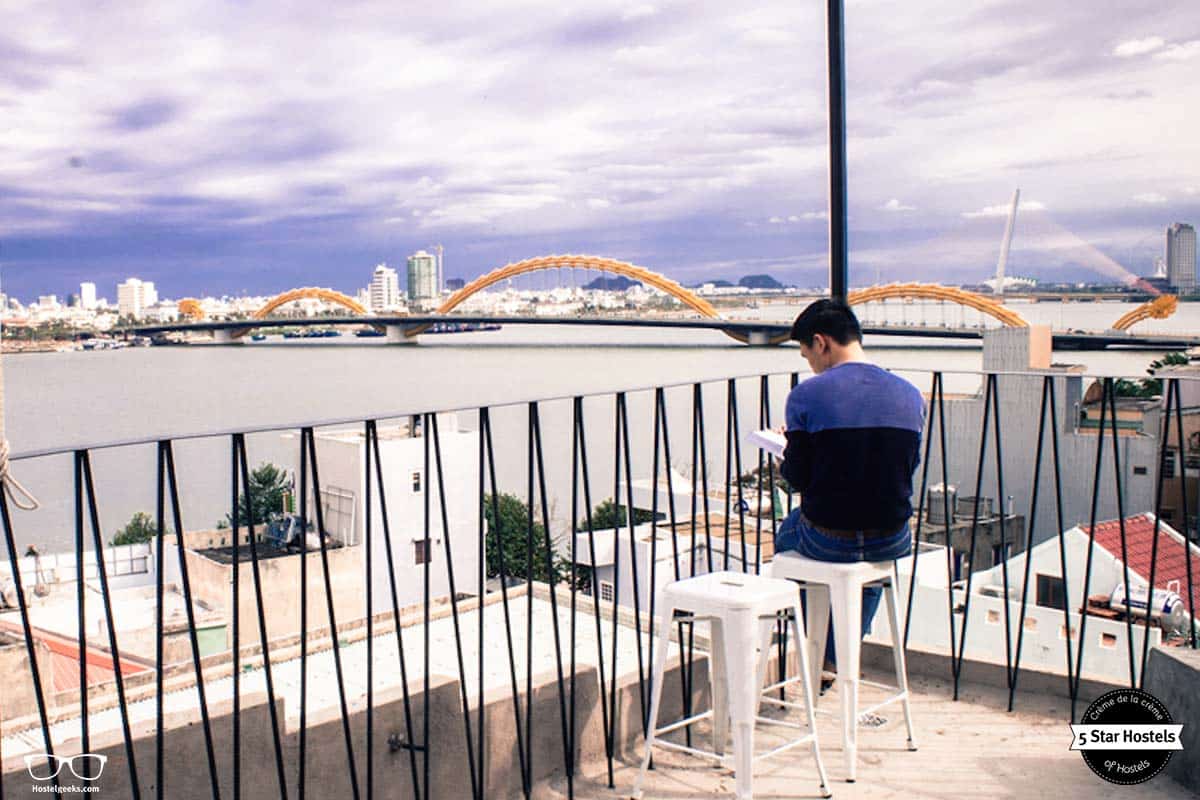 It's their every day goal to create a sense of community, so fellow backpackers and guests share their experience, join trips together, and leave with a bag full of memories.
The 5 Star Hostel in Da Nang does not come with the typical large living room or lounge, and their roof top terrace is the number 1 place to meet other travelers.
Bear in mind, there is no elevator taking you up all the 5 floors to reach the roof top terrace.
However, let us tell you, it's worth it the effort as the views and vibes are a wonderful pay back.
Read: 24 Best Things to do in Vietnam
5. Staff: Love for travel and smiles
As all 5 Star Hostels, Memory Hostel also knows that good staff and a good team is the key to memorable experience.
So when they look for a new team member they have simple requirements: love and passion for travel and SMILES (and basic english skills!)
All of us are traveling lovers, dynamic students, and energetic.
The staff at Memory Hostel are kind and enthusiastic, and that's what you will notice during your stay.
Need any information about tours in Da Nang, things to see, transport options to upcoming destinations?
Don't be shy, and ask at the reception, or the staff members around the hostel.
They will be happy to look for tours and things to do in Da Nang; call you a cab, and give you some insider tips for their city, for instance.
For every first-timer in Da Nang City, the staff will gladly offer an introduction to the cities distribution; what to see, explore, and more.
Therefore, we at Hostelgeeks think you can leave your guide book in the backpack.
Just head down to the receptionist!
Unfortunately, there are some black sheeps in Da Nang, and midnight scams can happen throughout the city – be aware!
This includes especially taxi's overcharging at the main train station.
Memory Hostel informs their guests about these scams to make sure the travelers stay safe.
Their help always comes with a smile.
There is no real surprise that the ratings of Memory Hostel on booking platforms are very high.
More you need to know about Vietnam
We wrote up more articles during our 3 months trip in Vietnam.
On our journey from Hanoi to Ho Chi Minh City, we have experienced so many wonderful things.
Our travel tips Vietnam here: