Welcome to your ultimate guide to the absolute 3 best hostels in Hanoi. Vietnam's capital is your gateway to the world famous Ha Long Bay and the 3 best hostels in Hanoi.
It's time to head to Southeast Asia to discover stunning hostels at backpacker friendly prices.
Our selected coolest hostels in Hanoi are well on their way to being some of the best hostels in Vietnam!
This is a guide for female solo-travellers and the ones tired of boring, dirty hostels.
If you are staying in hostels only to get drunk and cheap cheaply, we got you covered too.
This guide is perfect for YOU, when …
tired of bad and crappy hostels
want to avoid the "young party kids"
happy to spend 1-2€ for a better experience
We condensed it all to the 3 coolest hostels in Hanoi.
As always, we strive to make your planning and preparation as hassle-free as possible.
That's why we've included in this article:
We actually spent substantial time in Hanoi and Vietnam.
If you're looking to get off the beaten track we highly recommend visiting the small village of Sa Pa.
And guess what? NEXY Hostel is our 5 Star Hostel in Hanoi.
For those of you that plan to explore more of Vietnam, check out our big guides:
Find all top hostels in Vietnam here.
Quick Introduction to Hanoi Hostels
Average price for a bed: A bed in a dorm can be as cheap as 4.50€ up to 10€ per night. You see, Hanoi hostels are really cheap. This is a rough average to give you an idea. Prices always depend on season and holidays.
Please always check exact rates on Hostelworld.com or Booking.com.
Check-In and Check Out: The average check-in time is from 15:00 (3pm), while the Check Out time is before 11:00 (11am). Hostels usually offer luggage storage in case you arrive earlier or leave later. Make sure you check if luggage storage is free or if there is an extra cost.
Location: Everybody is looking for hostels in Hanoi Old Quarter. This is the most famous part of the city. The bustling city center is quite active, especially at night. We recommend to stay on the edge of the Old Quarter instead of directly in it. It will be much more comfortable to get a good night sleep.
Quality of hostels: the quality of hostels in Hanoi differs; a lot! You can stay in really bad hostels for 3-5€, or choose an epic one for 10€ per night. It is a totally different experience, no kidding. As a rule of thumb, we would recommend you never choosing the cheapest hostels in Hanoi and Vietnam.
Why?
The cheapest ones do not include anything else except cockroaches and dirty linen. We actually experiences this first-hand. Better invest 1-2€ per night and your experience will be a much better one.
Scams: In Vietnam and Hanoi you will have the typical taxi-driver scam: Your hotel is full/ closed/ doesn't exist. Do not fall for it. It is a common traveler scam to bring you to a different hostel or hotel and charge you more; plus the cab driver gets a cut from your payment. Do not fall for it!
Communist Country: Vietnam is yet a communist country. Bear this in mind. Remain respectful.
Visa: For entering Vietnam, you will need a visa. We wrote a big guide on how to get a visa for Vietnam in our articles "things to do in Vietnam".
New to Hostels? Read our full hostel starter guide here. We especially recommend to read:
3 Best Hostels in Hanoi, Vietnam
Get your camera ready; you're certainly going to need it!
The 3 coolest hostels in Hanoi are…
NEXY Hostel (great for solo travellers and couples)
Cocoon Inn (top pick for female solo travellers)
Little Charm Hanoi Hostel (best hostel for friends)
1. NEXY Hostel (luxury at a budget)
This is the #1 hip, cool and quality hostel in Hanoi. Located right at the edge of the Old Quarter Hanoi, NEXY Hostel is the only 5 Star Hostel in town.
The design of this hostel emphasises Vietnamese charm with contemporary design.
It's vibrant, cool and friendly; a perfect place for the sociable traveller.
And again, the location is perfect. You will be in the Old Quarter in 100 meter, but stay away at night from all the noise. This way you can have a drink in the busy Old Quarter, and literally walk away from it to sleep at NEXY Hostel.
Compare prices and read reviews at: Booking.com | Hostelworld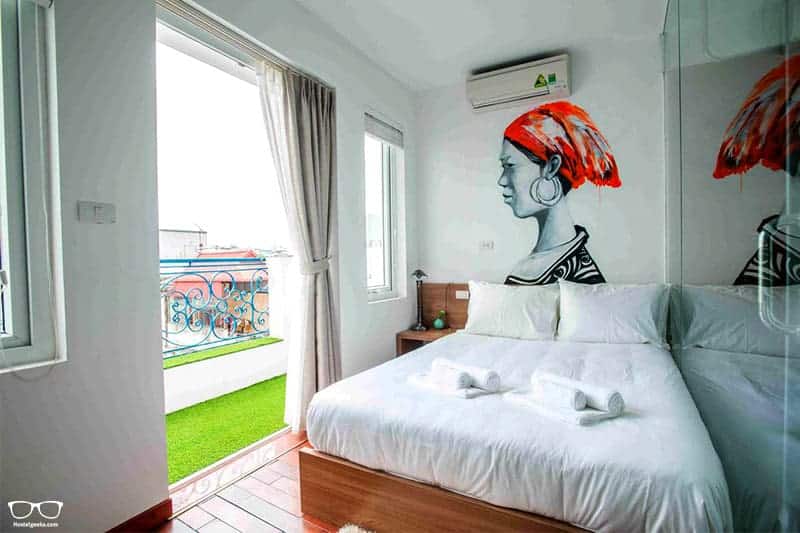 So what about the rooms? Choose between:
8-14 bed mixed dorm
8-bed female dorm
Twin, triple + double privates
One thing's for sure: you won't be let down on comfort. It's not called a luxury hostel for nothing!
Everyone gets luxury linen, towel and a personal locker under their bed.
Each of the beds has been designed with the modern traveller in mind. And modern travellers need privacy, sometimes.
Pull the curtain across and enjoy your very own plug and reading lamp and get that necessary downtime.
As you'd expect from an awesome hostel in Hanoi; the staff here rock.
Pop into the 24hr reception and ask about all of the hidden treasures of Vietnam. They know their stuff!
On-site there is a super trendy cafe and bar. Grab a bite, meet fellow travellers and enjoy a cold, local beer.
Having failed that, head up to the rooftop terrace or…
relax in the TV room with a movie
put your feet up with a book in the library
try your luck at a game of foosball and/or pool
We've written a full review of NEXY Hostel here.
Who would absolutely love it here? NEXY Hostel is the best hostel in Hanoi for:
Compare prices and read reviews at: Booking.com | Hostelworld
2. Cocoon Inn (private spaces, sociable faces)
Next up is another hostel trying to disguise itself as a hotel. Cocoon Inn brings super comfort and cosy design perfect for the avid traveller.
Who knew hostel luxury and comfort could be found at budget prices? Wait until you see the rooms.
The bold colours sure do make a bold statement: a creative cocoon awaits you.
Compare prices and read reviews at: Booking.com | Hostelworld
Mixed dorms come with 4, 6, 10 and 16-bed options including:
Pod-style, sturdy beds
Personal curtain, fan, shelf, socket, lamp + locker!
Plush duvet + linen
Female solo travellers will love the 6-bed female dorm that comes with an en-suite bathroom and hairdryers.
Read: Why female only dorms? 7 pros and 3 cons
The private rooms are also pretty neat. Couples that want to treat themselves should opt for the deluxe room with a balcony.
Once again (and we're NOT sorry to say) there is a bar at this cool hostel in Hanoi!
Not only that, but there's a super cool TV/lounge area. The space is humongous and filled with beanbags – what more do you need?
Well, I suppose a free breakfast and unlimited coffee would be nice, I hear you say.
You got it!
To top it off, the staff here has travel expertise. It's possible to book a tour whilst you're here including a party cruise on Halong Bay.
Cocoon Inn is the best hostel in Hanoi for:
Female solo travellers
Social butterflies
Compare prices and read reviews at: Booking.com | Hostelworld
3. Little Charm Hanoi Hostel (indoor swimming pool)
Even our #3 selected hostel will blow your socks off with its high level of elegance. Little Charm Hanoi Hostel actually has a whole lot of charm to offer you.
This is a place
Where the little things mean everything
What makes this hostel so charming?
The relaxing indoor swimming pool
Friendly staff is at hand 24 hours a day
Free breakfast
Bike rental
Seriously, have a look on the photos. It does not look like a hostel at all, right?!
Compare prices and read reviews at: Booking.com | Hostelworld
You may double take when you enter your room but don't worry; this is a hostel and not a hotel.
Still, the beautifully made beds and wrapped towels are a lovely welcome.
Whether you choose a mixed or female dorm you won't be disappointed with:
A private bathroom
City views
Daily housekeeping
Note: there are no private room options available.
This is certainly a top choice for those looking to spoil themselves and experience a bit of upper class.
Don't be put off by the slightly-over-dressed staff. Word has it they are incredibly welcoming and friendly.
Head to the bar and restaurant and you'll see what we mean. Here you can grab a cocktail, eat Italian and Vietnamese food and sip on tasty coffee.
There's also a chill-out lounge to do exactly that; chill out.
It's certainly one of the best hostels in Hanoi Old Quarter, nearby the main attractions of the city.
Little Charm Hanoi Hostel is the best hostel in Hanoi for:
Friends
Female solo travellers
Compare prices and read reviews at: Booking.com | Hostelworld
Best Party Hostels in Hanoi
Are you ready to party?!
That's good because Hanoi has a great selection of party hostels.
When it is the nightlife you are after, you really should have a closer look on all the hostels in Old Quarter. Many of them are party hostels in Hanoi.
To make things easier for you, we've selected to two best party hostels in Hanoi.
To kick-start, we'd like to introduce Hanoi City Backpackers Hostel.
This bright, spacious hostel is all about freebies. No doubt these will entice you:
FREE beer
FREE breakfast
FREE decent wifi
Many highly recommended restaurants and bars are a few minute's walk and the perfect option for a great night out.
Check in anytime at the 24hr reception and collapse at the end of the day on super comfy beds.
Compare prices and read reviews at: Booking.com | Hostelworld
If you're looking or all-day bar and food service; Old Quarter View Hanoi Hostel is for you.
As the name states clearly, this hostel is located in the perfect area for backpackers looking for a crazy time.
This is an ideal choice for social nuts that like to meet anyone and everyone.
Enjoy the hammocks, free breakfast and beautifully decorated rooms.
This is certainly one of the best hostels in Hanoi Old Quarter!
Compare prices and read reviews at: Booking.com | Hostelworld
The Best Hostels in Hanoi for Solo Travellers
It would seem more and more people are deciding to travel solo. That's great!
So many hostels are learning this too, and in Hanoi, there are some great hostels that have solo travellers in mind.
No matter what type of solo traveller you are, we have found an option for you. In short:
Let us also introduce 7 Fridays Hostel where you can get that Friday feeling every day of the week!
For a nice change, this is located outside the city centre near West Lake. Here's your chance to explore the 'real' Hanoi away from the tourist scene.
Regular events are held by the poolside including live bands and regular BBQ's.
It's a wonderful choice for solo travellers looking to mingle and enjoy a great night's sleep.
Compare prices and read reviews at: Booking.com | Hostelworld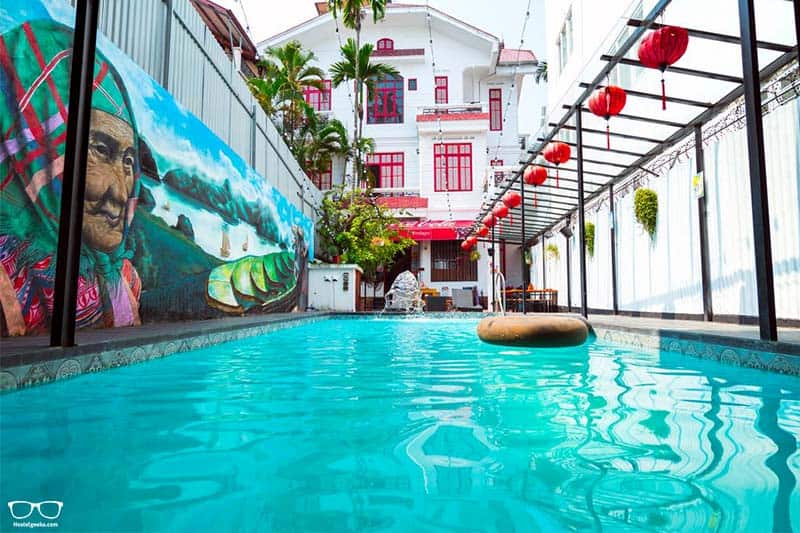 Cheapest Hostels in Hanoi
Of course, there are always cheap hostels. And certainly there is cheaper hostels than the ones we listed here.
We think, it's not worth it to go with the cheapest hostel out in Hanoi and Vietnam in general.
Why?
The difference is usually as little as 1-2€ ($1-2) per night, and a lot of amenities are not included. This can be breakfast or linen. Although, keep in mind a bad location far away from the city center costs you more in transport.
Good to know: The difference in quality for 1€-2€ more (or less) is actually insane. Paying 1€ less per night in a cheap, dodgy place could easy come with cockroaches and unclean sheets etc.
No kidding! We experienced this first hand. The 1€ more per night goes a loooooong way!
Rule of Thumb: Never go with the cheapest hostels in South East Asia. Always pay a tiny bit more, and you won't have any issues with bed bugs or anything.
However, if you are traveling on a shoe-string budget and you wanna save every penny, there are ways to find the cheapest places to stay in Hanoi.
Open Hostelworld with full list of accommodations in Hanoi
Order the listing by price
Simple as that. Remember to filter by ratings and read the reviews. Best way to do that is to check the "extreme comments", meaning the best and worst reviews. This gives you a pretty good idea what to expect.
Any Discounts?
Currently, we have no special hostel discounts in Hanoi, Vietnam.
You can subscribe to our newsletter to receive our newest hostel discounts always to your inbox.
We do also have a 35€ discount for Airbnb here.
Map of Hanoi Hostels + TOP Sights
It's time to discover our handy map! All of the hostel location are pinpointed along with these top sights:
Hoan Kiem Lake (West Lake)
Ho Chi Minh Mausoleum
Thang Long Imperial Citadel
One Pillar Pagoda
Hoa Lo Prison Memorial
Dong Xuan Market
St Joseph's Cathedral
Looking for fun things to do whilst you're in Hanoi?
Make sure you also check out our guide to 41 things to do in Hanoi.
Flights to Hanoi?
When flying to Vietnam, you will most likely find cheaper flights to Hanoi in the North or Ho Chi Minh City in the South.
Vietnam is actually a perfect country to backpack, very convenient. It is cheap, has super cool hostels, so many fun things to do in Vietnam, and it is very convenient.
Why?
Because of its shape as country. There is basically two itineraries in Vietnam you can take: Up or down (or better to say: Going to the South or going to the North)
It is a very narrow country,
Anyway, have a look for yourself. Again, you should either start in Hanoi and end in Ho Chi Minh; Or vice versa.
We enjoy Kiwi.com to find cheap flights at all the time.
Just do a radius search. Draw a circle over Vietnam and find this way the cheapest airlines.
Kiwi is a new website with super cool features like the so-called radius search. Again, just draw a circle over Vietnam or Asia and find the cheapest rates for the area.
Here is our review of Kiwi.
We wrote up more travel guides for backpacking Vietnam:
We share with you here the best hostels in Vietnam – from South to North. There's more:
Traveling even more in South East Asia? We did the leg work for you already, find here our guides:
Here you find all our hostels guides for Asia.
Over to you
There you have it; the 3 best hostels in Hanoi, Vietnam.
Do you have any questions, doubts?
Then please please leave us a comment. This list of awesome Hanoi hostels should be as informative and useful as possible.
Your question(s) will help me to understand what I have missed to mention. You will have your questions answered and help both Hostelgeeks and fellow travellers in their quest for an awesome trip.
Therefore, do not be shy, drop us a comment, we are keen to help you!
Last note: Our commitment
This is a genuine article to help you travel a bit smarter and find the best place on a budget! We ONLY recommend places we know you will enjoy, no matter what.
We will never recommend you any place we haven't evaluated or are not convinced by. We only share with you places we also recommend to our best friends and family!
Enjoy this fine hostel selection and all 5 Star Hostels.
 – – –
pin it for later
Your Smart Packing List
It is time to see what you should pack in your backpack or suitcase. Make sure you always pick a quality hostel, it totally reduces the things you need to pack. Here is our ultimate hostel packing list. It features 23 items you should really throw in your backpack.

The most important things to pack are: Read the full packing list here.