Are you ready to hit the capital city of the Czech Republic? We guessed you might be so we have collected the 3 best hostels in Prague just for you.
This special collection offers cool design and comfort perfect for solo travellers and party lovers.
That's right; you'll find the best party hostel in Prague further down.
Not only that, but you'll find our Prague 5 Star Hostel here: Mosaic House. Keep scrolling!
This guide is perfect for YOU, when …
tired of bad and crappy hostels
want to avoid the "young party kids"
happy to spend 1-2€ for a better experience
We condensed it all to the 3 coolest hostels in Prague.
Prague is nicknamed the 'city of a hundred spires', known for its historic Old Town Square. The Gothic churches and medieval clock are certainly worth a look!
Our hand-picked awesome hostels in Prague will give you one more reason to visit.
Hostelgeeks collect 5 Star Hostels all around the world.
At the end of this article we share more guides to best hostels in Europe.
This article is jam-packed with useful information to make your planning easier and faster.
You can expect to find:
Quick Introduction to hostels in Prague
Average price for a bed: A bed in a dorm can be as cheap as 6€ up to 20€ per night. A private room starts from 40€ up to 120€ per night.
This is a rough average to give you an idea. Prices always depend on season and holidays. Always check exact rates on Hostelworld.com or Booking.com.
Check-In and Check Out: The average check-in time is from 15:00 (3pm), while the Check Out time is before 11:00 (11am). Hostels usually offer luggage storage in case you arrive e
arlier or leave later. Make sure you check if luggage storage is free or if there is an extra cost.
Transport in Prague: Prague is very well connected by public transports. If you stay close to a night tram route, you'll have public transport options 24 hours a day. The old town and new town are really walk-able too.
The Old town in Prague: the Old town is the geographical centre of the city and most popular place to stay in Prague. It contains a lot of pedestrianized areas. The astronomical is there. The Charles bridge connects the Old town with the Castle. If you stay in the Prague Old Town, you should never be more than a 10 minute walk from anywhere else in the Old Town.
Things NOT to do in Prague: Yes, the city is packed with tourists. And there is a few things you can easily skip and scams you should avoid. We wrote a handy guide on things NOT to do in Prague here.
New to Hostels? Read our full hostel starter guide here. We especially recommend to read:
The 3 best hostels in Prague

Are you ready? Let's go!
Quick overview:
Mosaic House – the 5 Star Hostel
Sir Toby's – stylish place
Hostel One Prague – the backpackers choice
1. Mosaic House (Castle views and karaoke)
Mosaic House is a unique Eco and Design hostel in the new town of Prague. Oh no, wait.
We should it put in a different way: Mosaic House is the ONLY 5 Star Hostel in Prague!
The atmosphere is buzzing, there is a fantastic team and events are always happening here – no wonder it's a 5 Star Hostel.
If you decide to stay here, you'll be supporting a hostel that works on 0% emission – wow!
Sounds boring? Well okay okay…
How about Karaoke? a budget in-house restaurant? Live concerts? Parties?
I see, we got your attention.
Mosaic House is seriously the absolute best hostel in Prague for solo-travellers, couples, backpackers and groups.
Even families can go with the hotel-section of the property and sleep int the loft apartment with a castles view.
Compare prices and read reviews at: Booking.com | Hostelworld | Full Review
This property has a total of 55 rooms, 42 of which are shared.
A great place to mingle with other fellow  travelers.
It should be obvious that every type of room is available, but just so you know you can choose between:
Private rooms
Small mixed dorms
Large mixed dorms
Female-only dorms
even Apartments
Each private room has a unique touch of something artsy: a special painting, a quirky photograph, or a stylish wall decor. The private rooms are separated from the dorms.
The apartments on the top are high-end and fantastic rooms to stay in!
And we mean: High-end!

You enjoy a terrace with a castles view.
This is seriously the coolest hostel in Prague for a romantic yet party-ish, social getaway.
Another big plus: All the events-area is downstairs. If you prefer having a rest, just walk up to your room and you will sleep like a baby without any noise!
Mosaic understands your needs. So expect all of the usual inclusion such as:
linen,
light,
plug and, of course,
free and fast WiFi.
Personal additions = extra comfort.
Everyone has access to the common kitchen and living room. Yet for those days you don't want to cook just go to the on-site restaurant and bar: La Loca. Restaurants are generally cheap in Prague anyway, so it's a good spot to eat-out. Especially the food in la Local is fantastic.
We had pasta here. YUMMY!
There are many social activities taking place here:
karaoke nights,
quiz games,
retro video disco parties…
La Loca is an on-site restaurant come music bar come lounge. What can't you do here? Not a lot!
La Loca by day: eat amazing food and chat with fellow travellers
La Loca by night: grab a beer, dance to live music and sing your heart out at karaoke
It's safe to say that Mosaic House also acts as a great party hostel in Prague.
The motto here is
One house, 1000 memories.
Read our full review of Mosaic House and find out why this is our – and soon to be your – top choice.
Mosaic House is the best hostel in Prague for:
flashpackers
couples
female solo-travellers
groups
Compare prices and read reviews at: Booking.com | Hostelworld | Full Review
2. Sir Toby's (brick cellar pub, cosy vibes)
Authentic, friendly and humble; Sir Toby's creates a real home away from home abode for travellers.
This hostel is anything but conventional.
It has something for everyone – from cosy shared dorms to quaint private rooms.
You'll surely feel the warm energy as soon as you walk through the door.
Compare prices and read reviews at: Booking.com | Hostelworld
Once you're in, you come across many awesome communal areas to hang out in.
There's a…
Pub with games, Czech beers, movies, live events etc
Lounge area
Garden terrace – the place for BBQs
Stocked kitchen
When you're not socialising make the most of your chosen comfy room.
Whether you choose a single, double, mixed dorm or female-only dorm, you'll always find crisp clean linen waiting for you.
Read: Why Female Dorms? 7 Pros and 3 Cons
There is a triple room with private facilities – perfect for small families.
The under bed storage really helps keep the rooms spacious and bright.
Good to know: Sir Toby's accepts a maximum of 7 nights per person.
Make sure you make time to join the crepe making and trivia nights whilst you're here!
Pop your belongings in a safety deposit box and hire a bike for the day – reception is 24-hours so there is no restriction.
The staff will gladly help with bookings for transport, activities and tours. There are many to choose from – just ask at reception.
Find Sir Toby's in the Holesovice neighbourhood. It's surrounded by restaurants, markets and clubs.
Sir Toby's is the best accommodation in Prague for:
Compare prices and read reviews at: Booking.com | Hostelworld
3. Hostel One Prague (free dinner + activities anyone?)
Are you looking for a super laid-back, super fun hostel?
Our third chosen hostel is Hostel One Prague because it is exactly that.
It's all about the staff here, dedicated to creating a stress-free, friendly and informative environment. They'll party with you all night too if you like! This one is the backpackers choice!
Compare prices and read reviews at: Booking.com | Hostelworld
Most of the rooms here are shared, including a female dorm. There's also the option of a double-bed private.
Guess what? Your bed will be ready-made on your arrival!
That's just the best thing in cases of arriving late and not wanting to disturb fellow travellers.
Just so you know: there is no curfew or weird rules here – it's all about having fun.
The Rave Cave is an on-site bar offering up good beats and cheap drinks. Continue the party at a local club, lead by the staff.
Need a break from the city life? Chillax on a balcony, patio and in the beautiful garden.
Grab yourself a complimentary coffee and good book from the TV lounge and you're all set.
And how about a free, home-cooked dinner?!
You heard that right: available every night. Daily day and night activities are also free. Amazing.
The Zizkov area, where Hostel One is located, is for the young and adventurous. It boasts the most bars, restaurants and cafes per square metre in the entire country!
The Old Town is a mere 15-minute walk. Trams are easily accessible, too.
Hostel One Prague is the best place in Prague for:
Compare prices and read reviews at: Booking.com | Hostelworld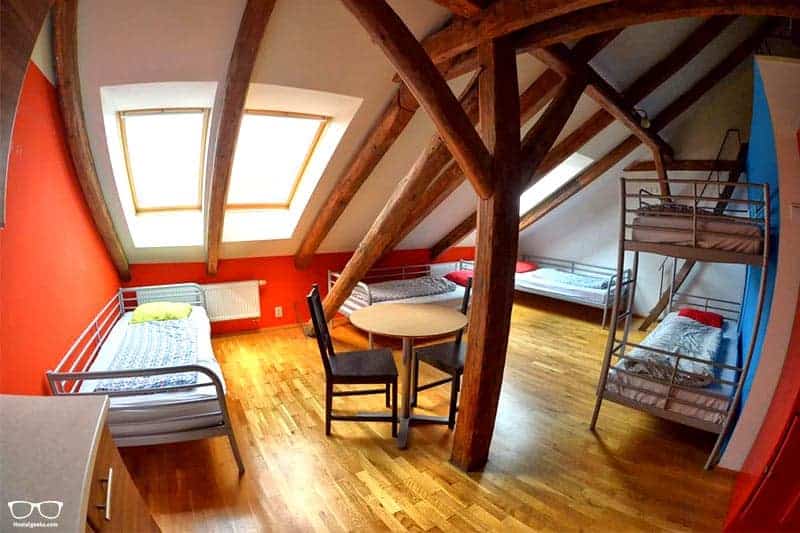 What are the best hostels in Prague for partying?
5 Star Hostel? Check.
3 best hostels in Prague? Check.
Great party hostels in Prague…?
Well, so far we've highlighted that Mosaic Hostel and Hostel One Prague make for a good party hostel.
But The Madhouse Prague really stands out as the best hostel in Prague for partying.
With a maximum of 40 guests, this hostel is more like a big house share full of people looking for a good time.
Join in on family dinners and afternoon beer pong – there's a well-stocked beer fridge in the kitchen.
Laze in the lounge with a movie to cure your headache the morning after the night before.
You'll be slap bang in the centre of the Old Town so 24-hour pizza and kebabs are a stone's throw away.
Compare prices and read reviews at: Booking.com | Hostelworld
What about the best hostels in Prague for Solo Travellers?
Going solo doesn't have to mean travelling alone.
As said in the beginning, the Mosaic House would be my first choice when traveling solo to Prague.
Here is a few more options for hostels in Prague for solo-travellers.
The Roadhouse Prague
To ensure you make great friends and socialise, have a look at The Roadhouse Prague – the sister hostel of The Madhouse.
This is strictly a social hostel minus the party element.
Get involved in daily activities such as dinner nights and exploring the sights.
The social spaces are designed for lazy, intimate times perfect for personal downtime and friendly interaction with both staff and backpackers alike.
Compare prices and read reviews at: Hostelworld
DREAM Hostel Prague
Pause from the hectic rythm of travelling and relax at DREAM Hostel Prague.
This gorgeous design hostel has spaces for solo travellers to meet others and do their own thing.
Join in tours by locals, grab a burger on Fridays and hit the pub crawl – all great ways to get socialising.
There are a range of rooms including an 8-bed female dorm and private options. The dorms come with privacy curtains. Yipee!
It's centrally located – not far from Wenceslas Square – on a street which literally translates to 'stripped pants'. We think this suits the quirky hostel vibe perfectly.
Compare prices and read reviews at: Booking.com | Hostelworld
What are the safest hostels in Prague?
Safety is, of course, paramount whilst travelling the world.
Nobody wants to lose their passport or get into any trouble.
We would never suggest a hostel to you that we do not consider safe.
Nevertheless, hostel are really as safe as you make them. As said, my best choice would be Mosaic House.
It is located in New Town, just a 7 minutes walk from Old Town. The area is super safe!
Nevertheless, you should always be vigilant and take care on your travels.
We've also prepared this useful guide: Are Hostels Safe? 13 Safety Tips.
Considering an insurance? Have a read of why purchasing travel insurance.
Where to Stay in Prague on a Budget
Are you in search of budget accommodation in Prague? There are of course cheap hostels to be found.
If you happened to search for 'places to stay in Prague cheap', you'll find options in this city.
It can be tempting to opt for the cheap places to stay in and only look for a Prague cheap stay.
Keep in mind a bad location – or seemingly cheap areas to stay in – can be far from the city centre and top sights, so transport costs might occur.
Yet if you are set on finding cheap lodging in Rome it's possible.
Here's how to find them:
Open Hostelworld with full list of where to stay in Prague cheap
Order the listing by price
Simple as that.
7 Secret Tips for Prague
Are you looking for some personalized Prague Travel Tips? Welcome to our Prague guide– unique recommendations written by friends – for friends!
All the listed local tips for Prague are personally tested, and only included because they are highly recommended by us.
The secrets include:
Tour: An alternative Tour outside the tourist box – the perfect start to your local Prague experience
Food: We show you a unique place to get your hunger fixed – located in a hip neighborhood, not the city center
Fun: Wanna have some fun with your travel buddies? We have a special recommendation for what to do in Prague!
Get out of the city, and experience the adventurous part of Prague – we tested it and had a blast!
Drinks: A Hipster Café and Fun Bar next to the 5 Star Hostel
Geeky Tip: Masterminds, Bitcoin Café, and changing the world – we show you a unique house full of smart people, and cool staff to explore.
Extra Geeky Tip: Do you fancy a "Peter Pan Bar"? We found this unique, crazy bar to have a drink with locals.
Check our Secret Tips for Prague.
Psst! We've also written a short guide to 5 Things NOT to do in Prague.
Any Discounts or Promo Codes?
Currently, we have no special hostel discounts or Promo Codes for hostels in Prague. They all expired already and we would not give you discount codes that are not valid any more.
Yet, you can always get the 35€ discount for Airbnb here.
Forget searching for 'Prague hotel cheap' (and boring); Airbnb is a hostel hotel hybrid.
Here you'll find places up there with comfort and design of affordable hotels in Prague.
Wanna be updated? Subscribe to our newsletter.
Here we share our newest promo codes for hostels and hotels in Prague and all other destinations first.
Handy Map of Best Hostel locations + TOP sights
As always we've included a handy map with all the hostel locations and cool sights around Prague.
There's plenty to do in this beautiful city. Some of the most popular attractions include:
Medieval dinner with unlimited drinks
Prague by night: 3-hour dinner cruise
Old Town
St. Vitus Cathedral
Prague Castle
Petrin Tower
St.Charles Bridge
Wenceslas Square
Prague Astronomical Clock
The Jewish Quarter
Good to know: We played an Escape Room in Prague – pure fun and cheap!
It might be a good idea to grab a 2, 3 or 4 day city card to enjoy many discounts across Prague.
Flights to Prague?
Prague is very well connected by plane.
All major destinations fly to Prague directly. When arriving at the Airport, there is a direct shuttle to the city center. This is the fastest way to get downtown.
We enjoy Kiwi.com to find cheap flights all over the world, including Prague, Milan and more.
This new website has super cool features like a so-called radius search.
Just draw a circle over Europe and find the cheapest rates for the area.
Here is our full review of Kiwi.
More hostels and destinations in the area
Once in beautiful Prague, try to add more destinations to your bucket list. All these destinations are easily connected via train or bus. Check out flixbus to find the cheapest way to travel around by bus.
We have a big selection of 5 Star Hostels in Europe.
Destinations to add are:
Find all our guides to 3 best hostels here.
Over to you
At this point in time, you should (hopefully) be feeling pretty prepared for Prague!
The hostels we've introduced will happily house party animals, solo travellers, female backpacker and friends.
Perhaps you have a question or two? Maybe you'd like to correct a mistake?
Please, please don't hesitate to help us improve our guides. Your input is important to us.
Leave a comment in the section below!
Last note: Our commitment
This is a genuine article to help you travel a bit smarter and find the best place on a budget!
We ONLY recommend places we know you will enjoy, no matter what.
Also, we will never recommend you any place we haven't evaluated or are not convinced by.
We share with you exclusively places we recommend to our best friends and family!
Enjoy this fine hostel selection and all 5 Star Hostels.
– – –
Pin it for later
Your Smart Packing List
It is time to see what you should pack in your backpack or suitcase. Make sure you always pick a quality hostel, it totally reduces the things you need to pack. Here is our ultimate hostel packing list. It features 23 items you should really throw in your backpack.

The most important things to pack are: Read the full packing list here.