We're eager to reveal to you the 3 best hostels in Munich, Germany.
Most likely our readers think of one thing when they hear Munich: Oktoberfest!
Sure, this is a fantastic event. But Bavaria's capital is also home to centuries-old buildings, Gothic architecture and edgy art.
And of course; awesome hostels!
This guide is perfect for YOU, when …
tired of bad and crappy hostels
want to avoid the "young party kids"
happy to spend 1-2€ for a better experience
We condensed it all to the 3 coolest hostels in Munich.
We've worked hard to find budget accommodation to suit solo, female travellers, couples and groups.
Did you know we have 5 Star Hostels all over Europe?
This guide is purely for Munich. Though you should also check out our epic guide to the 29 best hostels in Germany.
Quick Introduction to Munich Hostels
Average price for a bed: Munich is known as the most expensive city in Germany. Prices for a bed can start from 14€. A private room in Munich starts from 80€. This is a rough average just to give you an idea.
Prices always depend on season and holidays. Please always check exact rates on Hostelworld.com or Booking.com.
Oktoberfest: The world-famous Oktoberfest is obviously popular and prices are steep. It doesn't really matter to book early to score cheaper deals, since they usually do not exist for Oktoberfest. BUT, you should book as early as possible anyway. Why? Because it's crowded and the good hostels are gone fast. Like, super fast!
Check-In and Check Out: The average check-in time is from 15:00 (3pm), while the Check Out time is before 11:00 (11am). Hostels usually offer luggage storage in case you arrive earlier or leave later. Make sure you check if luggage storage is free or if there is an extra cost.
Munich Tourism Tax: Hurray, there is no extra tourist tax in Munich, Germany. However, there are tourist taxes in Berlin, Hamburg and other major European destinations.
New to Hostels? Read our full hostel starter guide here. We especially recommend to read:
A Quick Guide to the 3 Best Hostels in Munich
We hope you're ready to discover neat design, super social vibes and wonderful locations.
Don't forget to also check out the handy map which will help you find your chosen hostel faster.
Our hand-picked hostels include:
Wombat's CITY Hostel Munich – great for solo-traveller
Gspusi Bar Hostel – great for stylish traveler and couples
Euro Youth Hostel – best for backpacker and groups
1. Wombat's CITY Hostel Munich (TOP location)
If your number one priority in Munich is Oktoberfest; Wombat's CITY Hostel Munich is for you. Just 10 minutes walk from the festival!
This hostel is bright, spacious and comfortable in every way.
Rooms include private, twin, dorm and female-only dorms.
Read: Hostel room types – what are the differences?
What's really great is that linen is included. Some rooms even come with their very own terrace!
Each room has en-suite facilities. This means you don't have to run far when you forget your towel.
Other inclusions to note:
Free welcome drink – how nice!
All-you-can-eat breaky (for an extra fee)
Lockers in all rooms
24/7 reception + WiFi
So let's move on to the social spaces.
I'm sure you love a good hammock and squishy beanbag just as much as us. Wombats Munich has you covered.
Find them in the glass-roofed courtyard that's fit for all weathers. Real life beautiful trees help fill the relaxing space, too. As soon as you walk in the common area, the lounge, you will notice many travelers hanging out, relax, charge their phones, chatting. It can be really easy going.
Don't miss out on a refreshing drink at the Wombar after a long day of exploration. The bar has some games, and happy hours; obviously. After a day of wandering Munich, it is good idea to step in for at least one Weizenbier. We recommend trying Franziskaner or Paulaner!
The staff are world travellers themselves so they understand your needs. Why not have a chat with them?
Good to know: Wombats only accepts bookings from people of 18yrs+.
Better to know: As being one of the top hostels in Munich, this place can be sold out fast, especially during Oktoberfest. Make sure you make your booking as soon as you have your dates fix.
Wombats is a stone's throw from the main train station. Hofbräuhaus brewery and Viktualienmarkt market are also close-by. You are in walking distance to all major sights in the city. So a great location!
Wombats CITY Hostel Munich is a top pick for:
Solo-travellers
Female Solo-Travellers
Oktoberfest-goers
Compare prices and read reviews at: Booking.com | Hostelworld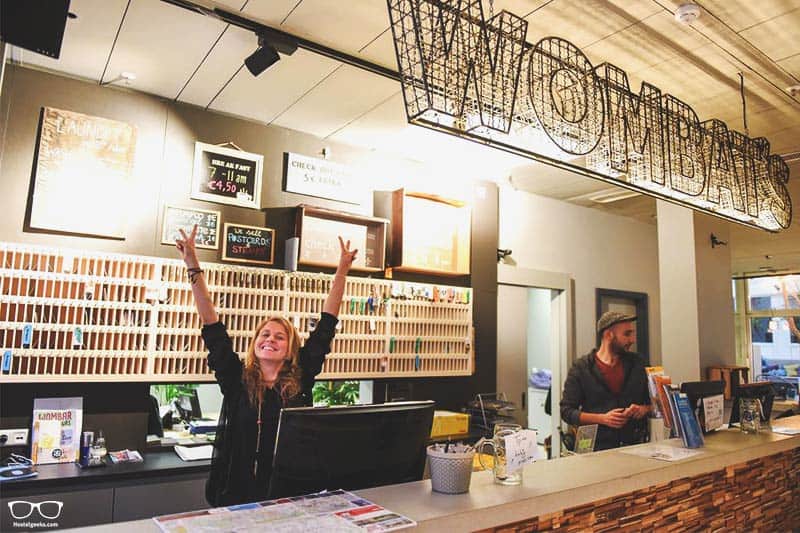 Who stays at Wombats?
There is a wide mix of travelers type. You will find Japanese, Korean, Australian, British, US citizens and Western travelers all over like for instance the Netherlands.
There is all types of travelers like male and female solo-travellers, backpackers, couples and groups. So it is actually fairly easy to meet and greet people. A great hostel choice for solo-travellers.
The Rooms and dorms
The rooms and dorms are fairly simple and kept in a clean, wooden design. The beds in dorms do not come with curtains, which is a pity. There is free to use lockers in all dorms and private rooms. No worries.
Also really convenient is the elevator. The lift brings you up to the rooms. So if you chose having a rest over a beer in the bar, you won't be disturbed by any bar-backpacker-shouting-noise.
That is always good, right?!
Compare prices and read reviews at: Booking.com | Hostelworld
2. Gspusi Bar Hostel (intimate, modern design)
Looking for a stylish, modern stay in Munich? Then you may well love Gspusi Bar Hostel.
Find here 3 meter high ceilings, vinyl flooring, wooden design and hypo-allergenic bedding. This accommodation has a total of 20 rooms, including shared and private.
The maximum beds in a shared room are 4, so we deem this a cosy, intimate hostel. This is the more cosy hostel-choice we got you, and for us, the best boutique-style hostel in Munich!
Linen is included in all the rooms. As are black-out curtains for added privacy.
What else…
There is no curfew – score!
Toilets and showers are communal
Free Wi-Fi throughout the building
City view from the rooms
By now you've probably guessed there is an on-site bar. It's a bar slash lounge, so don't feel inclined to drink if you don't want to.
The space is for every type of guests, so don't be shy and head there to meet other like-minded travellers.
There is also darts available to help break the ice.
The location is top notch, just a few meters from the bar district, shopping area and old town.
Gspusi Bar Hostel is a top tick for:
Couples
Relaxed traveler
female solo-travellers (looking for a stylish place to stay!)
Compare prices and read reviews at: Booking.com | Hostelworld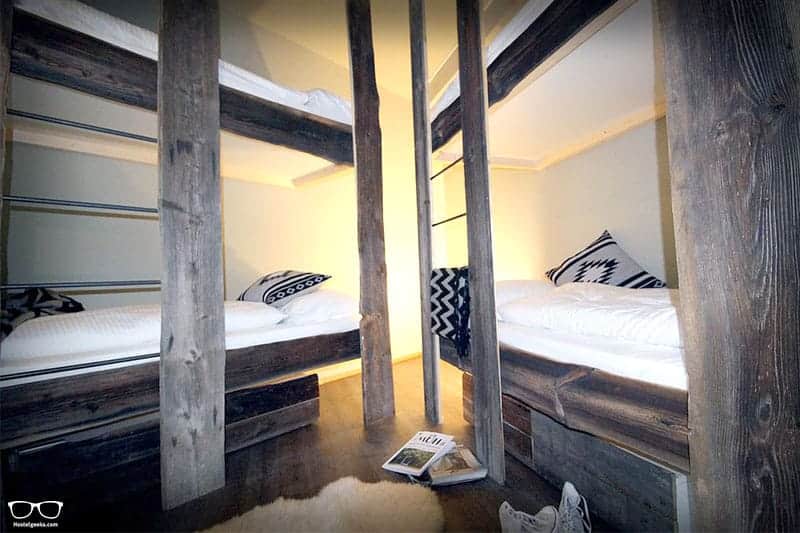 3. Euro Youth Hostel (social hub in a historic setting)
Lively, spacious and oozed in history: Euro Youth Hostel is a top pick in Munich.
We won't kid you: it's a huge place, with 200 beds spread over 58 well-kept rooms.
Yet the vibe still maintains a familiar, homely feel.
It's one of the only buildings in the area to survive WW2, and this, along with the chandeliers and creaky staircases, surely adds to the character.
Enjoy double or single, small and large dorm rooms. Linen is included in all of them.
Are you a young traveller looking to meet people?
We recommend the 12-bed dorm, only open for people aged 18-35yrs.
Check out these awesome freebies:
FREE lockers + storage
FREE walking tours
FREE high-speed Wi-Fi
FREE city maps
Good to know: Consider scoffing an all-you-can-eat breakfast buffet for under €5.
Unfortunately, there is no kitchen – due to Health and Safety laws as it officially states– but there are supermarkets and restaurants nearby.
However! There is free tea available, as well as a microwave.
The on-site bar is the place to be for socialising.
Enjoy Munich's best beer for just €2,70 during happy hour. You read correctly!
The staff make sure to stream all major sports events on the large-screen TV.
Also available is a book exchange and board-games.
All wonderful ways to break the ice with new friends, wouldn't you agree?
The hostels grand old building is 100m from the main train station. This is the main transport hub so getting around is super simple. This hostel is just next to WOMBATS Hostel, the #1 on this list. So, same location!

Oktoberfest and the Old Town are also just a 10-minute walk away.
Euro Youth Hostel is a top pick for:
Backpackers
Budget Traveler
Groups
Compare prices and read reviews at: Booking.com | Hostelworld
What about a super-FUN hostel in Munich?
So, you're looking for something a bit different. Something with character, fresh air and wide-open spaces, perhaps?
Let's introduce you to The Tent.
And that's exactly what it is; a huge tent dormitory designed specifically for young, social travellers!
Important: The Tent is only open during the summer period, and closes soon after Oktoberfest.
Alongside the cool accommodation, revel in the beer garden, chill-out-zone and campfire area.
Are there Cheap Hostels in Munich?
Are there any cheap hostels in Munich? There can be cheaper and the cheapest hostels than the ones mentioned above.
In our opinion, it's not worth it to go with the cheapest hostel out there.
Why?
The difference is usually 1-2€ ($1-2), and a lot of amenities are not included. This can be breakfast or linen. Keep also in mind a bad location far away from the city centre costs you more in transport.
However, if you are travelling on a shoe-string budget and you wanna save every penny, there are ways to find the best cheap hostels in Munich.
Open Hostelworld with full list of accommodations in Munich
Order the listing by price
Hostelworld is the most popular site to book hostels.
Read: Our step-by-step guide to book hostels with Hostelworld
Any Discounts or Promo Codes?
Currently, we have no special hostel discounts or Promo Codes for hostels in Munich. It expired already. 🙁
We are working on it to bring you another coupon code – stay tuned.
Subscribe to our newsletter. Here we share our newest promo codes for hostels and hotels in Munich first.
You can always get the 35€ discount for Airbnb here.
Things to know BEFORE going to Munich
Munich is one of the most beautiful cities in Germany. No doubt about this. You will find many beautiful buildings, wide alleys, huge pubs with German, Bavarian Weizenbier.
Yet, bear in mind that Munich is one of the most expensive cities in Germany. This goes especially for eating out and such.
When staying at a cheaper place, you have a few more options to spend money on the German beer – yes, got you!
Furthermore, in summer, you have to visit the Beer gardens in Munich. There is also the famous Eisbach Wave, an artificial wave in a park for surfers. Even for non-surfers it is fun to come here and watch the pros doing their thing.
Besides that, I recommend visiting the University of Munich and the monument in front of The White Rose.
The White Rose (in German: die Weiße Rose) was a non-violent, intellectual resistance group in the Third Reich, the Nazi Time, led by a group of students and a professor at the University of Munich. The monument right in front of the University is impressive and the story behind shaking.
At night, I personally would skip the area around the main train station. Generally speaking, Munich is safe, but I always dislike this area, especially at night.
Visit Neuschwanstein and Linderhof Castles as a day trip
One thing I would really recommend is visiting the world famous Schloss Neuschwanstein on a day trip.
There is tours leaving from Munich and come back afterwards. Check the day trip to the fairytale Neuschwanstein and Linderhof Castles.
We have been here. And it is really, really beautiful!
Good to know: The scenery and castle is incredibly beautiful. However, it is not really worth it to visit the castle from the inside. It is not that special. Sorry, but we think you should know.
Walk around the area and take photos from different angles like from the Marienbrücke.
Where to stay during Oktoberfest?
Oktoberfest is the world's largest Volksfest, held annually in Munich, Bavaria, Germany. It is the event of the year.
And, it is really crazy and absolutely worth it.
We went there and had a blast.
Now, the accommodation situation is tough around that time of year. The Oktoberfest takes place at the end of September and beginning of October. The weekends are even more busy than weekdays, but I recommend coming during the week. It is still busy, but not super-packed-crowded-you-cannot-even-move.
I recommend to book your hostel, guesthouse, hotel or apartment as soon as possible; as soon as you have your flights booked. The earlier, the better.
You can select the coolest hostels in Munich from this list. As an alternative, you can also have a look at Airbnb. Get the 35€ discount for Airbnb here.
As pointed out earlier, The Tent is an option to stay in a cheaper place. This place is popular for visitors of the Oktoberfest.
On that note, here is guide on how to have sex in hostels with 4 dos and donts.
Also good to know:
We always assumed Oktoberfest is only there to get wasted. But truth is, it's actually quite a celebration you can enjoy without having too much beer. If you do not want to have the hard-core crazy party, it is still super fun!
One more thing: buying a traditional dress like a dirndl is quite affordable. You can get cheap and cute ones for 50€. Shops around town sell these traditional dresses, just keep looking.
Locals also love to wear their traditional Lederhosen and Dirndl. Yet, bear in mind, these original clothing are or can be actually very, very expensive.
Map of hostel locations and sights in Munich
It's only fair that we make your preparations as easy as possible. Behold a handy map of all the best hostel locations, plus sights.
As said before, Wombats and Euro Youth hostel are right next to each other. Please zoom into the map to see it in detail.
Be best warn you that there are tons of things to do in Munich. Here are a few of our ideas:
Munich is a big city, that's a fact. That's why we definitely recommend jumping on the hop-on hop-off tour bus.
Flights to Munich?
We enjoy Kiwi.com to find cheap flights all over Europe including Munich, Berlin and more. This new website has super cool features like a so-called radius search. Just draw a circle over Europe and find the cheapest rates for the area.
Here is our review of Kiwi.
Getting from the Airport to the city center is super simple.
There is a direct metro you can take. Just remember to get your right ticket that is valid for getting to the city center. It is cheaper to take a group card. The vending machines can be selected in English and other languages, no worries.
More Destinations around Munich
Once you are visiting Munich in Germany, we recommend to add a few more places to your list. You will be so close to many more great destinations, such as:
Near Munich you will also find Salzburg – worth a visit too!
Find our guide to best hostels in Salzburg here.
Over to you
As always, it was a lot of fun hand-picking the best hostels in Munich especially for you.
We hope you love them just as much as we do!
Do you have any questions? Is there anything we can help you with for your Munich travels?
Please, please drop us a comment and/or recommendation in the section below.
After all, it is the only way we can improve and make sure your travels are top-notch.
Last note: Our commitment
This is a genuine article to help you travel a bit smarter and find the best place on a budget! We ONLY recommend places we know you will enjoy, no matter what.
We will never recommend you any place we haven't evaluated or are not convinced by. We only share with you places we also recommend to our best friends and family!
Enjoy this fine hostel selection and all 5 Star Hostels.
Safe travels!
– – –
pin it for later
Your Smart Packing List
It is time to see what you should pack in your backpack or suitcase. Make sure you always pick a quality hostel, it totally reduces the things you need to pack. Here is our ultimate hostel packing list. It features 23 items you should really throw in your backpack.

The most important things to pack are: Read the full packing list here.