Next stop Italy? In that case, let us introduce you to the 3 best hostels in Milan. The metropolitan city for fashion lovers and art.
No doubt you're going in search of rich culture, art and fashion. And a great hostel, perhaps?
We at Hostelgeeks have found striking hostels for a range of travellers.
This guide is perfect for YOU, when …
tired of bad and crappy hostels
want to avoid the "young party kids"
happy to spend 1-2€ for a better experience
you want the best places to stay in milan on a budget
We condensed it all to the 3 coolest hostels in Milan. All handpicked and reviewed in person!
Your shortcut:
Madama Hostel & Bistrot – Party and Social Hostel
Babila Hostel – great choice for solo travellers and backpackers
Ostello Bello – best hostel for solo travellers
(Ostello Bello Grande – best for groups)
There's street art, modern design and even a renovated 20th Century building amongst our chosen hostels in Milan.
Of course that all-important question of the best party hostels in Milan is mentioned, too.
What we cover in this article?
Milan is an expensive city, that is why hostels are a great idea. Not only because prices might be lower than other accommodations, also because they do offer many freebies:
WiFi,
city tours,
maps,
towels, or
free breakfast
Good to know: as many major destinations around Europe, Milan has tourist tax. We talk about this tax (and how to avoid it) below.
If you're looking to extend your trip, be sure to check out our 5 Star Hostels in Europe.
Check out:
Quick Introduction to Milan Hostels
Average price for a bed: The prices for hostels are around European standard, yet a budget option. A bed in a dorm in Milan can be as cheap as 15€ – 20€ per night in winter and easily up to 35€ per night or more in summer.
Hostels with private rooms in Milan charge between 50€ and 100€ per night. The gap is quite large. The difference is the quality. This is a rough average just to give you an idea.
Prices always depend on season and holidays. Please always check exact rates on Hostelworld.com or Booking.com.
Check-In and Check Out: The average check-in time is from 15:00 (3pm), while the Check Out time is before 11:00 (11am). Hostels usually offer luggage storage in case you arrive earlier or leave later. Make sure you check if luggage storage is free or if there is an extra cost.
Milan tourist tax: In Milan and almost every major destination in Europe there is a tourist tax. That means, you have to pay an extra 2-4 € per person per night on the accommodation as a city tourist tax. Keep this in mind.
New to Hostels? Read our full hostel starter guide here. We especially recommend to read:
The 3 Best Hostels in Milan are:
Let's set those horses free and have a gander at the 3 coolest hostels in Milan Italy:
Madama Hostel & Bistrot – Party and Social Hostel
Babila Hostel – great choice for solo travellers and backpackers
Ostello Bello – best hostel for solo travellers
(Ostello Bello Grande – best for groups)
1. Madama Hostel & Bistrot (great food + nightlife)
There is a former police station that has furniture built entirely of recycled materials, and its name is Madama Hostel & Bistrot.
For us personally, this hostel is the best place to stay in Milan on a budget.
Decked out with quirky art, colourful decor and splattered with clever design details – it's a traveller's ideal chill space.
Rooms include female and mixed dorms, plus private rooms with either 1 or 2 beds.
All of which are air-conditioned with:
linen,
a private bathroom and
individual lockers.
Compare prices and read reviews at: Booking.com | Hostelworld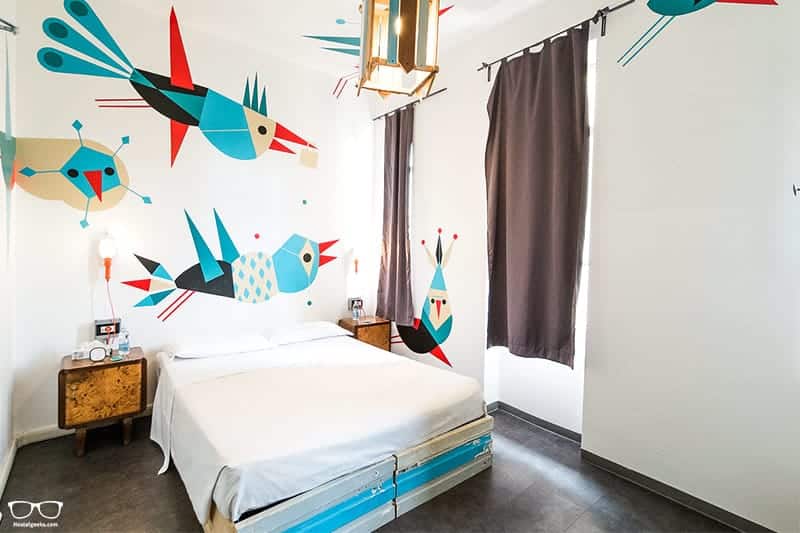 What else does this cool hostel in Milan include?
Free Wi-Fi throughout the building
24-hour reception – no curfew, no stress
Free breakfast
Well equipped kitchen w/ free food
Luggage storage
The hostel's team have travelled a lot and their motto is:
"Madama sounds like home"
Easy to understand when you notice the cosy chill-out room with foosball, TV and big, comfy beanbags.
Underneath the hostel is the Ohibò club, so there's no need to go far to experience the nightlife!
At the Bistrot, there is fantastic food, with special attention to veggie and vegan options.
From 6 pm the Bistrot transforms into a cocktail bar. OH YES!!!! Do not miss the opportunity to have a cocktail and finger food here.
Free, weekly activities and events are popular at Madama Hostel.
The hostels events include:
karaoke,
lives concerts and
trips to the nearby vintage market.
The metro station Lodi T.I.B.B is a 5-minute walk away.
Bars aplenty are 10-minutes by foot in the Porta Romana neighbourhood.
Madama Hostel & Bistrot is the best hostel in Milan for:
Social butterflies
Couples that like to have a drink with more people
Compare prices and read reviews at: Booking.com | Hostelworld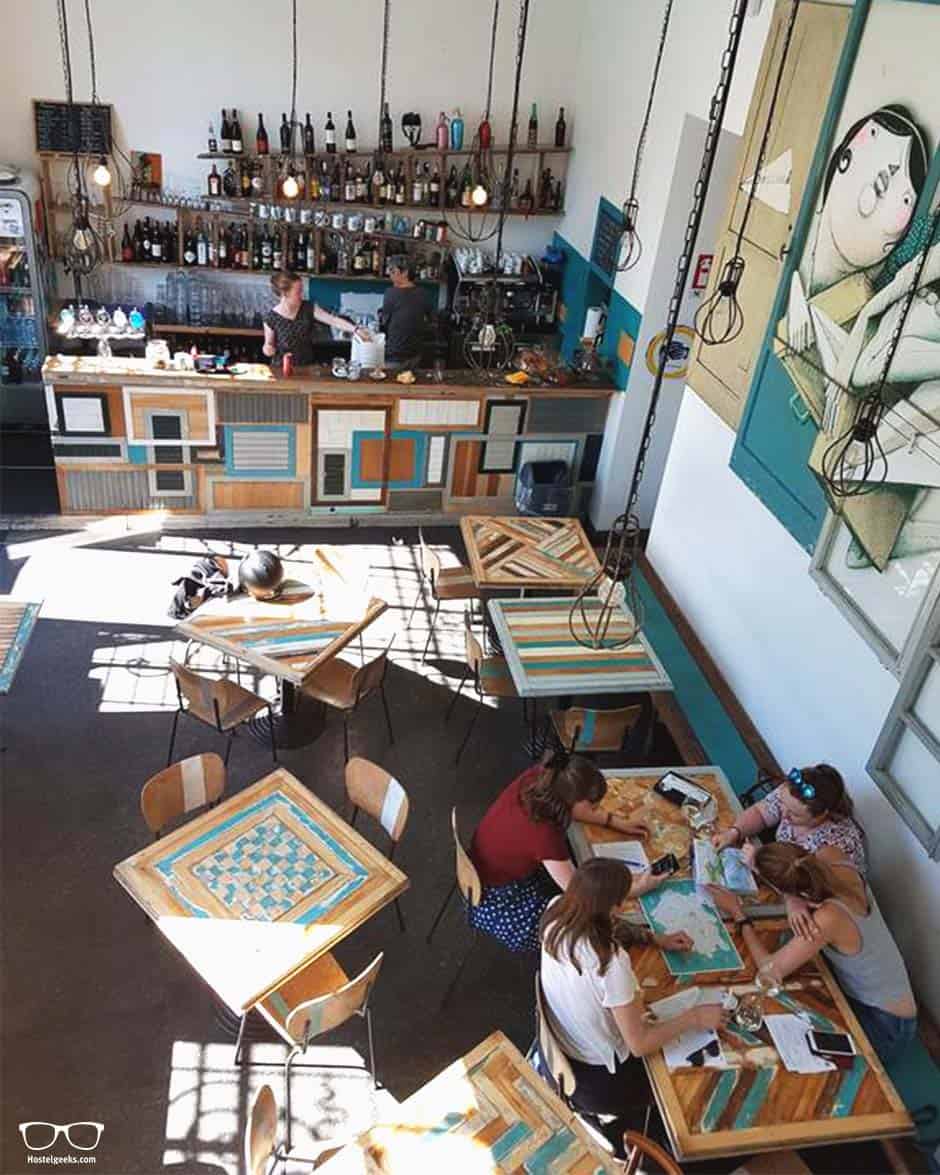 2. Babila Hostel (central design hostel)
Let's have a sneak peak at the Tudor style building which is home to Babila Hostel.
This accommodation is smart design, with a cosy feel. There are only 17 rooms here!
There are mixed dorms, female-only dorms, private rooms and a room especially for small families.
We love the white decor with a splash of bright colour.
Compare prices and read reviews at: Booking.com | Hostelworld
What else does Babila Hostel offer for FREE?
WiFi
Linen + towels + Sheets included
24-hour reception = no curfew
Lockers with key
Yummy breakfast every morning
Bike rental
Welcome Drink
Multimedia and Games (iPads and even foosball table)
luggage storage
print service
city map and guide
Gym
Free Ear plugs
Music Instruments
Feeling sociable? Check out the awesome common spaces at Babila Hostel.
These include an open terrace, gym and lounge area with foosball, TV and guitar. They often hold live music inside the hostel, too!
Also, the on-site bar is a popular Bar and Bistro in Milan. The young staff are at hand to deliver delicious cocktails during happy hour, and delightful Italian dishes throughout the day.
It's the staff that really add a certain something to this great hostel in Milan.
They are attentive, informative and friendly. Basically; they care!
From here Milan Cathedral is a 10-minute walk. Which means you're slap bang in the centre of the city.
Babila Hostel is the best hostel in Milan for:
Compare prices and read reviews at: Booking.com | Hostelworld
3. Ostello Bello (everything imaginable under one roof)
Ostello Bello is rich in personality, situated on a medieval street that survived the war. It is the perfect backpackers milan choice for staying in style and having fun.
The design is cosy with a vintage feel we know you'll love.
First off, the staff here are nothing but awesome. They've travelled extensively and speak 10 languages, including Flemish!
They're always available at the 24-hour reception.
It would easy to say this hostel offers everything you can imagine and leave it and that.
But it deserves our full attention!
Rooms come in all shapes and sizes:
Female and mixed dorms,
private twin rooms,
double rooms,
quadruple rooms… are all on offer.
Compare prices and read reviews at: Booking.com | Hostelworld
Guess what? Pets are more than welcome in the private rooms.
Expect free linen, towel, air-con, an en-suite and locker (with free lock) in any room you choose.
Honestly, there are so many inclusions here we don't know where to start.
Free things and amenities at Ostello Bello
So, here's a handy list of all things FREE at Ostello Bello:
FREE welcome drink
FREE Italian Aperitivo dinner ( every day from 7 pm-9 pm)
Kitchen with FREE food
FREE flow breakfast ( anytime you wake up!)
24 hours of FREE flowing tea and coffee
FREE cultural activities all week
city map and city guides without charge
FREE tours
complimentary Luggage storage
Safety deposit box at reception
FREE earplugs
Towels at no cost
FREE Shampoo and sap
Hairdryer
FREE locks
You get the idea. Ostello speaks your travelling language.
They even go as far as printing your boarding passes, that's right, for free!
As for socialising, there are plenty of areas with things to do around the hostel.
There are:
musical instruments,
board games,
books,
TV,
hammocks,
BBQ area…
Explore the open terraces and the lounge area.
If that wasn't enough; there's a bar in the basement open until 1 am every night. Live music and DJs are hosted here frequently.
Duomo square is 500 (real) metres from the hostel. All historical points of interest are within walking distance.
Ostello Bello is the best hostel in Milan for any type of traveller that is looking to save money, meet people and have a jolly good time.
Ostello Bello is the best hostel in Milan for:
Female Solo-Travellers
Male solo-travellers
Compare prices and read reviews at: Booking.com | Hostelworld
Ostello bello is so popular in Milan and it gets booked so fast that we recommend you to book as soon as possible.
Please use following links to book Ostello Bello: Booking.com | Hostelworld
Nevertheless, if it fully booked, don't panic!
The 2nd Ostello Bello Hostel
They opened a second hostel in Milano which is bigger, but has also great vibes and an amazing desing.
Ostello Bello Grande comes with all the freebies and events offered in the smaller brother hostel.
It is strategic located for local mobility:
Just 100 meters away from Milan central station, the final destination for all travellers
All historical attractions can be easily reached by subway lines
Piazza Duomo and new trending areas are withing walking distance
If you are interested in the new trending areas of the city, such as Garibaldi or Isola district, OStello bello Grande is your best option.
Ostello Bello Grande is the best hostel in Milan for:
groups of friends
students
Yes, it is one of the best hostels in Milan for students, so you will see many young people.
Compare prices and read reviews at: Booking.com | Hostelworld
The best hostel in Milan for solo-travellers
By now you have seen our 3 coolest hostels in Milan.
In this section we want to go into detail for every fearless solo traveller and backpackers exploring Milan out there. After all, choosing a great hostel and meeting people is crucial for many solo-backpackers.
So, we had a look on cool and fun backpacker hostels where it is easy to mingle.
The best hostels in Milan for solo-travellers are:
What is the difference between these two places?
The difference here is basically your budget.
Ostello Bello has more freebies and is a bit cheaper than Madama. Both hostels come with a bar, fun events, great location, and a cool, clean design. Also, both dorms come with no curtains at the beds.
We tend a bit more to Madama Hostel & Bistrot as #1 of the best hostels in Milan since their bistrot aka. bar offers more elaborated food. You can actually have your dinner here.
Fun Fact: Even locals come to Madama Hostel for aperitivo, dinner and to hang out with travelers.
Therefore, our FINAL verdict for the best social hostels in Milan for solo-travellers:
The Best Party Hostels in Milan
We have found two options for you to stay in a party hostel Milan. A good party is usually made up of 3 things:
awesome people,
great drinks and
fun atmosphere.
Which is why we're awarding (again) Madama Hostel & Bistrot as number one of best party hostels in Milan.
It really does tick all the boxes.
We should mention that it doesn't advertise itself as a party hostel.
Have yourself a blast, continue the party at the nearby nightlife scene and remember to respect your fellow travellers upon return to the hostel. So basically you start your fun night in the bar and then move to a different bar or club to celebrate the backpacker life.
Read: Hostel Etiquette: 18 Unwritten Rules and how to find friends in hostels
Compare prices and read reviews at: Booking.com | Hostelworld
But wait, there's more!
CasaBASE Hostel is also a great party hostel in Milan.
This boutique hostel, filled with a creative, laid-back atmosphere is located in the vibrant Tortona area. Have a look on the map below to see where this district is located.
Rub shoulders with the artists of BASE, enjoy great food at the bistro and grab a cocktail at the bar.
How about Cheap Hostels in Milan?
Are there any cheap hostels in Milan? There can be certainly cheaper and the cheapest hostels than the ones mentioned above. These can be the typical backpacker hostels.
In our opinion, it's not worth it to go with the cheapest hostel out there.
Why?
The difference is usually 1-2€ ($1-2), and a lot of amenities are not included.
This can be breakfast or linen. Keep also in mind a bad location far away from the city centre costs you more in transport. This can be pricey in Milan. Also, bear in mind that many hostels in Milan and Italy are not really good quality.
We really encourage you to invest a few more € into the best hostels in Italy.
It makes a huge difference and these extra 1-2€ per night go a long way in terms of experience.
However, if you are travelling on a shoe-string budget and you wanna save every penny, there are ways to find the cheapest places in Milan. Okay, we get it.
So, here you go:
Open Hostelworld with full list of backpacker accommodations in Milan
Order the listing by price
pick the hostel with the cheapest rate
done!
Just bear in mind, Freebies can make you save money in an expensive city like Milan. This is what we mentioned with all the top hostels above.
But, do we have a recommendation for a cheap hostel in milan for you? Well yes, we do.
Hostel California is usually the cheap hostels in Milano; and a backpacker hostel. However, the rating of less than 6/10 does not impress anyone, really.
Discounts and Promo Codes for hostels in Milan
At the moment we do not have any valid discounts for the hostels in Milan.
We do not have a any valid promo codes for Ostello Bello or Babila Hostel, or any other. Now, we know, that is a pity.
You can subscribe to our newsletter to receive direct news on any hostel discounts we get for our readers.
If you opt-in for an apartment in Milan, get a solid 35€ off your first Airbnb experience with our link.
More Hostels Worth Mentioning
Youth Hostel Milan
If you are not into backpackers hostel and more looking for a youth hostel in Milan, then you are in luck.
The Youth Hostel AIG Piero Rotta is the YHA and IYHF in Milano Italy. However, be aware that the ratings are not impressive either.
There is no way on earth we would recommend this place to stay in Milan. We mention this only to have this a super complete guide for you.
We are not your mama, but as friends we have to say again: better go with the options we gave you above.
Family Hostel in Milan
So, we made all the way to the where to stay in Milan for families.
There is actually a hostel literally called "Family Hostel Milan". However, again, ratings are not overwhelming. The comments are all about dirty bathrooms, althugh the location is perfectally central.
For families with children Madama Hostel & Bistrot is a good option.
That being said: We rather recommend going for a smaller hotel, guesthouse or even Airbnb. Hostels in Milan are not really the perfect fit for families with children, we would say. Here's an overview guide on where to stay in Milan, very helpful.
Have a look on Airbnb for best places to stay on a budget in Milano with families. Here you can get a 35€ discount for your first stay with Airbnb.
Super Cool: Combo Milano
For the modern decor lovers that live very much in the 21st centruy, we bring you the swanky Combo Milano.
All traveller types can find a room that suits. From female-only dorms to 6-bed rooms and private options. They're super comfy and prepared with privacy in mind!
On the ground floor there is a bar-restaurant open all day to satisfy your taste buds.
The best bit is probably the weekly musical and cultural events which are also open to the public.
As for breakfast? It's free! Enjoy it out in the courtyard  – also an ideal space for that refreshing afternoon cocktail.
Reception is open 24/7 and there is a handy shared kitchen for cooking.
Compare rates at: Booking.com | Hostelworld
UPDATE: Capsule Hostel Ostelzzz Milano
The brand new kid in town is the capsule hostel Capsule Hostel Ostelzzz Milano.
While the name is obviously already fun, the capsules are really an eye-catcher.
Set in the Stazione Centrale district, Ostelzzz Milano features super cool sleeping boxes, a shared lounge and a breakfast. You can even expect a welcome drink.
Compare rates at: Booking.com | Hostelworld
Milan Tourist tax
As mentioned at the beginning, in Milan and almost every major destination in Europe there is a tourist tax. That means, you have to pay an extra 2€ – 4 € per person per night on the accommodation as a city tourist tax.
Bear in mind this tax is usually extra to pay when booking your accommodation in Milan.
In Hostels, guests pay a 2€ tax per person per night.
At guesthouses, hotels, or home rentals, this tax can be up to 5€.
That is another reason why a hostel is a great idea for everyone looking for a budget accommodation in Milan.
Can the tourist tax be avoided?
This tourist tax can be avoided when you are younger than 18 years old. Obviously, when you are under 18, you are not allowed to stay in hostels unless you come with an adult.
Also, it means that Youth Hostels in Milan might not have to pay this tax if the hostel is managed by public or private subjects for the achievement of social, cultural and educational purposes, as defined by the current regional legislation.
So ask at the hostel you would like to book if you have to pay the tax or it is included in the price.
When booking, keep an eye on extra fees. These extra fees like the tourist tax should be highlighted somewhere in your booking confirmation – even before actually confirming your reservation!
Read: 15 ways to book hostels in a smarter way
A Map of 3 Best Hostels in Milan Locations + Top Sights
We like to make your planning as easy as possible. That is why we ellaborated an easy map. Find here all of the hostel locations, plus must-see sights in Milan.
This gives you a better understanding of the locations.
Looking for activities to join? We recommend…
Exploring Milan by Hop-on Hop-off Bus is an easy way to explore the city.
Zoom into the map for details. You can also activate and deactivate the different layers we set up for you. Just open the sidebar on the left.
Flights to Milan?
Milan has actually one of the best connected Airports in Europe.
The airport is called "Bergamo". You can find cheap flights with Ryanair here, and then take a bus to Milan centre.
Many travelers, including us, also fly to Bologna and then take it from there. It is perfect since you can visit Bologna, Venice, Florence and Milan from here. Really great, you should consider this.
We enjoy Omio.com and Kiwi.com to find cheap flights all over Europe including Milan, Rome and Bologna.
This new website has super cool features like a so-called radius search.
Just draw a circle over Italy and find the cheapest rates for the area.
Here is our review of Kiwi.
More Hostels in Italy
Alright, since you already made your way to the North of Italy, we encourage you to go ahead and explore more. Italy changes so much; from region to region; from North to South.
Therefore, check out all the best hostels in Italy.
Here are all our hostel guides in detail:

And here are our Italy travel guides. Seriously, get these guides, you will LOVE our secrets:
Find all our guides to the best hostels in Europe here.
Over to you
We truly hope you love our chosen best hostels in Milan as much as we do. By now we hope you have found your desired hostel milan. If still in doubt, just go with Madama Hostel & Bistrot – you will love it!
Without a doubt they are great hostels in Milan for students, solo travellers, friends – you name it!
Do you have any questions?
Please, as always, drop us a comment below about absolutely anything.
At the end of the day, we rely on our readers to let us know what they want. Without you, we wouldn't be here. Help us improve for you and all the other readers.
Last note: Our commitment
This is a genuine article to help you travel a bit smarter and find the best place on a budget! We ONLY recommend places we know you will enjoy, no matter what.
Also, we will never recommend you any place we haven't evaluated or are not convinced by. Furthermore only share with you places we also recommend to our best friends and family!
Enjoy this fine hostel selection and all 5 Star Hostels.
Safe travels!
– – –
Pin it for later
Your Smart Packing List
It is time to see what you should pack in your backpack or suitcase. Make sure you always pick a quality hostel, it totally reduces the things you need to pack. Here is our ultimate hostel packing list. It features 23 items you should really throw in your backpack.

The most important things to pack are: Read the full packing list here.