We collected a huge list of fun things to do in London. Life is serious enough, right?!
Just browse through the list, and pick your favourite(s).
We created this list when staying at the 5 Star Hostels Palmers Lodge Swiss Cottage. At the end we included handpicked accommodations from hostels to hotels and apartments.
Find our brand new guide to the 3 best hostels in London.
This list gives you access to fun things to do in London at night and during the day. It is for couples, solo-travelers as well as friends looking for a good time.
Update: Find 62 FREE things to do in London.
Got not a lot of time in London? Then I recommend the London in 1 Day city tour.
So, are you ready?
Here we are, let's start with some action…
(Last updated in January, 2020)
Good to know: In this guide there is FREE things to do, and activities you need a ticket for. We share 2 ways to book certain tours. These are:
1. Harry Potter Walking Tour
Yes, we all know the famous platform 9 3/4 is located in Kings Cross Station.
BUT… with the Harry Potter Walking Tour, you will get to discover the real Diagon Alley, as well as many other places (and facts) related to Harry Potter.
Follow in the footsteps of Harry, Hermione and Ron and get to know the muggle world of London from a wizard perspective.
The tour is quite geeky and highly recommended for families with children and all harry-fans; obviously!
Prices start from 26€ only and takes 2.5 hours.
Good to know: Children aged 0-3 years are free of charge
Find prices and schedule at: Get Your Guide

2. Ghost Bus Tour (Comedy, yet spooky)
Bloody, brutish, and packed with the tortured souls of the dead. There is an actual Ghost Bus Tour.
You will be driven around in a 1960s Routemaster bus while two funny and kind of spooky guides share some odd fun facts and background stories of London.
This tour takes place every day after sunset – obviously – and takes around 1 hour to 1.15h.
The meeting point is 8 Northumberland Ave, Westminster, next to Charing Cross Underground Station (very central).
Families appropriate? It's also recommended for families with kids.
Keep in mind though: it can be spooky, but more in a comedy kind of way.
Compare prices and reviews at: Get Your Guide | Tiqets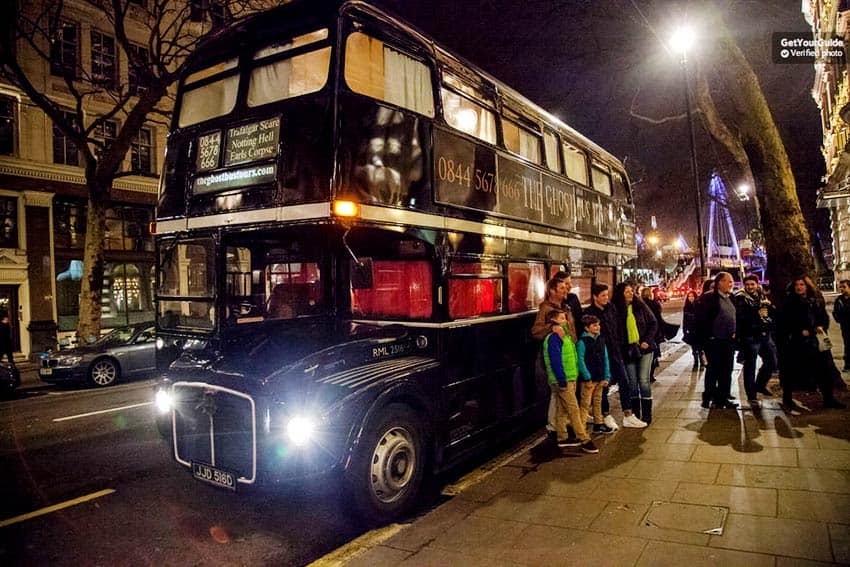 3. Coolest Escape Room: AIM Escape
We personally love escape rooms. This team building and group activity is a serious hour of fun! Same as for our Amsterdam guide, we had a look on what is the COOLEST escape room in London.
AIM Escape Rooms is a premium entertainment brand, offering an unparalleled level of immersion, technology and storytelling that brings the revolutionary escape room experience to the heart of London.
Players will experience a level of involvement and immersion that confirms AIM Escape as the premium brand of choice for those who crave extreme challenges, complex narratives and hyper realistic sets and props.
Whether you are planning a corporate booking, birthday party, stag or hen party or just a trip with friends and family, AIM Escape is the perfect choice for you.
There is 4 different themed games at AIM Escape and each of them has multiple rooms within them.
Psychopath's Den is the horror-themed spectacular
Patient Zero 2150 is a sci-fi room with added zombies
Spy Heroes provides fun for the whole family
Hangover Deja Brew is an adult only, 18+ party room!
Located in Whitechapel, just 2 minutes walk from Aldgate East, AIM Escape is in the perfect spot to provide a great day out! Prices start from £25 per person and each of the four games can be played by 2-5 people.
5% discount for AIM Escape London (only for our readers)
The coupon code is
GEEKS
How to apply?
Visit www.aimescape.com
choose your date and class
apply the discount
Have fun!
That's it!
Now, go and get them!
4. Gorgeous views from a car park
This one is considered one of the best roof top bars in all London. And definitely one of the very cool things to do in London with friends.
We got your attention, right?!
Enjoy the views from a car park at Frank's rooftop bar and restaurant in Peckham.
It's located on the 10th floor of a multi-story car park!
The views can be compared to SKY GARDEN, another fee thing to do. Scroll down for more details.
Here you can find an overview of all the best rooftop bars in London.
5. Tower of London
Former fortress, palace, and prison – all in one!
The Towers of London is one of the sights I consider a must-see.
With this background, you can imagine that some weird things were going on here….right?!
It is a UNESCO World Heritage Site for good reasons, and you can actually see the Crown Jewels of the British Monarchy.
Get your guide mentions you spend around 60 minutes here, but we actually spent almost 3 hours here.
It's really beautiful to walk around and admire. I recommend taking a guide to walk through the towers. There is quite some brutal and fascinating history hidden in these walls.
Good to know: While we found the Tower of London interesting, we don't think it is something to do for families. It is way too long for kids, and some areas not even appropriate. Better go with the Harry Potter Tour 🙂
Compare prices and reviews at: Get Your Guide | Tiqets
6. Treasure Hunt around London
Even cooler than an escape room, is this treasure hunt!
This is a super fun activity for adventurers everywhere. Perfect for couples, families, groups of friends, and even as team building.
HiddenCity creates interactive treasure-hunt style experiences across the city.
Solve clues sent to your phone, as you venture into the unknown, speaking to people you meet, interacting with physical puzzles you encounter, and completing challenges set for you by characters in the story.
Simply put: It is like an escape room but outdoors across the whole city.
What do you need?
a fully charged phone for each player (we recommend to bring an external battery charger just in case!)
UK Number (if you don't have one, you can get a local SIM Card)
weather appropriate clothing since its an outdoor game
There are 9 different games to play each with its own story, goal, duration, and even starting point. The three most popular ones are:
Their latest game is Moriarty's Game, a journey into the world of a criminal mastermind.
In this game you will be personally invited by Professor James Moriaty, Sherlock Holmes' infamous adversary, to celebrate the finest minds in London by tracking down his elusive safehouse. However, the great Sherlock Holmes may well have other ideas for you and you must decide who to be: villain or vigilante…
Prices: start from £19.00 per person.
Duration: 2 hours and more
Check out their website www.inthehiddencity.com for more information.
Play the video of the Treasure Hunt below. You will enjoy both the video and the game!
7. The London Eye (pricey but worth it!)
THE landmark in London – besides Big Ben. London Eye should be on your list of the most important places to visit in London.
It is touristy, obviously, yet unique and really cool!
Take a ride on the London Eye and experience the city from above.
We did it in 2016 and had a blast. This is also a unusual thing to do here.
How to get your ticket? There are two basic tickets:
regular queue ticket
fast-line-ticket
The queue can easily be up to 2 hours long…for us, this was way too long to spend our precious time in line here. There was even a line just for getting the regular tickets. In total, we would have waited around 3 hours.
So we went for the fast-line ticket!
I really recommend you to do the same! The Skip the Line Ticket was only around 9 pounds extra and you save the time and trouble.
How to get your ticket?
Buy your ticket either with Get Your Guide or Tiqets. We use both websites and compare the rates. Depending on the exchange rate for your selected currency, one or the other is cheaper!
Compare prices at: Get Your Guide | Tiqets
Good to know: With the fast-Line-Ticket you need to pick up your voucher at the entrance next to London Eye.
With the skip-the-line-ticket you can even skip the ticket-line itself. So you are actually skipping two lines!
Pretty cool, right?! The video below gives you a pretty good idea.
8. Borough Market
On my very first visit in London, I stayed at Palmers Lodge Swiss Cottage.
We asked our community "What should we do in London? Send us over your best bites!".
Borough Market was recommended so many times!
I was already curious about this place. So I put it on the bucket list as the very first thing to do.
It was amazing.
Borough Market is London's most renowned food market, right in the very heart of the city. It's right next to London Bridge, even a short walk away from famous Big Ben.
More than half the market is covered so it's also a good thing to do in London when it rains.
I would recommend this for couples and friends to do!
How to get here? Just take the train to London Bridge stop and walk from there. Here is the full address.
Optional: Borough Market Food Tour
Pssssst… foodie lovers!
What about a food tour which includes background stories of the food stall, beverage tastings and  lots of food at Borough Market?
Compare prices and reviews at: Get Your Guide
9. Harry Potter Set at the Warner Bros Studio
This is maybe the COOLEST thing to do for families and all Harry Potter fans!
Did you know that you can go on a tour to the Warner Bros Studio and get to know all the details about the Harry Potter movies?
Take a Harry Potter Studio tour to the studio.
See the sets, props and costumes, walk in the footsteps of Harry as you wander the cobbles of Diagon Alley and step inside the Gryffindor common room.
The visit of the set at the Warner Bros Studios is a must-do for every Harry Potter fan!
Good to know: The studios are in Watford, not directly London. This is a day trip that takes around 7 hours in total. Absolutely worth it for Harry Potter fans.
Find prices and schedule at: Get Your Guide | Tiqets
10. Pub Crawl (a cheap way to party!)
Every good city has a good party and nightlife. Join the famous Pub Crawl to get to know the fun bars and clubs in downtown London.
Join the biggest Pub Crawl in London, a 5 hour Marathons with lots of booze. You visit 5 bars and get a free shot or drink at any of them!
What I especially like: Thanks to the Pub Crawl Team you have solid discounts for more drinks!
Pssst, even better: The tickets are only around 12€. This plus the free drinks plus the discounts – a cheap way to have party night out in London!
Find prices and reviews at: Get Your Guide
11. Stonehenge, Windsor Castle and Bath from London
This is the most famous and most popular day trip from London.
Visit Stonehenge, Windsor Castle, and Bath from London in one day trip.
11-hour guided day trip from London to Windsor Castle, Stonehenge and Bath
Explore St George's Chapel and the State Apartments at Windsor Castle
Tour the mysterious site of Stonehenge with an exclusive interactive map & VOX audio guide
Take a panoramic tour of Georgian Bath with a guide
Visit the Roman Baths with free audio guide, a well-preserved public bathing pool offering an insight into life during the Roman era
Visit the Roman Baths with free audio guide, a well-preserved public bathing pool offering an insight into life during the Roman era
Instead of telling you how awesome this is, check out the video below. This video covers everything you will experience – including the sights and transport.
Enjoy 🙂
Good to know: You can also join a Half-Day Trip to Stonehenge with Take Walks. This company runs handmade tours, we joined them all over Italy – always recommended!
Find prices and availability at: Get Your Guide | Tiqets
12. Impressive Windsor Castle
Instead of a full day trip to Bath, Stonehenge and Windsor, you can also just visit the impressive Windsor Castle.
Windsor Castle is the most famous castle in the UK.
Want to see where Prince Harry and Meghan Markle got married in 2018? Windsor Castle is the oldest and longest-inhabited castle on the planet – 39 kings and queens have lived here for over 1,000 years!
When you start thinking about this, it gives you goosebumps. At least, I do.
This day trip is for everyone interested in European and British history and castle. I would even argue kids will love it here – at least the castle part (not the paintings so much…).
Good to know: You can either take a train and bus from central London station to Windsor Castle or you can directly book the entrance ticket to Windsor combined with the transport. You can book the ticket with roundtrip here.
Either way, you really should prebook your entrance ticket online to pass the queues without any delay.
13. Spray it – Graffiti Workshop
London and graffiti go hand in hand. We all know that.
Besides walking around and discovering the latest Banksy graffiti, you can actually learn to become a graffiti-artist yourself.
Try a graffiti workshop in Shoreditch's area and create your own spray paint.
If you try it, we'd love to see the final result.
Drop us an instagram: @hostelgeeks 🙂
More a viewer than a doer? Then a Graffiti tour might be more interesting for you – in the next point on this list!
Find prices and reviews at: Get Your Guide
14. Alternative Tour: Street Art
On that note, we obviously have to mention the rich graffiti and street art.
There is so much to see all over. If you are really curious on this, take a street art tour, known as the Graffiti tour.
This walking tour takes around 2 hours and you will explore the alternative scenes of fashionable East London.
It is really on a budget and the guide takes you to the best spots. You will also get more insider knowledge to the artists behind.
Because…there is more to explore than Banksy!
Find prices and reviews at: Get Your Guide
15. Churchill War Rooms Tour
Discover the rooms where Winston Churchill and his Cabinet sheltered during World War 2 on a tour of the Churchill War Rooms in London.
See artifacts of war, and experience the wartime bunker, left just as it was during the days of the Blitz.
This is an interesting tour that gives you a feeling of the tough times.
And as Churchill said:
"Never was so much owed by so many to so few".
Very, very interesting, yet more recommended for adults rather than families.
Good to know: You can also book a combo-ticket for Churchill War Rooms and Westminster Guided Tour.
I recommend to get the Combo Ticket if you want to visit both; it's cheaper!
Find prices and reviews at: Get Your Guide | Tiqets
16. Amy Winehouse Statue and Camden Town
Her music is just amazing. We are actually big fans.
Visit the human-sized Amy Winehouse Statue in the heart of Camden Town.
Here is the full address.
It is right in the heart of Camden, surrounded by many alternative shops, bars and restaurants. This area is perfect wander around and experience Camden Town.
This is a must-do on your bucket list for London.
17. Camden Town (People watching)
As mentioned, Camden Town has to be on everyone's bucket list. No doubt!
Just go there and jump right in, there is always something interesting going on from exhibitions, street performers, you name it.
There is also now a new 2-hour Camden Market tour.
That's really cool since the guide talks about the artists and musicians in the area. And the guide also covers famous Amy Winehouse I just mentioned.
You have many alternative shops here, quirky restaurants and pubs. There is also food stalls, perfect for a little break.
18. Have a feast (street food time!)
Talking about food…Street Feast is held at three different locations across London so there is no excuse for missing it!
Choose between:
Giant Robot in Canary Warf, open daily from 11am until late
Dinerama, open from noon 'til late from Thursday to Sunday
Hawker House open from 5pm on Fridays and Saturdays for food, booze and grooves.
The next recommendation is about more street food…
19.  Take a stroll and eat
Take a stroll down Maltby Street, home to a lovely market at weekends.
Browse vintage clothes, antique furniture and of course, grab some street food!
The Maltby Street is less known than busy Camden Town, so take advantage of this.
This street is recommended to couples and friends looking for having some street food.
20. Comedy Show with upcoming Comedians
Instant laughs are a comedy show featuring up and coming comedians across London, providing stand up comedy, you will have never seen before.
The performance roster features up and coming new comedy talent, experienced professionals and established TV names, who have performed on Live at the Apollo and Mock the week.
The shows are staged at the Grove, a London authentic, award-winning, modern Mediterranean restaurant.
It is just a short walk from Hammersmith tube station and the Apollo, a popular destination of celebrities, frequently visited by stars, such as: Alan Sugar, Rich Hall,Adrian Charles, Bill Baily and Olly Murs.
The shows run every Tuesday, Thursday and Sunday.
Here they have two professional comedians, a hilarious host, plus a feast of up and coming, comedy talent. There may even be a surprise celebrity guest, as they have had Phil Wang and Mr Love Island, Iain Stirling grace their stage.
If you fancy a laugh and want to see a comedy show unlike any other, the Tuesday and Thursday shows are from 7:30pm to 9:30pm, whilst  Sunday shows are from 6pm to 8pm.
Check out the official website instant-laughs.com for more information.
21. Flowers and gifts
This is something different, something you may not find on any other things to do in London list.
At the capital's prettiest flower market on Columbia Road, well, you can buy flowers and gifts for your beloved partner.
The market and independent shops are open every Sunday, all year round!
Besides the obvious motivation of buying flowers here, it is also an interesting spot for photography.
22. London Zoo
Visit the world's oldest scientific zoo – and probably the worlds most famous Zoo.
Dating back to 1828, it now hosts over 750 species, and you'll find over 17,000 animals to admire and ogle.
Visit Gorilla Kingdom and see Kumbuka and his family of silverback gorillas at close quarters. They have their own island, gym, and African rainforest.
This activity is perfect for families with young kids, but also couples. The weekends are usually more busy. I recommend coming here during the week, if time allows.
Find prices and reviews at: Get Your Guide | Tiqets
23. Become a craft beer connoisseur
Yes, seriously.
Become a craft beer connoisseur by visiting the many micro breweries across Bermondsey.
Take a Craft Beer tour or sip your way along the beer mile at your own pace.
Craft Beer is currently booming all over the UK, Europe and the world. There are complete pubs and bars dedicated to craft-beer only.
If beer is your thing, a craft beer tour should be on your list.
My recommendation: this also really works well as a gift to your friend – assuming he/ she likes beer.
Find prices and reviews at: Get Your Guide
24. Go up the Talles Building – The Shard
One of the best views of London are from the viewing platforms of the Shard, with an unrivalled 360-degree view of the city.
This reviewI read before actually put it best: "We were a little unfortunate with weather as it rained and had not realised the top viewing point is open to the elements. Lesson learnt take a coat. We went early evening and managed to capture amazing views of the city by day and night. Well worth the visit and impressed no limit on time viewing."
Therefore, bring a coat, time and your camera. We spent here around 2 hours.
With 360-degree panoramas of London from more than 300 metres above sea level, you will spot the iconic London Eye, Tower of London, St. Paul's, the Thames and more.
Besides the view, my personal highlight was the high-speed elevetor.
After the elevator at Taipei 101 in Taiwan, it was the fastest I ever took. No worries, you won't get dizzy or anything. It's just a tiny rush, you almost do not feel it.
Good to know: The online entrance with Tiqets.com  £6 cheaper than you would pay at the door.
25. Become a (real) Local in London
We asked our fellow travelers what a local usually does in its town.
The result was an absolute amazing weekend and these 7 secret tips to London.
You can download them for free.
No sure if you should download?
First of all, we won't send any spam or any non-sense.
Second, have a look at the hidden gems in London to get a preview.
Once thing is certain: You will love the recommendations here.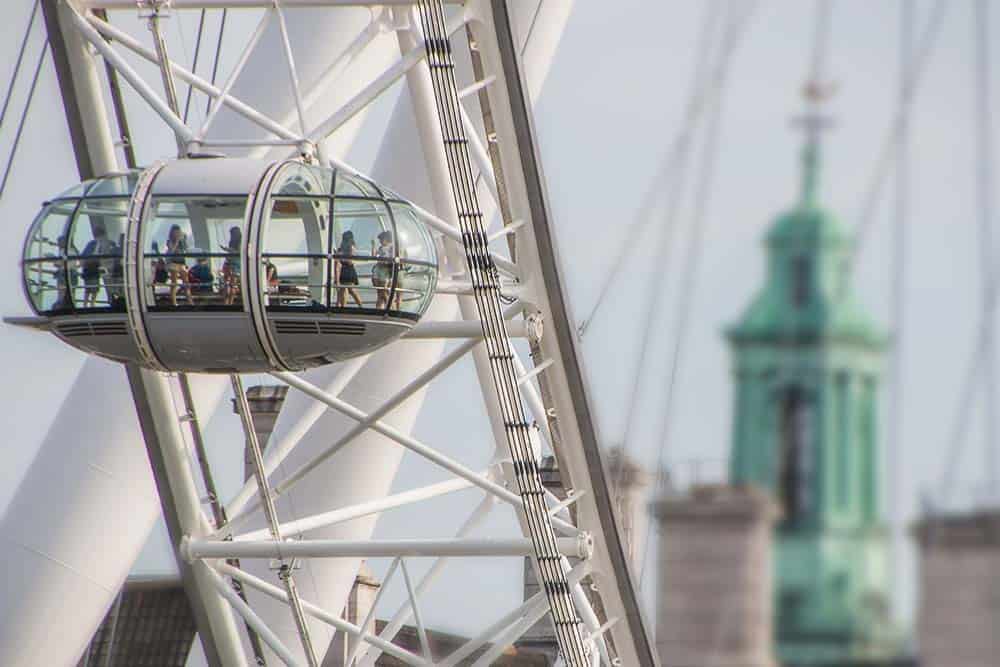 26. Kayak or Cruise down the Thames
The Thames is a must in the city, and doing it in a passenger boat sounds boring.
Well, I say "must", but in fact, there is actually no way you can miss this river. You will see it whenever you are in the area around Big Ben, London Eye etc.
The cooler way to experience the Thames is kayaking.
You paddle next to Big Ben, Palace of Westminister and all the other top landmarks. You can choose between a single and a double kayak. There are even complete tours.
The more traditional and convenient way to explore the Thames is the Hop On Hop Off River Cruise.
Exactly, there is not just the Bus, but also a Hop On Hop Off cruise
The cruises depart frequently from
Westminster Pier
London Eye Pier
Tower Pier
and Greenwich Pier
sailing every day of the year except Christmas Day.
With a regular timetable, and evening cruises all summer, you can enjoy a full-day on the river in comfort.
Hop on and off the boat as many times as you wish. You will be nearby the following sights:
Cutty Sark,
the Royal Observatory,
Tower of London,
St. Paul's Cathedral,
Tate Modern,
Borough Market,
South Bank Centre, and the
London Eye.
For me personally, this is the best way to see London. And certainly one of the most relax.
I hope you will have a sunny day, then it's absolutely amazing.
Compare prices at: Get Your Guide
27. Become a spy in London!
If you always wanted to be like James Bond, a car burglar, a survivor or hero, just try one of the urban games that "Fire Hazard" has to offer.
Now that sounds pretty entertaining, doesn't it? Seriously, when looking for super cool things to do in London, this is your place!
It is recommended for team building, groups of friends, and hostel buddy groups!
Games they offer are:
A new Raiders Game
City Dash
The Hunted Experience
and more fun games to groups, stag and hen parties, and companies
Find out more information at Fire-hazard.net
28. Visit small Venice
Well, not exactly.
We are not talking about the beautiful Venice in Italy. On that note, here is our guide to things to do in Venice Italy.
The canals in West London are known as Little Venice and are lined with flower-covered barges.
Perfect for strolling (and for Instagram!) This is more something to do for dates and when you are visiting for longer.
Find more info on the address and areas here.
29. Activities? Indoor climbing
Go climbing at the huge Castle Climbing Centre.
It caters for a range of abilities across several levels.
Choose between bouldering, top-rope climbing, lead climbing and abseiling!
This recommendation would be something for a London alternative guide.
30. Things to do in London for free?
The British capital can be quite expensive. So how about some free things to do?
Here is our guide to more than 62 FREE things to do in London UK.
The world famous museums here are actually FREE!!
Yes, seriously.
And there are plenty of different museums to visit. The British Museum is obviously a Must.
Here is a list of free museums in London:
Natural History Museum
National Gallery
British Museum
British Library
Imperial War Museum
Science Museum
and many more…
Find all of the museums in London here.
Make sure you read our huge guide to the free stuff to do in London.
31. Get drunk in a public toilet
Wait, wait…it's not what it looks like!
Don't get us wrong.
It is just that lots of public toilets in London have been converted into bars and pubs…
Yes, no kidding. Read that again:
THEY CONVERTED PUBLIC TOILETS INTO BARS!
Check all public toilets … no wait … bars with the cool guys from TimeOut London.
Also super cool: The London Old Docks Pub tour. A historical pub, beer and food tour.
32. Sing your socks off – interactive cinema.
Sounds odd, right?! And yet, this is a fun activity in London for the weekend.
The Prince Charles Cinema shows classic movies with subtitles… and well, everybody sings or shouts along!
In the Prince Charles cinema you can sing, shout, scream, and interact during the whole film.
Don't worry, you will not be the only one!
They offer sing-along screening for movies such Grease, Dirty Dancing…
Pretty epic, am I right?!
Have a look at this video. 230 people scream: F***!
33. BBC Broadcasting House tours
Update: unfortunately, this tour is no longer available!
Always interested in what the TV world looks like?
Then have a look at how the professionals do it. Join a BBC Broadcasting House tour.
You will be able to see how "the black box" works and other behind the scenes secrets of the Broadcasting world.
This is VERY interesting for all people who'd like to understand what happens behind the scenes of a TV station.
34. Luxury Day Trip…to Paris!
Now, this is seriously UNIQUE and absolute luxury.
And, admittedly, quite an unusual one.
How about we hop on a train and visit Paris on a luxury level? Savor a Champagne lunch on the Eiffel Tower on this day trip.
Travel by Eurostar train from London and on arrival, take a panoramic coach tour of top Paris attractions including the Champs-Élysées and Opera House. After a glass of Champagne and 2-course lunch at a chic Eiffel Tower restaurant, enjoy a 1-hour Seine River cruise and either a guided visit to the Louvre or time at leisure.
The train takes around 2 hours from London to Paris. Unbelievable, right?!
Find prices and reviews at: Get Your Guide
Read: 28 FUN things to do in Paris
35. Sea Life Aquarium – for Families!
Very very popular, especially for families!
Personally, I love Scuba Diving and the underwater world is something incredibly unique. I went diving with sharks, manta rays, dolphins and endless colorful fishes.
The sea life gets as close as you can without putting on a scuba suite.
SEA LIFE London Aquarium is home to a HUGE collection of global marine life. To give you some idea:
See up to 400 species of sea life in 2-million liters of water
Wander through the new Rainforest Adventure exhibit to see more than 300 piranhas
Watch sharks swimming beneath your feet
Experience 14 themed zones of marine habitats
So here you go: Piranhas and sharks, that's when they get me!
Find your tickets at: Get Your Guide | Tiqets
36. Attend a festival (so many to choose from!)
London has lot of festivals during the year. It is a magic city for it, so just check when your favorite festival is on and plan your trip around it!
There are many free music festivals as well as open-air festivals.
Here is a list of some great festivals in London:
Citadel Festival
Field Day
Hampton Court Palace Festival
Walthamstow Garden Party
Kew the Music
Obviously, there are many more.
Also, make sure you check out these European Festivals during Winter.
37. Feel like a Bird!
Learn how to use the flying trapeze at Gorilla Circus, they assure anyone can fly in their 2 hour course!
Find more information at gorillacircus.com/flyingtrapezeschool
38. … or like Tarzan
Want to do head to an Adventure park and take a Tarzan Swing, high rope or an epic zip wire?
You can do all this at Go Ape.
It is easy to reach by tube, so adventure is just there waiting for you!
39. Play Table Tennis at the Book Club
Tennis Lover? Join games from 7pm on Tuesdays at The Book Club, in Shoreditch.
This Club has become something of a hub for ping-pong players.
They provide not just table tennis, but also equipment for patron's use. They have even a tournament called the King Pong Slam Jam!
Ready to be the king?
But that's not all. In their own words, they are "Creative events and late night drinking 7 days a week with an alternative menu of brain-teasing & mind-expanding thought for food."
This is the place to mingle with locals by day and night.
Have a look at this video. They show exactly what to expect.
40. Have a hoot in an underground bar
Have a hoot at 1940's underground bar Cahoots in Soho.
Dress in your sparkliest 1940's gear and enjoy live music and delicious cocktails late into the night!
The post-war decor of old fashioned wooden escalators, vintage train carriages, 1940's tube carriage seats and mismatched furniture, make the perfect backdrop for a trip down memory lane.
FYI: This is one of the fun things to do in London with FRIENDS. 🙂
41. Oxford vs Cambridge – boat race fight over a pint
mhm….WHAT?!
Well…okay, let us explain: Cambridge and Oxford boat race clubs are very competitive and train very hard during the year on the Thames in order to be able to win the annual race.
You can see them practicing and even fighting over a pint to motivate themselves on the Thames River during your stay.
Keep your eyes open while you are walking around so you don't miss the opportunity to see them.
Of course you may see them when you join the Thames Kayaking.
42. Have an Ice Day
During winter season, there are different places in London to ice-skate.
Head to the ice rink and have an ice day! The most scenic place is Somerset house, but there are many other options.
43. Sushi after 9pm (or how to eat Sushi cheaply in London!)
Okay, I am not sure if this is actually fun, but it is smart! This is how you do London on a budget!
Itsu is a Japanese chain, selling salads and sushi and more.
We discovered by coincidence that everything is half price 30 minutes before closing time. They have more than 60 shops around London, so you are most likely in the area of one.
Check your Google Maps or their official website https://itsu.com/locations and go for it.
44. Crate Brewery
How about some craft beer, good pizza and sitting on the canals? Head over the Crate Brewery.
They are located in the North-East part of London.
Here is the address.
I would recommend stop by here in summer although it's tough to get a good spot near the water, but you can do it!! 😉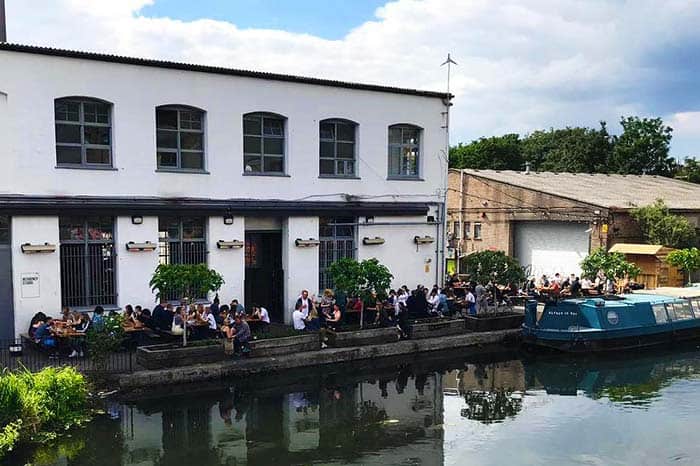 45. Sky Garden (FREE Thing to do)
One of the tallest buildings in London, free entrance and a breath-taking view. Now, this is SKY Garden.
Have a look on my photos what you have to expect.
Important though: Make sure you make an appointment first online. You have to get a free ticket and book it in advance.
Visit their official website to plan your visit.
This is a romantic thing to do for couples, and I think one of the best things to do in London for free!
Read: the 62 Free Things to do in London
46. The World's End Pub
How about some live music? Come here with your buddies and friends.
The Worlds End is a music venue at 174 Camden High Street in Camden Town, London.
Find new concerts on their website theworldsend.co.uk
47. Street Music with Charlotte Campbell
I can't say I remember any street performers really well, do you?
There is seriously one street musician I still enjoy even when I am not in London.
It's Charlotte Campbell. I saw her performing right next to the London Eye, and her music has something special.
With her voice, it's a good-vibes only music. So, come over to the London Eye and listen to her!
You can even find her on Youtube.
I am including below her one of her videos.
48. Big Ben
Visit the Big Ben and walk in the area.
This famous landmark is beautiful both from near as well as far.
You can even see Big Ben from the London Eye.
We covered the London Eye before, and yet, we have to mention it again. The Buckingham Palace, the Big Ben, and London Eye; all these places must be on your list for the most important places to visit.
49. The Lion King Musical
I've to be honest: I did not expect much from the Lion King Musical. My girlfriend really want to go and I didn't mind – so, we went.
Once we got out, after the 2 hours musical, I was AMAZED! Even more than my girlfriend. The music was so well done, the costumes, the story, well, everything!
So, yes, I recommend the Lion King as a musical. The theatre is right downtown, and you can get tickets on the official website www.thelionking.co.uk
get your tickets as early as possible since they are usually sold out.
Good to know: We took the cheapest seats on the top-level. You still have a fantastic view as you can see in my photo below.
Better to know: You are actually not allowed to take a photo during the performance. I had no idea, took this photo, and the security told me right away – in a friendly way though 🙂
My mistake. Anyway, you are here to enjoy the show, and you certainly will, I promise it!
50. Tiny Coffee Shops all over
There are so many tiny, cute and hip coffee shops over London, it's almost impossible to list them all.
We love coffee, so therefore we had a look:
TAP Coffee No.114
Cereal Killer in Camden Town
Wilton Way Café
Story Coffee
The GQ Magazine lists even more cool cafes in London.
Here are our tips on how to find design coffee shops all over the world.
51. Attend a Cricket game
Ok, Cricket does not sound very fun, for lot of our friends it looks even boring… but it might be just because it is not very common?
Give it a chance and attend a cricket game, you will be surprised how much fun you will have!
52. Hula Schoola lessons!
Go back to your childhood and learn how to be a Hula Hula master with "The Indytute".
They offer brilliant lessons.
It is fun for every age and especially for couples.
Curious? More information at Indytute.com
53. Take a break in style
What's something you should not miss in the British Capital? Sure, TEA, you are right!
The best place for afternoon tea in London is Sketch.
The incredible interior design changes regularly and be sure to check out the toilets! Don't ask why…just…just go!
This is quite an unusual thing to do. You could also consider this place for having your 1st date for instance.
54. Go to a detective agency
Ever wanted to go to a detective agency but you don't have a case?
That's quite a common dream, so don't you worry if you think you are alone And now you can finally have your case!
Head to Evans and Peel and ask for… a cocktail!
This bar is designed like a detective agency, super quirky and interesting to visit!
55. Bowl it!
Last but not least, a fun and simple idea. It is also a great thing to do in London when it rains.
In All Star Lanes you can bowl, and even eat!
It is the perfect place to beat your friends and make the looser pay for the food, don't you think?
If you are looking for some cool places to eat in London, check out our Secret Guide London.
List of Activities in London
Is there anything super unique and awesome we missed? Let us know in the comments 🙂
We put also all the best things to do in London on a map. That way, it will be easy for you to navigate through the city.
Where to stay in London
Staying on a budget? Then opt-in for the best hostels in London.
Then read our HUGE guide to the best hostels in London.
Here we cover everything from neighborhoods, things to know beforehand and sights.
We also included a big list of hostels with private rooms in London.
Palmers Lodge Swiss Cottage – full review here – check rates
Palmers Lodge Hillspring – read our review here –  check rates
If you are more an hotel person, or still not decided about what kind of accommodation you would like, check out this super guide about where to stay in London for a first time visit.
Hotels: Charlotte Street Hotel
Stay central and go with the unique Charlotte Street Hotel, Firmdale Hotels.
It's elegant, classic and perfectly located right in the center of the city. They offer free WiFi as well as in in-house bar, restaurant and even a gym.
Looking for even more luxury? Then check out these luxury hotels in London, a complete guide.
Apartments:
5 Star Rated and located at Westminster Borough, the Fashionasta Aparments is a top choice for a full apartment in the city.
I especially like the warm colors and carefully picked interior.
It is a really popular apartment, so make sure you book some time ahead.
Discounts on accommodation
London is not the cheapest destination in Europe. At the moment we do not have any discounts.
You can subscribe to our newsletter to receive all new discounts right to your inbox.
More of an AirBnb-type of traveler? Here is a 35€ discount for AirBnb.
Read: my guide to how to use Airbnb for first-time
6 Most important places to visit in London
When visiting only with a limited time, here are the things you cannot miss. Never ever, so write down the following places:
Big Ben
London Eye
Buckingham Palace
Westminster Abbey
The British Museum
Piccadilly Circus
For some of the places you have to buy your ticket beforehand, like the London Eye. The British Museum is free!
The most comprehensive tour
Are you visiting London with really limited time?
If you do not have much time and wanna visit the essentials of the culture and history of London I do recommend you to join a Comprehensive London city tour.
This comprehensive London city tour is dedicated to the quintessential sights of city:
Westminster Abbey
Tower Bridge, Changing of the Guard
Thames river cruise and a
Tower of London tour – with access to the Crown Jewels
Any questions?
I wanted to make this guide as useful and informative as possible.
And yet you may have still questions left. Please leave a comment and "bother" me. I appreciate your questions and would love to help you.
In fact, your question will help me and all our fellow travellers too.
So, please do not be shy and drop us a line the comment below. I will even send you a reply via email.
Summary: Fun Things to do in London
Why on earth are you still here? By now, you should have got plenty of ideas.
More genuine info:
More guides to Fun Things to do in Europe:
Safe travels!
– – –
pin it for later
Hostel Packing List
It is time to see what you should pack in your backpack or suitcase. Make sure you always pick a quality hostel, it totally reduces the things you need to pack. Here is our ultimate hostel packing list. It features 23 items you should really throw in your backpack.

The most important things to pack are: Read the full packing list here.