Welcome to your ultimate guide to hostels in Skopje, North Macedonia. It is packed with super cool hostels to choose from, including perfect locations, and a bunch of the coolest things to do in Skopje.
We have visited Skopje twice and know the city really well by now.
We tested for you (and for us) all hostels in Skopje; from the cheapest hostels to the best ones. There were some surprises, let us tell you that.
This guide is perfect for YOU, when …
tired of bad and crappy hostels
want to avoid the "young party kids"
happy to spend 1-2€ for a better experience
We condensed it all to the 3 coolest hostels in Skopje.
In total we compare 12 hostels. This comparison will be very interesting for you, since the ratings on the most popular websites evens out more or less all of them.
However, there is quite a difference in quality of hostels here.
In location, in design, in vibes. Make sure you read until the end. We even included a guide on how to get around and safety.
Skopje is perfect for a fun, short and cheap city break.
In this Skopje Hostel Guide we cover:
Quick Introduction to Skopje Hostels
Average price for a bed per night: You are lucky, hostels in Skopje are good and cheap!
A bed in a dorm can be as cheap as 6€ and 7 € per night. You can score a private double room for as little as 20€. This is a rough average just to give you an idea.
Prices always depend on season and holidays. Please always check exact rates on Hostelworld.com or Booking.com.
Check-In and Check Out: The average check-in time is from 15:00 (3pm), while the Check Out time is before 11:00 (11am). Hostels usually offer luggage storage in case you arrive earlier or leave later. Make sure you check if luggage storage is free or if there is an extra cost.
Location: Skopje is quite small. Whether you are staying close to the bus station, in the city center or the Debar Maalo area, everything is actually close. Our best tip would be staying in the Debar Maalo area.
Why?
Here's the local life, super cool bars and restaurants – and it is the bohemian part!
Scams: We hear there's the typical "That hostel is closed" – scam by taxi drivers. Do not fall for it. When arriving, taxi drivers may approach you, ask you if you need a taxi and where you are staying. Once you told them, they will try to convince you, your hostel is closed, and they offer you a different place.
Worldwide this is common scam; don't fall for it. Just smile, say you are ok and keep walking.
New to Hostels? Read our full hostel starter guide here. We especially recommend to read:
The 3 Best Hostels in Skopje
Let's jump right into the boutique hostels here in Skopje.
Quick overview:
NORDIC Hostel – best for couples and solo-travellers
Lounge Hostel – best for couples and solo-travellers too
Shanti Hostel – best for backpackers
1. Nordic Hostel (the only 5 Star Hostel in town)
Our #1 hostel is NORDIC Hostel. It is our selected 5 Star Hostel in Skopje. In fact, it's the only one.
There are several reasons why this is your top choice.
Perfect for couples: The private rooms are wonderful, kept in a simple, Scandinavian, minimalist design.
The double rooms easily challenge a hotel. Just have a look.
The only downside: the private rooms are on the same level as the common area. Most likely you cannot sleep before 11pm, this is when the common area is closing. For us this was totally fine, since we mingled anyway, no one went to bed that early.
Perfect for Solo-Travelers: The pods add the bits of privacy to the dorm. The dorms are actually quite big, with up to 10 beds. However, thanks to the pods it feels like you have your own tiny private room.
Each N-box capsule has its own power socket, reading lights, two lockers big and small, curtain. Also worth to mention is the High-speed WiFi access.
Rooms at Nordic Hostel:
4 Bed Dorm
10 Bed Dorm
Private Double Room
Read: Guide to the room types at hostels
We especially loved the rooms (dorms and privates alike) and the ambiance in the stylish common area.
The minimal design and open space really invites to have a seat and chat.
What about the location of NORDIC Hostel?
It is a 15 minutes walk to the very downtown of Skopje. Although this might seem like a disadvantage, the truth is actually, it's a better location. This neighborhood is called "Debar Maalo", a residential area with many hip restaurants and bars at night.
You won't find touristic prices here, which makes it even more interesting, right?!
Check our map for more info.
Fact is, most hostels are located in this area. For good reason:
It is a safe area
many bars for going out
local restaurants
supermarkets to shop until 9pm
local markets nearby like Green Bazaar
Who should you stay at Nordic Hostel? This place is the best hostel in Skopje for:
Couples
Female Solo-Travellers
Male Solo-Travellers
Compare prices and read reviews at: Booking.com | Hostelworld
2. Lounge Hostel (the staff rocks)
Stylish eclectic design created with passion.
The staff at Lounge Hostel is local experts that will help to create a unique experience during your stay. Alongside eye-catching interior and a welcoming atmosphere, this is the "hostel to be".
The bunk beds in the dorm are very basic.
Yet, they added the privacy curtains. The extra point goes to Lounge Hostel!
Rooms and dorms to choose from are:
Twin Room
6 Bed Dorm mixed
8 Bed Dorm mixed
The eclectic design is a serious eye-catcher. Have a look on all the vintage decoration here. We especially love the type writer!
Whilst the design is clearly unique and some great add-ons like the curtains pop-out, it is still the staff that gets most attention and thankful comments. The staff at Lounge Hostel is really outstanding, and you always have the feeling they go the extra mile.
Once in a while, when the staff has free time on hand, they run their own little pub crawl.
It is nothing like an official pub crawl actually, just guys and girls heading out for a drink.
What about the location of Lounge Hostel?
Very central, max 5 minutes to the main square downtown and 10 to the Old Bazaar.
The neighborhood is called Debar Maalo, one of the most beautiful and hippest areas. You remember, the same area as NORDIC Hostel. Nearby there are plenty of restaurants offering Macedonian cuisine.
Refer to our map for more info about the location.
In comparison with the NORDIC Hostel, the location is 5 minutes (walking) closer to the city center aka. the main square. The design points however goes to Nordic Hostel. And when it comes to comparing the rooms and dorms, Nordic makes the race.
We recommend both hostels for the same type of traveler.
Lounge Hostel is the best hostel in Skopje for:
Couples
Male Solo-Travellers
Compare prices and read reviews at: Booking.com | Hostelworld
3. Shanti Hostel (Top rated location)
One of the most famous hostels in Skopje, the Shanti Hostel.
It is the kind of hostel that comes to mind when thinking of backpacker hostels. Lovely staff, warm and welcoming, and a bit quirky.
A great choice for hostels in Skopje!
The main difference compared to Nordic Hostel and Lounge Hostel is the location. Shanti Hostel is located on the other side of the city.
It is a big plus that it is located between the bus station, train station and the city center. Very convenient from that point.
However, in our opinion the location around Lounge and Nordic is more interesting in terms of bars and restaurants.
All of the 3 top hostels have something great in common: The dorms have privacy curtains! So, yes, Shanti Hostel also added privacy curtains to the dorms.
If only ALL hostels would do that, right?!
A big plus is also the lovely, green garden in summer times. This is where most of the time will be spent in the warmer time of the year, which is between May and September/ October.
Shanti Hostels offers following room types:
Private Double Room
4 Bed Dorm mixed
8 Bed Dorm mixed
Good to know: There is a Shanti Hostel 1 and Shanti Hostel 2. The second hostel is only open during summer, while the Shanti Hostel 1 remains open all year long.
Shanti Hostel is the best hostel in Skopje for:
Backpackers
everybody looking for a cool hostel nearby the bus station
Compare prices and read reviews at: Booking.com | Hostelworld
More Hostels worth a mention
Now that we have covered the 3 top hostels in Skopje, you are really set to have an amazing time in the capital.
Obviously, there are more hostels.
First of all, why do we only share 3 BEST hostels?
We think, you only need one fantastic place to have a good time at. We do the legwork for you and actually sort out all the others so you have an easy time to pick. Simple as that!
Yet again, there is more.
We share with you more hostels in this list worth to consider.
Urban Hostel & Apartments
Neat and modern design, the Urban Hostel and Apartments is perfect for modern travelers.
It is a very clean hostel with modern furniture and solid wooden bunk beds. You know, the types of solid beds that won't wake up the whole room when someone turns in their sleep.
The location is also great. In fact, it is located just a street away from Nordic Hostel.
Shanti Hostel 2
We already covered Shanti Hostel 1.
This one is the 2nd home of Shanti. It only opens in summer times and remains closed in winter.
And you guessed it: it is called Shanti Hostel 2.
The #2 is located just one street away from its big brother, so it is the same neighborhood.
It follows the proven concept of Shanti #1: Great and lovely staff, a green garden and a good hostel atmosphere. It is really laid back.
The interior in #2 is more modern.
Get Inn Skopje Hostel
One of the first hostels we tested in Skopje was Get Inn Hostel.
Every day they offer something for free; From hair cut to dinner. A real fun place.
It is a small hostel, but with only a few dorms and private rooms. Everyone can fit on the balcony at once!
One thing we did not enjoy really was the bathrooms. There is only two bathrooms for around 20 guests. A few more bathrooms would make this place better.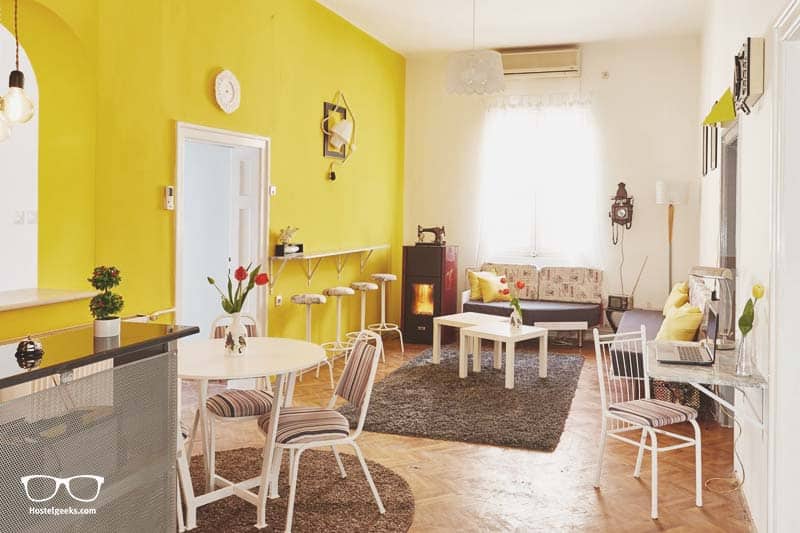 Lighthouse Hostel
Probably the most unique building for hostels in Skopje.
The Lighthouse Hostel is yet another top-rated accommodation.
It is located in the neighborhood Madžir Maalo, less than 10 minutes from the bus station, and 10 to 15 minutes from the Old Town and main squares.
The unique fact about Lighthouse is the building itself. Have a look on the private room for instance.
The hostel also offers airport shuttle. This is especially good when arriving late.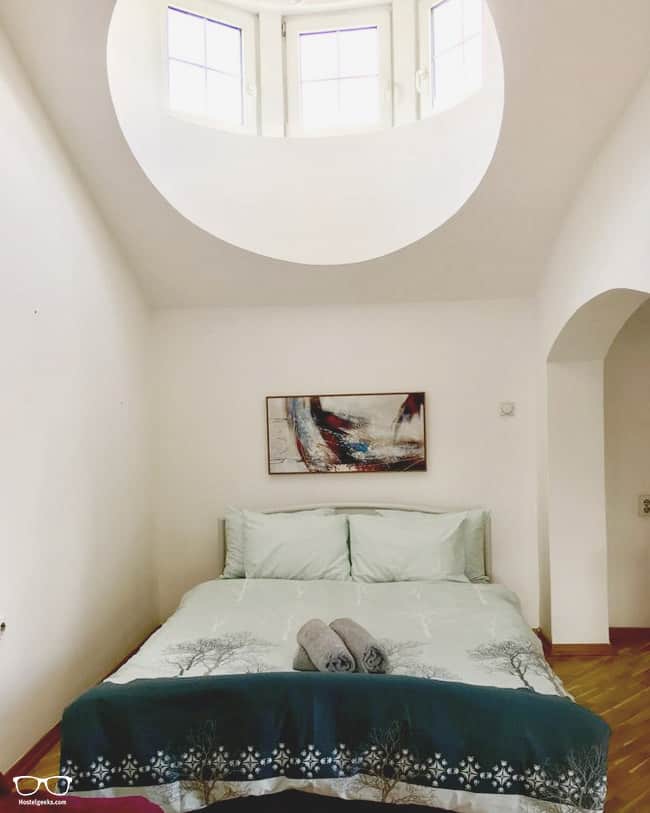 UNITY Hostel Skopje
A short walk away from the main square, Unity is one of the hostels in the city center in Skopje. It is a solid backpacker hostel.
Your experience will depend completely on the people you are staying with. The staff receives negative comments from major booking platforms.
The breakfast is included.
Get more information and rates of Unity Hostel here.
Hostel 42 Skopje
Hostel 42 shines through its staff. This is why people love it here. The team knows Skopje like the back of their hand.
Hostel 42 also offers big apartments for groups of 6. This is a great choice for groups then.
You can book Hostel 42 only on Booking.com.
HI Skopje Hostel
HI is one of the few hostels in the Southern area of the city.
You will pass Mother Theresa's Memorial House and Skopje City Museum when going to the city center.
In summer months, HI hostels organizes an open-air summer cinema in their own garden; super fun! It is basically a big screen, good movies and drinks.
The design is mostly quirky and eclectic. A great hostel choice for real backpackers!
Backpackers Hostel Skopje
A fun backpacker place with free wifi, a creative interior design and green backyard.
This place is perfect for backpackers, literally, and everyone looking for a jam session with a guitar in the backyard. The rooms are very basic. They do offer double beds in a dorm for couples.
More info and rates for Backpackers Hostel Skopje here.
Hostel Valentin
One of the cheapest hostels in Skopje, Hostel Valentin.
It is basically two rooms in a building used as a hostel. The first hand experiences we heard were not very pleasant.
A hostel not to recommend.
Party Hostels in Skopje?
Skopje is not really a party town, and you won't find a crazy party hostel like on Thailand islands or Corfu in Greece for instance.
However, that's not to say it's boring here.
The best place to mingle, hear good music and have a few drinks is NORDIC Hostel and Shanti Hostel.
Both places are social spots to hang out.
The Nordic is great since the common area is wide with a balcony next to it (perfect for the smoking fellows around us).
The kitchen is right next door, so it is easy to keep your drinks cold.
In summer, Nordic organizes a few casual get-togethers and a small bar.
Shanti Hostel is famous for its social vibes. It is really the backpacker-style hostel that you think of. It is a warm, easy-going place, simple to mingle and have a drink or two.
Hostels with Parking
Are you coming to Skopje with a car?
Then you want to choose a hostel with a free parking on the premises.
The best option is NORDIC Hostel.
They have parking right on their premises, directly in front of the entrance. Perfect choice! The parking area fits 3 cars.
Parking is free, you won't pay any extra at check-in.
Not too many people are traveling by car to Skopje, since bus and flights are a popular option.
Good to know: we recommend letting the Nordic Hostel know when you arrive by car. They can then make sure you have a space.
Hostels in Skopje City Center
When looking for a hostel near a bus station, train station and the city center, the Shanti Hostel is your place to be.
The train station and bus station are actually right next to each other.
We know some of you travelers will only come to Skopje for a quick stop-over, so in this case Shanti is your best shot.
If you have a bit more time (meaning more than 2 nights), then I would recommend our first 2 best hostels in Skopje.
Is Skopje safe?
Yes!
Skopje is a very safe city; for male and female travelers alike.
The only thing we recommend to pay attention to is scams.
It does not happen often, however it is good to know that they exist.
A few individuals think they can take advantage of foreigners and try to scam you for paying more, bringing you more expensive food than you ordered and such.
Also, be aware of the taxi scam, the one of "your hostel is closed", "your accommodation does not exist anymore" etc.
When arriving to the bus station or airport, a taxi driver can approach you, asking if you need a ride to your place. Once you tell them the address or name of the place, he/she will try to convince you the place does not exist anymore/ is closed/ or full – or whatever.
They will then want to offer you a great place they know.
They will get a cut from your payment to the new hostel or accommodation; and you are left in a bad hostel or accommodation paying twice the price for a night: the one you already booked and your "new" one.
So, to sum it up, YES, Skopje is safe to travel.
It is safe at night too! They only downside are the annoying scams.
How to get around Skopje
Skopje is fairly small.
It is very walk-able and easy to get around.
It is actually also a perfect city for biking since it is quite flat.
There is regular buses connecting all dots around the city. A bus ride is cheap, it costs less than 1€. You can buy your bus ticket directly on the bus or at the bus station ticket shelter.
Wondering how to get from the center to the Airport? Jump to the section "airport in Skopje".
Things to do in Skopje
Okay, now that we have covered all the cool hostels in Skopje, what is there to do?
There is a couple of activities in Skopje, and fun things to do.
We wrote a big guide on things to do in Skopje here.
Here is the list to scan:
Alexander The Great aka Warrior on a horse
Admire more statues
Free Walking Tour
Matka Canyon
Millennium Cross
Escape Room (for the hot summer and rainy days)
Take photos of the Colorful Revolution
Cinema 3D (local & cheap!!)
Bar with Live Music: Gostilnica La Tana
House of Mother Theresa
Get Lost in the Old Bazaar
Walk up Kale Fortress
Byzantine church: Church of Saint Panteleimon
Mustafa Pasha's Mosque
Museum of Contemporary Art
Museum of Illusions
Museum of the Macedonian Struggle
Debar Maalo – the bohemian part of Skopje
Have a stylish coffee at Coffee Factory
Drink Raika
Walk the City Park
Hop on a double decker bus
Toto Restaurant – LOCAL!
Outside the city: Skopje Aqueduct
Day Trip to Ohrid
Day trip to Pristine in Kosovo
Bazaar at Partizanska Boulevard
Skopje Zoo
Football Stadium and Arena of Philip II
Map of all Hostels + Sights
Most of hostels in Skopje are located in a neighborhood called "Debar Maalo".
This is a residential area with many hip restaurants and bars at night. You won't find touristic prices here, which makes it even more interesting, right?!
It is a 15 minutes walk to the very downtown of Skopje.
Although this might seem a disadvantage, truth be told, it's the best location.
It is a safe area
many bars for going out
local restaurants
many supermarkets to shop until late
local markets nearby like Green Bazaar
How to use this map: You can activate and deactivate the layers of
3 best hostels
more hostels to know
things to do
Sex in Skopje Hostel
Sex is part of the hostel life, especially when staying at party hostels.
There is no need to pretend it is not. That is not to say, hostels are only about sex – NOT AT ALL!
We wrote a big guide with 5 dos and donts of having sex in Hostels.
Especially rule #5 is important to remember. Otherwise you may end up being a porn-star. Because: hostels have cameras!
Read: How to have sex in hostels – and how not!
Flights to Skopje?
Skopje is perfect for a fun, short and cheap city break. You can find cheap flights from destinations like Barcelona, Nuremberg and others to Skopje with Wizzair, for instance.
Have a look on Kiwi.com to find cheap flights to and from Skopje.
This new website has super cool features like a so-called radius search. Just draw a circle over Europe and find the cheapest rates for the area.
Here is our review of Kiwi.
When arriving at the Airport, you can chose between a taxi ride to the city center or public bus. The bus is the cheapest option, it costs around 3€.
Check updated bus prices and schedules here.
Good to know: Many cheap flights to Skopje arrive after midnight. Sometimes there are no shuttles around this time. If this is your case, we recommend to send an email to your hostel, asking about pick-up service from the Airport. The so-called airport shuttle. Even if they do not offer this service by their own, they always work with reliable taxi drivers they trust.
We did this the first time we arrived in Skopje. It worked perfectly. The ride was 15€ for 2 people.
More best hostels in Balkans and rest of Europe
Here you have your answer to where to stay in Skopje on a budget and in style.
Besides this guide, we also cover more destinations around Europe.
Check out all 5 Star Hostels in Europe here. And the following guides:
Check out all our hostel 101 guides here.
Last thoughts on Hostels in Skopje and the city
We really, really enjoy the city, and we really enjoy the hostel scene here.
Skopje is a fantastic city for a city break, jam-packed with culture, cool things to do, and fun hostels to stay at. Now, Skopje is not the romantic kind of city like Paris, it does not have the epic nightlife like Amsterdam, and no beaches likes Barcelona.
However, there is something about it. It is unique, and you will feel it once you've arrived. The bizarre city center is something to remember.
Download the guide as PDF
You can download this guide as a free pdf to your device.
Simply click on the photo below to open the PDF in a new tab. Alternatively you can download the PDF guide to hostels in Skopje here.
How to book?
In this guide we give you the options on how to book hostels in Skopje. The major booking platforms for hostels are:
Booking.com
Both portal have different strengths and weaknesses such as prepayments, deposits, cancellation policy.
We wrote a big guide on how to book hostels here.
More guides and more hostels in the area
Alright, we've now covered the capital of Northmacedonia.
Yet, there is more epic destinations around. From Skopje you can travel easily by bus to Ohrid in Northmacedonia too, Tirana in Albania, Pristine in Kosovo, Thessaloniki in Greece and Sofia in Bulgaria.
The best hostel in Ohrid is Sunny Lake Hostel.
It is a small hostel, famous for its ambiance and good vibes. In summer they also organize great boat tours; great fun!
Find all our new and updated articles for 'Best Hostels in' here.
The most common destinations you want to visit for sure:
We also created a huge guide to hostels. Here we cover how to build lifetime friendships in hostels, the perfect packing list and more.
Over to you
Was this useful? Do you have any questions, doubts?
Leave us a comment (please, please, please!)
This list of awesome Skopje hostels should be as informative and useful as possible.
Your question will help me to understand what I have missed to mention.
Therefore, drop us a comment below, we are keen to help you!
Last note: Our commitment

This is a genuine article to help you travel a bit smarter and find the best place to stay in Skopje on a budget! We ONLY recommend places we know you will enjoy, no matter what.
We will never recommend you any place we haven't evaluated or are not convinced by. We only share with you places we also recommend to our best friends and family!
Enjoy this fine hostel selection and all 5 Star Hostels.
– – –
pin it for later
Your Smart Packing List
It is time to see what you should pack in your backpack or suitcase. Make sure you always pick a quality hostel, it totally reduces the things you need to pack. Here is our ultimate hostel packing list. It features 23 items you should really throw in your backpack.

The most important things to pack are: Read the full packing list here.