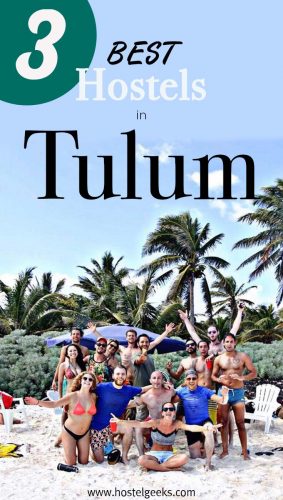 We're pretty excited to share with you are hand-picked selection of best hostels in Tulum. Alongside the usual 3, we've collected fantastic party hostels and a special experience for the backpackers out there.
That is as long as you're ready for pristine Caribbean beaches and well-preserved Mayan ruins…. Of course you are!
Tulum is certainly a destination for many types of travellers including couples and the solo traveller.
Prepare to be blown out of the crystal clear water with this collection of hostels.
This Ubud Hostels guide is perfect for YOU, when …
tired of bad and crappy hostels
want to avoid the "young party kids"
happy to spend 1-2€ for a better experience
As for 5 Star Hostels, I'm afraid we don't yet have one in Tulum. Therefore we have another one, the Casa Pepe in Mexico City.
In this great guide to Tulum Hostels you'll find:
At the end of this guide you find a map with all Tulum Hostels and sights.
Quick Introduction to Tulum Hostels
Average price for a bed: A bed in a dorm can be as cheap as 10€ up to 15€ per night. A private room in a hostel in Tulum starts from 22€ up to 65€ per night.
This is a rough average to give you an idea. Prices always depend on season and holidays.
Please always check exact rates on Hostelworld.com or Booking.com.
Check-In and Check Out: The average check-in time is from 15:00 (3pm), while the Check Out time is before 11:00 (11am). Hostels usually offer luggage storage in case you arrive earlier or leave later. Make sure you check if luggage storage is free or if there is an extra cost.
Tulum City Tax: Although most places seem to include taxes in the price. Some do not. For example, Hostel Coelum has a 19% tax payable on arrival. Make sure you research beforehand to avoid any unwanted surprises.
New to Hostels? Read our full hostel starter guide here. We especially recommend to read:
The 3 BEST Hostels in Tulum are…
The time has come to introduce you to the coolest hostels in Tulum. They are:
Lum Hostel – great for social solo travellers
2. Hostel Coelum – top pick for female solo travellers
3. X'kekén Hostel – one for couples
1. Lum Hostel (free bike hire + bar)
You'll get a very warm welcome from the staff at Lum Hostel. They'll plan out daily adventures and take you out to explore the nearby nightlife!
But first, make sure you take advantage of the on-site bar which is open until 10pm.
During the day it would be silly not to make use of the FREE bike hire. If you're not feeling so energetic, collapse in the living room to Netflix and chill.
The dorm rooms here are basic and comfortable. The beds are pod-like for that added privacy and minimal disturbance from your roomies.
Read: Hostel Room Types – What are the Differences?
If you like cooking feel free to use the fully-fitted kitchen. We love the ample seating areas which make it a social area, too.
Note: reception is open 7am – 9pm but there is no curfew.
Lum Hostel is the best hostel in Tulum for:
Compare prices and read reviews at: Booking.com | Hostelworld
2. Hostel Coelum (homely + simplistic)
Hostel Coelum is situated in one of the best parts of the city, close to some of the finest attractions and landmarks.
All the facilities have been recently upgraded to create a new, fresh experience for travellers passing through.
The accommodation is made up of mixed and female dorms, plus a private suite. Expect to find the following:
Air conditioning + fan
En-suite bathroom
Microwave, toaster + tea/coffee
It's the light colours and wooden furniture that give this place a bright, fresh and clean feel.
We really like the seating area out on the balcony in front of the rooms. It's a great way to get talking to your neighbour and soak up a bit of vitamin D.
Breakfast is included which you'll find in the shared kitchen each morning.
Important: 19% taxes are not included in the price and will be payable on arrival.
Hostel Coelum is the best hostel in Tulum for:
Female solo travellers
Couples
Compare prices and read reviews at: Booking.com
1. X'kekén Hostel (free rooftop breakfast)
Our #3 hostel is once again a lovely simplistic design decorated with hanging plants and wooden furniture.
X'kekén Hostel is in a super location, only 1.2km from the Tulum bus station and close by to the local restaurants.
If you're in search of great social spaces, you've found the best hostel in Tulum. This one has a rooftop terrace which allows BYO! Each room has a private patio and there is also a small garden.
Head to the rooftop for your inclusive morning breakfast.
Whether you're a travelling couple or a backpacker, you'll enjoy the 6-8 bed mixed dorms and private rooms on offer.
Not sure what to do in the area? Have a chat with the wonderful staff and get excited by their enthusiasm.
X'kekén Hostel is the best hostel in Tulum for:
Compare prices and read reviews at: Booking.com
Best Hostels for Solo Travellers in Tulum
In all our guides we share the absolute best hostels in town for solo-travellers. As for Tulum, it really depends on if you're looking to socialise or enjoy a bit of 'me time'.
You have these options we gave you above. We think the best places to head as a solo traveller are:
Lum Hostel – on-site bar + sociable staff
2. Hostel Coelum – cosy, safe female dorms
3. X'kekén Hostel – rooftop social area
As a solo traveller it's best to stick to hostels as they offer great social opportunities. If you find the socialising gets too much, you can always treat yourself to a private room for that much needed privacy.
Best Party Hostels in Tulum
Alright, alright. It's time to quench the thirst of party lovers out there!
Tulum is actually a great place for partying. Beach bars, white sand and chilled vibes help create the beginning of a perfect night (or two).
Our first recommendation is Lucky Traveler Hostel, All Inclusive. Yep, here we have the ONLY all-inclusive hostel in the world. All meals and drinks are included in the price!
Enjoy free flowing alcohol every night and arranged parties. Daily tours are also offered as a great way to break the ice.
The buffet is an all day affair so never go hungry.
Compare prices and read reviews at: Booking.com | Hostelworld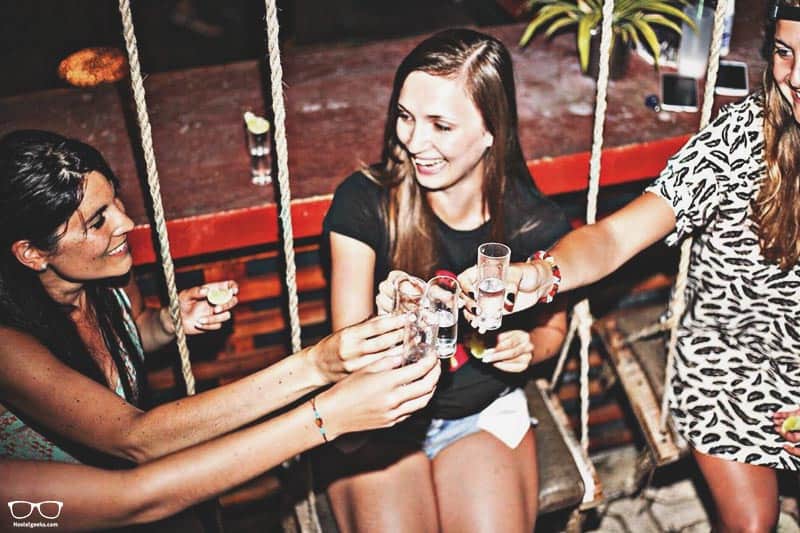 Our #2 party hostel in Tulum is the fun and energetic Hostel Che Tulum.
There's quite a lot to get excited about so we've put together a handy list:
Rooftop pool
Yoga + salsa classes
Free breakfast
Outdoor bar (cocktails, live music)
The awesome staff are keen to introduce you to local parties and concerts, too.
End the night in one of the bright and spacious dorms. They come in female-only size as well.
Compare prices and read reviews at: Booking.com | Hostelworld
Unique Backpacker Hostel in Tulum
We stumbled across TuboTulum Hostel and couldn't resist including it.
It's sections of old pipe that have been used to create cosy rooms that come with air-conditioning, plug and light.
Great care for nature means all the trees have been left, surrounding this accommodation beautifully.
There's a bike path leading down to the beach, kitchen on site and an option to pitch your tent. Breakfast is also included.
Compare prices and read reviews at: Booking.com | Hostelworld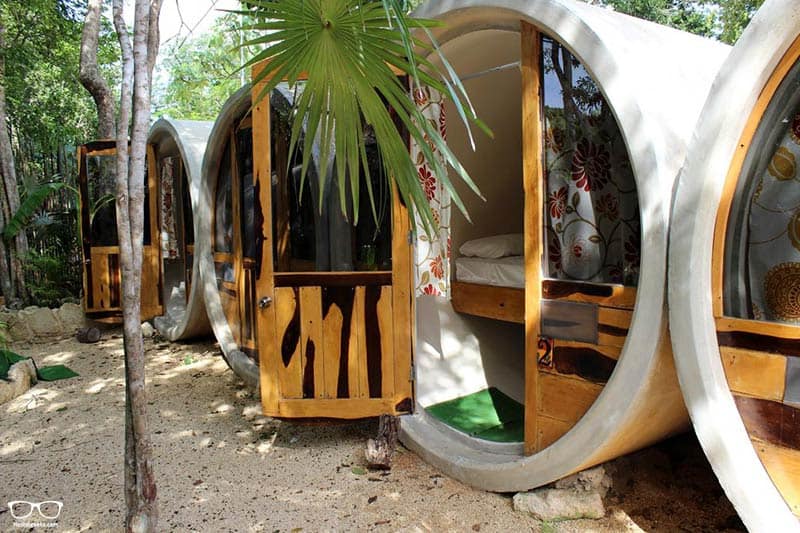 Cheapest Hostels in Tulum
Of course, there are always cheap hostels.
We think, it's not worth it to go with the cheapest hostel out there.
Why?
The difference is usually 1-2€ ($1-2) per night, and a lot of amenities are not included. This can be breakfast or linen.
Although, keep in mind a bad location far away from the city center costs you more in transport.
However, if you are traveling on a shoe-string budget and you wanna save every penny, there are ways to find the cheapest places in Tulum.
Open Hostelworld with full list of accommodations in Tulum
2. Order the listing by price
Simple as that.
Good to know: Make sure you select the accommodation type you actually want. Many homestays and guesthouses claim to be a hostel. Fact is, they are not. Hostels offer common areas, are social.
Read: 12 definitions on what is a hostel
Discounts + Promo Codes
Currently, we have no special hostel discounts in Tulum. So for now you can subscribe to our newsletter to receive our newest hostel discounts always to your inbox.
You can find all our hostel discounts worldwide here.
We also do have a 35€ discount for Airbnb here.
Map of Tulum Hostels + TOP Sights
If you're anything like us, you'll enjoy a handy map that pinpoints all of the best hostels in Tulum.
Plus! We've gone one step further and included these top things to do in Tulum:
Tulum Archaeological Site
Gran Cenote
Cenote Calavera
Paradise Beach
Interpretation Centre of Maya Culture and Nature
Cenotes Tankah
Cenote Zacil-Ha
Tulum – El Castillo
Here are a few activity ideas to help make your time in Tulum memorable:
Flights to Tulum, Mexico
We enjoy Kiwi.com to find cheap flights all over the Americas including Mexico and Costa Rica.
This new website has super cool features like a so-called radius search. Just draw a circle over the Americas and find the cheapest rates for the area.
Here is our review of Kiwi.
More Epic Hostels in North, Central + South America
So, a little birdy tells me you have plans to explore more of the Americas.
Now that you've been introduced to the best hostels in Tulum, we'd like to show you our many other hostel guides to North, Central and South America:
Find many more hostel guides around the world here. Also check out all of our 5 Star Hostels.
Over to you
So there you have it; the coolest and best hostels in Tulum, Mexico. All there is left to do is choose and get booking!
Are you left with any questions, doubts?
Then please leave us a comment. This list of awesome Tulum hostels should be as informative and useful as possible.
Your question(s) will help me to understand what I have missed to mention and you'll help improve this article.
Therefore, do not be shy, drop us a comment!
Last note: Our commitment
This is a genuine article to help you travel a bit smarter and find the best place on a budget! We ONLY recommend places we know you will enjoy, no matter what.
We will never recommend you any place we haven't evaluated or are not convinced by. We only share with you places we also recommend to our best friends and family!
Enjoy this fine hostel selection and all 5 Star Hostels.
– – –

pin it for later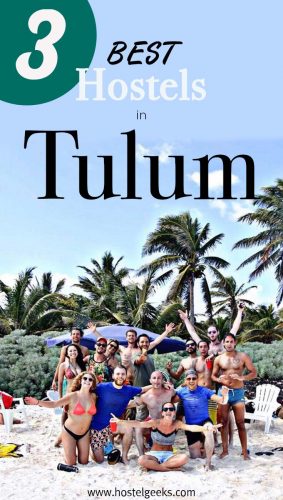 Your Smart Packing List
It is time to see what you should pack in your backpack or suitcase. Make sure you always pick a quality hostel, it totally reduces the things you need to pack. Here is our ultimate hostel packing list. It features 23 items you should really throw in your backpack.

The most important things to pack are: Read the full packing list here.