It's time to discover the best hostels in Sydney – are you ready?
Sydney is a stunning city, there's no doubt about it. It offers a bit of everything; rocky coastline, beaches, vibrant city life, calm parks, and famous sights – you name it.
This guide is perfect for YOU, when …
tired of bad and crappy hostels
want to avoid the "young party kids"
happy to spend 1-2€ for a better experience
We condensed it all to the 3 coolest hostels in Sydney.
Looking for the best party hostel? Perhaps you're travelling solo and want a quiet, yet quirky hostel. Keep scrolling!
We've even included where to stay in Melbourne on a budget.
Shortcut for you:
If you happen to be travelling around Australia and New Zealand make sure you stay in the best hostels, the 5 Star Hostels.
In this guide we cover:
Don't forget to check out all our best hostels in Australia.
Quick Introduction to Sydney Hostels
Average price for a bed: A bed in a dorm can be as cheap as 16€ ($20) up to 35€ ($42). This is a rough average just to give you an idea. In this guide we will also show you how to find the cheaper places for backpackers.
Prices always depend on season and holidays. Please always check exact rates on Hostelworld.com or Booking.com.
Check-In and Check Out: The average check-in time is from 15:00 (3pm), while the Check Out time is before 11:00 (11am). Hostels usually offer luggage storage in case you arrive earlier or leave later. Make sure you check if luggage storage is free or if there is an extra cost.
Location: Sydney is big and you might want to see a lot of it. Make sure you know what you want. A beach hostel is best for relaxing, a central located hostel is better for sightseeing. Our map at the end of the article helps you to get a better understanding of all location on sights and hostels.
New to Hostels? Read our full hostel starter guide here. We especially recommend to read:
1. List of the Best Hostels in Sydney
Let's jump right in and check out the best hostels in Sydney that suit solo travellers, couples, friends and families.
You can expect to find detailed information about each chosen hostel.
But keep scrolling! Further down you'll find a handy map pinpointing the location of all 3 hostels, plus must see places in Sydney.
Here's a quick overview of the best hostels in Sydney:
1. Sydney Harbour YHA (incredible city views)
Sydney Harbour YHA is a beautiful mix of modern and colonial Sydney. Built above archaeological remnants, this modern hostel has combined heritage with state of the art facilities.
This is on top of our recommendations for best hostels in Sydney for solo-travellers!
Enjoy the views over Sydney Harbour, Opera House and Harbour Bridge from the comfort of your very own rooftop terrace!
Sydney Harbour offers both dorm and private rooms, including a family room.
The dorms come with handy lockers and can sleep up to 6 people. There is choice between mixed, female and male dorms.
All rooms – dorm and private – have their very own private bathroom.
Read: Guide to all hostel room types
Common amenities include bed linen, air conditioning, individual bed light (and power socket) and access to communal kitchen and terrace.
If you happened to search for 'places to stay in Sydney cheap', you're in luck!
ydney Harbor YHA offers so much to help you save money.
Get seriously social at Sydney Harbour YHA and join one of their free tours. Relax on the rooftop or coffee bar, play some pool with your new friends or grab some snacks from their in-house food store and lounge in front of the TV.
Compare prices and read reviews at: Booking.com | Hostelworld
Location of Sydney Harbour YHA
The YHA Sydney is situated in The Rocks – the city's historic harbour side precinct.
Located in the heart of Sydney, you can expect to be in walking distance from all the main attractions.
There are numerous historical pubs and restaurants nearby.
Experience live music at The Basement and don't miss a trip to the Sydney Opera House.
Check out next door too: The Australian Heritage Hotel host the largest beer list in Sydney!
The hostel is 600 meters from Circular Quay train station.
This means easy access to greater Sydney and its beaches.
Who stays at Sydney Harbour YHA?
This hostel is loved by
There is plenty of choice of rooms, and Sydney Harbour specifically offers a group rate. The location is perfect for exploration straight from the doorstep.
It's a big place, not at all a small hostel – housing up to 110 people – so we definitely recommend it for social butterflies.
What to know beforehand?
There is a free Wi-Fi hotspot with an option to upgrade to Premium Wi-Fi Plus.
Onsite there is a Tour Desk and the staff will be there to help you get the best of your time in Sydney.
The hostel also offers daily activities.
Compare prices and read reviews at: Booking.com | Hostelworld
2. Wake Up! Sydney Central (the home of social vibes)
The name of this hostel – Wake up! Sydney Central – sums it up perfectly.
Slap bang in the centre of the CBD area, surrounded by amazing sights and built with space, light and comfort in mind: you won't want to do much sleeping.
Choose between dorm rooms to stay in sleeping up to 10, or private rooms with an option of an en-suite.
Wake Up! Sydney central also cater for solo-female travellers with their female-only dorms.
Read: 7 pros and 3 cons to female-only dorms
All rooms include secured lockers, bed-side lamp and power point. Large windows make for wonderful lighting.
Check in is 24-hours. The Tour Desk is also open 24-hours and is the perfect place to book your next destination in Australia, and ask about potential work opportunities in the city.
Feel free to make use of the large shared kitchen as well as an onsite Cafe Bistro and bar, open 7 days a week.
Compare prices and read reviews at: Booking.com | Hostelworld
Location of Wake Up! Sydney Central
Well, you guessed it: it's central!
Modern, light, spacious and directly opposite the Sydney Central Railway station.
It's perfect walking distance to all the main attractions including Sydney Opera House and the CBD. Not forgetting the numerous shops and surrounded nightlife precincts.
Be sure to take a stroll and enjoy the nearby Darling Harbour.
Who stays at Wake Up! Sydney Central?
Perfect for people interested in:
Shopping
Nightlife
Socialising
Sightseeing
It's also great for the foodies out there with a wide selection of restaurants in the CBD area.
Wake Up! Sydney is perfect for travellers that like to be involved.
There are many daily activities to join (more info further down!) and tons to explore in the city.
What to know beforehand?
Wake Up! Sydney Central offers a handy airport shuttle for an additional charge, so be sure to contact them in advance about this.
They have done well to avoid discrimination by including disabled facilities and lift in the hostel.
The staff at Wake Up! Sydney can speak 6 languages including Swedish and Dutch.
Side Bar (located in the basement) is Sydney's biggest and busiest backpacker bar. The perfect place for socialising.
Roy's Cafe, located on the ground floor, is open from 7am and offers breakfast, lunch and dinner.
The hostel is incredibly social and offers many (ever-changing) daily activities. These include free pizza evenings, guided tours, trivia Tuesdays, yoga class and pub crawls.
Read: The perfect hostel packing list
Recommended for:
Compare prices and read reviews at: Booking.com | Hostelworld
3. BONDI Backpackers
Update: Our old #3 hostel on this list closed down. Therefore, we updated our guide.
Our new #3 on this list is the Bondi Backpackers.
Our top choice for a beach hostel in Sydney is seriously only 2 minutes from the beach. Located seconds from the sand and surf, Bondi Backpackers boasts a rooftop terrace furnished with umbrellas and deck chairs and has panoramic views of Bondi Beach.
SUPER COOL!!
It doesn't stop here. Bondi Backpackers plays host to a range of complimentary lifestyle activities. Join in for
rooftop yoga classes
personal training sessions and
walking tours along the picturesque Bondi to Bronte coastline.
wine and cheese nights
BBQ nights
For guests looking to try their hand at Australia's most famous past time, free surfboard hire is also on offer.
If you are just flying into and would LOVE to see the ocean, this is your best choice! Our tip would be to find a buddy in the hostel to explore the city center and obviously visit the Opera House.
Compare prices and read reviews at: Hostelworld
2. Best Hostel in Sydney for solo travellers?
For those of you discovering Sydney alone, we recommend staying at Sydney Harbour YHA.
Why?
Well in case you missed it before, YHA Sydney is a social hub for travellers.
Here you can join the many hostel activities, meet new friends on the rooftop and explore the city by foot.
Everything social is right on your doorstep!
Compare prices and read reviews at: Booking.com | Hostelworld
3. What's the best party hostel in Sydney?
Let us introduce The Village Broadway hostel as the number one party hostel in Sydney.
Located above a buzzing pub and live music venue, 10 minutes from the Central train station.
It's the perfect place to be if you're looking for fun.
Start your night enjoying some live music, a cold beer and a boogie on the dance floor.
Then continue into the city and experience the night life – perfect!
Read: 7 types of hostels around the globe
Compare prices and read reviews at: Booking.com | Hostelworld
4. Fancy cool beach hostels in Sydney?
We covered this place already, yet here it goes again. Who wouldn't want to wake up and see the beach, right?
Well, it's possible to do so at Bondi Backpackers.
The rooftop terrace offers a perfect view over the famous Bondi Beach – you'll literally be across the road!
Join in one or more of the complimentary lifestyle activities including rooftop yoga, personal training and a walking tour along Bondi.
Bondi's vibrant nightlife is also very close to Bondi Backpackers.
Compare prices and read reviews at: Booking.com | Hostelworld
5. Quiet and small hostel in Sydney?
If you're looking to enjoy a more peaceful, intimate hostel experience without missing out on a central location; these quiet and small hostels in Sydney are for you.
These two are highly recommended by us: The Pod Sydney and Space Q Capsule Hotel.
Both accommodations offer contained sleeping spaces for perfect privacy.
Can you guess what theme Space Q Capsule is..?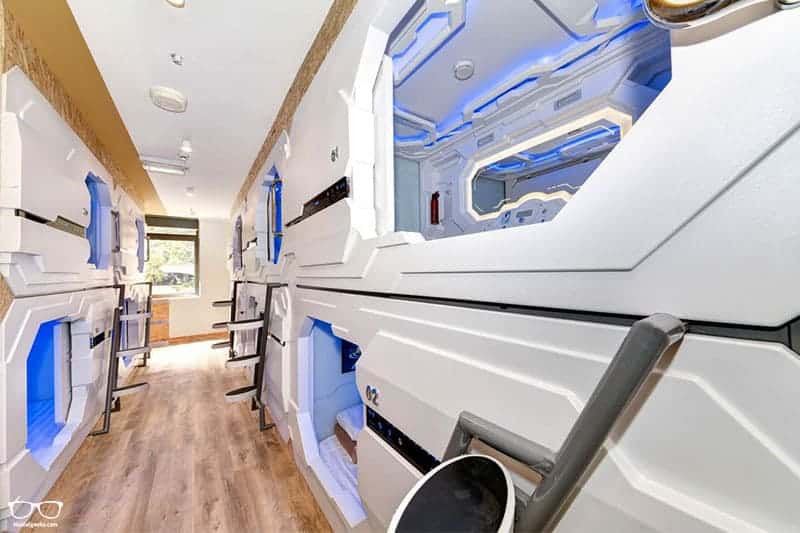 6. What about unique, quirky hostels?
So, unique and quirky hostel design is more your thing. We've got you covered.
We already mentioned Space Q Capsule Hotel, but let us mention it here again.
The out-of-space design is certainly quirky, and it is a wonderful blend of solo and social.
Enjoy the privacy of your pod or head to the spacious lounge area and enjoy a game of foosball.
Another unique hostel with a super cool design is Railway Square YHA.
Spend the night in a funky railway carriage on ground zero of Central Station!
Compare prices and read reviews at: Booking.com | Hostelworld
7. What about where to stay in Sydney CHEAP?
Are there any cheap hostels in Sydney? There can be cheaper hostels and more budget accommodation in Sydney than the ones mentioned above.
It can be tempting to opt for the cheap places to stay in and only look for a Sydney cheap stay.
In our opinion, it's not worth it to go with the cheapest hostel out there.
Why?
The difference is usually 1-2€ ($1-2), and a lot of amenities are not included. This can be breakfast or linen. Keep also in mind a bad location – or seemingly cheap areas to stay in – far away from the city centre costs you more in transport. This can be pricey in a big city like Sydney.
However, if you are traveling on a shoe-string budget and you wanna save every penny, there are ways to find the cheapest places in Sydney.
Open Hostelworld with full list of cheap lodging in Sydney
Order the listing by price
Make sure you then filter for the best ratings. Keep an eye on the "extreme" reviews, meaning the best and worst. These kind of comments are a great resource to see what you can expect – and what not!
Read: 15 tips for booking hostels – booking like a pro without wasting time and money
For saving even more money on museums and sights, go for the Sydney iVenture attraction pass.
Save over 40% with this pass and have access to over 30 of Sydney's top attractions. This includes the 24-hour hop-on hop-off bus tour.
8. Things you need to know BEFORE travelling to Sydney:
Sydney is a big city with plenty to see and do. Here are a few tips to help you prepare beforehand:
Renting a car
If you're planning on renting a car in Sydney, be aware of the toll charges.
The toll roads in the city are 'cashless' so you'll need an electronic pass to pay.
No doubt your rental company will help you with this, but it's an extra expense to be prepared for.
Public transport
The public transport is a little tricky. Sydney is wide-spread and there is no metro.
Avoid the CBD area during rush hour and catch the ferry whenever possible
– it's reliable and affordable if you..
Important: Grab yourself an Opal Card.
It's a simple top-up card and can be used on all public transport within Sydney. The daily cap for an adult is around $15 so you can essentially travel around as much as you like in one day for that price. Grab one at the airport, train station or any convenience store.
Alternative beaches
Bondi is not the only good beach! Sydney is actually divided between 10 distinct villages and there is no official city centre.
Have a look at Manly and Palm Beach.
Become familiar with their locations and save time once you've reached the city.
9. Any Discounts?
Currently, we have no special hostel discounts in Sydney. I know, it's a pity. We do not have any valid promotions for Bondi Beach or any promo code for Wake Up hostel in Sydney. You can subscribe to our newsletter to receive our newest hostel discounts always to your inbox.
We are always trying to get Wake Up Sydney Promo Codes and others.
You can find all our hostel discounts worldwide here.
But, we do have a 35€ discount for Airbnb here. Here you'll find places up there with affordable hotels in Sydney.
10. Map of all Hostels and Cool Sights in Sydney
So here you go, here's our map of all the coolest hostels in Sydney and main sights.
The three main hostels are highlighted in blue. The quirky and unique hostels are found in orange, and all the sights in green.
Don't leave Sydney without visiting the Opera House!
11. Flights to Sydney?
We enjoy Kiwi.com to find cheap flights all over South Easti and Oceania including Sydney and Perth.
This new website has super cool features like a so-called radius search. Just draw a circle over Europe and find the cheapest rates for the area.
Here is our review of Kiwi.
More Hostels in Australia
OKay, by now you have the answer to your question where to stay in Melbourne on a budget.
Don't forget to check out all our best hostels in Australia.
Here you can find the
Heading to Alice Springs? Here's our guide to cool things to do in Alice Springs.
12. Summary of the 3 best hostels in Sydney
We hope you love the coolest hostels in Sydney as much as we do. They are all hand-picked to suit solo-travellers, party-goers and couples.
These hostels create a relaxed space amongst a vibrant, colourful city.
Soak in the architecture, local life and sea air from the comfort of the hostel rooftop.
Sydney is calling you, what are you waiting for?
Sex in Sydney Hostel
Sex is part of the hostel life, especially when staying at Party hostels. There is no need to pretend it is not. That is not to say, hostels are only about sex – NOT AT ALL!
We wrote a big guide with 5 dos and donts of having sex in Hostels.
Especially rule #5 is important to remember. Otherwise you may end up being a porn-star. Because: hostels have cameras!
Read: How to have and how NOT to have sex in hostels in Sydney here.
More Hostels Guides
Besides Sydney, we have collected the absolute best hostels in Australia + itinerary.
Make sure you read them too to avoid the real bad hostels you can come across easily. All our hostels are reviewed in person, and we only list places we genuinely enjoyed!
Here you can find the
Heading to Alice Springs? Here's our guide to cool things to do in Alice Springs.
Find here all the "Best Hostels in" Guides.
Over to you
Was this useful? Do you have any questions, doubts?
Then please please leave us a comment. This list of awesome Sydney hostels should be as informative and useful as possible.
Your question will help me to understand what I have missed to mention.
Therefore, drop us a comment, we are keen to help you!
Last note: Our commitment

This is a genuine article to help you travel a bit smarter and find the best place on a budget! We ONLY recommend places we know you will enjoy, no matter what.
We will never recommend you any place we haven't evaluated or are not convinced by. We only share with you places we also recommend to our best friends and family!
Enjoy this fine hostel selection and all 5 Star Hostels.
– – –
Pin it for later
Update: The BOUNCE Hostel closed its doors for good. It is no longer possible to book this hostel. Below you find our now out-dated description of Bounce Sydney. We will keep this article updated!
old #3: Bounce Sydney (terrace heaven)
Bounce Sydney is central, quirky and fun. Designed around communal areas and top-notch security to ensure you have a wonderful time in the buzzing CBD of Sydney.
Dorm rooms housing 4-8 people, including female only dorms, are available.
The 4 bed dorm also has a private bathroom.
Read: overview of the different hostel room types
Quad deluxe, triple and queen rooms are also at Bounce Sydney. Included is an en-suite bathroom, flat-screen TV, fluffy pillows and 5 Star Hotel-quality mattresses.
All rooms have air conditioning. All linen is provided at no extra cost.
Bounce Sydney uses the latest in key card technology. Your key card will give you access to your room, elevator and communal areas.
Every guest has access to a large lockable storage with power socket inside. No more leaving your valuables charging on show!
Make use of the 3 large communal lounge rooms and TV room.
There is also a fully-equipped kitchen with 8 fridges – plenty of room for storage.
Location of Bounce Sydney
You'll find Bounce located directly opposite Sydney Central Station, a 15 minute train ride from the airport – easy.
It's located in Sydney's artistic quarter with several restaurants and chic bars practically on the doorstep.
The popular Oxford Street is a 10-min walk from the hostel.
Who stays at Bounce Sydney?
For those travelling on a budget but who also want to be close to the sights.
Bounce is the best hostel in Sydney for
Solo-travellers (a bit more luxury)
Couples
If you're looking to save energy on getting to the hotspots, and want plenty of room to chillax; Bounce Sydney is the place for you.
What to know beforehand?
Bounce Sydney has wonderful communal areas including a dining area and rooftop terrace with BBQ area.
More about the terrace; you truly won't find a better view over Sydney skyline.
Relax in a hammock and party in style with sun lounges and sunset BBQ's.
Weekly socials are also held here. Don't miss the hot dog Thursdays!
There is high speed Wi-Fi throughout the hostel, as well as networked internet kiosks on various levels of the building.
Need to make an important phone call?
There is a free phone for calls within Australia, as well as Skype.
Reception is open 24hrs a day. In the lobby you will also find Bounce Travel.
Friendly staff will be more than happy to help you organise your ongoing travel in Australia.
Find all hostels on Hostelworld.
Your Smart Packing List
It is time to see what you should pack in your backpack or suitcase. Make sure you always pick a quality hostel, it totally reduces the things you need to pack. Here is our ultimate hostel packing list. It features 23 items you should really throw in your backpack.

The most important things to pack are: Read the full packing list here.