Travel quotes are a great way to get inspired. There is a simple reason for that: they keep the travel-mojo going! Some travel quotes are very inspirational, others are cheesy and so overused.
No doubt, we get it! Whenever you are not able to travel for whatever reason, a travel quote may help you sometimes to get you moving.
There are moments we all need some travel inspiration or extra-strength during our travels (especially after doing some common travel mistakes).
We had a look at the endless number of travel quotes out there including quotes from Instagram. Some are long while some are short Instagram captions. There is even plenty of awesome travel-themed decoration as well.
The result is this summary of 413 travel-related inspiration quotes with an Instagram photo.
Some of the phrases will help you to keep focus, or just give you some positive extra energy. Whether you are right now hitting the road or wishing you would, here is our piece of inspirational travel, funny captions, and Instagram quotes.
Instagram captions we cover:
Update: find 23 travel quotes for friends now
More inspiration:
Travel and let the world change you.
Besides these quotes, you can find more useful and entertaining information such as
We hope you do enjoy, love, remember and share these inspirational travel quotes and quotes about Instagram.
We also included some travel quotes and quotes on Instagram you will find around the 5 Star Hostels!
Interested in the free download?
It's in the summary of the post below. Just keep scrolling for the free .pdf to download.
But enough small talk, let's kick it…
From cheesy to inspiring Travel Quotes
1. "A journey of a thousand miles begins with a single step." – Lao Tzu
2. "Everything you do is based on the choices you make" – Wayne Dyer
3. "Travel like Gandhi, with simple clothes, open eyes, and an uncluttered mind." – Rick Steve
4. "The World is a book and those who do not travel read only a page." – Saint Augustine
5. "Sometimes you win, sometimes you learn" – Dr. Maxwell
6. "Not all those who wander are lost." – J. R. R. Tolkien
7. Don't be afraid to fail, be afraid not to try.
8. "Wake up and be awesome!" – Code Hostel in Edinburgh
Read: Complete guide to best hostels in Edinburgh, Scotland
9. "Travel far enough you meet yourself." – David Mitchell
10. Life is better when you smile!
11. "A good traveler has no fixed plans, and is not intent on arriving." – Lao Tzu
12. "Travel is fatal to prejudice, bigotry, and narrow-mindedness." –Mark Twain
13. I want/ I love/ I do/ I can is the best way to build your phrases, your days, and all your life!
14. Do all things with love!
15. "Don't tell me the sky's the limit when there are footprints on the moon." – Paul Brandt
16. "Happiness is not a state to arrive at, but a manner of traveling". – Margaret Lee Runbeck
17. "You miss 100% of the shots you don't take." –Wayne Gretzky
18. And I said to myself: "What a wonderful world."
19. "Tourists don't know where they've been, travelers don't know where they're going." – Paul Theroux
20. The urgent things are not the most important ones.
21. When you give yourself to places, they give you back.
22. "Life is 10% what happens to me and 90% of how I react to it." –Charles Swindoll
23. "A ship in a harbor is safe, but it not what ships are built for." – John A. Shedd
24. "A traveler without observation is a bird without wings." – Moslih Eddin Saadi
25. Be fearless in the pursuit of what sets your soul on fire.
26. Create a life you don't need a vacation from.
27. The journey is my home.
28. "I never travel without my diary. One should always have something sensational to read on the train." — Oscar Wilde
29. "Either you run the day, or the day runs you." – Jim Rohn
30. Life is a journey, not a destination.
31. "A wise traveler never despises his own country." – Carlo Goldoni
32. I can't change yesterday, but I can change today!
33. Don't count every day, make every day count.
34. "There are no foreign lands. It is the traveler only who is foreign." – Robert Louis Stevenson
35. "Today is your day! Your mountain is waiting! So… get on your way. " – Dr. Seuss
Marken Guesthouse, 5 Star Hostel in Bergen, inspires all fellow travelers to go out there and enjoy the gorgeous natural surroundings of Bergen.

36. Never stop exploring.
37. Better to see something once than to hear about it a hundred times.
38. "Not all those who wander are lost" – J.R.R. Tolkien
39. Travel is the only thing you buy that makes you richer.
40. "There are a lot of adventures out there waiting for you to live them." – Matt
41. "A winner is just a loser who tried one more time." – George M. Moore Jr.
42. "Discovery consists not in seeking new landscapes, but in having new eyes." – Marcel Proust
43. "Wherever you go, go with all your heart!" – Confucius
44. "The most beautiful in the world is, of course, the world itself." – Wallace Stevens
45. Enjoy the little things.
46. "Own only what you can always carry with you: known languages, known countries, known people. Let your memory be your travel bag" – Alexandr Solzhenitsyn
47. Don't listen to what they say. Go see.
48. "Choose to make a difference. – its the way we work, the way we live, and the way we are!" We at Hostelgeeks are big fans of this travel quote.
This is a quote at The Backpack hostel in Cape Town, South Africa.
Read: Complete guide to best hostels in Cape Town
49. People travel to faraway places to watch, in fascination, the kind of people they ignore at home.
50. "Magic is believing in yourself. If you can do that, you can make anything happen." – Johan Wolfgang von Goethe
51. "Hope is the only thing stronger than fear." – Suzanne Collins
52. Perhaps travel cannot prevent bigotry, but by demonstrating that all peoples cry, laugh, eat, worry, and die, it can introduce the idea that if we try and understand each other, we may even become friends.
53. Life is like a camera: you focus on what is important, capture the good times, develop from the negatives and if things do not work out, take another shot.
54. "Little by little, one travels far." – J.R.R. Tolkein
55. Whatever you decide to do, make sure it makes you happy.
56. You know all those things you always wanted to do? You should go do them.
57. If you always do what you always did, you will always get what you got.
58. Die with memories, not with dreams.
59. "Happiness is letting go of what you think your life is supposed to look like and celebrate it for everything that it is." – Mandy Hale
60. Home is where your story begins.
This travel quote is part of the black-and-white graffiti wall at the entrance of WALLYARD CONCEPT HOSTEL, the 5 Star Hostel in Berlin.
During our visit to Wallyard Concept Hostel, we walked by here many times.
Read: 3 best hostels in Berlin – compared and put on a map
Cute Selfie Quotes and Sassy Instagram Captions
Those wonderful selfies certainly need good Instagram captions. And those selfie captions certainly deserve a post. Here are some ideas for a caption for a selfie.
61. She's a mess of gorgeous chaos. And you can see it in her eyes.
62. Believe in the power of your #Selfie
63. Better an oops than a what if.
64. Make them stop and stare.
65. Don't date a guy that takes more selfies than you do.
66. Confidence is not "they will like me." Confidence is "I'll be fine if they don't."
67. "Beauty is not in the face; beauty is a light in the heart." – Kahlil Gibran
68. I know looks aren't everything, but I have them just in case.
69. Mirror: You look cute today
Camera: lol No
Instagram filters: I got you!
70. "Embrace the glorious mess that you are." – Elizabeth Gilbert
71. Behind every girl's selfie is approximately 37, nearly identical photos, that just didn't make the cut.
72. "If you put an inspirational quote under your selfie, no one can see your narcissism." – Gandhi
73. Put my selfie on top of the Christmas tree because I am a star.
74. "You know I got the sauce. You know I'm saucy." – Rihanna
75. I can't stop being awesome. It's in my blood.
76. Kill them with success and bury them with a smile.
77. Sending my selfie to NASA because I'm a star waiting to be discovered.
78. I'm an old combination of "Really Sweet" and "Don't mess with me."
79. Life is better when you're laughing.
80. Who says I never smile in my selfie?
81. Why so serious, gorgeous?
82. Eyes are never quiet.
83. My mirror and my camera have two completely different ideas of what I look like.
84. Life isn't perfect but your outfit can be.
85. Some girls are just born with glitters in their veins.
86. Please keep my selfie today. In the future, you might have to pay for one.
87. "Lipstick is for when you've had a shit day and you need red lipstick to face the world." – Keira Knightley
88. "I got the red lip, classic thing that you like." Taylor Swift
89. I'm not special. Just limited edition.
90. Calm over chaos.
91. Aside from gravity, nothing can keep me down.
92. Why chase when I'm the catch?
93. Coffee in one hand and confidence in the other.
94. I think like a proton. Always positive.
95. It's not necessary for everyone to like me. Not everyone matters.
96. Too blessed to be stressed.
97. My heels are higher than most people's standards.
98. You cannot spell awesoME without ME.
99. Don't copy. Pick your own style.
100. Does my sparkle burn your eyes?
101. Too glam to give a damn.
102. Be savage, not average.
103. I like my coffee how I like my selfie: Dark, bitter, and too hot for you.
104. I'm sunshine mixed with a little hurricane.
105. I know that I'm lucky that I'm so cute.
106. What do you think of the view?
107. Love me, hate me, I just don't care.
108. A smile is the best makeup any girl can wear.
109. No one is you and that is your superpower.
110. I approve of myself.
Cool Quotes on Beauty
Below you will find beauty captions for Instagram. And maybe Instagram captions selfie.
111. There is beauty in simplicity.
112. Self-confidence is the best outfit.
113. You are capable of amazing things.
114. Don't ever doubt your worth.
115. "Comparison is an act of violence against oneself." – Iyanla Vanzant
116. Admire someone else's beauty without questioning your own.
117. There are poems inside you that paper can't handle.
118. Inner beauty should be the most important part of improving one's self.
119. Grow through what you go through.
120. "Beauty begins the moment you decide to be yourself." – Coco Chanel
121. "I am my own version of beautiful, which no one else can be." – Jenna Goodhand
122. Your value doesn't decrease based on someone's inability to see your worth.
123. Beauty attracts the eye but personality catches the heart.
124. You owe yourself the love that you so freely give to others.
125. "You are a uniquely beautiful soul." – Louise Hay
126. Some women fear the fire. Some women simply become it.
127. If you haven't seen a masterpiece, look in the mirror.
128. "You may never be enough for everybody, but you will always be the best for somebody." – Rihanna
129. "You are enough. You don't have anything to prove to anyone." – Maya Angelou
130. Loving yourself is the greatest revolution.
131. I am beautiful from the tips of my toes to the depths of my soul.
132. Stay kind. It makes you beautiful.
133. Next time when you think of beautiful things, don't forget to count yourself in.
134. "I'd rather be hated for who I am. Than loved for who I am not." – Kurt Cobain
135. "I don't think of all the misery but of the beauty that still remains." – Anne Frank
136. Be. YOU. tiful.
137. Confidence breeds beauty.
138. Imperfection is beautiful.
139. "People will stare. Make it worthwhile." – Harry Winston
140. "You are more powerful than you know; you are beautiful just as you are." – Melissa Etheridge
141. Be a beautiful cupcake in a world full of muffins.
142. Don't let anyone dim your glow.
143. Lipstick can't solve problems, but it's a pretty good start.
144. Slay girl, slayyyy!
145. No beauty is brighter than that of a good heart.
146. "She's beautiful. She makes Autumn jealous." – Sean Bates
147. Never be too busy to be beautiful.
148. Love the skin you're in.
149. Another woman's beauty is not the absence of her own beauty.
150. You don't have to be beautiful like her, you can be beautiful like you.
151. Surround yourself with good makeup, not negativity.
152. I don't dress up for anyone but me.
153. There's no such thing as having too many lipsticks.
154. "She's a wildflower with a lot of warrior underneath." – Melody Lee
155. Beautiful things don't ask for attention.
156. "The beauty of you is how you wear who you are." – Timothy Egert
157. "A girl should be two things: who and what she wants." – Coco Chanel
158. "Nothing beats a great smile." – Karl Urban
159. I was not made to be subtle.
160. Be a girl with a mind, a woman with attitude, and a lady with a class.
Thoughtful and Inspiring Quotes About Friendship
Friends that travel together, stay together. And those travel photos need to match with great Instagram captions for friends. Here's a list worth considering.
You may also find some funny Instagram captions for friends.
161. "Friends are those rare people who ask how we are and then wait to hear the answer." – Ed Cunningham
162. There are friends, there is family, and then there are friends that become family.
163. Walking with a friend in the dark is better than walking alone in the light.
164. Good friends are like stars, you don't always see them but you know they are there.
165. A friend is one who overlooks your broken fence and admires your beautiful garden.
166. There's nothing better than a friend unless it is a friend with chocolate.
167. "The only way to have a friend is to be one." – Ralph Waldo Emerson
168. The most memorable people in life will be the friends who loved you when you weren't very lovable.
169. "A true friend is someone who is there for you when he'd rather be anywhere else." – Len Wein
170. Friends make the world beautiful.
171. "How beautiful it is to find someone who asks for nothing but your company." – Brigitte Nicole
172. Always better together.
173. True friends are never apart. Maybe in distance but never in heart.
174. Hard times will always reveal true friends.
175. A true friend knows your weaknesses but shows you your strengths.
176. Friends are people who make you smile brighter, laugh louder, and live better.
177. Best friends are like a favorite pair of jeans; they get better with time.
178. Friends who slay together, stay together.
179. Friends become our chosen family.
180. Sexy pictures. Crazy times. Sisters at heart. Partners in crime.
181. A real friend is one who walks in when the rest of the world walks out.
182. Only a true friend will tell you to your face what others are saying behind your back.
183. A good friend listens to all your adventures. A best friend makes them with you.
184. I don't know what's tighter, our jeans or our friendship.
185. With friends, it's never boring.
186. We've been friends for so long I can't remember which one of us is the bad influence.
187. "Friendship is born at that moment when one person says to another, "What? You too? I thought I was the only one." – C.S Lewis
188. A good friend is like a four-leaf clover; hard to find and lucky to have.
189. True friends don't judge each other, they judge other people.
190. I hope to be your friend until we die and become the best ghosts after death.
191. A friend knows the song in my heart and sings it to me when my memory fails.
192. "Man's vest support is a very dear friend." – Cicero
193. Two friends on a perfect day.
194. A true friend is the ones who lift you up when no one else has noticed you've fallen.
195. Keep the ones that heard you when you never said a word.
196. Old friends remind me that loyalty really does exist.
197. Finding friends with the same mental disorder! Priceless!
198. Remember, you don't need a certain number of friends you can be certain of.
199. "True friends are like diamonds – bright, beautiful, valuable, and always in style." – Nicole Richie
200. If someone sticks by your side through your worst times, they're the ones who deserved to be with you through your best times.
201. How often do you find a person that admires your little weird habits, puts up with your shit, and still can say they like you at the end of the day?
202.  There aren't many people that you just 'click' with, and when you find those people, you don't just let them go.
203. A best friend will slap you without any reason and love you without any condition.
204. Friends buy you food. Bestfriends eat your food.
205. We are going to be best friends forever. Besides you already know too much.
206. Friends come and go, like the waves of the ocean. But the true ones stay, like an octopus on your face.
207. Real friends don't get offended when you insult them. They smile and call you something more offensive.
208. "Most of us don't need a psychiatric therapist as much as a friend to be silly with." – Robert Brault
209. Best friends are like thighs that stick together.
210. We all have that one friend, who needs to learn to whisper.
Sweet Love Quotes for Couples
Truly love is in the air, here are Instagram captions for boys and girls who are in love and in search of love.
211. "All that you are is all I ever need." – Ed Sheeran
212. There are only two times that I want to be with you, now and forever.
213. You don't marry someone you can live with – you marry someone you cannot live without.
214. You're the dream I go to every time I close my eyes.
215. "We accept the love we think we deserve." – Stephen Chbosky
216. If it is real, it will never be over.
217. I just want you to know, that when I picture myself happy, it's with you.
218. I've fallen in love many times, but always with you.
219. Whenever I see you, I fall in love again.
220. "There is no love without forgiveness, and there is no forgiveness without love." – Bryant McGill
221. Rare is true love, true friendship is rarer.
222. I just wanna be with you that's all.
223. True love stories never endings.
224. I just wanna be with you that's all.
225. True love doesn't mean being inseparable, It means being separated and nothing changes.
226. Can I borrow a kiss, I promise I'll give it back.
227. True love and real friends are two of the hardest to find in the world.
229. Love is all you need in order to change the world.
230. I really believe that you are the greatest thing to ever happen to me.
231. Love loves to love love love.
232. I will love you until the stars fo out, And the tides no longer turn
233. There is no better feeling than being loved.
234. If you want me then feel me.
235. The way you make me feel…. I love that feeling.
236. "The love you feel in life is a reflection of the love you feel in yourself." – Deepak Chopra
237. You're like the love of my dreams, but better you're real.
238. The greater the capacity to love, the greater the capacity to feel the pain.
239. Treasure the moments that capture our hearts.
240. You are not the reflection of those who can't love you.
241. I had never been at peace with my own until I saw it in your eyes.
242. When someone else's happiness is your happiness that is LOVE.
243. For your eyes only, I show you my heart.
244. You make me sick because I adore you so much.
245. Let me hold you in my arms forevermore.
246. And suddenly all the love songs were about you.
247. I love the things you hate about yourself.
248. We can run down the streets with the stars in our eyes.
249. I believe we secretly love each other.
250. Distance isn't an issue because, in the end, I have you.
251. If I did anything right in my life it was when I gave my heart to you.
252. I keep myself busy with things to do, but every time I pause I still think of you."
253. If I had a flower for every time I think of you, I could walk in my garden forever.
254. Everybody has an addiction, mine just happens to be you.
255. Can I borrow a kiss? I promise I'll give it back.
256. You will forever be mine always.
257. I didn't choose you, my heart did.
258. I asked God to gift me the best thing ever. He gave me you!
259. Once in awhile, right in the middle of an ordinary life, love gives us a fairytale.
260. In a sea of people, my eyes will always be searching for you.
Inspirational Quotes and Captions
If you want something inspiring and an attitude caption for Instagram, here's a list you can choose from and give you caption ideas.
261. "Make your life a masterpiece; imagine no limitations on what you can be, have or do." – Brian Tracy
262. "Sometimes you will never know the value of a moment until it becomes a memory." – Dr. Seuss
263. "Act as if what you do makes a difference. It does." – William James
264. Look for something positive in each day. Even if some days you have to look a little harder.
265. There is no elevator to success. You have to take the stairs.
266. Stars can't shine without darkness.
267. "You don't always need a plan. Sometimes you just need to breathe, trust, let go, and see what happens." – Mandy Hale
268. Just because my path is different doesn't mean I'm lost.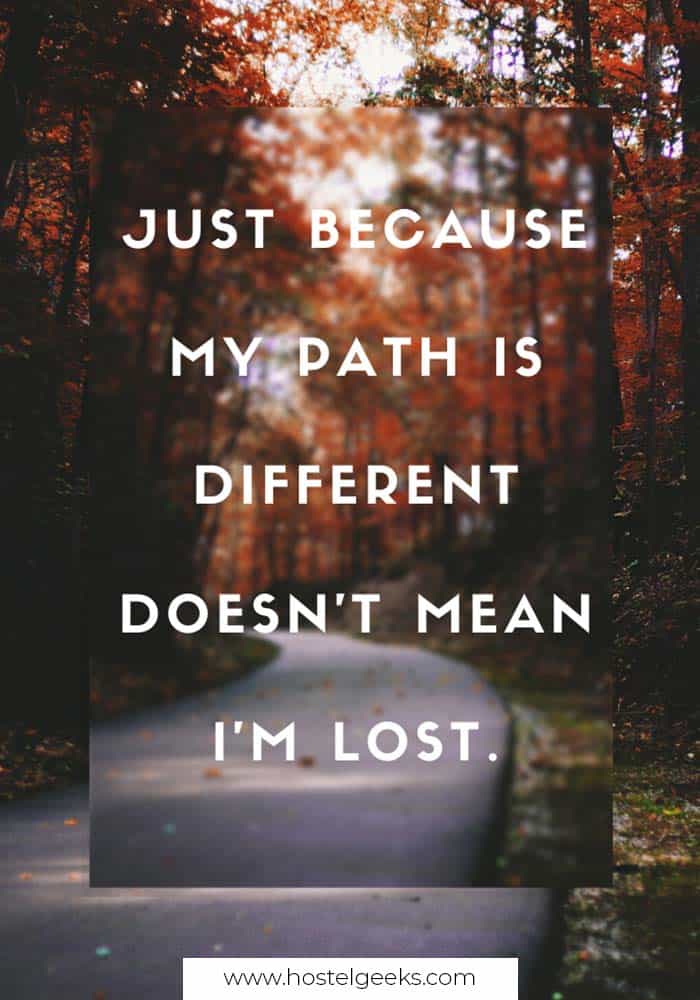 269. It takes nothing to join the crowd. It takes everything to stand alone.
270. "Nobody can make you feel inferior without your consent." – Eleonor Roosevelt
271. "Doubt kills more dreams than failure ever will." – Karim Seddiki
272. You can't go back and change the beginning, but you can start where you are and change the ending.
273. Forget all the reasons why it won't work and believe the one reason why it will.
274. Life is like ice cream, enjoy it before it melts.
275. Happy people plan actions they don't plan results.
276. Education is what survives when what has been learned has been forgotten.
277. Stop over-thinking things and just do.
278. You attract what you are not what you want. If you want great then be great.
279. A goal should scare you a little but excite you a lot.
280. You can't go back and change the beginning, but you can start where you are and change the ending.
281. Associate with those who help you believe in yourself.
282. Happiness is not by chance, but by choice.
283. Accept your past with no regret, Handle your present with confidence and face your future without fear.
284. It is just our darkest moment that we focus on the light.
285. Do the best you can until you know better, then when you know better, do better.
286. The only place where success comes first before work is in a dictionary.
287. Create whatever revolution in your heart.
288. It's going to be hard, but hard doesn't mean impossible.
289. You've got to be willing to lose everything to gain yourself.
290. Making mistakes is better than faking perfections.
291. Your dream doesn't have an expiration date. Take a deep breath and try again.
292. Do something today that your future self will thank you for.
293.  Strive for progress, not PERFECTION.
294. You are more than who you were. You can start over anytime like today.
295. Think about your dream last night to make your lazy morning a beautiful one.
296. Teaching kids to count is fine, but teaching them what counts is best.
297. Success is a journey, not a destination.
298. Sometimes the right path is not the easiest one.
299. You only fail when you stop trying.
300. The mind is everything that you think you become.
301. Go that extra mile.
302. Never let your fear decide your future.
303. "A person who never made a mistake never tried anything new." – Albert Einstein
304. "Nothing is IMPOSSIBLE. The word itself says, "I'M POSSIBLE." – Audrey Hepburn
305. "Don't be pushed around by the fears in your mind. Be led by the dreams in your heart." – Roy Bennett
306. People will forget what you said. People will forget what you did, but people will never forget how you made them feel.
307. If you want something you never had you have to do something you've never done.
308. Be a pineapple: Stand tall, wear a crown, and be sweet on the inside.
309. Every day may not be good. But there is something good in every day.
310. "You are never too old to set another goal or to dream a new dream." – C.S Lewis
Stay happy with these Funny Instagram Quotes
Here are funny captions to go with your happy and silly moments in life. And funny Instagram captions are worth a like.
311.  Your secrets are safe with me, I wasn't even listening.
312. For every action, there is an equal and opposite reaction, plus a social media overaction.
313. I finally realized that people are prisoners of their phones. That's why It's called a "Cell" Phone.
314. It's okay if you don't like me, not everyone has good taste.
315. I may look like a potato now, but one day I'll turn into fries and you'll want me then.
316. Singing in the shower is all fun and games until you get shampoo in your mouth, then it just becomes a soap opera.
317. Today at the bank, a lady asked me to check her balance. So I pushed her over.
318. My boss told me to have a good day, so I went home.
319. A thief broke into my house last night. He started searching for money so I woke up and search with him.
320. Common sense is like deodorant. The people who need it most never use it.
321. During the day I don't believe in ghosts, at night I become a little bit more open-minded.
323. I made a huge to-do list for today. I just can't figure who's gonna do it.
324. Seeing a spider in my room isn't scary, It's scary when it disappears.
325. Life is much easier when Apple and Blackberry were just fruits.
326. The best things in life will either make you fat, drunk or pregnant.
327. I won't be impressed with technology until I can download food.
328. With great power comes a great electricity bill.
329. The only reason I'm fat is that a tiny body couldn't store all this personality.
330. Why do they call it beauty rest when you wake up looking terrible.
331. Respect your parents, they passed school without Google.
And wait! Here are more Travel Quotes and Captions perfect.
332. "It always seems impossible until it's done."
333. "Raise your words, not your voice. It is rain that grows flowers, not thunders."
334. "Dreams don't work unless you do." – John C. Maxwell
335. Without new experiences, something inside of us sleeps. The sleeper must awaken.
336. "At the end of the day, your feet should be dirty, your hair messy and your eyes sparkling." – Shanti
337. Never get so busy making a living that you forget to make a life.
338. We take photos as a return ticket to a moment otherwise gone.
339. Don't try to be perfect, just try to be better than yesterday.
340. Add life to your days, not days to your life.
341. Quit your job, buy a ticket, get a tan, fall in love, never return.
342. "We all start as strangers." – great Instagram quote for hostels and hotels!
343. If you want something you never had, you have to do something you've never done.
344. Life is short and the world is wide.
345. I don't know the question, but travel is the answer.
346. Go where your dreams take you.
347. "I always wonder why birds stay in the same place when they can fly anywhere on earth. Then I ask myself the same question." – Harun Yahya
348. "Take every chance you get in life because some things only happen once."
349 "Because in the end, you won't remember the time you spent in the office or mowing your lawn. Climb that goddamn mountain." – Jack Kerouac
350. Don't call it a dream, call it a plan.
351. "It feels good to be in the right direction." – This travel quote is part of a double room at Yim Huai Khwang Hostel, one of the best hostels in Bangkok, Thailand.
Throughout this Boutique Hostel in Bangkok, you can find many other travel-related quotes. A great place to stay, loaded with positive energy.
352. I'd rather have a passport full of stamps than a house full of stuff.
353. "If you want to go fast, go alone. If you want to go further, go together ." – African proverb (and travel quote we love)
354. Remember that happiness is a way of travel – not a destination.
355. "Once a year go someplace you've never been before." – Dalai Lama
356. I don't know where I'm going, but I'm on my way.
357. "Life begins at the end of your comfort zone." – Neale Donald Walsch
358. "Good company in a journey makes the way seem shorter."  – Izaak Walton
359. "It is not down in any map, true places never are." – Herman Melville
360. "There are no foreign lands. It is the traveler only who is foreign." – Robert Louis Stevenson
361. "To travel is to discover that everyone is wrong about other countries. " – travel quote by Aldous Huxley
362. In the end, we only regret the chances we didn't take.
363. "Travel leaves you speechless, then turns you into a storyteller." – Ibu Battuta
364. "If it scares you, it might be a good thing to try." – Seth Godin
365. If not now, when?
366. You can't buy happiness, but you can buy a plane ticket.
367. If I lose myself, I lose it all.
368. I am not the same having seen the moon shine on the other side of the world.
369. "Travel can be the most rewarding form of introspection." – Lawrence Durrell
370. You are limited only by your imagination.
371. There are seven days in the week and someday isn't one of them.
372. Traveling tends to magnify all human emotions.
373. Find joy in the ordinary.
374. It's called a present. Open & use it!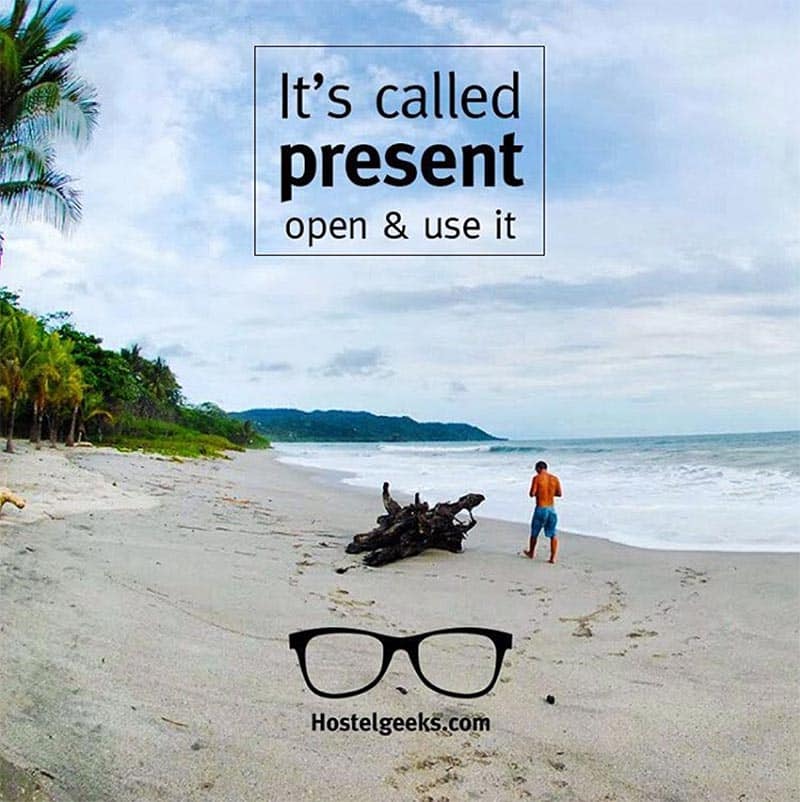 375. "The use of traveling is to regulate imagination by reality, and instead of thinking how things may be, to see them as they are." – Samuel Johnson
376. We can't choose where we come from, but we can choose where we go from there.
377. "Travel is still the most intense mode of learning." – Kevin Kelly
378. Of all the books in all the world, the best stories are found between the pages of a passport.
379. Is life not a process?
380. Work Travel Save Repeat.
381. Hostels are the home away from home.
382. The Journey of a thousand miles begins with one step.
383. Not all those who wander are lost.
384. "Travel isn't always pretty. It isn't always comfortable. Sometimes it hurts, it even breaks your heart. But that's okay. The journey changes you; it should change you. It leaves marks on your memory, on your consciousness, on your heart, and your body. You take something with you. Hopefully, you leave something good behind." – Anthony Bourdain
385. It is not down in any map; true places never are.
386. We travel not to escape life, but for life not to escape us.
387. You can shake the sand from your shoes, but it will never leave your soul.
388. The use of traveling is to regulate imagination by reality, and instead of thinking how things may be, to see them as they are.
389. Travel makes one modest. You see what a tiny place you occupy in the world.
390. Travel is more than the seeing of sights; it is a change that goes on, deep and permanent, in the ideas of living.
Keep on scrolling and you'll find more Insta captions and Insta quotes below.
Here, you will find more options for a good caption for Instagram.
391. A true traveler's journey is never complete.
392. If you wish to travel far and fast, travel light. Take off all your envies, jealousies, unforgiveness, selfishness and fears.
393. If there is no way, create one.
394. Traveling – it leaves you speechless, then turns you into a storyteller.
395. Investment in travel is an investment in yourself.
396. "Don't let your dreams be dreams." – Jack Johnson
397. "To understand what's going in the world, you have to see the world." – Aerin Lauder
398. Smile for life, not only for a photo!
399. "When was the last time you did something for the first time?" – John C. Maxwell
400. "We wander for distraction, but we travel for fulfillment." – Hilaire Belloc
401. "What if I fall? Oh but my darling, what if you fly?" – Erin Hanson
402. "Twenty years from now, you will be more disappointed by the things you didn't do than by the ones you do." – Mark Twain
403. The world is too big to tell just one story.
404. "Man cannot discover new oceans unless he has the courage to lose sight of the shore." – Andre Gide
405. "To reduce your age, increase your experiences." – Subbu Petite
406. There's a plane leaving for anywhere you want right now, and in an hour, and in a day, and in a year. You can get out whenever you want.
407. "Actually, the best gift you could have given her was a lifetime of adventures." – Lewis Carroll (Alice in Wonderland)
408. "Take every chance you get in life because some things only happen ONCE". – Karen Gibbs
409. "Cover the earth before it covers you". – Dagobert D. Runes
410. Age is no barrier when it comes to travel.
411. You are off to great places! Today is your day! Your mountain is waiting, So get in your way.
412. There's no time to be bored in a world as beautiful as this.
413. There are seven days in a week and someday isn't one of them.
More inspiring travel quotes and travel tips
Oh wait, there is more, much more!
We wrote a big article about the cute Instagram Captions for Couples, Friends, Travelers.
You can find more essential travel tips for backpackers. Also, make sure you have a good laugh with the +26 funny travel quotes.
Free Download!
Here you can download the full list. This is completely free!
Just click on the image or download the best travel quotes here, and you can save the PDF on your computer or phone.
pin it for later: