Are you traveling to Hamburg and looking for the BEST Hostels in Hamburg, Germany? You have come to the perfect place. We know Hamburg, we know Hamburg hostels.
We handpicked the 3 best hostels in Hamburg. You can expect incredible cool design, backpacker places, and a fun North-German vibe.
This is the only guide you need!
This guide is perfect for YOU, when …
tired of bad and crappy hostels
want to avoid the "young party kids"
happy to spend 1-2€ for a better experience
We condensed it all to the 3 coolest hostels in Hamburg.
Read also our guide to 17 cool things to do in Hamburg.
Hamburg is a very popular destination when backpacking Germany. The city of Hamburg can get overlooked when travellers are looking to experience the eclectic nightlife present in Germany.
Don't make this mistake!
Hamburg is renowned for its famous Reeperbahn strip where you will find an array of intriguing and unusual bars and clubs, a party lovers dream!
Of course we highly recommend to visit Berlin and Munich as well.
Here's our guides to best hostels in Berlin for Hipster-vibes and the best hostels in Munich for Oktoberfest and beyond.
What the heck, go all in and chck out the 29 best hostels in Germany.
What we cover in this article?
You can find all 5 Star Hostels here with Hostelgeeks and all guides to "Best Hostels In" here.
Quick Introduction to Hamburg
Average price for a bed: Hostels in Hamburg start from 15€-25€ per night for a bed in a dorm. A private room starts from 60€ up to 120€ per night. This is a rough average just to give you an idea.
Prices always depend on season and holidays. Please always check exact rates on Hostelworld.com or Booking.com.
Check-In and Check Out: The average check-in time is from 15:00 (3pm), while the Check Out time is before 11:00 (11am). Hostels usually offer luggage storage in case you arrive earlier or leave later. Make sure you check if luggage storage is free or if there is an extra cost.
New to Hostels? Read our full hostel starter guide here. We especially recommend to read:
The 3 Best Hostels in Hamburg
Let's jump right into the boutique hostels in Hamburg.
Quick overview:
We put all three accommodation on the map, you will find the map at the end of the article.
1. Pyjama Park Schanzenviertel – Design Hostel
We kick off this place with the coolest one; Pyjama Park Hostel.
Safe, sparkling clean, stylish, relaxed.
There are numerous reasons why Pyjama Park Schanzenviertel is one of the coolest hostels in Hamburg. Here's another quick overview what's on offer:
Bohemian location
Free fresh bed linen everyday
Aesthetically pleasing style
Beds in dorms with individual black-out curtains
This hostel immediately makes you feel at ease with the beautifully designed spaces, from walls painted with wild flowers to images of rainforests and animals.
The theme of nature is enforced by the abundance of plants in the hostel. This all serves to create the ultimate tranquil experience.
Compare prices and read reviews at: Booking.com | Hostelworld
What about the location?
Want to escape the crowds and the typical tourist traps?
As the city becomes more popular, Pyjama Park Schanzenviertel is a welcome retreat which lies slightly off the beaten track in the bohemian area of Sternschanze.
The neighbourhood has a real alternative vibe about it, filled with quaint cafés and trendy vintage shops.
Also be sure to check out the restaurant next door which provides delicious pizza!
Sternschanze is a great place to get to know the locals, and a world away from the hustle and bustle of the centre.
However, if you're still interested in seeing the sights, you're in luck! The hostel is located only 5 minutes from the metro station, a good way to explore the city by day. By night, you're only a 20 minute walk away to the famous Reeperbahn strip!
Hamburg is an up and coming city in Germany, known for its picturesque waterways and the bustling nightlife.
After seeing all the city has to offer, what better way is there to unwind than returning to Pyjama Park Schanzenviertel!
Who stays here?
Pyjama Park is far from a party hostel, there is no real common room or kitchen to socialise.
Although if your priority is simply to chill out, this shouldn't be a problem for you.
Despite having no common area, the bedrooms themselves are very spacious and range from private rooms to 8-bed dorms. Each bed is fitted with a small light, plug socket and a black-out blind for that important extra privacy!
To make your stay as comfortable as possible, you get fresh bed sheets everyday and even free ear plugs to drown out any noise. You're guaranteed to wake up feeling well rested and refreshed!
Pyjama Park Schanzenviertel is a great design hostel in Hamburg. Yet it is not ideal for those wanting a lively social atmosphere; not your typical backpackers hostel in Hamburg (but keep scrolling, dear backpacker).
It's perfect for those wanting to relax in a chic and modern environment – and of course, get a good night's sleep!
Pyjama Park Schanzenviertel is the top hostel in Hamburg for:
Travellers looking to unwind
Couples
Families
Female Solo-Travellers
Compare prices and read reviews at: Booking.com | Hostelworld
2. Instant Sleep Backpacker Hostel
Next on our list is Instant Sleep Backpacker Hostel. Now, that sounds promosing already.
This hostel is able to maintain this youthful energy with colourful social spaces and rooms with alternative designs and graffiti tagged walls. In contrast to the urban design, the hostel itself is surprisingly very clean and has all the basic facilities to guarantee your stay is comfortable!
Instant Sleep Backpacker Hostel is full of energy, and buzz, here are some of the features that make this place unique:
Instruments and open mic nights
Free tea and coffee
1€ drinks for happy hour
Urban design
Are you looking for a hostel that reflects this appealing social energy? Instant Sleep Backpacker Hostel is a perfect fit for those night owls and social butterflies.
Compare prices and read reviews at: Booking.com | Hostelworld
What about the rooms?
The rooms range from private rooms to 12-bed dorms with a bonus of each bed having a light and plug socket. That is already a big plus.
The hostel also provides a fully equipped kitchen, breakfast buffet and free tea/coffee to ease those morning hangovers (yes, yes, we know…)!
The best places to meet people would be the modestly sized common area which comes with board games, a good idea for those initial icebreakers! There is also an outdoor terrace, a great place to chill out and enjoy those summer days.
During the day this hostel provides the perfect easygoing atmosphere, but it's at night when the place really comes to life.
The common room brings the energy by offering a variety of instruments to enjoy and open mic nights to show off your skills…or lack of! Of course, a visit to Germany wouldn't be complete without sampling the beer.
So come to Instant Sleep Backpacker if you're seeking that lively social experience and the ultimate party!
Instant Sleep Backpacker Hostel is the best in Hamburg for:
Backpacker
Solo-Travellers
Party animals
Compare prices and read reviews at: Booking.com | Hostelworld
3. Generator Hamburg
Generator Hamburg is part of the international hostel chain Generator Hostels. It is quite surprising to us, but the hostel has a rating of less than 8/10 on Booking.com. Here's why.

If you are a frequent hostel visitor, you may have experienced that energy of lively chaos that comes with smaller hostels and overcrowded dorms. This is great if you're looking for a party, however if you're wanting a more chilled atmosphere, Generator Hostel is the place to be.
This modern and stylish hostel could be likened to a hotel simply because of the large building and the amount of space.
The size means you can choose to have a little more privacy, perfect for couples or those wanting to unwind.
Generator Hostel is perfect for those searching for the mellow atmosphere of a hotel, but with the character and low price of a hostel!
Compare prices and read reviews at: Booking.com | Hostelworld
Location: In the cities heart, directly at the main train station.
You have access to all types of public transportation here, so a very convenient location.
Of course there is also plenty to see and do outside the walls of the hostel, and the location couldn't be better! Being directly opposite Hauptbahnhof Station, you have free reign to explore the whole city. Although, as the city is in the centre of Hamburg, you can get around easily by foot whilst being close to all the surrounding bars and restaurants.
What rooms are at Generator Hostel?
After a long day/night wandering around the city, you can rest in one of the clean and comfortable dorms with a choice of 8-beds to private rooms.
There are plenty of special touches to be found in the dorms too!
Each bed includes a light, power socket and a small barrier for that extra privacy. Enjoy getting dolled up for a night out? Female dorms include makeup benches and hair dryers, so you can leave the hostel looking like you stepped out of a hotel! There are also small bathrooms in each dorm, however you can also find bigger ones on each floor of the hostel.
As for security, each bed includes lockers underneath and there is also a free luggage storage room.
Read: the smartest hostel packing list – with earplugs and padlock
Who stays here?
You will meet international solo-travellers, young travelers, backpackers and groups of friends.
This relaxing ambience is great, but if you're looking for the best of both worlds, you can step into the Helter Skelter bar for live music and the chance to meet fellow travellers. The name of the bar is no coincidence, as the Beatles actually recorded music here before they became famous!
The creative flare in the hostel doesn't end there either. The walls are covered in cool artwork created by local artists.
Generator Hostel is the best hostel in Hamburg for:
Couples
Travellers wanting to relax
Groups of friends
Compare prices and read reviews at: Booking.com | Hostelworld
Extra 4: Superbude Hamburg
Usually we only cover the three most amazing hostels in a place. For Hamburg, we added an extra #4. Without Superbude Hamburg, this list would not be complete.
The only reason Superbude Hotel didn't make it to the top of the 3 best hostels in Hamburg: They only offer private rooms!
Traveling as a couple or group? Then consider Superbude.
Black and yellow, cosy and social engagement – the Superbude St Pauli in Hamburg is a unique hostel in Hamburg and Germany on many levels. During your breakfast there may be a live concert and your chair can be an actual wheelbarrow.
Superbude shows their love for the city, design, street art and music all over the place. There are lyrics printed on walls, design elements like boxes and ropes from the harbor everywhere.
At Superbude many things are different and unique.
Compare prices and read reviews at: Booking.com | Hostelworld
What about the location?
The design-led hostel is located in Hamburg's hippest neighborhood, Schanze and St Pauli. No doubt, you will have heard of the famous football club FC Sankt Pauli.
The location is just great. You are in walking distance to the best bars and clubs in town, ask the staff for their favorite one and start exploring!
The area is called Schanze.
Rooms at Superbude Hamburg:
As mentioned, there is no dorms at Superbude. You can only stay in private rooms.
Double Room
Triple Room
Quadruple Room
5-Bed Room, and
ASTRA Rockstar suite for 6 people
Who stays at Superbude?
Most of the guests are from Germany. You can find many couples, families and even business travelers.
The age differs from young travelers to retirees. The atmosphere is easy-going, but don't expect the typical international backpacker vibe.
Superbude is the best hostel in Hamburg, Germany for:
couples
families
business travelers
Compare prices and read reviews at: Booking.com | Hostelworld
Comparing all 3 Top Hostels in Hamburg
Here is an overview of our handpicked top hostels in Hamburg. In this chart we compare the main facilities and things to expect.
It will help you to take a decision.
This information can vary by season and availability. Please take this into account.
What about cheapest hostels in Hamburg?
Of course, there are always cheap hostels. We even have two recommendations for cheap hostels in Hamburg.
If you are traveling on a shoe-string budget and you wanna save every penny, there are ways to find the cheapest places in Hamburg.
Open Hostelworld with full list of budget places to stay in Hamburg
Order the listing by price
Simple as that. Make sure you use then the other filters and rank per price. Also keep a close eye on the ratings, especially the "extreme ratings". Meaning, the best and worst. These ratings can give great insight on what to expect.
Our recommendations for Cheap Hostels in Hamburg:
Best Hostels in Hamburg for Solo Travellers?
What is the best hostel in Hamburg for solo-travellers? Not a super easy answer. Let us answer it with this list:
Remember, Pyjama Park Schanzenviertel is our top recommendation for female solo-travellers for major reasons. It is clean, safe, stylish.
On top, every bed in the dorm comes with its own plug and privacy curtain. A nice little extra!
Compare prices and read reviews at: Booking.com | Hostelworld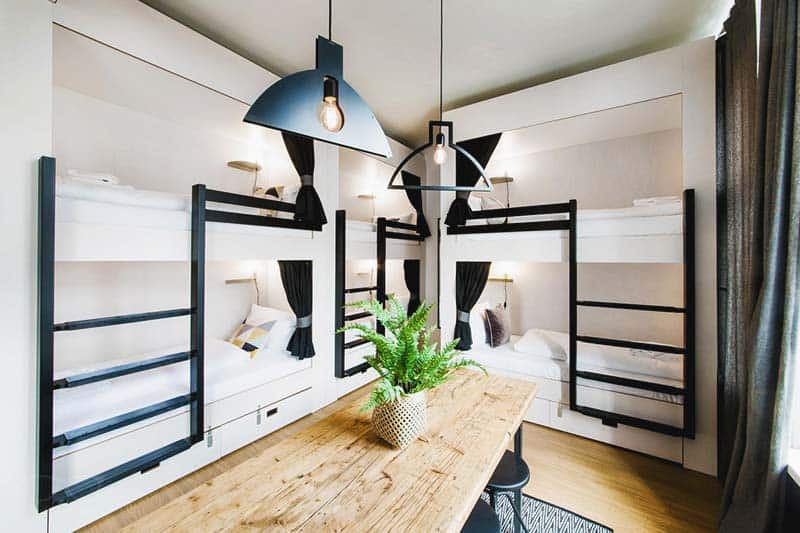 Party Hostels in Hamburg
Oh the nightlife is huuuuge in Hamburg.
The Reeperbahn, the thousands of bars, the live concerts all over the city, the alternative district of Schanze and St Pauli.
You won't have a problem to find a crazy and fun nightlife here for sure.
So, what is the best hostel in Hamburg for partying?
Make it Instant Sleep Backpacker Hostel.
The hostel bar offers beer at cheap prices and even has a happy hour, 1€ for all drinks!
The hostel can get pretty loud as there are a few more bars located in the building, but on the plus side, you won't even need to venture outside to sample the nightlife!
This isn't to say you should limit yourself to staying in the hostel building though!
Instant Sleep Backpacker is located close to the hipster quarter of St Pauli and only a 10 minute walk from the buzz of Reeperbahn. There is also plenty to see during the day too, close to the Botanical Gardens and a short walk away from an S-Bahn stop, giving you access to the whole city.
Compare prices and read reviews at: Booking.com | Hostelworld
Hamburg Hostels with Parking?
Are you traveling by car and would love to park somewhere in Hamburg?
Well, bad news. Not one of our hostels on this list have a good area for parking your car. We doubt, you will find any.
We used this Parking app for Hamburg.
It might be the easiest way to find a parking spot, at least for us it was super helpful.
As Hamburg is a big city, a car is not necessary and it's a hassle to find parking. Best way to travel to hamburg is by taking the train and then public transport.
How to book?
We recommend using Booking.com or Hostelworld for your reservations.
Booking.com is the biggest and safest platform for hotel and hostels reservations. Their cancellation policy is one of the best, normally 100% refundable until 24h before the stay.
Hostelworld is also super safe and the biggest booking platform for hostels.
Here's our guide on how to book hostels with Hostelworld.
On both platforms your credit card is 100% protected and the booking 100% confirmed.
We included the handy links to each of the recommended hostel. Just click on the hostel name. The link will lead you to check prices and availability.
Here is the overview:
We recommend booking your hostel as early as possible!
All of Hamburg best hostels are popular; especially in high-season. To make sure you end up in those stylish hostels, secure your room or bed as soon as you have your travel dates fixed.
Any Discounts?
Currently, we have no special hostel discounts in Hamburg. I know, it's a pity. You can subscribe to our newsletter to receive our newest hostel discounts always to your inbox.
You can find all our hostel discounts worldwide here.
All 3 Hostels put on a map + sights
Let us have a look on the map. Below we list all three best Hamburg hostels on a map.
We also included the main tourist attractions you've to know in this list:
Speicherstadt
Reeperbahn
Beatles Square
Landungsbrücke Harbour
John Lennon, Rock 'n' Roll Doorway
Elbphilharmonie Hamburg
Read our guide on the 17 cool things to do in Hamburg.
(You can deactivate and activate the different layers in the left sidebar. Open the map in a new tab here.)
Flights to Hamburg?
Hamburg is really well connected. You can catch flights from Barcelona, Paris and London.
Also, check flights first to Berlin. Berlin has even cheaper connection flights. It might be worth it to kick-off your trip in Berlin and then take a train to Hamburg.
We enjoy Omio.com and Kiwi.com to find cheap flights all over Europe.
This new website has super cool features like a so-called radius search. Just draw a circle over Europe and find the cheapest rates for the area.
Here is our review of Kiwi.
More guides for Germany and Europe

Alright, this is your answer to where to stay in Hamburg.
We did the leg work for you to bring you more hostel guides to German destinations including:
Outside of Germany, we cover the following cool destinations around Hamburg:
You can find all our new and updates articles for Best Hostels in here.
We also created a huge guide to hostels. Here we cover how to build lifetime friendships in hostels, the perfect packing list and more.
Over to you
We tried our best to give you a full answer to where to stay in Hamburg on a budget.
Anything missing? Was this useful? Do you have any questions, doubts?
Then please please leave us a comment. This list of awesome Hamburg hostels should be as informative and useful as possible.
Your questions will help me to understand what I have missed to mention.
Therefore, drop us a comment, we are keen to help you!
Last note: Our commitment

This is a genuine article to help you travel a bit smarter and find the best place on a budget! We ONLY recommend places we know you will enjoy, no matter what.
We will never recommend you any place we haven't evaluated or are not convinced by. We only share with you places we also recommend to our best friends and family!
Enjoy this fine hostel selection and all 5 Star Hostels.
– – –
pin it for later

Your Smart Packing List
It is time to see what you should pack in your backpack or suitcase. Make sure you always pick a quality hostel, it totally reduces the things you need to pack. Here is our ultimate hostel packing list. It features 23 items you should really throw in your backpack.

The most important things to pack are: Read the full packing list here.