Hold up! Before you book your flights to Turkey, make sure you check out our especially hand-picked 3 best hostels in Istanbul.
You won't be disappointed.
We've worked hard to find great budget hostels, including the best party hostels in Istanbul. This is your insider guide to the TOP hostels in Istanbul.
This guide is perfect for YOU, when …
tired of bad and crappy hostels
want to avoid the "young party kids"
happy to spend 1-2€ for a better experience
We condensed it all to the 3 coolest hostels in Istanbul.
As you may or may not know, Hostelgeeks finds the finest hostels in the world, the 5 Star Hostels.
And guess what? We've included our awesome 5 Star Hostel in Istanbul right here. You'll have to keep scrolling to read more about Bunk Hostel Taksim.
We've also created a wonderful collection of 5 Star Hostels in Europe for avid travellers like you.
Find all our guides to best hostels in the world here.
A Quick Intro to the 3 Best Hostels in Istanbul
Are you ready to discover the meeting place of East and West?
Don't forget to mark your chosen hostel on the handy map further down.
You'll definitely want to check out our 5 local things to do in Istanbul, too. Keep Scrolling!
The 3 best hostels in Istanbul are:
1. Nobel Hostel (Blue Mosque neighbour #1)
Nobel Hostel is a cosy, comfortable accommodation in the heart of Old Town Sultanahmet.
It's very much a hotel design, which has been tweaked to suit the backpacker lifestyle.
Don't expect anything too fancy. It's designed perfectly for a city as interesting as this one.
Alongside the private rooms, there are mixed dorms of 6 or 8 beds.
Tip: Opt for the 8-bed dorm for views of Blue Mosque!
If you don't stay at the 8-bed dorm, worry not. You can enjoy the views from the hostel terrace.
Compare prices and read reviews at: Booking.com | Hostelworld
All rooms come with WiFi, Air-con and linen.
There are spacious lockers in the dorm rooms, too.
What else:
Free buffet breakfast
No curfew or lockout
Library
Airport pickup service (extra fee)
There is a lively terrace overlooking the Blue Mosque. Enjoy discounted drinks and food to get you in the party mood.
Downstairs there is also Sofa Restaurant. Guests enjoy a 10% discount here and complimentary breakfast in the winter.
Read: 46 things that tell you: this hostel is gonna be awesome!
The staff here really care that you have an enjoyable stay. They're full of useful info, tips and suggestions, so don't be shy!
Nobel Hostel is literally minutes from all the main sights of the Old Town.
Nobel hostel is the best hostel in Istanbul for:
Compare prices and read reviews at: Booking.com | Hostelworld
2. Cheers Hostel (terrace bar views)
The comfortable atmosphere dominates Cheers Hostel, followed closely by the breathtaking views.
The rooms are made up of 6, 8 and 10 bed mixed dorms.
Private rooms, including double, triple and twin-bed, are available in additional buildings.
Lovely inclusions such as air-con, linen and heating are found in every room.
Note: full payment in cash is required on arrival
Compare prices and read reviews at: Booking.com | Hostelworld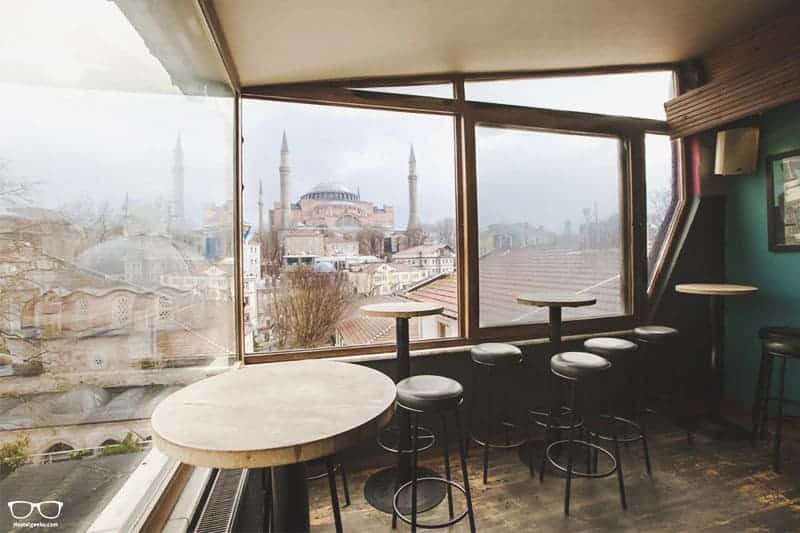 Other things that make this hostel great:
24-hour reception – yippee!
Buffet breakfast included
Luggage storage + locker
Bicycle rental
After a long day exploring Istanbul, relax in the lounge.
If you have a bit of energy left; try your hand at a game of darts or backgammon.
Remember those breathtaking views we mentioned?
Head on up to the in-house terrace bar and sit with a Mojito whilst staring out over the Blue Mosque.
In the wintertime, sit by the cosy fireplace with a Turkish coffee.
All the must-see places of the Old Town are at your doorstep. This includes:
Hagia Sophia,
Topkapi Palace and
Basilica Cistern.
Cheers Hostel is a top pick for:
Compare prices and read reviews at: Booking.com | Hostelworld
3. Bunk Hostel Taksim (European part of Istanbul)
At Bunk Hostel Taksim they believe that just because you are on a budget doesn't mean you have to sacrifice on style.
Yep; we've found you the best boutique hostel in Istanbul – our 5 Star Hostel.
Style, comfort, art, culture and fun are perfectly balanced here.
Compare prices and read reviews at: Booking.com | Hostelworld
It's certainly a super cool hub, with 170 beds up for grabs! Of course that then that means there are plenty of room types to choose from.
Read: Hostel room types – what are the differences?
Choose between 4-6 bed mixed/female dorms and private double/twin rooms.
The bespoke bunk beds come with personal reading lights and plugs.
You'll be happy to hear linen, fluffy towels and pin code operated lockers are all yours for free during your stay.
Let's touch upon what else to expect at #bunk:
24-hour reception = no curfew
Free continental buffet breakfast
Free secure luggage storage
Air conditioning throughout the hostel
Marble bathrooms
Take the lift and discover the rooftop terrace for awesome views. There is also a bar and cafe up there.
Go on, indulge yourself!
#bunk also has a cinema screen especially dedicated to sports matches and film nights.
Taksim Square is only 750 yards away – the nightlife, shopping and dining district. The Old Town is just over 1 mile away.
If you are more looking for super social vibes, we recommend the hostels #1 and #2. It is a really great hostel with friends, to hang out on the roof top terrace and enjoy one of their famous pizza and cocktails.
Bunk Hostel is a top pick for:
Families
Digital Nomads
Flashpacker
Couples
Compare prices and read reviews at: Booking.com | Hostelworld
What about the Best Party Hostel in Istanbul?
Something tells me there are some of you looking for that party vibe.
Get on down to Bahaus Guesthouse Hostel.
The rooftop atmosphere will kick things off. Smoke a hookah, play some games and make new friends here.
Organised activities include:
karaoke,
belly dancing
shows and
pub-crawls.
Bahaus Guesthouse Hostel says:
"We are a sociable and party-loving hostel- we hope you are social too!"
Any Discounts or Promo Codes?
Currently, we have no special hostel discounts or Promo Codes for hostels in Istanbul. We are always trying to get promo codes to BUNK hostel and all the other top hostels in Istanbul.
Subscribe to our newsletter. Here we share our newest promo codes for hostels and hotels in Istanbul first.
You can always get the 35€ discount for Airbnb here.
What about cheap hostels in Istanbul?
Of course, there are always cheap hostels.
We think, it's not worth it to go with the cheapest hostel out there.
Why?
The difference is usually 1-2€ ($1-2), and a lot of amenities are not included. This can be breakfast or linen. Although, keep in mind a bad location far away from the city center costs you more in transport. It is worth it to pick a hostel in the centre of Istanbul to avoid extra transport costs.
However, if you are travelling on a shoe-string budget and you wanna save every penny, there are ways to find the cheapest places in Istanbul.
Open Hostelworld with full list of accommodations in Istanbul
Order the listing by price
Simple as that.
Here is our guide on how to book hostels with Hostelworld.
5 Local Things to do in Istanbul, Turkey
We at Hostelgeeks put together in cooperation with #Bunk Taksim a Travel Guide Istanbul, featuring 5 unique local recommendations for Istanbul. Sounds awesome? Indeed!
The guide of 5 Local Things to do is completely for free and includes our secret tips to get to know Istanbul by heart off the beaten path!
This City Guide for Istanbul includes:
The most delicious Bistro with magnificent views
Our favourite authentic restaurant with Ottoman imperial kitchen
Tricks for shopping & hopping like the locals do
Coffee shop with free workshops
A cosy Lounge with fruity cocktails and cold drinks
You can read the 5 Local Things To do in Istanbul.
Also, you can find more unique travel guides at Hostelgeeks including Barcelona, Amsterdam and Rome.
Map of 3 Best Hostels in Istanbul Locations + TOP Sights
Right then. Let's get planning!
Pinpoint your chosen hostel on the map below, and check out our top recommendations whilst you're in vibrant Istanbul.
These include:
Experience the spiritual Whirling Dervishes show
Enjoy the traditional Turkish Dance
Gather your energy for a 7-hour Pub Crawl
It's a must to cross the Bosphorus Bridge into Asia. The easiest way is to Hop-On Hop-Off bus.
By far one of the most liberating experiences in Istanbul is to take a traditional Turkish bath. There are many tourist friendly options, but we suggest going to a local public bath.
We personally went to Sifa Hamami and loved it.
It's the real Turkish experience!
Flights to Istanbul?
We enjoy Kiwi.com to find cheap flights all over Europe including Istanbul, Athens and more. This new website has super cool features like a so-called radius search. Just draw a circle over Europe and find the cheapest rates for the area.
Here is our review of Kiwi.
More guides
Alright, this is your answer to where to stay in Istanbul.
We did the leg work for you and bring you more hostel guides to destinations:
You can find all our new and updates articles for Best Hostels in here.
We also created a huge guide to hostels. Here we cover how to build lifetime friendships in hostels, the perfect packing list and more.
Over to you
So by now, you've chosen your favourite budget hostel in Istanbul, right?
You now have our permission to go ahead and book your flights. After all, now you know where to stay in Istanbul.
Seriously, we really hope you love our hand-picked hostels as much as we do.
Left with any questions? Anything not clear? Did we miss something crucial?
Please, please get in touch and drop us a comment below.
We want to make this guide to hostels in Istanbul, Turkey as useful and detailed as possible. Your question(s) actually help us to improve and helps you to get your travels sorted out.
Last note: Our commitment
This is a genuine article to help you travel a bit smarter and find the best place on a budget! We ONLY recommend places we know you will enjoy, no matter what.
At Hostelgeekse we will never recommend you any place we haven't evaluated or are not convinced by. We only share with you places we also recommend to our best friends and family!
Enjoy this fine hostel selection and all 5 Star Hostels.
Safe travels!
– – –
Pin it for later
Your Smart Packing List
It is time to see what you should pack in your backpack or suitcase. Make sure you always pick a quality hostel, it totally reduces the things you need to pack. Here is our ultimate hostel packing list. It features 23 items you should really throw in your backpack.

The most important things to pack are: Read the full packing list here.