Looking for the most beautiful beaches and the best hostels in Santorini? We got you covered – and we envy you right now. You are obviously about to leave for an amazing trip!

Let us help you with that; first hand experience.
Shortcut for you:

Caveland – 5 Star Hostel with pool
Bedspot Santorini – best for couples
Fira Backpackers Place – best for backpacker
Here you have our very own hand-picked Santorini Hostels guide. We want you to enjoy the island to the full, with great Santorini hostels and the best vibes.
This guide is perfect for YOU, when …
tired of bad and crappy hostels
want to avoid the "young party kids"
happy to spend 1-2€ for a better experience
This guide will help you pick the best place to stay in Santorini depending on your travel style.
Don't forget to check also these tips for the island:
Quick Introduction to Santorini
Average price for a bed: Hostels in Santorini cost anything from 15€-30€ per night for a bed in a dorm. A private room starts from 30€ up to 70€. This is a rough average just to give you an idea.
Prices always depend on season and holidays. Please always check exact rates on Hostelworld.com or Booking.com.
Check-In and Check Out: The average check-in time is from 15:00 (3pm), while the Check Out time is before 11:00 (11am). Hostels usually offer luggage storage in case you arrive earlier or leave later. Make sure you check if luggage storage is free or if there is an extra cost.
New to Hostels? Read our full hostel starter guide here. We especially recommend to read:
The 3 Best Hostels in Santorini
Let's jump right into the boutique hostels in Santorini.
We put all three accommodation on the map, you will find the map at the end of the article.
1. Caveland – 5 Star Hostel
This is where your research on where to stay in Santorini ends: Caveland Hostel!
Let's make this quick:
huge swimming pool
it is a former winery and Hotel-Resort
you will be sleeping in unique rooms: former caves that were used to store wine
Yoga
BBQs
Gorgeous villa
If you are looking for a unique experience that will connect you to the history of life in Santorini, how about staying in a complex of cave houses that formed a winery in the 18th century?
The complex of cave houses have terraces looking out over lush fruit trees, and are decorated in homey local décor, with refurbished antique and locally made furniture.
Caveland includes 8 traditional caves, 1 historic apartment, and several terraces with a view over the sea.
After a day of exploring Fira Town, Santorini's capital, it is just a short 5-minute drive back to the village of Karterados where Caveland Hostel is located.
Stroll in the garden, swim in one of the largest pools on the Island, watch grandmothers working in their gardens and grandfathers riding donkeys from the terrace.
You will be sleeping in former caves, used for the winery. The 5 Star Hostel's room options are:
single room
double room
4-bed private rooms,
as well as dorm rooms for 4-6 people
female-only dorms
Private rooms have ensuite facilities while dorms have a shared bathroom. Caveland Hostel offers single and multiple person dorm rooms that are female only.
Facilities include:
Free WiFi
Free breakfast buffet
Kitchen for guests to use
Donation based coffee
Book swap
The staff are all travellers who have experience staying in hostels and know what hostel guests are looking for.
They can help you with booking activities around the island, restaurant recommendations, or with renting a vehicle.
If you're looking for things to do at the hostel, they can help you sign up for:
yoga
BBQs
movie nights
communal dinners
booking your transport
booking your Volcano Tours
All of which happen weekly.
This is one of the best hostels in Santorini for

solo female travellers
Couples
Leisure travellers
Compare prices and read reviews at: Hostelworld | Official Website | Full Review
2. Bedspot Hostel
This brand new hostel, Bedspot Hostel, opened its doors in 2019 and is a great place for those looking for a beautiful place to stay in Santorini on a budget.
Located in Fira, the hostel offers private rooms and dorms, a rooftop terrace and a small Jacuzzi.
Choose between their rooms:
double room
8 bed dorm
6 bed dorm
4 bed dorm
All rooms have ensuite facilities (bathroom inside the room).
And all the bunk beds in the dorms have their own private curtain, offering privacy even in the shared rooms.
Of course each bunk bed comes also with:
private reading light
usb and power plug
individual space for storage under the bed
This is one of the best hostels in Santorini for
Compare prices and read reviews at: Booking.com | Hostelworld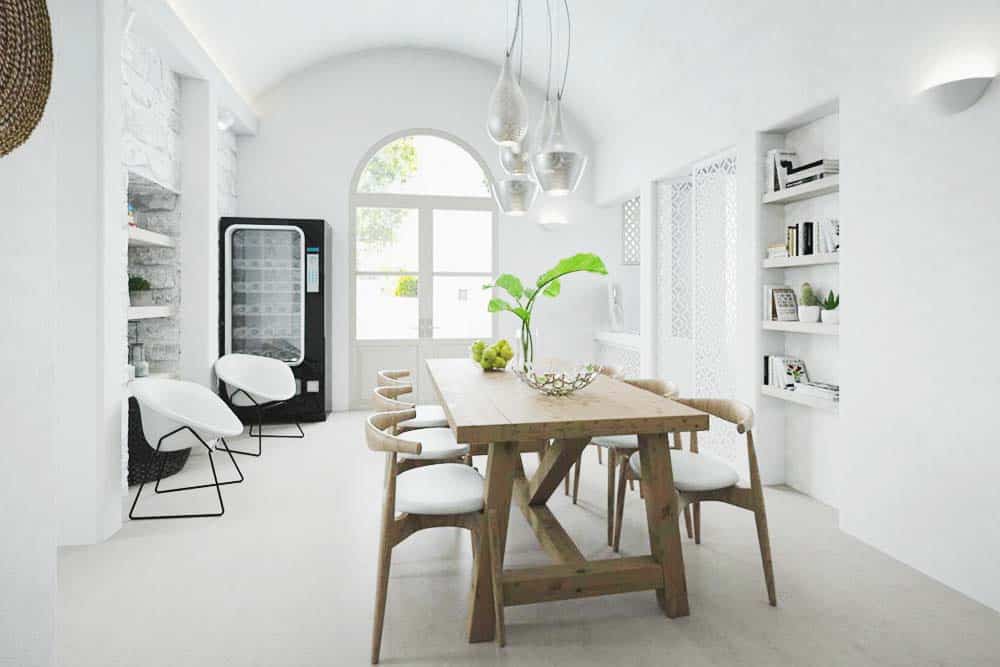 3. Fira Backpackers Place
Just like the name says, Fira Backpackers Place is all about backpackers.
This cool backpacker hostel in Santorini is simple, but you are just 90 meters from the main square of Fira, Santorini's capital city.
From the square it is an easy walk to many coffee shops, restaurants, and Caldera cliffs for shopping and a view of the sunset as well as many popular bars.
The hostel is located near the main bus station, making it easy to hop on a bus to any of the island's beaches.
Private rooms, with 2-6 beds, have a private bathroom, balcony and refrigerator.
Dorm rooms sleep 4-10 people and have a refrigerator and adjoined washrooms.
There are female only dorm rooms available.
Plus:
Free Wi-Fi
Kitchen
Free washing machine
The common area includes a big-screen TV where guests can watch movies or sports matches.
There is no curfew at Fira Backpackers Place, so you can take full advantage of Santorini's vibrant nightlife.
The staff can help to arrange shared and private transfers to and from the airport as well as vehicle rentals, and tours of the island and volcano.
This is one of the best hostels in Santorini for
Backpackers
Solo travellers
Compare prices: Hostelworld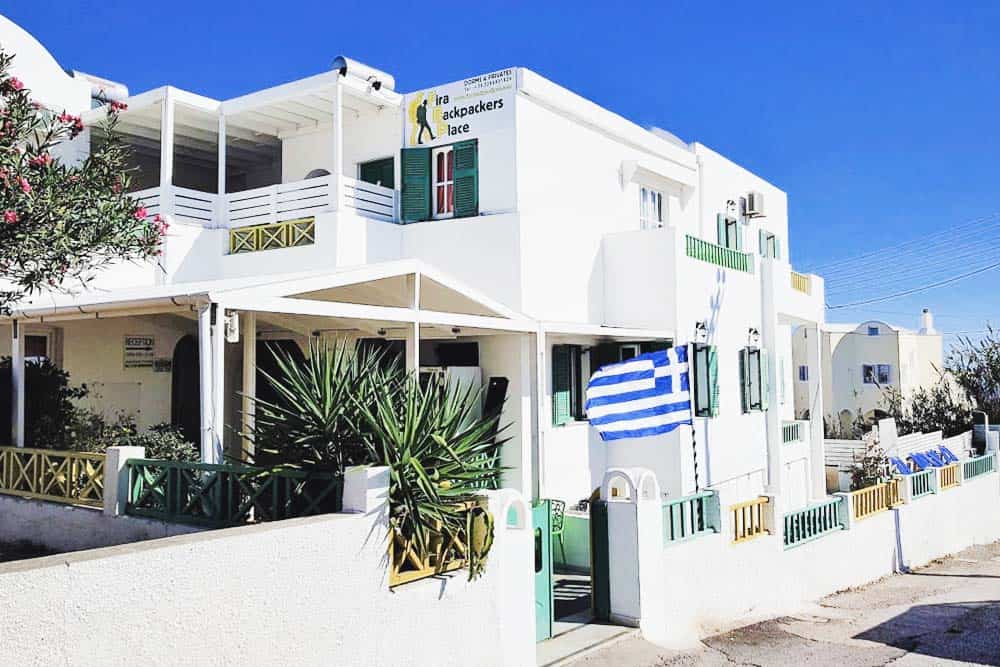 What about cheapest hostels in Santorini?
If you are traveling on a shoe-string budget and you wanna save every penny, there are ways to find the cheapest places in Santorini.
Open Hostelworld with full list of budget places to stay in Santorini
Order the listing by price
Simple as that.
Make sure you use then the other filters and rank per price.
Also keep a close eye on the ratings, especially the "extreme ratings". We mean, the best and worst. These ratings can give great insight on what to expect.
Best Hostels in Santorini for Solo Travellers?
What is the serious, best hostel in Santorini for solo-travellers?
Without any doubts, the best hostel if you are traveling solo in Santorini is Caveland.
It is not only a stunning hostel. Caveland offers many activities such as daily yoga.
The staff will give you also great insider tips to enjoy Santorini to the full.
Read our full review of Caveland here.
Party Hostels in Santorini?
If you wanna party with other backpackers we've found the place to stay in Santorini to party.
Located in Perissa, just a stone's throw from a beautiful black beach in a whitewashed building typical of the local style are the Santorini Breeze Studios.
This hostel has the simple, but comfortable style suited to backpackers.
Santorini Breeze Studios is merely 250 meters from the Perivolos beach, a great spot to check out the local bars and nightlife, as well as restaurants, Water Park, and clubs.
There is no curfew so you can enjoy the local nightlife into the wee hours of the morning.
Private rooms have 1-6 beds with private washrooms. Dorm rooms have 4-6 beds with their own washrooms as well.
The rooms are soundproofed, and have fully equipped kitchenettes where you can prepare your meals, and private balconies to enjoy the view.
The perks:
Free Wi-Fi
Book exchange
Horseback riding
Water sports
The staff are happy to help you with arranging tours of Santorini and the local volcano for a discounted rate.
This is one of the best hostels in Santorini for
Backpackers
Young travellers
How to book?
We recommend using Booking.com or Hostelworld for your reservations.
Booking.com is the biggest and safest platform for hotel and hostels reservations. Their cancellation policy is one of the best, normally 100% refundable until 24h before the stay.
Hostelworld is also super safe and the biggest booking platform for hostels.
On both platforms your credit card is 100% protected and the booking 100% confirmed.
We included the handy links to each of the recommended hostel. Just click on the hostel name. The link will lead you to check prices and availability.
Here is the overview:
All of our Santorini hostels are popular; especially in high-season.
To make sure you end up in those stylish hostels, secure your room or bed as soon as you have your travel dates fix.
Any Discounts?
Currently, we have no special hostel discounts in Santorini. I know, it's a pity.
You can subscribe to our newsletter to receive our newest hostel discounts always to your inbox.
You can find all our hostel discounts worldwide here.
All 3 Hostels put on a map + sights
Let us have a look on the map. Below we list all three coolest Santorini hostels on a map.
We also included the main tourist attractions you've to know in this list:
Hike from Fira To Oia
Skaros Rock
Red beach
Santo Wine Winery
Remember, we have following guides for you to plan your trip:
Flights to Santorini?
If you are looking for flights to Santorini, bear in mind the airport name is Thira international Airport.
We enjoy Omio.com and Kiwi.com to find cheap flights all over Santorini.
This new website has super cool features like a so-called radius search. Just draw a circle over Europe and find the cheapest rates for the area.
Here is our review of Kiwi.
More guides
Alright, this is your answer to where to stay in Santorini, Greece.
Hot off the press: 20 best hostels in Greece
We did the leg work for you and bring you more hostel guides to destinations:
You can find all our new and updates articles for Best Hostels in here.
We also created a huge guide to hostels. Here we cover how to build lifetime friendships in hostels, the perfect packing list and more.
Over to you
Was this useful? Do you have any questions, doubts?
Then please please leave us a comment. This list of awesome Santorini hostels should be as informative and useful as possible.
Your question will help me to understand what I have missed to mention.
Therefore, drop us a comment, we are keen to help you!
Last note: Our commitment

This is a genuine article to help you travel a bit smarter and find the best place on a budget! We ONLY recommend places we know you will enjoy, no matter what.
We will never recommend you any place we haven't evaluated or are not convinced by. Our commitment is to only share with you places we also recommend to our best friends and family!
Enjoy this fine hostel selection and all 5 Star Hostels.
– – –
pin it for later

Your Smart Packing List
It is time to see what you should pack in your backpack or suitcase. Make sure you always pick a quality hostel, it totally reduces the things you need to pack. Here is our ultimate hostel packing list. It features 23 items you should really throw in your backpack.

The most important things to pack are: Read the full packing list here.