Right then, it's time to slip in to your tango shoes and dance your way to the 3 best hostels in Buenos Aires, Argentina!
In this guide you will find swimming pools, party places and even ping pong and Maradona.
No doubt you've already started planning your South American trip. But something tells us you're still not sure about where to stay in Buenos Aires?
Whether you're backpacking Buenos Aires or in search of great party hostels; Hostelgeeks has you covered.
Our handpicked coolest hostels are rich in modern design, comfort and social vibes.
This guide is perfect for YOU, when …
tired of bad and crappy hostels
happy to spend 1-2€ for a better experience
you no longer want the "young kids hostel"
There is so much to see and do in this city.
Don't take our word for it and check out the 25 coolest things to do in Buenos Aires.
In this guide we cover:
As always, we included all accommodations and sights in the map. Just keep scrolling.
Quick Introduction to Buenos Aires Hostels
Average price for a bed: A bed in a dorm can be as cheap as 8€ up to 11€ per night. A private room in a hostel in Buenos Aires starts from 20€ up to 62€ per night.
This is a rough average to give you an idea. Prices always depend on season and holidays.
Please always check exact rates on Hostelworld.com or Booking.com.
Check-In and Check Out: The average check-in time is from 15:00 (3pm), while the Check Out time is before 11:00 (11am). Hostels usually offer luggage storage in case you arrive earlier or leave later. Make sure you check if luggage storage is free or if there is an extra cost.
Hostel Quality: The quality of hostels in Buenos Aires has risen a lot in the last 2 years. You have now really cool backpacker hostels in Buenos, and also nice Boutique Hostels. That being said, we also enjoy some B&Bs and even a few, neat hotels here.
Of course, hostels are usually the more social place to meet and greet.
New to Hostels? Read our full hostel starter guide here. We especially recommend to read:
3 Top Hostels in Buenos Aires, Argentina are…
The time has come to delve in to all things Argentinian. Let's have a good look at the coolest hostels in Buenos Aires:
Caravan BA – great for solo travellers and digital nomads
Benita Hostel – one for female solo travellers and friends
Meridiano Hostel Boutique – top pick for couples
1. Caravan BA (eco-friendly, intimate, pool)
Welcome to the cute, cosy boutique 5 star hostel known as Caravan BA.
With only 28 beds here, you can expect an intimate yet quality experience during your stay.
Choices include 6-8 bed dorms, single/double and triple rooms. All of which come with linen and those all important home-from-home touches.
There are places where you stay, and places that stay with you.
This is certainly true for Caravan BA! There's a lot to enjoy to make this a memorable hostel:
Beautiful garden with swimming pool
Garden bar selling cocktails + artisanal beers
Table-tennis + Foosball competitions
Library
Compare prices and read reviews at: Booking.com | Hostelworld
Good to know: Atm, Caravan can only be reserved via Booking.com
As expected of any great hostel, Caravan BA has optimum space inside and out to relax, work and play.
Chill out with a movie in the living room, or rustle up a treat in the fully fitted kitchen.
Wake up and follow the smell of fresh bread to your free morning buffet breakfast. It comes with traditional sweet Dulce de Leche – yum!
If that's not enough there are weekly events including pizza nights and bicycles for hire.
Read: 13 Creative Hostel Design Ideas to Steal
Located in Palermo Soho, you'll be surrounded by 50+ cafes, 40+ bars and the nicest parks in the city.
There's still so much more to discover.
Caravan BA is the best hostel in Buenos Aires for:
Solo Travellers
Digital Nomads
Compare prices and read reviews at: Booking.com | Hostelworld
2. Benita Hostel (communal, intimate and central)
Benita Hostel, a fully renovated and charming 19th- century house, is located in the popular area of Palermo.
There's a wonderful choice of rooms including:
4-6 bed mixed dorms
4-bed female dorm
Private room w/ bathroom
Read: Why Female Dorms? 7 pros and 3 cons
Rest assured with high quality mattresses, comfy duvets and pillows (ready made) and a ceiling fan. The room lockers are also super spacious!
Compare prices at: Booking.com | Hostelworld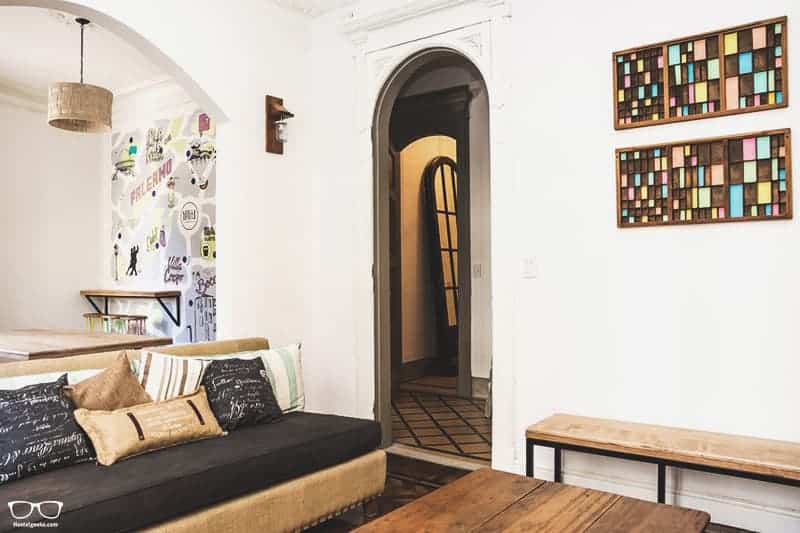 Although there are plenty of restaurants nearby, you may want to make use of the fully-equipped, modern kitchen. This is also where you can enjoy your free breakfast to kick-start the day.
At Benita you really get the communal vibe; the social area is completely integrative, consisting of a dining/drinking area, sofas and a TV with Netflix.
If you want to socialise, you'll almost certainly become part of the Benita Family.
It's the ultimate space for socialising and/or relaxing in your own company.
Benita Hostel is the best hostel in Buenos Aires for:
Female solo travellers
Those looking for a communal yet relaxed vibe
Compare prices at: Booking.com | Hostelworld
3. Meridiano Hostel Boutique (in-house rooftop bar)
If you're looking for bright and spacious accommodation with trendy boutique design, Meridiano Hostel Boutique is the choice for you.
Once again Meridiano is located in the Palermo area of Buenos Aires, so you're never too far from awesome nightlife and balcony infused cafes.
Compare prices at: Booking.com
As for getting a good night's sleep, it's all possible in the:
4-8 bed dorms w/ linen + plenty of room space
Female only dorms
Private rooms w/ TV + wonderful views
Each room has its very own private bathroom, and some come with a balcony with garden and city views.
Possibly the main attraction of this hostel is the in-house bar. Enjoy a drink amongst the lively atmosphere and get chatting to other travellers.
It's also located on a rooftop terrace – perfect for sunset!
The staff here want to make your stay memorable. The front desk is open early 'til late so there's always a chance to pick their brains.
Meridiano Boutique is the best hostel in Buenos Aires for:
Compare prices at: Booking.com
Best Hostels for Solo Travellers Buenos Aires
Travelling solo and searching for where to stay in Buenos Aires? We're here to help with just that.
In case you skipped straight to this part, here's a quick recap of awesome hostels for solo travellers Buenos Aires:
As always we've taken that extra leap to bring you yet another option.
If you're a solo traveller that enjoys historic buildings then America del Sur Hostel is a good choice.
Located in the Monserrat neighbourhood, iconic buildings and primary interests make up the area.
It's away from the tourist hub of Palermo and offers a much more 'local' experience.
There are mixed and private rooms available to choose from, all of which have their own bathroom and air-conditioning.
If you're feeling sociable join one of the free walking tours, or have a chill day in front of the TV with a coffee.
Compare prices at: Booking.com | Hostelworld
Best Party Hostels in Buenos Aires
It's time to check out the party hostels in Buenos Aires for those looking for a fun, lively time with new friends.
We've actually narrowed it down to the best party hostel in the city: Milhouse Hostel Hipo.
This 19th-century colonial building has been transformed in to a lively and fun hostel with groovy facilities.
Alongside a beautiful atrium and courtyard built for socialising there is a:
Chill-out terrace
Popular bar area
In-house travel agency
Join in arranged activities, BBQ feasts and numerous parties. It's THE place to meet people!
Super cool: stay a minimum of 4 nights, show your Australian passport, and pay for only 3.
Compare prices at: Booking.com | Hostelworld
Cool Hostels for Backpackers?
Backpacking Buenos Aires is popular and for good reason.
It is cheaper than say European cities and getting around is easy thanks to the numerous public transport options.
As a lovely all rounder designed with experienced travellers in mind, we recommend Sabatico Travelers Hostel when backpacking Buenos Aires.
Dorm rooms are intimate with 4-5 beds and there are private options, too.
Whether you want to…
Chill in a hammock
Chat on the terrace
Join in a pub crawl
tango the night away
It's all possible at Sabatico!
There's also a low cost gourmet breakfast (including pancakes) on offer, foosball and well-stocked library.
Compare prices and read reviews at: Booking.com | Hostelworld
What about cheapest hostels in Buenos Aires?
Of course, there are always cheap hostels.
We think, it's not worth it to go with the cheapest hostel out there.
Why?
The difference is usually 1-2€ ($1-2) per night, and a lot of amenities are not included. This can be breakfast or linen. Although, keep in mind a bad location far away from the city center costs you more in transport.
Also important: A safe location is key in Buenos Aires. Do not underestimate this!
However, if you are traveling on a shoe-string budget and you wanna save every penny, there are ways to find the cheapest places in Buenos Aires.
Open Hostelworld with full list of accommodations in Buenos Aires
Order the listing by price
Simple.As.That.
You can then filter by ratings too. Make sure you check as well for the ratings, especially for the very cheap hostels in Buenos Aires. We recommend to read the absolute worst and best comments. These reviews will give you a great insight on what to expect.
Yet again, we recommend going with these Buenos Aires hostels we highlight above.
They are safe, clean, social; simply a great choice!
Any Discounts or Promo Codes?
Currently, we have no special hostel discounts in Buenos Aires. So for now you can subscribe to our newsletter to receive our newest hostel discounts always to your inbox.
We also do have a 35€ discount for Airbnb here.
Map of Buenos Aires Hostels + TOP Sights
We love a good old handy map, and I'm sure you do too. Below you'll find all of the hostels mentioned in this article, plus top sights in Buenos Aires including:
La Boca
Cementerio de la Recoleta
Casa Rosada
Plaza de Mayo
Obelisco
Teatro Colon
Tres De Febrero Park
Jardin Japones
Plaza Dorrego
Here are some more ideas of things to do in Buenos Aires:
If you're keen for even more you'll love our guide to the 25 coolest things to do in Buenos Aires.
Flights to Buenos Aires
We enjoy Kiwi.com to find cheap flights all over South America including Buenos Aires, Lima and Cordoba.
This new website has super cool features like a so-called radius search. Just draw a circle over South America and find the cheapest rates for the area.
Here is our review of Kiwi.
More Epic Hostels in South America
Alright alright. By now you have found your coolest hostel in Buenos Aires.
You know what, we gave written even more guides for you.
We at Hostelgeeks are here to help you to stay in safe and epic hostels around the world. Check out the finest hostels in the world, the 5 Star Hostels.
For more cool hostel guides around South America, check out:
Find all our hostel guides around the world here.
Over to you
Buenos Aires suddenly seems so much more attractive, right? By now, we hope you answered your question on where to stay in Buenos Aires.
We hope you love our handpicked budget accommodations as much as we do!
Are you left with any questions, doubts?
Then please please leave us a comment. This list of awesome Buenos Aires hostels should be as informative and useful as possible.
Your question(s) will help me to understand what I have missed to mention. You will have your questions answered and help me and your fellow travellers by improving this article further.
Therefore, do not be shy, drop us a comment, we are keen to help you!
Last note: Our commitment
This is a genuine article to help you travel a bit smarter and find the best place on a budget! We ONLY recommend places we know you will enjoy, no matter what.
We will never recommend you any place we haven't evaluated or are not convinced by. We only share with you places we also recommend to our best friends and family!
Enjoy this fine hostel selection and all 5 Star Hostels.
 – – –
pin it for later
Your Smart Packing List
It is time to see what you should pack in your backpack or suitcase. Make sure you always pick a quality hostel, it totally reduces the things you need to pack. Here is our ultimate hostel packing list. It features 23 items you should really throw in your backpack.

The most important things to pack are: Read the full packing list here.