Get comfy and prepare to discover the 3 best hostels in San Francisco! We have wrote a big guide to the hometown of Sadie, one of the Hostelgeeks writers.
These top San Francisco hostels are all about comfort, cute details and cool organised events.
And not just that.
We also share the neighborhoods and areas we recommend – and do not recommend.
Your time in sunny California should be topped with a unique stay that will create memories to last a lifetime.
That is why we've put together this useful article just for you! So instead of you spending time researching where to stay in San Francisco, you can focus on your travels – and we do the leg work for you.
This SF guide is perfect for YOU, when …
tired of bad and crappy hostels
want to avoid the "young party kids"
happy to spend 1-2€ for a better experience
We condensed it all to the 3 coolest hostels in San Francisco.
What can you expect to find here?
We're sad to say that right now there is no 5 Star Hostel in San Francisco. But we're always on the lookout.
Until then, have a look at all of our 5 Star Hostels dotted all around the world.
Check out also the 3 Best Hostels in Los Angeles. Here you can find all the 45 best hostels in USA, the complete backpackers guide.
Quick Introduction to San Francisco Hostels
Average price for a bed: A bed in a dorm can be as cheap as 20€ up to 38€ per night. This is a rough average to give you an idea. Prices always depend on season and holidays. Please always check exact rates on Hostelworld.com or Booking.com.
Check-In and Check Out: The average check-in time is from 15:00 (3pm), while the Check Out time is before 11:00 (11am). Hostels usually offer luggage storage in case you arrive earlier or leave later. Make sure you check if luggage storage is free or if there is an extra cost.
San Francisco Tourism Tax: Unfortunately there is a high tax in San Fran. Daily bed rates of $40 or more are subject to a 15% tourist and hotel tax. Bed rates of less than $40 are taxed only a 1% tourist tax, per city regulations.
Taxes are usually added at check in so bare this in mind.
Parking in San Francisco: Most hostels in the city do not offer any free parking, but HI San Francisco Fisherman's Wharf Hostel does! For sure the hostel staff will do their best to help you find the easiest local parking option. Currently the cheapest parking downtown is around $25 overnight.
New to Hostels? Read our full hostel starter guide here. We especially recommend to read:
3 Best Hostels in San Francisco
There's no time to waste here and we can sense you're eager to get going.
The best hostels in San Francisco are…
USA Hostels San Francisco (great for solo travellers)
Adelaide Hostel (top pick for female solo travellers)
HI San Francisco Fisherman's Wharf Hostel (couples paradise)
1. USA Hostels San Francisco (a giant mix of everything awesome)
Our number one hostel is super friendly and welcoming.
In fact, it's the down to earth staff that really makes USA Hostels San Francisco what it is.
It's a perfect place for relaxing, partying, socialising and acting like a hermit.
No really, this hostel is designed for every type of traveller. Whether you are looking for a backpackers hostel or a cool place just to hang and sleep cheaply, make it this hostel.
We really enjoyed our time here, especially the free dinners and pancake days. YUMMY!
Compare prices and read reviews at: Booking.com | Hostelworld
Here you can choose between dorms and private rooms.
What's great is there is a maximum of 4 beds per dorm. This way you'll surely get to know all your room mates.
Would you like a towel with that shower? It's free alongside bed linen!
The backpack-sized lockers also have a power point inside so you can securely charge your gadgets. Don't forget your padlock.
There are so many freebies, it's easier to make a list:
FREE dinner every Monday + Friday
FREE daily breakfast inc. Pancakes
FREE luggage storage after check out
FREE laundry powder + hairdryers
Good to know: there is a 14 day stay limit here!
As for the social aspect, it is doubtful that you'll find yourself getting bored here.
Free city walking tours can be arranged, and you'd be crazy to miss out on the weekly pub crawls.
After a restful night, grab a bike and join the crew to cycle across the Golden Gate Bridge.
If you prefer chilling at the hostel, guess what?
There's an actual yoga studio on-site! Just make sure you allow time to hang in the large lounge, too.
By the way, this is the only hostel in the city that offers privacy screening on dorm beds.
If you stay here, all the exciting sights of San Francisco will be surrounding you – bonus!
USA Hostels San Francisco is the best hostel in San Francisco for:
Compare prices and read reviews at: Booking.com | Hostelworld
2. Adelaide Hostel (possibly the best breakfast in San Fran)
A pleasant surprise awaits weary, world travellers in San Francisco.
Tucked safely at the end of an alley is the cosy and colourful Adelaide Hostel.
Without a doubt this is a great choice for female solo travellers because of the female dorms and great location.
The free breakfast here is highly rated – what a wonderful way to save even more pennies on your trip.
Compare prices and read reviews at: Booking.com
For those of you travelling as part of a big group, you're in luck.
Adelaide Hostel can accommodate groups of up to 60 people, wow!
Group Booking Tip: Just make sure you call in advance first so you don't give the reception a heart attack.
What else makes this a super cool hostel in San Francisco?
Free Wi-Fi + computers
Dorm beds have a privacy curtain, power points + lamp
Lockers under every bed
Large fully equipped kitchen
There's also a large lounge to collapse in after a big day exploring the sights.
The staff really want you to have a good time here. They know their stuff and will happily hand out insider information.
San Francisco is a great city for cycling, so definitely rent a bike and explore 'til your heart's content. Be aware though that the city is extremely hilly. Before heading out for a ride it's probably a good idea to ask the staff about the hills on your planned route.
In the lounge area, there's a notice board highlighting all of the upcoming events. It's not compulsory to join, but we really recommend it if you're keen to meet new people.
The Golden Gate Bridge is a mere 8km away. Fisherman's Wharf can be reached in 10-minutes by car.
Adelaide Hostel is the coolest place to stay for:
Female solo travellers
Groups
Compare prices and read reviews at: Booking.com
3. HI San Francisco Fisherman's Wharf Hostel
Since you're visiting the 'city by the bay', we thought you'd appreciate an option located right on the waterfront.
HI San Francisco Fisherman's Wharf Hostel is surrounded by National Park on one side, and the bay on the other.
The Golden Gate Bridge and Alcatraz can be seen just outside the hostel, too!
Rooms are split into small, medium and large. Basically the bigger the dorm, the more rooms there are.
Calling all travelling couples: the private rooms have absolutely stunning views!
Compare prices and read reviews at: Booking.com | Hostelworld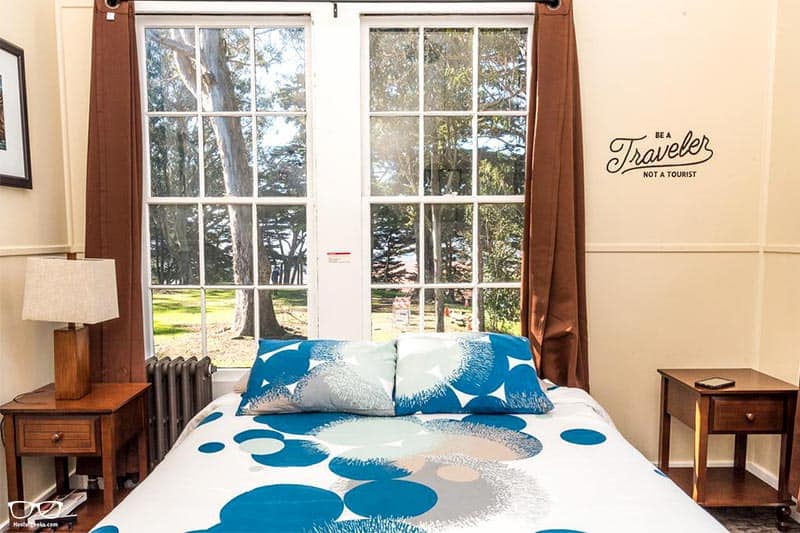 This hostel is all about getting social.
To support this, there are many cool (and free) activities on offer including
Pub Crawls
Museum visits
Walking tour
Back at the hostel, there is plenty to keep you occupied.
The on-site Cafe Franco serves delicious coffee and home-made, organic food. This is where you'll find the free breakfast, by the way.
Psst! You can even grab yourself a local beer and wine by the glass if you fancy.
Alternatively, take advantage of the fully-equipped kitchen.
Relax on the sun deck, curl up in front of the gas stove or watch a movie in the cinema room – which will you choose?
Guess what? There's free parking here!
Not many hostels offer this is San Francisco.
This is the top hostel in San Francisco for:
Compare prices and read reviews at: Booking.com | Hostelworld
Best Hostels in San Francisco for Solo Travellers
Right then, let's get stuck into those very special hostels perfect for solo travellers.
Of course, every solo traveller is different, but we're going to be presumptuous and say that our readers want to discover
The best party hostels in San Francisco
The best hostels in San Francisco for female solo travellers
We've got you covered in that case!
Our chosen best party hostel in San Francisco is Green Tortoise; the most authentic and all-inclusive hostel in North America.
Solo travellers looking to mingle and have a good time will not be disappointed.
There are free dinners, free breakfast, pub crawls, a sauna, regular activities and the staff is super free-spirited.
Top it off with a good night's sleep in a privacy built solid bed, and you're all set.
Compare prices and read reviews at: Booking.com | Hostelworld

As for the female solo travellers, we just have to mention Adelaide Hostel again (in case you missed it).
It might not be as luxurious as the other choices, but your safety and comfort are guaranteed.
The hostel is in a great location near all of the top sights of San Fran.
The beds have privacy written all over them, and the common areas are a great place to meet people, minus the party atmosphere.
Compare prices and read reviews at: Booking.com
Any Discounts?
Currently, we have no special hostel discounts in San Francisco. Instead, you can subscribe to our newsletter to receive our newest hostel discounts always to your inbox.
You can find all our hostel discounts worldwide here.
We also do have a 35€ discount for Airbnb here.
Map of all hostel locations + TOP sights
It's time to pinpoint your chosen coolest hostel in San Francisco on a map!
We've gone one step further and included the top sights worth seeing in the city. They are:
Golden Gate Bridge
Fisherman's Wharf
Alcatraz Island
Pier 39
Golden Gate Park
Union Square
Twin Peaks
Painted Ladies
Golden Gate National Recreation Area
Baker Beach
Land's End
Presidio
Palace of Fine Art
Golden Gate Park (great place for a bike ride)
There's a bunch of awesome things you can so whilst you're there. Here's a handy list of a few ideas we hope you'll like:
(You can activate and deactivate the different layers of the map in the left sidebar. Open the map in a new tab here.)
Where to stay in San Francisco? The Areas
This is our complete Neighborhood Guide for San Francisco, with all the best areas to stay in San Francisco.
San Francisco is not the biggest city in terms of area, but it varies greatly from one Neighborhood to another.
1. Chinatown in San Francisco
Go through the gates of Chinatown to find one of the largest Chinese immigrant populations in the United States.
This neighborhood has been home to the Chinese community for generations.
Chinatown is a great place to get cheap souvenirs such as t-shirts and key chains, as well as other knick-knacks.
If you're feeling hungry, you can't go wrong with any restaurant in this neighborhood (and there are a lot of them).
For some desert, check out Great Eastern Bakery on Grant Avenue (a few blocks from the gates).
Be advised that many of the restaurants and some of the stores in Chinatown are cash-only.
Chinatown is an easy walk from the Financial District, Nob Hill, or North Beach
2. North Beach
If you're a lover of Jack Kerouac, Allen Ginsberg, and the other Beat Generation writers, then it is will worth a trip to North Beach to see the Beat Generation Museum and the places they frequented.
Even if you're not into the Beat Generation thing, North Beach is definitely an area to check out.
Browse City Lights Booksellers, grab some Italian food, and–if you don't mind a steep walk–head to Coit Tower for a beautiful view of the Bay, especially in the early evening.
This neighborhood features great restaurants and bakeries – I recommend Stella Pastry and Café–at a variety of price levels from tasty and cheap fare at Taqueria Zorro to fine dining at the Stinking Rose, a garlic themed restaurant.
North Beach is less than a 10-minute walk from Chinatown or Nob Hill, and a 20-minute walk from Fisherman's Warf.
3. Financial District
In San Francisco's Financial District you will find Union Square, Westfield Shopping Centre, and many of the city's designer clothing stores as well as the headquarters for companies such as Twitter, which are located on Market Street.
If you're hoping to ride the cable car, you can catch it in the Financial District at Powell and Market Street (there is always a crowd so you can't miss where to go).
This neighborhood tends to feature higher prices, because it is catering largely to the tech-start-up crowd.
If you are looking for a treat to walk around with, I recommend Boba Guys, a popular bubble tea spot on Stockton Street.
Don't be scared off by the line, it's only because the shop is very small (and extremely popular) wait times are very short.
If you're looking to eat cheaply near the Financial District, checkout Chinatown, or head down Market Street to the Embarcadero and grab a bite at the Ferry Building.
4. Mission District
The Mission has been the traditional home San Fran's Latin-American community, and is a great place to get Mexican food and see some amazing street art.
As far as affordability goes, this tends to be one of the cheaper parts of the city to grab a bite to eat.
Poetry lovers should check out the 16th and Mission Slam Poetry circles where local performers bear their uncensored hearts to a supportive crowd outside the 16th and Mission BART station every Thursday at 9pm.
The Mission District is near to Haight-Ashbury and Bernal Heights Park.
To get to the heart of the Mission District it is best to set out from the 16th and Mission BART station.
6. Haight-Ashbury
The Summer of Love was one of the defining moments in the recent history of San Francisco, and Haight-Ashbury is where it all took place.
This is a great neighbourhood for finding some funk hippie San Fran threads and one of the many vintage clothing stores, and a short walk from the Painted Ladies.
Haight-Ashbury is near to the Castro and Golden Gate Park.
7. Castro
The City by the Bay has a long history of being extremely inclusive of the LGBTQ+ community.
If you're looking for bars, clubs, and stores that are geared towards the LGBTQ+ community then the Castro is the place to be.
The Castro is walking distance from Haight-Ashbury and the Mission District.
8. Russian Hill
The HI San Francisco Fisherman's Wharf Hostel is located near the Russian Hill, at Fort Mason.
This neighborhood is the perfect place to go if you are looking for a nice café, wanting to browse a used bookstore, or get breakfast.
Polk Street will provide you with plenty of options at generally reasonable prices, for food and coffee.
Most of the restaurants cater to the breakfast crowd and can fill up around brunch time on weekends.
If you're hoping to check out Russian Hill at night, I recommend getting a drink and a bite to eat at Nick's Crispy Tacos.
The bar/restaurant is set up so that someone looking for a quiet night with friends or to meet new people can have a good time.
Food is cheap and very good.
Russian Hill is about a 30-minute walk from Nob Hill and can be accessed easily by taking the 1 bus towards 39th and Geary to Sacramento and Polk Street.
9. Tenderloin
As a tourist, this may not be a part of the city you want to frequent, but it is worth knowing about.
Located between Nob Hill, the Financial District, and Russian Hill, the Tenderloin covers a square that roughly runs along Geary Street between Grant Avenue and Van Ness Avenue, and down to Market Street.
This is where you will find the majority of San Francisco's sizeable homeless population.
This area tends to be one of the less safe parts of the city.
If you are interested in learning more about the area, the Tenderloin Museum is worth visiting, the museum offers tours of the neighbourhood with guides who will explain the history of the area, how it functions, and how it came to be what it is.
Safety tips for San Francisco
Is San Francisco safe?
By and large, San Francisco is a fairly safe city, and most of the crimes that tend to take place are unlikely to impact tourists.
However, there are some things that are worth keeping in mind when visiting downtown San Francisco.
This city has a large homeless population, many of whom unfortunately suffer from mental illnesses and are unable to afford their medications.
The homeless population can primarily be found in the Tenderloin and on Market Street, but you are likely to see large numbers of homeless in many parts of the city.
When walking in areas with larger numbers of homeless people, it is important to keep your eyes open and be aware of the people around you.
Female travellers are very likely to experience catcalling and other verbal harassment when walking around, regardless of whether they are solo, with a partner, or in a group.
My best suggestion is to not respond and keep walking.
It is extremely unlikely that anyone will try and make any form of physical contact with you.
Trying to tell them off or engage with the person will likely escalate the interaction.
If you are eating or walking, particularly in a tourist area, keep your possessions close to you.
When sitting at a restaurant, it is a good idea to keep your purse on you lap where it is out of sight and you are holding it, and you should take it with you when going to the washroom.
Avoid putting valuables like your phone or wallet on the table if you are sitting outside at a restaurant on Powell or Market Street.
In my experience, I have seen many car windows smashed in the portion of Van Ness Avenue that borders the Tenderloin, so if you are staying in that area, or end up parking on the street there overnight, you should avoid leaving anything valuable in your car.
This is just a quick overview on how safe San Francisco is. As always, ask the hostel if there's anything special to know about SF in terms of safety.
Read: How safe are hostels? Very safe, but here's a few things you need to know
Read: Staying safe while traveling – 39 best tips
Flights to San Francisco?
We enjoy Kiwi.com to find cheap flights all over the world including, San Francisco, New York City, and actually over the world. We love to use them to identify great combination of flights.
This new website has super cool features like a so-called radius search. Just draw a circle over the USA and find the cheapest rates for the area.
Here is our review of Kiwi.
More Hostels in USA and North America
So here you have it, a great list of your places to sleep in in SF. We did the leg work for you here.
And not just that. We have also covered many more destinations around the US such as Seattle and Los Angeles. We recommend also a road trip from San Francisco to Los Angeles. Read this guide on the perfect California Road Trip.
Here are all our US Hostel Guides:
And in nearby Canada find:
Over to you
So here you go, we just gave you the 3 best hostels in San Francisco.
Do you have any questions, doubts or worries?
Then please please leave us a comment. This list of awesome San Francisco hostels should be as informative and useful as possible.
Your question(s) will help me to understand what I have missed to mention. You will have your questions answered and help in improving this article.
Therefore, do not be shy, drop us a comment, we are keen to help you!
Last note: Our commitment
This is a genuine article to help you travel a bit smarter and find the best place on a budget! We ONLY recommend places we know you will enjoy, no matter what.
We will never recommend you any place we haven't evaluated or are not convinced by. We only share with you places we also recommend to our best friends and family!
Enjoy this fine hostel selection and all 5 Star Hostels.
– – –
pin it for later
Your Smart Packing List
It is time to see what you should pack in your backpack or suitcase. Make sure you always pick a quality hostel, it totally reduces the things you need to pack. Here is our ultimate hostel packing list. It features 23 items you should really throw in your backpack.

The most important things to pack are: Read the full packing list here.