Let's travel to the adventure capital of the world and discover the absolute best hostels in Queenstown. If you're not already buzzing with adrenaline, you're about to be.
Nature lovers and adventure junkies will be at home in this stunningly located New Zealand town.
As for the hostels? Well the ratings for all of the hostels mentioned in this article are crazy high, and for good reason!
Here's a shortcut for you:
Sir Cedrics Tahuna Pod Hostel – great for socialable couples
Haka Lodge – one for solo travellers
Adventure Queenstown Hostel – top pick for backpackers
Expect great locations, double bed dorms and big social spaces.
This guide is perfect for YOU, when …
tired of bad and crappy hostels
want to avoid the "young party kids"
happy to spend 1-2€ for a better experience
If you have more time we highly suggest checking out our big guide to the best hostels in New Zealand.
Quick Introduction to Queenstown, NZ
Average price for a bed: Hostels in Queenstown cost 13€ – 18€ per night for a bed in a dorm. A private room starts from 44€ up to 82€ per night. This is a rough average just to give you an idea.
Prices always depend on season and holidays. Please always check exact rates on Hostelworld.com or Booking.com.
Check-In and Check Out: The average check-in time is from 15:00 (3pm), while the Check Out time is before 11:00 (11am). Hostels usually offer luggage storage in case you arrive earlier or leave later. Make sure you check if luggage storage is free or if there is an extra cost.
New to Hostels? Read our full hostel starter guide here. We especially recommend to read:
The 3 Best Hostels in Queenstown
Let's jump right into the boutique hostels in Queenstown.
Quick overview:
We put all three accommodation on the map, you will find the map at the end of the article.
1. Sir Cedrics Tahuna Pod Hostel
Come on then, we're dying to introduce you to the gorgeous Sir Cedrics Tahuna Pod Hostel.
It's without doubt the best hostel in Queenstown!
Why?
Well for one thing it is the very first pod-style hostel in New Zealand and they have gone as far as introducing double beds in their shared dorms. Pretty cool, right?
The rooms (dorms and privates) are just plain gorgeous in design and comfort. Dorm beds have been built with sustainable materials and have that all important privacy curtain.
But of course there is more to Tahuna.
Enjoy great views over Queenstown from the BBQ/balcony area on a good day, and relax in the TV lounge when it's bleaker.
What else…
Large kitchen + dining area
Free breakfast
Free car parking
Free entry to the iconic Queenstown Ice Bar
Another little inclusion we think is wonderful is the offer of free homemade soup every evening.
Sir Cedrics is located in the heart of Queenstown, yet far enough away from the hustle and bustle so you can enjoy a great nights sleep.
This is one of the best hostels in Queenstown for
Sociable couples
Female solo travellers
Compare prices and read reviews at: Booking.com | Hostelworld
2. Haka Lodge
Our second recommendation is perfect for budget backpackers that like more of an upmarket hostel.
At Haka Lodge you'll enjoy hotel-style private rooms and dorms with custom built bunks and privacy curtains included.
It's easy to feel at home here when the place only holds a maximum of 50 travellers. It's definitely a must if you're looking to chill and meet other like-minded people.
There's not one but two kitchens here and you can help yourself to herbs, spices and tea & coffee. Win!
Staff here care for the environment and recycle everything possible and use food waste to create compost for the garden.
Forget bottled water – the tap water here is delicious!
Throughout the 3-levelled building is unlimited free wifi so make the most of it.
You needn't walk far – one block in fact! – before you're in the centre of town.
That being said, Haka Lodge is situated in a nice quiet and safe area.
Honestly? The vibe here is so much more like a home-share than a hostel so expect to settle in enough that you might need to extend your stay.
Top choice for:

Compare prices and read reviews at: Booking.com | Hostelworld
3. Adventure Queenstown Hostel
Here we have a superb option for travellers that enjoy in-house activities in a small setting – it's the perfect recipe for making new friends.
Adventure Queenstown Hostel holds 49 wanderers at one time and they offer activities 5 nights a week including movie nights, trivia evenings and AQ scavenger hunts.
There's a bunch of free stuff inc. tea/coffee and unlimited internet. Other perks include:
Spacious lounge room w/ fireplace
Awesome balcony spaces
High-speed, unlimited Wi-Fi
Secure bike, ski + snowboard storage
The dorm rooms range from 4-6 bed mixed, and there is also a 5-bed female dorm. The bunks are sturdy and have a curtain and under-bed storage.
We love the large sociable dining area, the perfect place to share a meal rustled up in the shared kitchen.
The owner and staff are well travelled and super friendly. Just ask if you have an queries or need help planning your next adventure!
This so happens to be the most central accommodation in Queenstown.
But don't fret, it's still a relaxed area so you won't lose out on sleep. And reaching all the cool places is super easy from here.
This is one of the best hostels in Queenstown for
Compare prices and read reviews at: Booking.com | Hostelworld
What about cheapest hostels in Queenstown?
If you are traveling on a shoe-string budget and you wanna save every penny, there are ways to find the cheapest places in Queenstown.
Open Hostelworld with full list of budget places to stay in Queenstown
Order the listing by price
Simple as that. Make sure you use then the other filters and rank per price.
Also keep a close eye on the ratings, especially the "extreme ratings". Meaning, the best and worst.
These ratings can give great insight on what to expect.
Here's our guide on how to book hostels with Hostelworld.
Best Hostels in Queenstown for Solo Travellers?
What is the serious, best hostel in Queenstown for solo-travellers?
Without doubt we have to say Haka Lodge is the best option for solo travellers that desire a laid-back, intimate setting.
It's the perfect home-from-home accommodation very close to town so making traveller and local friends comes easily.
Alternatively, if you're a female solo traveller, book your stay at our #1 hostel Sir Cedrics Tahuna Pod Hostel.
The dorms are seriously swanky and meet a high comfort level.
Party Hostels in Queenstown
If you're looking for little sleep and an awesome party, Base Queenstown is the hostel for you!
The on-site bar Loco Cantina offers backpackers $6 drinks every night alongside affordable meals. All that's left to do is play games, dance and enjoy cool live DJs.
Note: the bar is noisy and can be heard from some of the rooms, so stay here if you're really keen to join in the fun and not worry to much about getting a solid 8 hours sleep.
Base Queenstown just so happens to be located on the most popular street in town.
Compare prices and read reviews at: Booking.com | Hostelworld
More Hostels worth a Mention
We were pretty impressed with the collection of hostels in such a small town. Queensland knows the hostel scene for Hostelgeeks readers, for sure!
We couldn't resist including a couple more options in case our top 3 weren't what you're looking for.
The Flaming Kiwi Backpackers
Sometimes it's nice to feel at home when you're travelling somewhere new, and at the Flaming Kiwi you'll feel just that.
It's a friendly, cosy hostel just 5-minutes from the town centre and 3-minutes from the supermarket.
There are bikes for use (free of charge) which is a perfect way to explore Lake Wakatipu. Either that or try your hand at frisbee golf!
After a big day exploring, make use of the three fully-equipped kitchens, unlimited wifi and selection of games.
We think this is a top choice for anyone looking to escape the party scene and enjoy a small, quiet time.
Compare prices and read reviews at: Booking.com | Hostelworld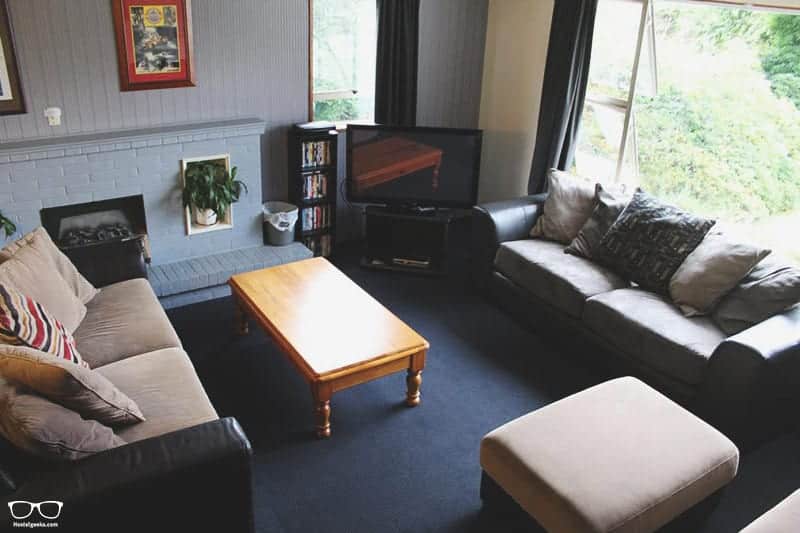 YHA Queenstown Central
Spacious, modern dorms and a view over the gorgeous Lake Wakatipu. Need we say more?
Oh, go on then.
YHA Queenstown Central is typical of YHA's across the globe with their consistently high cleanliness, great staff and central location.
Whilst they lack personality somewhat, you always know to expect an upmarket hostel at a reasonable price.
The staff here can't wait to introduce you to all the adventures around such as sky diving, bunny jumping and local wine tours. Have a chat and consider the options.
Rooms come in dorm and private size, all with ready-made beds and ample space.
Compare prices and read reviews at: Booking.com | Hostelworld
How to book?
We recommend using Booking.com or Hostelworld for your reservations.
Hostelworld is super safe and the biggest booking platform for hostels.
On both platforms your credit card is 100% protected and the booking 100% confirmed.
We included the handy links to each of the recommended hostel. Just click on the hostel name. The link will lead you to check prices and availability.
Here is the overview:
Sir Cedrics Tahuna Pod Hostel: Booking.com | Hostelworld
Haka Lodge: Booking.com | Hostelworld
Adventure Queenstown Hostel: Booking.com | Hostelworld
We recommend booking your hostel as early as possible!
All of Queenstown best hostels are popular; especially in high-season. To make sure you end up in those stylish hostels, secure your room or bed as soon as you have your travel dates fix.
Any Discounts?
Currently, we have no special hostel discounts in Queenstown. I know, it's a pity. You can subscribe to our newsletter to receive our newest hostel discounts always to your inbox.
You can find all our hostel discounts worldwide here.
All 3 Hostels put on a map + sights
Let us have a look on the map. Below we list all three best Queenstown hostels on a map.
We also included the main tourist attractions you've to know in this list:
Routeburn Track
Coronet Peak Ski Area
Queenstown Gardens
AJ Hackett Bungy
Whilst you're in the adventure capital of the world, why not try sky diving near The Remarkables?
Flights to Queenstown?
We enjoy Omio.com and Kiwi.com to find cheap flights all over New Zealand, including Queenstown, Christchurch and Auckland.
This new website has super cool features like a so-called radius search. Just draw a circle over Oceania and find the cheapest rates for the area.
Here is our review of Kiwi.
More guides
Alright, this is your answer to where to stay in Queenstown.
We did the leg work for you and bring you more hostel guides to destinations:
You can find all our new and updates articles for Best Hostels in here.
We also created a huge guide to hostels. Here we cover how to build lifetime friendships in hostels, the perfect packing list and more.
Over to you
Was this useful? Do you have any questions, doubts?
Then please please leave us a comment. This list of awesome Queenstown hostels should be as informative and useful as possible.
Your question will help me to understand what I have missed to mention.
Therefore, drop us a comment, we are keen to help you!
Last note: Our commitment

This is a genuine article to help you travel a bit smarter and find the best place on a budget! We ONLY recommend places we know you will enjoy, no matter what.
We will never recommend you any place we haven't evaluated or are not convinced by. We only share with you places we also recommend to our best friends and family!
Enjoy this fine hostel selection and all 5 Star Hostels.
 – – –
pin it for later

Your Smart Packing List
It is time to see what you should pack in your backpack or suitcase. Make sure you always pick a quality hostel, it totally reduces the things you need to pack. Here is our ultimate hostel packing list. It features 23 items you should really throw in your backpack.

The most important things to pack are: Read the full packing list here.