Are you looking for the absolute BEST hostels in Oslo, Norway? Then you've come to the right place!
Oslo is certainly no a cheap destination. No worries though, this is your guide on where to stay in Oslo on a budget.
Those of you familiar with Hostelgeeks may be wondering why this guide only has two hostels and not three.
Honestly?
We only want to show you the hostels we would recommend to our friends and family. For Oslo, we looked hard for you and found 2 cool hostels we think fit the bill for comfort, social vibes and great location.
After all, you only need 1 cool place anyways. So you should be fine.
This trendy capital city and its cultural life is rich in music, arts and dance. Yes it's expensive, but don't let that put you off.
This guide is perfect for YOU, when …
tired of bad and crappy hostels
want to avoid the "young party kids"
happy to spend 1-2€ for a better experience
This is the only guide you need!
Of course we have other great hostels in Norway for you to discover.
If you're heading to Bergen be sure to check out Marken Gjestehus and tick off a few things from our guide to 27 Fun Things to do in Bergen.
What we cover in this article?
You can find all 5 Star Hostels here with Hostelgeeks and all guides to "Best Hostels In" here.
Quick Introduction to Oslo Hostels
Average price for a bed: Hostels in Oslo start from 20€ per night up to 35€ per nights for a bed in a dorm. A private room starts from 50€ up to 100€. This is a rough average just to give you an idea.
Prices always depend on season and holidays. Please always check exact rates on Hostelworld.com or Booking.com.
Check-In and Check Out: The average check-in time is from 15:00 (3pm), while the Check Out time is before 11:00 (11am). Hostels usually offer luggage storage in case you arrive earlier or leave later. Make sure you check if luggage storage is free or if there is an extra cost.
New to Hostels? Read our full hostel starter guide here. We especially recommend to read:
The Best Hostels in Oslo
Let's jump right into our chosen Oslo hostels.
Quick overview:
We put all three accommodation on the map, you will find the map at the end of the article.
1. Saga Poshtel Oslo Central (at hand 24/7)
If you're looking for a hip accommodation in a central location, you'll be happy to spend time at Saga Poshtel Oslo Central.
It's a new concept and one of its kind in Norway.
Thanks for the new renovations and state of the art facilities you can enjoy a chic, trendy, vibrant and homely atmosphere all in one!
In fact, Saga Poshtel Oslo is the ONLY cool hostel in Oslo we recommend. It is central hostel in Oslo, it's cool, fun, obviously clean. This is for everyone looking for a cool backpackers hostel, a fun Youth Hostel in the heart of the town.
Stay here, you will have a great time!
Compare prices and read reviews at: Booking.com | Hostelworld
Central location means less money spent. In this case, landmarks such as Oslo's Opera House and Akershus Fortress are just around the corner.
Transport of every kind is within minutes from the hostel, and it's super easy to stumble in to great bars, restaurants and nightlife nearby.
When you have a look on our map, you will see that even our #2 recommendation is not downtown, but outside.
So what about the all important common areas? Walk around and find:
Dining hall w/ morning buffet breakfast for all
Living area w/ TV and books
Fully-fitted communal kitchen
Great: the buffet breakfast includes vegan options.
There's a big variety of rooms including a cosy Poshtel private and larger 12-bed dorms. Expect big lockers and windows in shared rooms.
No matter what your comfort level, it will be matched at this low-budget high-standard accommodation.
As there are no organised activities we'd recommend this to couples and small groups of travelling buddies.
This is one of the best hostels in Oslo for:
couples
friends
backpackers
Compare prices and read reviews at: Booking.com | Hostelworld
Here's a cool video of a blogger arriving to Oslo and staying at Saga Poshtel. Have a look.
2. Oslo Hostel Rønningen (highest point in Oslo)
Let's be honest here; Oslo Hostel Rønningen is not your typical hostel.
It is in fact a school dormitory building that is rented out during holiday periods.
What makes this super cool is that you can expect a brand spanking new building and facilities as good as an expensive hotel, but at hostel prices!
Compare prices and read reviews at: Booking.com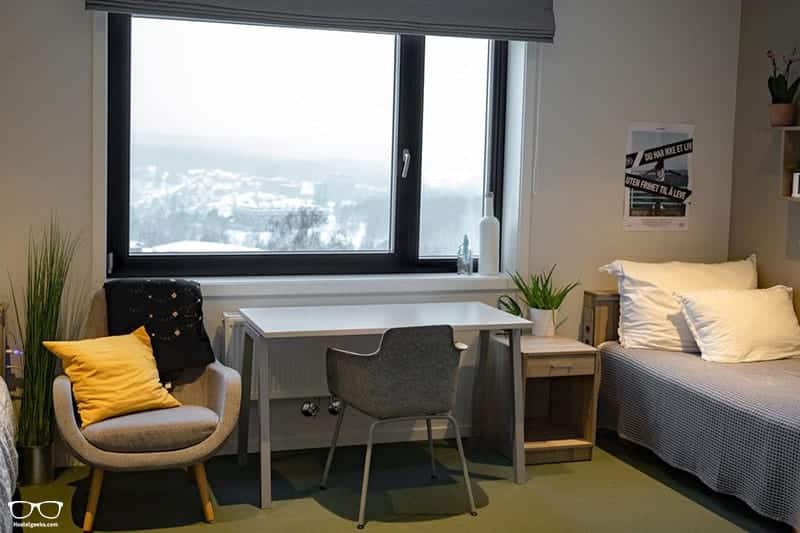 There are no shared dorms here. Instead choose from:
Single rooms
Twin rooms
Double/Deluxe double rooms
Triple rooms
Family rooms (up to 5 people)
Facilities such as the bathroom and kitchen are shared which is where the hostel aspect comes in.
If you're keen to socialise, we recommend picking one of many board games to help break the ice. There's also a lovely TV lounge and library for relaxing in.
Either that or enjoy the mountain and city views right outside the building. You will be staying at the highest point in Oslo, after all!
Bonus: there is free parking on-site. A rarity in Oslo and a real money saver.
Although located 7km from the city centre, a tram stop and train station are nearby.
This is one of the best hostels in Oslo for:
Female solo travellers looking for down-time
Anyone wishing to be away from the city centre
Compare prices and read reviews at: Booking.com
Comparing all 2 Top Hostels in Oslo
Here is an overview of our handpicked top hostels in Oslo. In this chart we compare the main facilities and things to expect.
It will help you to take a decision.
Saga Poshtel Oslo Central
Oslo Hostel Rønningen
Recommended for…

Female solo travellers
Peace seekers

Kitchen
Yes
Yes
WiFi
Free (Good)
Free (Good)
Breakfast
Big Buffet Breakfast (free)
Breakfast (free)
Location
Top
Good, quiet
Special
Brand new facilities
Stunning views
Activities
No
No
Lockers – and safe?
Yes
No
Facilities for disabled guests
No
No
How to book?
Hostelworld
Booking.com
This information can vary by season and availability. Please take this into account.
What about cheapest hostels in Oslo?
Of course, there are always cheap hostels.
We think, it's not worth it to go with the cheapest hostel out there.
Why?
The difference is usually 1-2€ ($1-2) per night, and a lot of amenities are not included. This can be breakfast or linen.
Yet, it's no secret that Norway is an expensive destination. If you're really set on saving coins, we have a recommendation for a cheap stay in Oslo.
Open to all ages and known as one of the cheapest options in the city is Anker Hostel Oslo.
Pros to staying here: it's in a trendy central location close to bars, parks, shops and restaurants.
Cons to staying here: linen and towels are obligatory and at an extra charge. Minimal plug sockets in shared rooms.
This is a minimalistic hostel with free Wi-Fi and shared spaces including a bar, lobby and lounge area.
Compare prices and read reviews at: Booking.com | Hostelworld
There are other ways to find the cheapest places in Oslo.
Open Hostelworld with full list of budget places to stay in Oslo
Order the listing by price
Simple as that. Make sure you use then the other filters and rank per price. Also keep a close eye on the ratings, especially the "extreme ratings". Meaning, the best and worst. These ratings can give great insight on what to expect.
Best Hostels in Oslo for Solo Travellers?
What is the best hostel in Oslo for solo-travellers?
Obviously: Saga Poshtel Oslo Central.
The location is great for budget-concious backpackers and the trendy design and safety is great for ladies that wish to travel in style.
Again, it is really the only Oslo Hostel we enjoy and can recommend to friends and you. It is the best backpackers hostel in Oslo, and also great for smaller groups.
Compare prices and read reviews at: Booking.com | Hostelworld
Party Hostels in Oslo
Sorry party lovers; there doesn't seem to be an official party hostel in Oslo – shock horror!
But don't fret. Oslo is the capital of Norway and with every big city comes a great nightlife scene.
In which case, we recommend staying at Saga Poshtel Oslo Central to be close to the nightlife. From here it's a short walk to some of the liveliest areas of the city.
Just remember: party in the city and respect your fellow roommates by keeping it quiet when you get back late/early.
And even more important: Other cities offer a bunch of crazy party hostels and are cheaper for a fun night out. Check out
Compare prices and read reviews at: Booking.com | Hostelworld
How to book?
We recommend using Booking.com or Hostelworld for your reservations.
Booking.com is the biggest and safest platform for hotel and hostels reservations. Their cancellation policy is one of the best, normally 100% refundable until 24h before the stay.
Hostelworld is also super safe and the biggest booking platform for hostels.
On both platforms your credit card is 100% protected and the booking 100% confirmed.
We included the handy links to each of the recommended hostel. Just click on the hostel name. The link will lead you to check prices and availability.
Here is the overview:
Saga Poshtel Oslo Central: Booking.com | Hostelworld
Oslo Hostel Rønningen: Booking.com
Here is our guide on how to use Hostelworld – in a review.
Any Discounts?
Currently, we have no special hostel discounts in Oslo. I know, it's a pity. You can subscribe to our newsletter to receive our newest hostel discounts always to your inbox.
You can find all our hostel discounts worldwide here.
All Hostels put on a map + sights
Let us have a look on the map. Below we list all two best Oslo hostels on a map.
We also included the main tourist attractions you've to know in this list:
The Vigeland Park

Akershus Fortress
Frogner Park
The Royal Palace
Oslo Opera House
The Norwegian Museum of Cultural History
Munch Museum
The Fram Museum
If you have time, we highly recommend taking a 2-hour cruise around the Oslo fjord.
(You can deactivate and activate the different layers in the left sidebar. Open the map in a new tab here.)
Flights to Oslo?
We enjoy Omio.com and Kiwi.com to find cheap flights all over Oslo.
This new website has super cool features like a so-called radius search. Just draw a circle over Europe and find the cheapest rates for the area.
Here is our review of Kiwi.
More guides
Alright, this is your answer to where to stay in Oslo.
We did the leg work for you and bring you more hostel guides to destinations outside of Norway:
Don't forget to visit Bergen if you have time and stay at Marken Gjestehus.
You can find all our new and updates articles for Best Hostels in here.
We also created a huge guide to hostels. Here we cover how to build lifetime friendships in hostels, the perfect packing list and more.
Over to you
Was this useful? Do you have any questions, doubts?
Then please please leave us a comment. This list of awesome Oslo hostels should be as informative and useful as possible.
Your question will help me to understand what I have missed to mention.
Therefore, drop us a comment, we are keen to help you!
Last note: Our commitment

This is a genuine article to help you travel a bit smarter and find the best place on a budget! We ONLY recommend places we know you will enjoy, no matter what.
We will never recommend you any place we haven't evaluated or are not convinced by. We only share with you places we also recommend to our best friends and family!
Enjoy this fine hostel selection and all 5 Star Hostels.
– – –
pin it for later

Your Smart Packing List
It is time to see what you should pack in your backpack or suitcase. Make sure you always pick a quality hostel, it totally reduces the things you need to pack. Here is our ultimate hostel packing list. It features 23 items you should really throw in your backpack.

The most important things to pack are: Read the full packing list here.