It is time to unbox the best hostels in Tokyo. The Japanese capital is big in the hostel game. You can expect unique and quality Japan hostels – no boredom allowed!
We did the legwork for you, so you do not have to compare hundreds of Japan hostels Tokyo.
We condensed to exactly 3 best and coolest hostels in Tokyo for you.
Your shortcut:
This is your answer to where to stay in Tokyo on a budget AND in style.
This guide is perfect for YOU, when …
tired of bad and crappy hostels
want to avoid the "young party kids"
happy to spend 1-2€ for a better experience
Only handpicked and the best design-led hostels for you; social, fun, easy-going, and in style.
Read: the absolutely best hostels in Japan
These budget accommodations come with a clean and cool design, relaxing areas, and even with an in-house bar or Café where you will love to spend your time.
In this guide we cover:
If you are traveling even more around Japan, we even have more guides that can help you, you can find them at the end of this article.
Quick Introduction to Tokyo Hostels
Average price for a bed: A bed in a dorm can cost 18€ – 30€ per night. Hostels in Tokyo can be quite "cheap" when choosing dorms – for Japan standards. It is the cheapest Tokyo accommodation you will find!
A hostel in Tokyo with private room starts from 60€ to 120€ per night.
This is a rough average to give you an idea. Prices always depend on season and holidays.
Please always check exact rates on Hostelworld.com or Booking.com.
Check-In and Check Out: The average check-in time is from 15:00 (3pm), while the Check Out time is before 11:00 (11am). Hostels usually offer luggage storage in case you arrive earlier or leave later. Make sure you check if luggage storage is free or if there is an extra cost.
Overall Hostel Quality: The overall hostel quality in Tokyo and Japan is high. You will find beautiful high-end places like Boutique Hostels and Design Hostels. You also find low-budget hostels, great hostels for partying, and backpacker and youth hostel Tokyo choices.
New to Hostels? Read our full hostel starter guide here. We especially recommend to read:
The 3 Best Hostels in Tokyo
We have shortlisted 3 of the best hostels in Tokyo for you to stay with your friends or family.
At the end of the article, we put all three accommodations on the map.
Another cheap option for staying in Tokyo is Airbnb. It is so much better than settling for boring cheap hotels in Toyko.
Never tried Airbnb?
Have a look at this full guide for Airbnb and get 35€ discount.
1. Kaisu Hostel – Japanese Style
Kaisu hostel was formerly the Shimazaki restaurant with performing Geishas. It's the absolute best hostel Tokyo has to offer!
Later, the restaurant converted and opened its doors for travellers from all over the world.
Kaisu hostel is just 5 minutes away from Akasaka railway station.
The hostel is known for its traditional Japanese style rooms.
Compare prices and read reviews at: Booking.com | Hostelworld
Many travellers rated the hostel for its clean dorms and friendly staff. That's not all my travel friends. When it comes to the stay, you are likely to experience the best of comfort.
Each pod in the dorm offers privacy and comes with outlets, reading lamp and even a locker for your personal belongings.
Kaisu has a variety of options for travellers.
The hostel offers:
6-bed mixed dorm
14-bed mixed dorm
10-bed female only dorm
Japanese style twin room
Read: Understanding the different hostel room types
All dorms and the private room have shared facilities (toilet and showers).
As it is quite a small hostel, it is a great way to meet people from around the world.
If you are keen on socializing, then you can blindly choose the 14- bed mixed dorm as it is the best way to meet a lot of new people under one roof, quite literally.
For women who are not comfortable with the idea of a mixed dorm (or are willing to avoid snores), the option of a 10-bed female only dorm comes in handy.
Read: pros and cons of female dorms.
There are shared showers for all dorms and specific female only showers for the female only dorm.
The cleanliness is beyond perfection, promising guests a comfortable stay in the hostel.
Kaisu hostel also offers a private room with high ceilings and windows that allow natural light to enter into the room.
These private rooms retain as much of the traditional Japanese interiors as possible.
Check price and read reviews at: Booking.com | Hostelworld
Location:
The hostel is located 5 minutes away from the Akasaka railway station, making it a convenient staying option for travellers who want to visit the city often.
The best part about the location of Kaisu is that it is surrounded by a lot of serenity. The neighbourhood, called Minato, is more of a clean and pretty location than the busy city center.
Minato is an excellent choice if you want to experience local cuisine and culture.
Besides, the people of Minato are super friendly towards travellers.
Do you love the city but hate the chaos?
Then kaisu is your place to be while in Tokyo.
Who stays at Kaisu Hostel?
The hostel is frequented by young travellers, solo-travellers and backpackers!
Kaisu is a great place to stay in if you are backpacking through Tokyo.
Because of its cleanliness, safety and other standards, Kaisu also sees a lot of solo female travellers through the year.
With people pouring in from all over the world, Kaisu is one of the happening hostels to network and socialize with other like-minded individuals.
What to expect when staying here?

You need not worry about internet connectivity as Kaisu offers high-speed WiFi as a compliment to all guests checking in.
You can plan your day ahead by browsing for things to do at Tokyo or even use it as per your convenience to call friends and family back home.
Thinking about lack of privacy? Worry not.
Kaisu hostel offers privacy with blinds for each pod and also provides the option of safe storage.
All you need to do is chill and experience the magic of Tokyo.
Remember to leave your footwear outside the room if you opt for one of the traditional Japanese designed interiors of a private room.
Apart from that, Kaisu provides everything you could possibly need.
Kaisu Hostel is recommended for:
female solo-travellers
backpackers
Compare prices and read reviews at: Booking.com | Hostelworld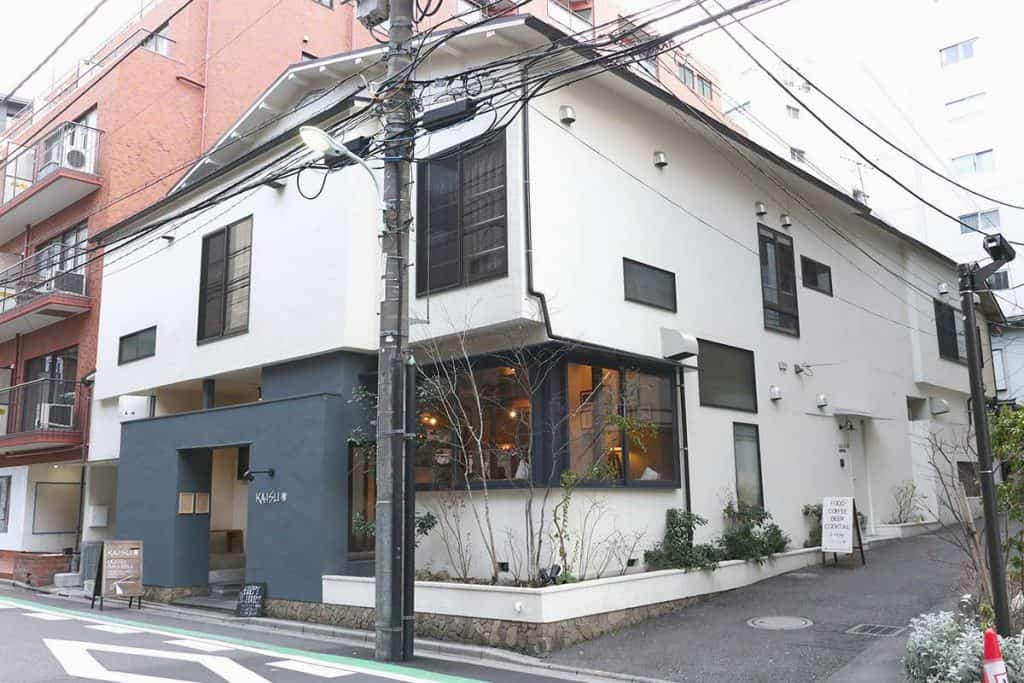 2. Book and Bed Asakusa (Library in style)
One of the most unique hostels in Tokyo for sure. This is where every book lover's dream come true.
If you are one of those people who would love to carry a horde of books with you every time you step out to travel, then Book and Bed Asakusa must be on your bucket list.
The unique and amazing concept of housing a hostel amidst a collection of books by Book and Bed in Asakusa draws many travellers from across the globe.
Choose from a wide variety of bunk beds in each mixed dorm.
The hostel offers a single bed in a mixed dorm as well as an extra comfortable double bed pods.
You can choose from the options as per your convenience.
Travellers who have stayed at Book and Bed Asakusa have found the staff to be very friendly and helpful in times of need.
The hostel also has a bar on site if you want to grab a drink without leaving your book or your hostel!
Clean and pristine showers are available for all occupants and there are specific female only showers too.
The hostel offers free WiFi facility for all occupants.
The best part about each pod in the dorm is that it is neatly tucked away behind a book shelf.
The pods are spacious and cosy at the same time.
Offering luxury and comfort for a very reasonable amount, this one of a kind hostel is a must visit.
Even if you want to visit only for a couple of days.
Apart from the books and the bed, Book and Bed Asakusa is a great place to meet like-minded book enthusiasts.
All the books in the hostel are of an eclectic nature, thus catering to the literary and intellectual needs of a wide variety of minds.
Many travellers meet other travellers over a book or a brew at the Book and Bed Asakusa.
Compare prices and read reviews at: Booking.com | Hostelworld
Location of Book and Bed Asakusa:
Book and Bed Asakusa is just 300 meters away from the Asakusa station which connects to all major parts of Tokyo.
A train ride of 30 minutes will take you to many major attractions in the city.
This neighbourhood is an excellent option for travellers who love visiting temple towns and witnessing history in an archaic nature.
The Dempoin temple, Sensoji Temple and the Asakusa shrine are merely 10-15 minutes of walking time to reach.
The location of the hostel also conveniently puts it closer to Tokyo Skytree (known as the Tokyo tower), parks and gardens as well as the Japan Imperial Palace.
Who stays at Book And Bed?

Travellers and book enthusiasts from all walks of life head to the Book and Bed in Asakusa.
Of late, many travellers from the United States, United Kingdom and countries such as Australia and New Zealand have been flocking in to check out the concept of this book-themed hostel while visiting Tokyo.
Many Japanese Travelers also love to stay here.
Besides, if you are travelling with a book enthusiast to Tokyo, you can definitely consider Book and Bed Asakusa for its high-end amenities and its proximity to several tourist sites.
What to expect at Book and Bed?

The staff here speaks English, which makes it all the more convenient for travellers.
The one thing you need to know beforehand is that there is no hard and fast rule as to the number of books you can sneak into your bed.
Just pick what you like and tuck away in a corner.
Keep a tab on the clock if you want to avoid missing out on exploring the city, because in a hostel as comfy as this, you are bound to have a good time.
Be aware there is no kitchen at Book and Bed.
Book and Bed Akusa is recommended for:
all solo travellers
book lovers
Compare prices and read reviews at: Booking.com | Hostelworld
3. Grids Tokyo Akihabara (Great for couples)
Love a good old backpacker hostel with clean facilities?
Head right to Grids Hostel in Akihabara. Grids serve as a hotel and a hostel for travellers visiting Tokyo.
There are no mixed dorms available, just female dorms or male dorms.
Grids is perfect to host groups of guests. They dorms are big, they cater 20 people. That is why we strongly recommend this hostel to couples and groups of friends willing to stay in private rooms/ dorms.
One can stay in a private room with a shared bathroom or choose a quadruple room with 4 Pods and a shared bathroom if visiting as a group.
If you want complete privacy, then Grids offers a Quadruple room with a private bathroom too.
The hostel literally offers every combination of rooms making it a convenient place of stay for both families and individuals alike.
The ambience of the hostel is stark and neat with sturdy pods designed for maximum comfort.
The front desk is open 24 hours to assist with your needs and the staff communicates in English to serve travellers better.
You can approach the front desk for any queries or even take their help to plan your day out in Tokyo.
Besides, the hostel offers free WiFi to all guests.
Compare prices and read reviews at: Booking.com | Hostelworld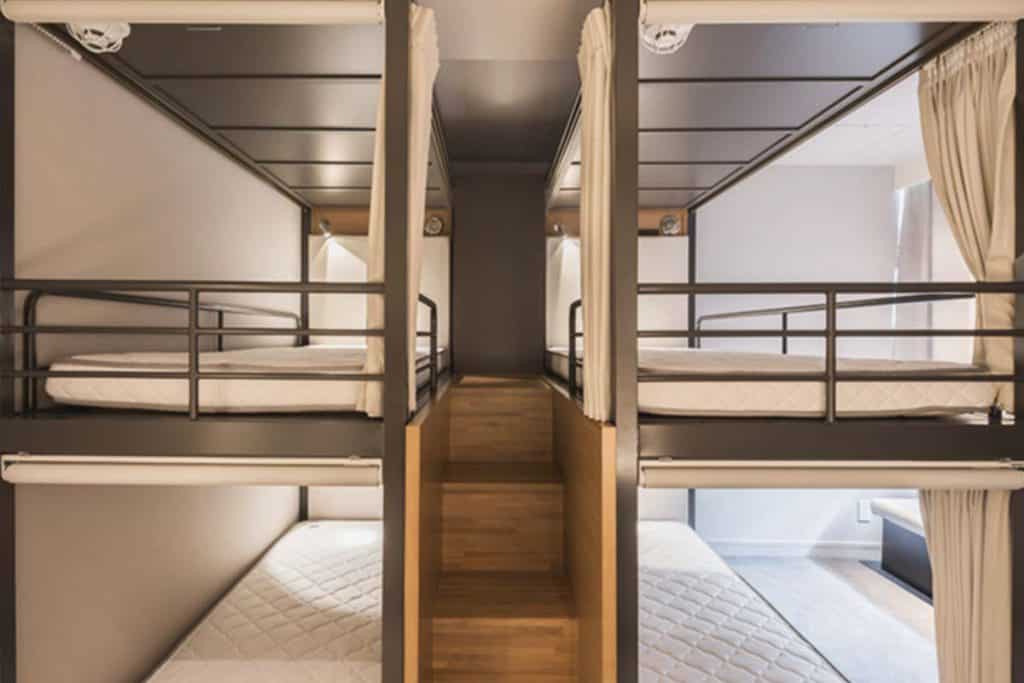 Location of Grids Tokyo Akihabara
Grids Hostel is conveniently located in such a way that it is merely 10 minutes away from one of the electronic districts in Japan.
The Akihabara area is lively and fun filled with friendly locals.
The Ueno Park, known for being one of the most Instagrammy places during the cherry blossom, is a ten-minute drive from the hostel.
The hostel  is also close to:
the Sensoji temple,
Japan Imperial Palace and
several other tourist sights.
There are many restaurants in the neighbourhood that offer a wide variety of cuisines even apart from traditional Japanese cuisine.
Who stays at Grids Tokyo Akihabara?

The hostel is famously visited by families or groups from around the world looking for a cosy and comfortable stay in Tokyo.
If you are planning a trip for a bachelor's party, then this hostel should be the first on the list.
The communal kitchenette and the common room are great options to socialize and meet new people if you are travelling solo.
What to expect at Grids Tokyo Akihabara?

You don't have to worry about safeguarding your luggage as Grids offers storage options for travellers.
You will find a locker for your backpack in the toilet and a smaller locker for your cell phone and wallet in the room.
Bear in mind lockers are not really big. If you are traveling with a big backpack, make sure you put in the locker your worthy items and lock your backpack.
Read about safety in hostels here.
If you have some laundry to do, you can use the laundry service at Grids which is a real lifesaver. Laundry service at a hostel is always a big plus for us.
The front desk also provides you with a pamphlet that contains everything you need to know for a comfortable stay whilst in Tokyo.
All you need to be prepared for is a great time because the hospitality of the staff at Grids will handle the rest for you.
Good to know: towel is not included in the price. Make sure you travel with a light towel to avoid extra fees.
Grids Tokyo is recommended for:
Compare prices and read reviews at: Booking.com | Hostelworld
Comparing all 3 Top Hostels in Tokyo Japan
Here is an overview of our handpicked top hostels in Tokyo. In this chart we compare the main facilities and things to expect.
It will help you to take a decision.
Kaisu Hostel

Book and Bed Asakusa

Grids Tokyo Akihabara
Recommended for…

female solo-travellers

Backpacker

Kitchen
No
No
Kitchenette (fridge, microwave)
WiFi
Free (Super Fast)
Free (Good)
Free
Breakfast
Free Breakfast with Buffet
Unique Breakfast /great coffee)
Buffet (extra)
Location
Top (more local)
Top (30 min to center by metro)
Akihabara area
Special
Small and Japanese Style
Cool Library Design

Clean, quality facilities

Activities
Yes
No
No
Lockers – and safe?
Yes
Yes
Yes (small lockers)
Facilities for disabled guests
No
No
No
How to book?
Hostelworld
Hostelworld
Hostelworld
This information can vary by season and availability.
Please take this into account.
What's the best party hostel in Tokyo?
Most hostels in Tokyo aren't really in nightlife heavy areas.
The best idea is to get a place which is well connected, as the 3 hostels mentioned above.
If you are looking for a definite answer on what is the best party hostel in Tokyo?
Here you go, Mr. party traveler:
1. Kaisu Hostel
It is the most social, chill place to have a beer on their in-house bar and mingle. A great place to hang, have a drink and chat. It is not hard-core party drinking.
After connecting, you want to head to Shinjuku or Roppongi area for a unique, odd and interesting nightlife.
During the evening, go to Yasukuni-Shrine. It is a hot spot for people watching.
Compare prices at: Booking.com | Hostelworld
2. Nui. Hostel & Bar Lounge
This hostel chain is also a bar and café.
The nightlife is fun, chill, and they even have live music once in a while. If you are a bar-type of person and love to mingle, Nui. Hostel is our top place.
This would be the coolest place to have a few drinks and meet travelers and locals alike. It is also a super stylish bar, more a hipster Tokyo type- but the super COOL one!
Bring your hat and grow a moustache!
Here is a video of the nightlife at Tokyo Party Hostel Nui.
Compare prices at: Hostelworld
3. Wise Owl Hostel Shibuya
#3 on the list for partying hostels in Wise Owl Hostel Shibuya.
Wise Owl is a fun backpackers Hostel in Tokyo with an inhouse bar. They have even happy hours, so make sure you keep an eye on the black board – and be back on time.
The motto of Wise Owl Hostel is something we had to share.
It sums up what to expect:
What you need is not a mediocre amount of sleep
It should be a good, short sleep from an exhausting, enriched experience
No time for sleep
Experience Tokyo
Whether night or day, heighten your sensibilities
That is how a journey should be
Good to know: There's two Wise Owl Hostels. The party hostel we recommend is Wise Owl Shibuya. The other hostel is simply called "Wise Owl Hostel"
Compare prices at: Hostelworld | Booking.com
Best Hostels in Tokyo for Couples
Travelling as a couple? For sure you are looking for a cheap accommodation to stay in Tokyo as a couple with private room and maybe en suite bathroom.
The best hostel in Tokyo for couples is Grids Hostel in Akihabara.
It is a quality hotel and hostel, spotlessly clean and cosy private rooms.
Remember, as a couple you most likely want a double bed; not two separate single beds, right?!
Normally, you must make sure you check the room type and the bed in it you are about to book.
Many hostels and even hotels list two single beds as double room. Or they simple push together two single beds. That can be super annoying!
Worry not, at Grids hostel all beds are double beds in the private rooms.
More cool hostels in Tokyo for couples with private rooms are:
More Tokyo Hostels worth to mention
By no means is this a complete list of all Tokyo hostels.
Why? We always try to bring you only the 3 absolute coolest hostels in Tokyo, Japan and all over the world.
We do all the leg work for you, so you do not have to go through hours of research.
That being said, here is more good Tokyo hostels we think are worth it to know:
1. Planetyze Hostel
Green, lush design with an actual tree in the lobby. That is Planetyze Hostel.
AS so many Tokyo hostels, Planetyze also comes with an inhouse cafe and bar.
The rooms have plenty of light and the rooms are spacious.
We really like the dorms; the bunk beds are actual pods and you won't find the squeeky bunk beds you might expect in oldschool hostels.
Planetyze Hostel is agreat hostel for female solo-travellers.
Below is a video of Planetyze Hostel, showing you around the accommodation.
Hit the play button and turn on the music; you might wanna swing!
Compare prices at: Booking.com | Hostelworld
2. Emblem Hostel Nishiarai (Sushi Class)
When it comes to backpacker hostels in Tokyo, we absolutely love Emblem Hostel in Nishiarai.
It is a traditional cool backpacker type hostel with activities, a bar, fun events – and at the same time – quality dorms and rooms.
They offer tea-tastings, live music, walking tours, and even sushi-cooking class.
Yes, you read correctly: Sushi Making Class (rather than cooking, right?!)
The travellers staying here are international, meaning from Western countries like USA, Germany, UK, Australia and also Asian countries like Singapore, Korea and Japan.
We also have to mention the small ZEN Garden on the roof top, and its in-house bar and restaurant.
Eat here, you will love the food. We totally recommend the Round Burger.
Compare prices at: Booking.com | Hostelworld
3. CITAN Hostel (for traveller couples)
As is this list has not enough fantastic hostels in Tokyo, here comes the next one: CITAN Hostel.
It can be compared to NUI Hostel Tokyo, mentioned in the party hostels.
It has a hipster-ish style, a fun bar and cafe with great food.
CITAN Hostel was born out of the café in the ground floor.
It started as the coffee shop only but then grew into a fun backpackers hostel.
It is a great hostel for travellers between 25 and 40.
Couples will especially love it here.
Some of the double rooms have very large windows with plenty of light and a nice view; that would be our best recommendation for the travelling couples on a budget out there.
Compare prices at: Booking.com | Hostelworld
Do you mind if we keep going a little further? There are so many nice Japanese hostels in Tokyo to experience, afterall.
4. Khaosan Tokyo Kabuki – home-from-home guesthouse
5. Khaosan Tokyo Origami – stunning pod beds and in central Asakusa
6. Space Hostel Tokyo – custom made funiture & brilliant location
7. Sakura Hostel Asakusa – weekly activities & all-you-can-eat free breakfast
8. UNPLAN Shinjuku – one of the best hostels in Shinjuku area
What about the cheapest hostels in Tokyo?
Of course there is cheap hostels in Tokyo. But, here's the thing: In our opinion, it's not worth it to go with the cheapest hostel out there.
The lowest prices usually come with a big drop in value.  That can be anything, for instance staying in a dorm only instead of an actual social hostel to meet people with events and such.
It could mean settling for a hostel that's as fun as cheap hotels in Tokyo. We don't specialise in the best hotels in Tokyo!
Also, cheap hostels are normally far away from the city centre. Meaning, you will spend more money in transport.
Transport is usually a big cost factor in Tokyo and all around Japan.
However, if you really want the cheapest hostels in Tokyo, we explain you how to get them:
Open Hostelworld with full list of accommodations in Tokyo
Order the listing by price
That. Simple.
However, please pay attention and do not go with the dirt-cheapest places out there. It is really not worth it, and may ruin your holidays and trip.
Read: 15 hacks to book hostels like a pro
What is the Best Guest House in Tokyo?
A guesthouse in Japan is not far away from a Japanese-Style hostel.
To give you a better understanding: Book and Bed Asakusa is listed as a guesthouse.
In our opinion, this is more a hostel than a guesthouse.
Why? Because it is a social place to meet people, and it has dorms. Meaning, you can reserve individual beds, not private rooms.
Nevertheless, accommodation types are just labels.
The most important is having a great accommodation during your travels.
Book and Bed Asakusa is one of the best places to stay at in Tokyo, together with the other two best hostels mentioned in this article.
Compare prices at:  Booking.com | Hostelworld
Any discounts for Hostels in Tokyo?
At the moment, we do not have any special hostel discounts in Tokyo.
You can subscribe to our newsletter to receive our newest hostel discounts always to your inbox.
Find all our hostel discounts worldwide here.
Also, you can always get the 35€ discount for Airbnb here.
How to book the hostels?
We recommend using Booking.com or Hostelworld!
These are booking platforms to reserve your bed or room in hotels, hostels, guesthouses, resorts and everything you can basically sleep in.
It is the safest spot to leave your credit card details, make an account and have a secure booking.
Read: How to book hostels with Hostelworld – a guide
If there is any issue with your booking, both platform will take care of you.
For more details, read: 15 smart tips for booking hostels worldwide.
Here's again a summary of the coolest hostels in Tokyo:
Sum it Up: These are Tokyo's Best Hostels
All 3 cool hostels in Tokyo (+ sights) put on a map
Let us have a look at the hostels put on a map.
We also included the main tourist attractions that many people want to visit during their holidays in Tokyo. This makes it easier for planning your backpacking Tokyo trip.
The main hot spots to see are:
Sensoji Temple
Hachiko Memorial Statue
Tokyo Tower
Ueno Onshi park
Imperial Palace
Dempoi Temple
Asakusa Shrine
Skytree
National Museum of Nature and Science
National Museum of Western Art
Meiji Shrine
Kabukiza Theatre
Shibuya crossing
All recommended hostels are located near a metro stop and well connected.
You can get to every single sight with public transport.
Here you have also a link for buying Metro pass in advance.
Best Areas to stay in Tokyo
It is always difficult to know what is the best area for a tourist to stay in Tokyo (or any other city in the world) when you have no insight information.
We receive many messages with the question:
What neighbourhood should I stay in when visiting Tokyo?
The answer will depend on your interest in visiting the city, of course.
Each person has different priorities: nightlife, visit tourist places, enjoy the local life…
Therefore, here we collect the best areas to stay in Tokyo depending on your preferences:
Bustling nightlife: Shibuya
This area is also well linked to the rest of the city
Shopping and central location: Ginza
Great place to experience Japanese culture: Asakusa
Food lover: Akihabara
History and cultural area: Ueno
Nightlife, crowds and Neon lights: Shinkjuku
Touristy neighborhood: Roppongi
Central location: Tokyo Station
Don't get too crazy about different neigbourhoods and the perfect place.
This is a rough idea for you but all 3 hostels mentioned have a convenient location.
The top 3 hostels in Tokyo are located near a public transport stop, which you will use anyways to get from one point to the other.
Flights to Tokyo?
Haven't got your flights to Tokyo yet? We LOVE this flight booking website Kiwi. This is how we always find the sweetest flight deals.
Check out Kiwi.com to find cheap flights to Tokyo.
Here is our full review of Kiwi (including how to book and how to find the cheapest flights)
It is the best flight meta engine we found until now for getting the cheapest flights worldwide.
This new website has super cool features:
radius search
search by time window
instant booking service
flight connection guarantee
FAQ
What are the best hostels in Tokyo for families?
We highly recommend our #3 hostel Grids Tokyo Akihabara because it's a cosy and comfortable stay.
The amenities are high end and the staff speak good English to make things smoother.
What are some hostel recommendations for visiting Tokyo in April?
Visiting Tokyo between March and May is ideal as there is less rain and temperatures are mild.
With that in mind, all hostels are great to visit in April – have a read of this guide and get booking!
What are the best sites for finding hostels?
We want to throw our hat into the ring: Hostelgeeks.com!
Our website is focused on bringing you a handpicked selection of cool hostels all around the world. Here you can find all our handmade best hostels in the world guides; from Paris to Tokyo.
Other than our website, Hostelworld is always a great resource and booking platform too.
What is the cheapest way to stay and travel in Toyko Japan?
Staying in a hostel rather than a Tokyo hotel will surely save you money. Especially if you choose a central location!
Ask the hostel staff for tips and tricks on local travel. They may have discounts and knowledge to help you save coins.
What is the best hostel in Tokyo?
You mean you haven't yet seen the #1 in this guide, Kaisu Hostel? Go go go, there's no time to lose!
Where should I stay 4 days in Tokyo?
Book a 4 night stay at Kaisu Hostel to really soak up the atmosphere, enjoy Japanese style rooms and experience nice pod beds.
It's also 5-minutes from the city so exploring further afield is easy.
More Hostels in Japan and Asia
For those on a longer voyage: check out our 5 Star Hostels in Asia.
We also created more best hostels guides to help you. Check out:
Other counties and cities outside of Japan include:
Over to you
Well there you have it, you've now discovered the best hostels Tokyo has to offer. Heck, we reckon Kaisu Hostel is the best hostel Japan has to offer.
Which hostel in Japan Tokyo stands out to you?
Do you have any questions? Any doubts?
Please please please let me know in the comments below.
We would love to make this article for the best Tokyo hostels as informative and useful as possible.
Therefore, with your question you help us to understand what we have missed and other travelers will appreciate this powerful and complete guide.
Last note: Our commitment
This is a genuine article to help you travel a bit smarter and find the best place on a budget! Here you find ONLY recommend places we know you will enjoy, no matter what.
We will never recommend you any place we haven't evaluated or are not convinced by. As always, we only share with you places we also recommend to our best friends and family!
Enjoy this fine hostel selection and all 5 Star Hostels.
Safe travels,
The Hostelgeeks team
– – –
pin it for later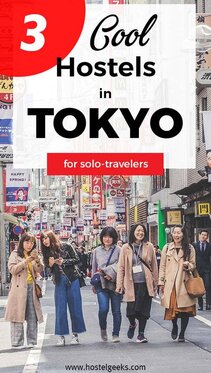 Your Smart Packing List
It is time to see what you should pack in your backpack or suitcase. Make sure you always pick a quality hostel, it totally reduces the things you need to pack. Here is our ultimate hostel packing list. It features 23 items you should really throw in your backpack.

The most important things to pack are: Read the full packing list here.