A little birdie told me you're planning an epic trip to the capital of South Korea. How wonderful that you've stumbled across the 3 best hostels in Seoul, just in time!
This is our ultimate insider guide to the coolest hostels to stay in Seoul, Korea. We've also hand-picked the best hostel in Hongdae – our chosen party hostel in Seoul.
This guide is perfect for YOU, when …
tired of bad and crappy hostels
want to avoid the "young party kids"
happy to spend 1-2€ for a better experience
We condensed it all to the 3 coolest hostels in Seoul.
Did you know? Dorm rooms are hard to come by in Seoul.
We've worked hard to find you the best hostel in the city with shared room options. In this guide we will walk you through the whole thing, no worries.
You can thank us later!
The huge modern metropolis sparkled with Buddhist temples and tasty food is waiting for you.
It's a shame we don't have a 5 Star Hostel in this city.
Yet that doesn't mean we bring you anything less than comfortable, memorable accommodation.
Find here all the best hostels in Asia for you to check out, including
A quick introduction to the 3 Best Hostels in Seoul
Grab a big mug of coffee and prepare to get lost in a beautiful array of hostels.
Perhaps you are new to hostels? Take a moment to read more about them and what to expect.
Scroll down to find all of the hostel locations on a map.
You'll also find our generous Airbnb Seoul discount further down.
The 3 best hostels in Seoul are…
1. Time Travelers Relax Guesthouse Seoul (shared rooms + chill vibe)
Time Travelers Relax Guesthouse Seoul first grabs you with the trendy paintings and trick art.
Found all around the hostel and created by the owner himself!
The hostel name tells you this is the place to wind down and relax.
This is relatively easy when you find all the books on offer in the common area.
WARNING: bookworms may never leave.
What's wonderful is that shared rooms are available here. Not something to take for granted in Seoul.
It's one of the reasons we deem this is the best guest house in Seoul!
Choose between 4 and 8-bed mixed dorms.
Single, double, twin and triple-bed rooms are also available.
The rooms are equipped with a shared bathroom.
Every Friday the staff host a BBQ evening at a local restaurant. This is a great way to socialise with the other guests.
We just love to cosy, bright layout of the common area and rooms.
There is also a lush garden out the back for that added chillax vibe.
Time Travelers Relax Guesthouse is certainly the best hostel in Hongdae area.
It's just a short walk to the trendy Sinchon neighbourhood and 5-minutes from the subway station.
Time Traveler Relax is the best hostel in Seoul for:

Female Solo travellers
Male Solo travellers
Couples
Compare prices and reviews at: Booking.com | Hostelworld
2. 96 BUN'Z Travelers Lodge (cool rooftop lounge)
This chic style hostel has an intimate vibe that we love. Welcome to 96 BUN'Z Travelers Lodge.
As we mentioned, it isn't always easy to find dorm rooms in Seoul.
So instead, this hostel offers double, twin, triple and family rooms.
That's why we recommend 96 BUN'Z to friends, couples and families.
A familiar hotel touch is present, with tea/coffee and hair dryers in all the rooms. And a TV!
Read: the ultimate hostel packing list.
That all-important air-conditioning is also included, phew!
There is also…
A rooftop lounge with a 'time-machine feel'
A comfy lobby area for all to use
An open kitchen available 24-hours
Private bathrooms for each room
Projec.D is an attached modern pub serving up delicious grub, drinks and music.
You'll be pleased to know that the reception is 24-hours. That's always somewhat settling, isn't it?
96 BUN'Z Travelers Lodge is less than 500 yards from Dongdaemun market.
Other nearby points of interest include Shilla Duty-Free Shop, Bangsan Market and Gwangjang Market.
96 BUN'Z Travelers Lodge is the best hostel in Seoul for:
Compare prices and reviews at: Booking.com
3. Hostel Vanilla 1 Dongdaemun (cosy, minimalist accommodation)
Sometimes the most basic accommodation offers the best stay. This is certainly the case for Hostel Vanilla 1 Dongdaemun.
This cosy and affordable hostel has everything you need tucked away in a small, convenient space.
Note: there are no dorm rooms at this hostel.
Instead, make use of a single, twin, basic double or deluxe double room. Each comes with a private bathroom.
Expect luxuries such as air-con, hair dryer, a personal safe and free toiletries – fancy!
Also; treat your feet with the complimentary slippers.
For the keen cooks in the house, there is a communal kitchen in this hostel.
This includes a coffee machine to get the morning started well.
Be sure to rise and shine in time for the FREE breakfast, too!
Vanilla is surrounded by restaurants and cafes to suit all taste buds.
It's located in the business area not far from N Seoul Tower. The nearest subway station is a 5-minute walk.
Hostel Vanilla 1 Dongdaemun is a top pick for:
Compare prices and reviews at: Booking.com
What about the Best PARTY Hostel in Seoul?
So, you're looking to spice things up in Seoul with new friends and a party or two. Who can blame you!
We invite you to stay at the best party hostel in Seoul: Time Travelers Party Hostel in Hongdae.
Whether you're travelling alone or in a group – the basement bar is a wonderful daily gathering place.
This is where you'll find a generous stock of Soju and beer.
It's just a 7-minute walk from the bustling area of Hongdae known for its hip bars, yummy food and numerous clubs.
Every Friday the staff hosts a Korean BBQ night with unlimited Soju.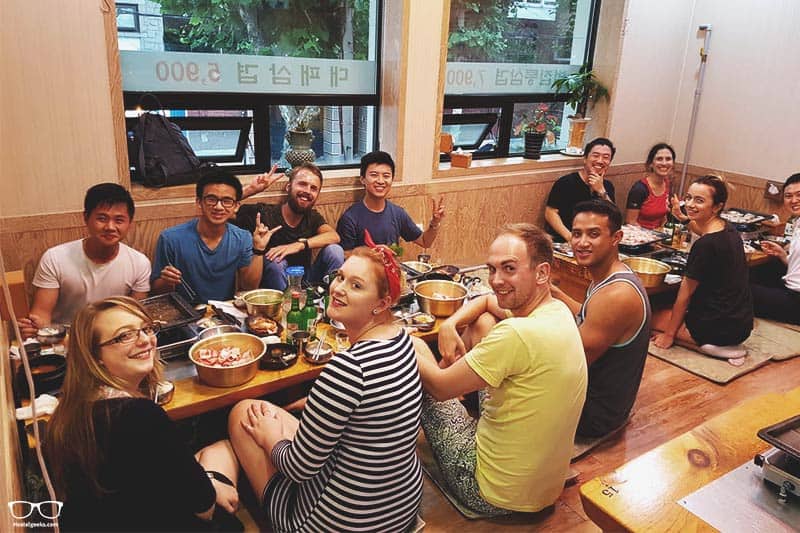 Cheapest Hostels in Seoul
Of course, there are always cheap hostels. And there is certainly cheaper hostels than the 3 top hostels in Seoul we shared above.
Yet, it is important to remember: We think, it's not worth it to go with the cheapest hostel out there.
Why?
The difference in price is usually only a few dollars/ Euros – and a lot of amenities are not included. This can be breakfast or bed linen. Also, keep in mind a bad location far away from the city center costs you more in transport and time.
However, if you are traveling on a shoe-string budget and you wanna save every penny, there are ways to find the cheapest places in Seoul.
Open Hostelworld with full list of accommodations in Seoul
Order the listing by price
Simple as that.
Here is a guide how to book hostels with Hostelworld.
Any Discounts or Promo Codes?
Now, that is a pity, because currently we have no special hostel discounts or promo codes for hostels in Seoul. All promotional codes or vouchers are no longer valid. We wouldn't give you an invalid voucher, obviously.
We are always working on getting promo codes for the coolest hostels in Seoul and other destinations.
You can subscribe to our newsletter to stay up to date about discount codes. Here we share our newest promo codes for hostels and hotels in Seoul and other destinations first.
Airbnb in Seoul
Another popular option for many travellers is staying at an Airbnb.
On this site, you can rent a local apartment of find a room and stay at a local's house. For some destinations in the world, Airbnb is an amazing way to book your accommodation.
Get a solid 30€ off your first Airbnb experience with our link here. Here's our guide how to use Airbnb.
Handy Map of Hostel Locations + Sights
As always we've prepared a map to make your Seoul trip planning easier. This map will help you to get a better understanding of the South-Korean capital.
As for the city – it's huge!
With that in mind, here are a few of our recommendations:
Venture to the demilitarised zone between North and South Korea. Choose between a half day and full day tour.
Go to see Korea's longest running show – the Nanta comedy show.
Join the full-day top attractions of Seoul tour.
Flights to Seoul?
We enjoy Kiwi.com to find cheap flights all over Asia including Seoul, Tokyo and more. This new website has super cool features like a so-called radius search. Just draw a circle over Asia and find the cheapest rates for the area.
Here is our review of Kiwi.
More guides
Alright, this is your answer to where to stay in Seoul.
We did the leg work for you and bring you more hostel guides to destinations:
You can find all our new and updates articles for Best Hostels in here.
We also created a huge guide to hostels. Here we cover how to build lifetime friendships in hostels, the perfect packing list and more.
Over to you
We hope you're just as excited as us about the coolest hostels in Seoul!
As always, we want to make this hostel guide to Seoul as powerful and useful for you as possible!
Do you have any questions?
Please please please leave your question in the comment below.
We are thrilled to help you. Also, your question helps us to improve this guide on where to stay in Seoul on a budget. So you help yourself, you help us and many more fellow backpackers.
Last note: Our commitment
This is a genuine article to help you travel a bit smarter and find the best place on a budget! We ONLY recommend places we know you will enjoy, no matter what.
We will never recommend you any place we haven't evaluated or are not convinced by. We only share with you places we also recommend to our best friends and family!
Enjoy this fine hostel selection and all 5 Star Hostels.
Safe travels,
The Hostelgeeks

– – –
pin it for later
Your Smart Packing List
It is time to see what you should pack in your backpack or suitcase. Make sure you always pick a quality hostel, it totally reduces the things you need to pack. Here is our ultimate hostel packing list. It features 23 items you should really throw in your backpack.

The most important things to pack are: Read the full packing list here.