Is your next stop the beautiful white-sand beaches on Palawan island? Fabulous! This just so happens to be your gateway to the best hostels in El Nido.
Alongside 5 star accommodation, El Nido is home to corals reefs, lagoons and steep karst cliffs.
If this sounds like your kind of destination, keep reading. It just gets better and better.
Hint: there's a super cool party hostel right on the beach!
Your shortcut:

SPIN Designer Hostel – top pick for female solo travellers

Happiness Hostel –  one for solo travellers & backpackers

Frendz Hostel El Nido – great for couples

No longer will you need to question where to stay in El Nido – this is the only guide you need!
This guide is perfect for YOU, when …
tired of bad and crappy hostels
want to avoid the "young party kids"
happy to spend 1-2€ for a better experience
Be sure to check out our complete guide to the 21 best hostels in the Philippines if you're a long-term traveller.
Our #1 choice and ONLY 5 star hostel in the Philippines is SPIN Designer Hostel. Keep scrolling to find out why.
What we cover in this article?
You can find all 5 Star Hostels here with Hostelgeeks and all guides to "Best Hostels In" here.
Quick Introduction to El Nido
Average price for a bed: Hostels in El Nido cost 8€ – 19€ per night for a bed in a dorm. A private room starts from 14€ up to 53€ per night. This is a rough average just to give you an idea.
Prices always depend on season and holidays. Please always check exact rates on Hostelworld.com or Booking.com.
Check-In and Check Out: The average check-in time is from 15:00 (3pm), while the Check Out time is before 11:00 (11am). Hostels usually offer luggage storage in case you arrive earlier or leave later. Make sure you check if luggage storage is free or if there is an extra cost.
New to Hostels? Read our full hostel starter guide here. We especially recommend to read:
The 3 Best Hostels in El Nido
Let's jump right into the boutique hostels in El Nido.
We put all three accommodation on the map, you will find the map at the end of the article.
1. SPIN Designer Hostel (5 star hostel)
Let's go for a SPIN!
Stroll from 5 star hostel SPIN Designer Hostel to a surf friendly beach in less than 1 minute!
Easily the #1 choice in El Nino. This hostel offers unique design, green values and a chilled atmosphere.
Can we use the word handsome to describe facilities and social spaces? It's the perfect adjective, in our opinion.
Regardless, SPIN has done well to create exceptional comfort in well-thought of spaces.
Shall we have a sneak peak at what's on offer?
There happen to be four main social spaces to hang out in. These are:
The Nest: central hub, seriously Instagramable
The Deck: outdoor space, great breakfast area w/ music & limestone views
The Woods: garden & outdoor amphitheater
The Table: good food, great conversation
To make each one more enjoyable, there is brewed coffee and local tea on offer every afternoon between 4-6pm.
Grab a book from the library or challenge a friend with one of the many board games.
If that's not enough, social butterflies are going to love the activities and events.
From BBQ nights and beer pong tournaments to basketball games with locals and beach clean ups – there's so much to try.
We can't leave it there without mentioning the rooms.
Choose from: private bunk (1-2 beds), private single, all-female dorm (4 beds) and mixed-dorm (4 beds).
Each one includes a complimentary brekky, en-suite and big lockers. Prepare to be spoilt.
Find out more at our full guide to SPIN Designer Hostel here.
Location: Let's mention this again – SPIN is just 1 minute from the beach. Handy stores, restaurants and shops are all within walking distance, too.
This is one of the best hostels in El Nido for
Compare prices and read reviews at: Booking.com | Hostelworld | Full Guide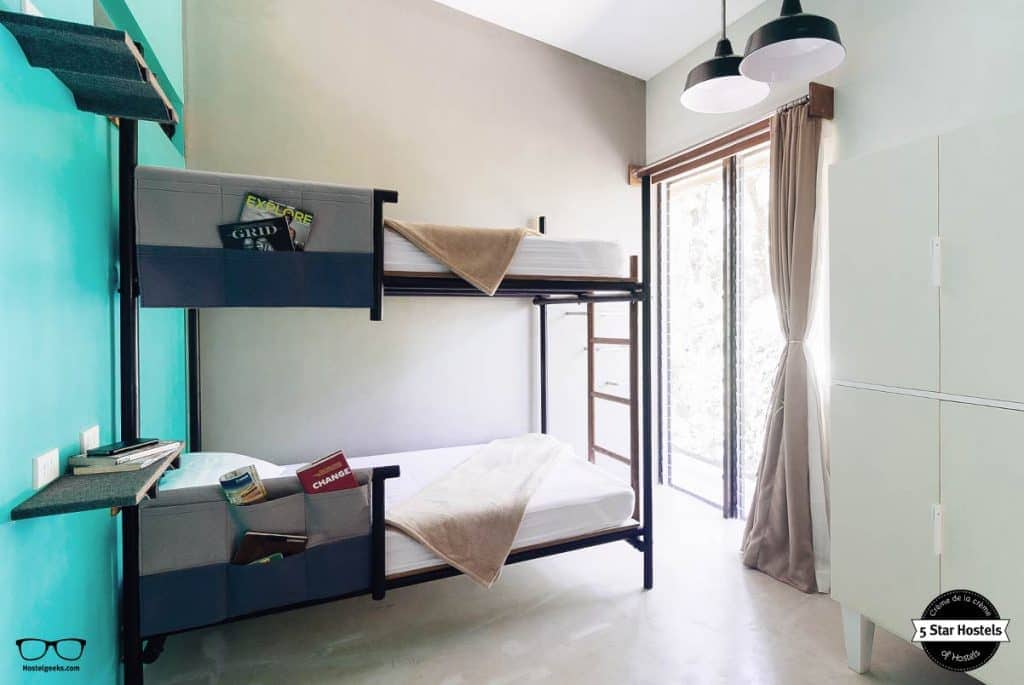 2. Happiness Hostel
Happiness Hostel is a stunning premiere hostel option for the cost-conscious traveller, yet doesn't lack awesome design and friendly atmosphere.
Stay here if you enjoy a chat and good food.
That's right; Happiness will overflow when you see the menu at the on-site veggie restaurant and bar.
Hint: guests say the falafel is out-of-this-world delicious.
It's a great El Nido backpackers accommodation, and one for solo travellers.
Each space is filled with bright design and warming furniture. The bamboo details are lovely!
As you wander around, have a read of the thought-provoking quotes.
Soon you'll realise everything is designed to make you smile. Is it working?
Note: there is only one room type here, a 6-bed mixed dorm.
Expect to enjoy privacy and comfort in your pod-style bunk. Solid as a rock – there will be no squeaking here.
When you're ready to shut the world out, slide the door across. Simple.
Important: the free Wi-fi can only be enjoyed in the common areas.
If staff are an important part of your experience, El Nido will please you. They go above and beyond to make every single guest feel welcome.
Location: Right across the road from the beach. Sea views can be enjoyed from the balcony swing.
This is one of the best hostels in El Nido for
Solo travellers
Backpackers
Compare prices and read reviews at: Booking.com | Hostelworld
3. Frendz Hostel El Nido
Going by the name, we can say with ease that Frendz Hostel El Nido is a wonderful option for meeting like-minded travellers.
Every traveller type is welcome to join the Frendz tribe.
To support this, both dorm and private rooms are available.
There is a bed for every budget:
Standard double private
4-bed family room
6-bed female dorm
6-bed mixed dorm
We're fans of smaller, more intimate dorms. They allow for socialising and privacy.
It's no exception here. Each bed is personalised and super cosy. There's even a towel on your bed!
Couples can collapse in big, plush beds and take advantage of swanky en-suites.
Now let's get back to the fun atmosphere of this place.
Where better to spend an afternoon than in the rooftop pool! Just look at those views!
Grab a drink from the bar next door and then head down to the on-site restaurant. Guests receive 10% off.
Resident DJs and local artists often play, creating a great party vibe. Yet a peaceful sleep can still be enjoyed.
Location: Right next to handy shops and restaurants, just minutes from the beach. Paradise.
This is one of the best hostels in El Nido for
Compare prices and read reviews at: Booking.com | Hostelworld
What about cheapest hostels in El Nido?
Of course, there are always cheap hostels.
We think, it's not worth it to go with the cheapest hostel out there.
Why?
The difference is usually 1-2€ ($1-2) per night, and a lot of amenities are not included. This can be breakfast or linen.
However, if you are traveling on a shoe-string budget and you wanna save every penny, there are ways to find the cheapest places in El Nido.
Open Hostelworld with full list of budget places to stay in El Nido
Order the listing by price
Simple as that.
Read: 15 hacks for booking hostels
Make sure you use then the other filters and rank per price.
Also keep a close eye on the ratings, especially the "extreme ratings". Meaning, the best and worst. These ratings can give great insight on what to expect.
Best Hostels in El Nido for Solo Travellers?
What is seriously the best hostel in El Nido for solo-travellers?
For the solo ladies out there, SPIN Designer Hostel is the top choice in El Nido for you.
It's a great female solo traveller hostel because of the single-sexed dorms. Four bed rooms means intimate discussions, privacy and quiet time.
Yet although we highly recommend it for women, we also want to state that SPIN is great for every type of solo traveller.
Including older travellers.
That's thanks to the single bed privates and plenty of big spaces to spread out in.
The atmosphere is beautifully balanced between social and 'me time'. We love it, and we're sure you will too.
Compare prices and read reviews at: Booking.com | Hostelworld
Party Hostels in El Nido
Remember earlier when we said the best party hostel in El Nido is right on the beach?
We weren't kidding. Welcome to Mad Monkey Hostel Nacpan Beach.
Undoubtedly the place to be for a party because of the…
30 mins of free drinks every evening
Resident DJs
BBQs, volleyball & paddle boarding
Awesome fun staff
If you're around for a while, you may fancy joining the twice-weekly booze cruise. Super fun!
Wind down in the common room and choose between bamboo-bed dorms and tent accommodation.
Compare prices and read reviews at: Booking.com | Hostelworld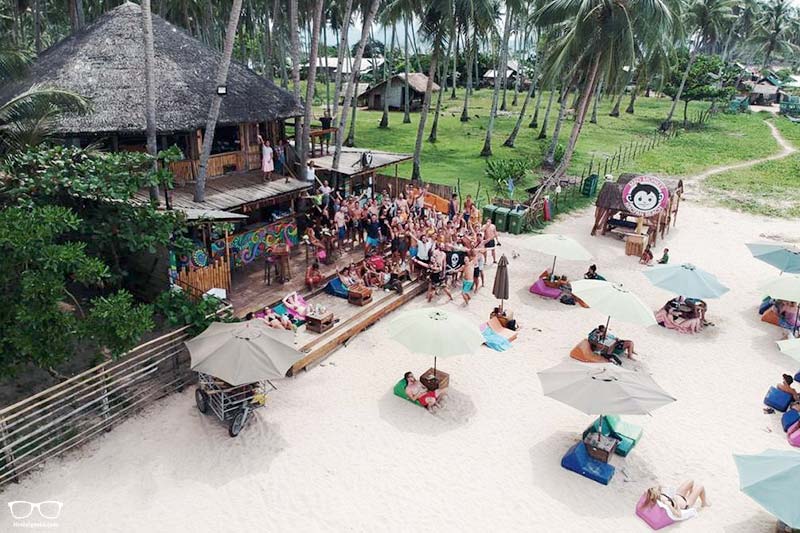 How to book?
We recommend using Booking.com or Hostelworld for your reservations.
Hostelworld is the most popular website when it comes to hostel bookings.
Read: step-by-step guide on how to book with Hostelworld
On both platforms your credit card is 100% protected and the booking 100% confirmed.
We included the handy links to each of the recommended hostel. Just click on the hostel name. The link will lead you to check prices and availability.
Here is the overview:
We recommend booking your hostel as early as possible!
All of El Nido best hostels are popular; especially in high-season. To make sure you end up in those stylish hostels, secure your room or bed as soon as you have your travel dates fix.
Any Discounts?
Currently, we have no special hostel discounts in El Nido. I know, it's a pity. You can subscribe to our newsletter to receive our newest hostel discounts always to your inbox.
You can find all our hostel discounts worldwide here.
All 3 Hostels put on a map + sights
Let us have a look on the map. Below we list all three best El Nido hostels on a map.
Personally, we love to plan our trips with a map having all sights and potential hostels on it. We thought this map will help you with planning your trip too.
We also included the main tourist attractions you've to know in this list:
Nacpan Beach
Secret Lagoon
Shimizu Island
Cathedral Cave
Papaya Beach
Big Lagoon
Have a blast and enjoy a Island Hopping and Beaches tour.
(View the full size map here)
Flights to El Nido?
We enjoy Kiwi.com to find cheap flights all over El Nido.
This new website has super cool features like a so-called radius search. Just draw a circle over Asia and find the cheapest rates for the area.
Here is our review of Kiwi.
More guides
Alright, this is your answer to where to stay in El Nido.
We did the leg work for you and bring you more hostel guides to destinations:
There are so many awesome hostels in Asia to explore.
You can find all our new and updates articles for Best Hostels in here.
We also created a huge guide to hostels. Here we cover how to build lifetime friendships in hostels, the perfect packing list and more.
Over to you
Was this useful? Do you have any questions, doubts?
Then please please leave us a comment. This list of awesome El Nido hostels should be as informative and useful as possible.
Your question will help me to understand what I have missed to mention.
Therefore, drop us a comment, we are keen to help you!
Last note: Our commitment

This is a genuine article to help you travel a bit smarter and find the best place on a budget! We ONLY recommend places we know you will enjoy, no matter what.
We will never recommend you any place we haven't evaluated or are not convinced by. We only share with you places we also recommend to our best friends and family!
Enjoy this fine hostel selection and all 5 Star Hostels.
– – –
pin it for later

Your Smart Packing List
It is time to see what you should pack in your backpack or suitcase. Make sure you always pick a quality hostel, it totally reduces the things you need to pack. Here is our ultimate hostel packing list. It features 23 items you should really throw in your backpack.

The most important things to pack are: Read the full packing list here.