We welcome you to the 3 best hostels in Porto, Portugal. Where cobbled streets and port wine come together perfectly. Oh and awesome hostels, of course!
Porto has many EPIC and outstanding hostels. It can be so overwhelming!
This is why we handpicked only 3 to showcase the absolute coolest Porto Hostels.
We have reviewed them in person. We actually went to all these hostels (and more)! Yes, we are absolute hostel nerds.  We only show you places we recommend our best friends too! Oh, and we bring you also some juicy insider tips. Keep reading!
Not only will be deliver our handpicked favourite three, but you'll also discover the best party hostels and the best hostels in Porto for solo travellers.
This guide is perfect for YOU, when …
tired of bad and crappy hostels
want to avoid the "young party kids"
happy to spend 1-2€ for a better experience
Looking for 5 Star Hostels? You're in luck! There is a 5 Star Hostel in Porto – The Passenger Hostel.
It will probably knock your socks off.
In this Porto guide we cover:
Whilst you're visiting you should definitely check out the 11 Hidden Gems of Porto.
Quick Introduction to Porto Hostels
Average price for a bed: A bed in a dorm can be as cheap as 10€ up to 16€ per night.
A private room in a hostel in Porto starts from 30€ up to 89€ per night.
This is a rough average to give you an idea. Prices always depend on season and holidays.
Please always check exact rates on Hostelworld.com or Booking.com.
Check-In and Check Out: The average check-in time is from 15:00 (3pm), while the Check Out time is before 11:00 (11am). Hostels usually offer luggage storage in case you arrive earlier or leave later.
Make sure you check if luggage storage is free or if there is an extra cost.
Quality of Hostels: The level of hosteling in Porto is high, same as in Lisbon. It is also cheap, which means you get an excellent price-service-ratio.
There is no need to hold back and stay in a bad hostel in Porto, there's plenty of fantastic choices, as you are about to find out.
Party Hostels in Porto: You will not find a super crazy party hostel in Porto, but for sure great, social places to have your drinks. Jump here to our recommendation for Best Porto Party Hostels.
That being said, if you fancy a hostel for partying, we recommend joining a Pub Crawl.
Almost all hostels offer a Pub Crawl and some of them bring you to the Porto best bars!
Porto's nightlife is cheap and the bars are real fun.
New to Hostels? Read our full hostel starter guide here.
We especially recommend to read:
The 3 Best Hostels in Porto, Portugal are…
Grab yourself a glass of port and get comfy. It's time to delve in to the best and coolest hostels in Porto, Portugal:
The Passenger Hostel – great for female solo travellers + couples + families
2. Bluesock Hostels Porto – top pick for groups + digital nomads
3. Porto Wine Hostel – coolest hostel in Porto for backpackers
The overall BEST hostel in Porto is The Passenger Hostel.
You will be impressed on so many levels.
It is perfect for all types of travelers; except the hardcore backpacker type. Keep on reading.
1. The Passenger Hostel (green, modern 5 Star Hostel)
Are you ready for a truly exceptional hostel that takes hosteling to a brand new level?
We bring you The Passenger Hostel, our only 5 Star Hostel in Porto.
It's located in one of the most beautiful train stations in the world; Sao Bento Station.
The shared and private accommodation is decorated with vintage furniture, blended with contemporary design.
If we would need to pick a room of all our 5 Star Hostels for competing with a 5 Star Hotel –
we would pick the Luxury Suite of The Passenger Hostel!
Good to know: The Passenger offers lower rates on their official website. Read our review for the details.
Compare prices at: Booking.com | Hostelworld | Full Review | Official Website
Is there a Kitchen too? Yes, you have a huge, proper and fully equipped kitchen under the roof.
You can cook up your own meals, no problem.
Did you already see the unique design of the private room options?! They're so spacious!
Alongside these private spaces, there are male and female only dorms – there will be no sexism at Passenger.
Of course you can also expect mixed dorms for those that like to mingle.
Read: Hostel Room Types – what are the differences?
To accommodate the possible 123 guests, there are two big, equipped kitchens on site.
We recommend using the one on the 3rd floor as it incorporates a large living room, plasma TV and music.
Don't forget that this is where breakfast is served each morning. Yes, it's free!
But ok, what's more exciting than a kitchen?

A bar and lounge!
Open to the public from 9am to 6:30pm, it then becomes exclusively paying guests only.
Head here for a drink and get to know your roommates.
Important: There is a curfew at 24:00. You can always enter and leave the hostel of course.
There is a security, making sure everything is safe.
What about the location of The Passenger? We call it PERFECT!
You will be staying literally inside the Sao Bento Train Station. It is the heart of the city.
You have the Clerigos Tower Porto in just 5 minutes walking distance, as well as the famous Livraria Lello – The "Harry Potter Book Shop".
From here you can even walk over to the famous Luís I Bridge and the board walk.
Super epic insider knowledge: Right next door you have a fantastic restaurant, called Tabapento.
This might be the best restaurant in Porto.
It is slightly more expensive than the average; but oh boy…the food (and desserts) is out of this world.
Who stays at The Passenger Hostel?
You find everything from Solo Female Travelers, to social couples, business men and even families.
Since the dorms and sleeping areas are separated from the common areas, you can sleep quietly at night.
And if you fancy, head down to the bar and play some board games or just socialize.
The bar downstairs is the best place to socialize and meet. Get a beer or a port wine from the bar.
Remember to ask the staff for the walking tour and their surf tour.
We visited ourselves and put together this full review of The Passenger Hostel just for you.
If you love clean, safe and stylish hostels, this is YOUR place.
If you have doubts about staying in hostels, then give The Passenger Hostel a try.
This will change your perspective forever!
The Passenger Hostel is the best hostel in Porto for:
Female Solo Travellers
Couples
Families
Compare prices and read reviews at: Booking.com | Hostelworld | Full Review | Official Website
Last but not least, here is a video that will give you an even deeper understanding on what to expect.
2. Bluesock Hostels Porto (large and social hostel)
Bluesock Hostels Porto is located in a traditional blue-tiled building which still has wooden beams and stone walls, near the boardwalk.
Here you'll find rooms that adapt to all tastes. And we really mean it, check it out:
4, 6, 8 + 12-bed mixed dorms
13-bed mixed dorm w/ bathroom + XL mattresses
8-bed female only dorm
Private suite w/ city views
Double room
Twin room
See! All rooms come with linen and dorms have their own private curtain and locker space.
The friendly staff are at hand 24/7 to assist you, and that means great security so you can rest easy.
Truth be told, this is a great place for tranquil travelers.
It is not a backpacker place at all, but more for adult travelers looking for a quality hostel and the occasional chats between travelers.
Compare prices and read reviews at: Booking.com | Hostelworld
Honestly, Bluesock has thought of so many things, all you have to worry about is enjoying yourself.
To give you an idea, there is a…
24-hour common area
Library
Weekly events
Free welcome drink + city tour
Games room
On-site bar (7pm-11pm)
Dedicated work space
Note: late check-out after 11:30am is subject to availability and free if booked online.
There is a breakfast option available for 3.50€ or for free if you're in a private room.
Bluesock is located in Ribeira, the historical centre of Porto, and just steps from the main attractions of the city. The location is great, and you are surrounded by bars, restaurants, and so many sights.
Bluesock Hostels Porto is the best hostel in Porto for:
Compare prices and read reviews at: Booking.com | Hostelworld
3. Porto Wine Hostel (small, fun + themed)
Choose to stay at Porto Wine Hostel and you wll be welcomed with a complimentary glass of port. Nice, right?
Now that is how a good hostel experience starts for sure!
As you've probably guessed, this is a port wine themed hostel, with each floor representing a different wine category, and each room with its own wine type.
There's a total of 10 rooms here divided between 4, 6 and 8-bed mixed dorms.
There is also a basic double private option. The double room is sold out fast.
When sold-out, try The Passenger Hostel for a private room.
Note: The dorm rooms have basic bunk beds, and no curtains, but individual lights. Linen is included.
Compare prices and read reviews at: Booking.com | Hostelworld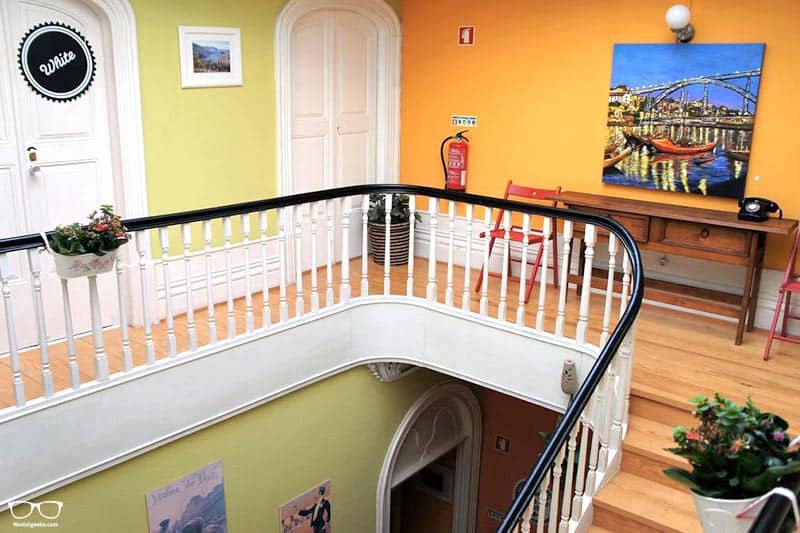 Head on down to the bar to enjoy a range of yes,

you guessed it: Porto wine!
But don't worry, if you're not keen on port there are cocktails on offer too. Oh, and it's open 24-hours.
The living room is the perfect place to relax, meet people or play the piano and guitar.
Read: Ultimate list of +114 gorgeous Design Hostels
In the fully-fitted kitchen you'll discover a buffet breakfast each morning and all you need to rustle up a delicious dinner.
All there is left to do is grab your free city map, ask about available tours or get yourself a bike rental and explore.
It's easy to do when you're in a central locations surrounded by nightlife, restaurants and the Douro River.
Local buses and trams can get you to different parts of the city.
Port Wine Hostel is the best hostels in Porto for:
Backpackers
Solo Travellers
Compare prices and read reviews at: Booking.com | Hostelworld
Best Hostels in Porto for Solo Travellers
As a solo traveler you are probably looking for a safe, clean and social place.
It should be easy to meet and the hostel should have the proper setup for that special hostel vibe we all love.
As mentioned before, as a Solo Traveller we highly recommend The Passenger Hostel.
We stayed here, met a bunch of solo-travelers, and we all hang out the days we spent in Porto together. Fun times!
Alongside The Passenger Hostel and Porto Wine Hostel, we've found another great option for solo travellers in Porto.
Welcome to Gallery Hostel Porto Portugal.
This Eco-friendly and neat hostel has facilities and a level of cleanliness that matches the best hotels on offer.
It's the friendly staff that will make you feel welcome and relaxed, and the free walking tour that will break the ice with fellow travellers.
There's a bi-monthly changing of art exhibitions here, as well as concerts and other artistic initiatives.
Choose between intimate 4 or 6-bed mixed dorms and get excited for the free breakfast – it includes scrambled eggs!
Gallery Hostel Porto is located between the art district and nightlife neighborhood, a 10-15 minute walk from the centre.
Personally, we prefer staying inside the city center, like with The Passenger or Bluesocks.
Compare prices and read reviews at: Booking.com | Hostelworld
Best Party Hostels in Porto?
If you're in search of a great party hostel Porto that will impress, we think you will love Yes! Porto Hostel.
This hostel is a well known hostel in Porto Portugal and has everything a great party hostel needs:
Central location near bustling nightlife
Friendly staff with tons of ideas
Organised events + parties
Nightly group dinners
The rooms are premium, including dorms and everything is super modern. Need we say more…?
Again, Porto does not have the super crazy hostels for partying. By no means the hostels are boring here. NOPE!! It just the big party is usually outside the hostel, like in the nightlife area Baixa.
Here you find clubs like Plan B Club – Port and the fun bar Flow.
Our best tip: Ask your hostel of choice about their Pub Crawl. Pub Crawls are a big thing in Porto, and certainly a super cheap way to enjoy the Nightlife in Porto. Back in 2017 we joined one – FUN times too!
Compare prices and read reviews at: Booking.com | Hostelworld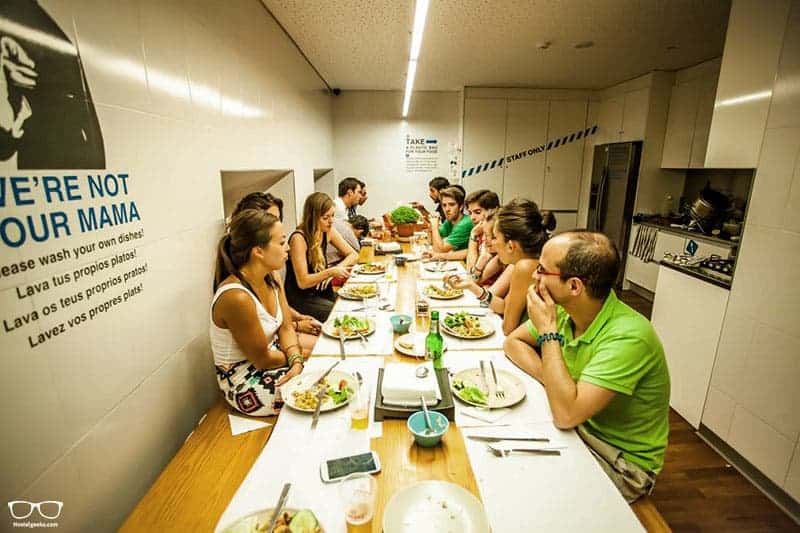 Cheapest hostels in Porto
Of course, there are always cheap hostels all around. And certainly there are cheaper hostels in Porto Portugal than the ones we listed here.
We think, it's not worth it to go with the cheapest hostel out in Porto.
Why?
Prices are very reasonable in Porto. The difference between a cheap hostels and a nice one is usually 1-2€ ($1-2) per night, and a lot of amenities are not included. This can be breakfast or linen. keep in mind a bad location far away from the city center costs you more in transport.
The best place to stay in Porto is really the city center. You will save money on transport, as many sights are in a walking distance, and it will be easy to find good places to eat and drink (also cheap options).
Good to know: The difference in quality for 1€-2€ more (or less) is actually insane. Paying 1€ less per night in a cheap hostel in Porto could easy come with a bigger expense in transport.
Rule of Thumb: Never go with the cheapest hostels in Europe. Always pay a tiny bit more, and you will save more money than you thought. Linen, towels and breakfast can be expensive in some cities in Europe.
However, if you are traveling on a shoe-string budget and you wanna save every penny, there are ways to find the cheapest places to stay in Porto.
Open Hostelworld Porto  full list of accommodations
Order the listing by price
Here you go. It is simple. Yet again, we recommend to "invest" 1-2€ more per night. That tiny difference goes a long way and you will feel and see the difference in hostel quality.
Any Discounts or Promo Codes?
Currently, we have no special hostel discounts in Porto. So for now you can subscribe to our newsletter to receive our newest hostel discounts always to your inbox.
We also do have a 35€ discount for Airbnb here.
Things to do in Porto
Alright we have covered where to stay in Porto. What about things to do?
We have found super cool activities, you won't be bored.
We recommend staying 3 nights in Porto. This gives you enough time to do the real cool stuff around here, and enjoy the beaches, the wine, the food, even the nightlife.
We have done a bunch of cool things to do in Porto. And we are sharing all our hidden gems to Porto here.
Walk the Luís I Bridge
Visit and enter the Livraria Lello; the Harry Potter Library (Note that you need a ticket now to enter!)
Clérigos Church
Monument Church Of St Francis
Wine bar: Prova Wine&Food (try the best Porto wine!)
Jardins do Palácio de Cristal
Tea Room and Breakfast Spot: Rota do Chá
Beautiful beach and a Chapel: Capela do Senhor da Pedra
Vegan & Vegetarian Buffet on a Swing
Hipster Thing to do in Porto: Combi Café
Day Trip to the birthplace of Portugal: Guimarães
Best Day Cruise
There is a new cool WALKING TOUR
Vintage Café: Moustache Café
Restaurant Comme Ça
Map of Porto Hostels + TOP Sights
Below we've put together a super handy map pinpointing the best hostels in Porto and must see sights.
This map will help you to take a decision.
As you can see, most hostels are in the center, the best location for sure.
The top Porto attractions are:
Luis I Bridge
Livraria Lello
Clerigos Church
Bolsa Palace
Porto Cathedral
Music House
Jardins do Palacio de Cristal
Mercado do Bolhao
Looking for fun things to do whilst you're in Porto? Perhaps you'd like to…
Save money with the Porto Card with Transportation, valid for 1, 2, 3 or 4 days.
Public transport is frequent and reliable in Porto.
Consider buying a Hop-on Hop-off Bus, Tram and Furnicular ticket.
Remember to make time for the 11 hidden gems of Porto.
Flights to Porto, Portugal
Porto was known for years as a hidden gem. We still think it is fairly new to the game, and it is one of the cities that kept its charm besides the tourism conquering it.
The good news: You can find many cheap flights to Porto from many destinations around Europe.
You can fly cheaply from the Netherlands, UK, Barcelona, Bologna and Paris.
Usually it is cheaper to fly into Porto than Lisbon. Many backpackers therefore fly in to Porto, spend here 2-3 nights and then take a train to Lisbon.
We enjoy Kiwi.com to find cheap flights all over Europe including Porto and Venice.
This new website has super cool features like a so-called radius search. Just draw a circle over Europe and find the cheapest rates for the area.
Here is our review of Kiwi.
More Epic Hostels in Portugal and Europe
Right then, by now you have found your coolest hostel in Porto.
The answer to the top hostels in Portugal  is right here.
You know what, we have written even more European guides for you.
We at Hostelgeeks are here to help you to stay in safe and epic hostels around the world. Check out the finest hostels in the world, the 5 Star Hostels.
For more cool hostel guides around Europe, check out:
Find all our hostel guides around the world here.
Over to you
We hope you're pretty excited by the selection of hostels in Porto, Portugal we just delivered. Which one will you choose?!
Are you left with any questions, doubts?
Then please please leave us a comment. This list and answer to your question where to stay in Porto on a budget should be as informative and useful as possible.
Your question(s) will help me to understand what I have missed to mention. You will have your questions answered and help me and your fellow travellers by improving this article further.
Therefore, do not be shy, drop us a comment, we are always keen to help you, no matter what type of traveller you are!
Last note: Our commitment
This is a genuine article to help you travel a bit smarter and find the best place on a budget! We ONLY recommend places we know you will enjoy, no matter what.
We will never recommend you any place we haven't evaluated or are not convinced by. We only share with you places we also recommend to our best friends and family!
Enjoy this fine hostel selection and all 5 Star Hostels.
 – – –
pin it for later
Your Smart Packing List
It is time to see what you should pack in your backpack or suitcase. Make sure you always pick a quality hostel, it totally reduces the things you need to pack. Here is our ultimate hostel packing list. It features 23 items you should really throw in your backpack.

The most important things to pack are: Read the full packing list here.