Welcome to our complete guide to the 3 best hostels in Mumbai. It's the only one you're going to need!
This is the home of Bollywood and bling. Something to certainly get excited about.
Before you take on the crazy streets of Mumbai, you should determine where exactly you're going to stay. So we've made this guide to make your planning even easier.
We've found homely pockets amongst alien culture so you can relax, make friends and well, feel at home in Mumbai.
This Mumbai Hostels guide is perfect for YOU, when …
tired of bad and crappy hostels
want to avoid the "young party kids"
happy to spend 1-2€ for a better experience
Unfortunately, you won't be finding any 5 Star Hostels in Mumbai right now. We do however have a guide for the 3 best hostels in Delhi worth checking out.
In this guide to Mumbai hostels, you'll find:
Quick Introduction to Mumbai Hostels
Average price for a bed: A bed in a dorm can be as cheap as 0.73€ up to 10€ per night. A private room in Mumbai is between 12€ and 30€.
Hostelling in India can be really, really cheap, yet we do not recommend the cheapest option. See our cheapest hostels section to find out why.
Prices always depend on season and holidays. Please always check exact rates on Hostelworld.com or Booking.com.
Check-In and Check Out: The average check-in time is from 15:00 (3pm), while the Check Out time is before 11:00 (11am). Hostels usually offer luggage storage in case you arrive earlier or leave later. Make sure you check if luggage storage is free or if there is an extra cost.
Areas in Mumbai: Colaba is certainly the place to be if you want to be close-by the touristy sights and city mayhem.
Choose a hostel in Andheri if you prefer a quieter, more local experience. There is still option for nightlife if that's your thing.
Student hostels in India: It is quite common for Indian students to live in a hostel during their studies. Be aware that these are usually not the nicest ones because they are cheap and awkwardly located. The best hostels in Mumbai for students are not necessarily so for backpackers!
On the plus side; there are tons of cool backpacker hostels in Mumbai. As a traveller, you should opt for the backpacker hostels, including the great hostels included in this article.
So, please, make sure you check if your hostel is for students or actual travellers. It is a huge difference in India.
New to Hostels? Read our full hostel starter guide here. We especially recommend to read:
The 3 Best Hostels in Mumbai are…
Shall we ready, set, go to Mumbai? Come on then, let's discover the coolest hostels in the city:
Backpacker Panda Colaba – great for backpackers
2. Hostel Mantra – top choice for female solo travellers
3. Zostel Mumbai – best for solo travellers
1. Backpacker Panda Colaba (great location + security)
To kick start this Mumbai guide, we bring you a new, modern hostel in the heart of one of the most vibrant parts of the city. Welcome to Backpacker Panda Colaba.
It had all the makings of a social, spacious and familiar hostel.
We really like the random artwork on the walls – it really adds colour and character to the place.
Compare prices and read reviews at: Booking.com | Hostelworld
Standard dorms come in all sizes, from 4-8 beds. This includes a female dorm with ensuite. Beds are big and lockers generous!
Of course private options are also available. You'll be spoilt with air-con and private bathroom. Spend a bit extra and opt for the 'premium' room.
Read: Hostel Room Types: What are the Differences?
The kitchen has everything needed to rustle up a feast if you don't fancy going out to look for food.
No worries if you're arriving at an unsociable hour; reception is open 24 hours. Always a relief, right?
It's the location of Backpacker Panda that really gives it the edge. Colaba is where it's all happening, and a perfect spot to soak up all of the main attractions.
Backpacker Panda Colaba is the best hostel in Mumbai for:
Compare prices and read reviews at: Booking.com | Hostelworld
2. Hostel Mantra (rooftop chill, anyone?)
Hostel Mantra has it all summed up perfectly in one sentence:
Our SPACE is not created just for LIVING but for an exhilarating EXPERIENCE.
If you're looking for caring staff that offer free hugs, you'll love it here.
Honestly? This very much has a European feel to it, rather than an Indian one. So it's perfect for those feeling a little overwhelmed by it all.
Compare prices and read reviews at: Booking.com | Hostelworld
It's also located in a less-touristy area called Andheri, so although it takes a bit longer to get places, you'll experience more of a local feel here. It's a lot more peaceful.
What about the common spaces? You'll love the:
Rooftop chill zone
Outdoor common area
Coconut tree in the backyard
Read: 7 Types of Hostel
Enjoy a simple breakfast to start your day, and feel free to use the kitchen for lunch and dinner.
We have to say, the rooms look great! They're bright, colourful and sociable thanks to the lack of curtains. Each room is designed with one specific element in mind.
Note: just be aware that there are not windows in every room type.
Choose between mixed and female only dorms and standard double and twin rooms.
Hostel Mantra is the best hostel in Mumbai for:
Female solo travellers
Couples
Compare prices and read reviews at: Booking.com | Hostelworld
3. Zostel Mumbai (play games, drink coffee)
This claims to be the biggest and liveliest hostel in Mumbai, and we're certainly not going to dispute that.
Zostel Mumbai is just 4km away from the airport, and located in the Andheri district, close to the famous nightlife.
Compare prices and read reviews at: Booking.com | Hostelworld
Being bored is not really an option here when you have…
Bollywood themed rooftop
Common area w/ games
Cafe w/ great coffee
Go on, get sociable!
Read: Sex in Hostels? 10 Do's and Dont's to ALWAYS remember
The rooms are a nice size, too. The maximum amount of beds in a dorm is 8, with a 6-bed just for the ladies. There's even a triple room for the third wheelers out there!
The Wi-Fi and travel assistance is free, and no doubt you'll appreciate the hot showers after a long day in the city.
Zostel Mumbai is the best hostel in Mumbai for:
Solo travellers
Social butterflies
Compare prices and read reviews at: Booking.com | Hostelworld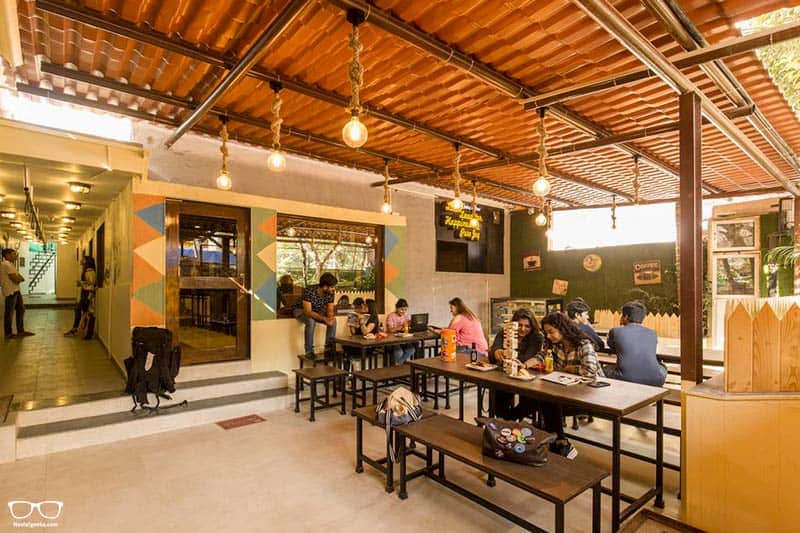 Best Hostels in Mumbai for Solo Travellers
As a female solo traveller, safety is sometimes a concern.
But never fear; we found two great options for you:
1. Hostel Mantra
2. Zostel Mumbai
There are of course a couple of differences between the two.
Hostel Mantra is in a quiet, safe neighbourhood and has many familiarities to home.
Zostel Mumbai is part of a big chain across India, so their security and style has been modified to a high standard.
The social spaces at Hostel Mantra are superior, so it's a wonderful place to meet other travel buddies.
Best Party Hostel in Mumbai
So we had a good look and honestly, we did not find a party hostel in Mumbai. Yet that doesn't mean there aren't options for having a good time!
Not classed as a party hostel, Zostel Mumbai has everything to set you up for a good night in the city.
At the hostel you have a rooftop to chat and a common area with games to get the social vibes rolling.
Nearby is a large nightlife scene. This is perfect if you want to continue the party without disturbing other hostel peeps. It also means you can go back and enjoy a good nights sleep once you're done.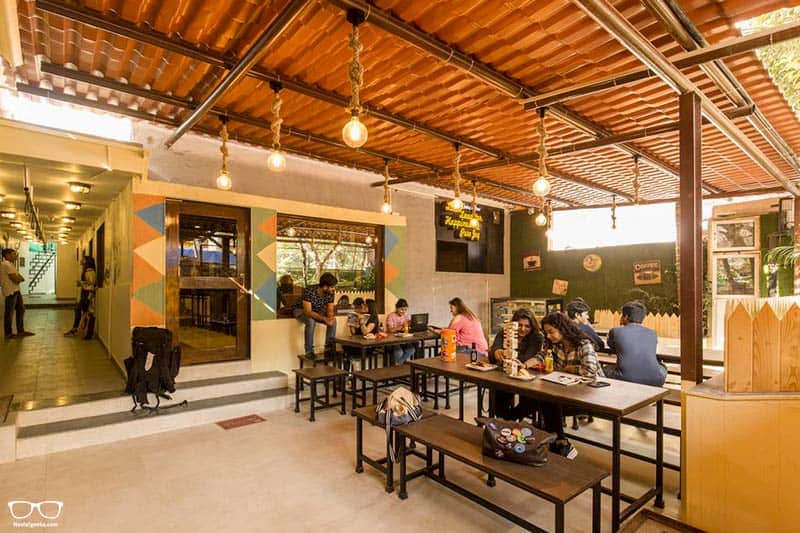 Cheapest Hostels in Mumbai
Of course, there are always cheap hostels.
Yet we think it's not worth it to go with the cheapest hostel out there.
Why?
The difference is usually 1-2€ ($1-2) per night, and a lot of amenities are not included. This can be breakfast or linen.
Although, keep in mind a bad location far away from the city centre costs you more in transport.
However, if you are traveling on a shoe-string budget and you wanna save every penny, there are ways to find the cheapest places in Mumbai.
Open Hostelworld with full list of accommodations in Mumbai
Order the listing by price
Simple as that.
Good to know: Make sure you select the accommodation type you actually want. Many homestays and guesthouses claim to be a hostel. Fact is, they are not. Hostels offer common areas and are social.
Read: 12 definitions on what is a hostel
Any Discounts?
Currently, we have no special hostel discounts in Mumbai. You can subscribe to our newsletter to receive our newest hostel discounts always to your inbox.
You can find all our hostel discounts worldwide here.
We also do have a 35€ discount for Airbnb here.
Map of Mumbai Hostels + TOP Sights
Now it's time to pinpoint all of the Mumbai hostels on a map!
Alongside this, you'll spot some great sights worth checking out whilst you're in the city:
Gateway of India
Marine Drive
Chhatrapati Shivaji Maharaj Terminus
Chhatrapati Shivaji Maharaj Vastu Sangrahalaya
Haji Ali Dargah
Siddhivinayak Temple
Hanging Garden
More cool activities to consider in Mumbai:
Flights to Mumbai
We enjoy Kiwi.com to find cheap flights all over Asia including Mumbai, Delhi and Colombo in Sri Lanka.
This new website has super cool features like a so-called radius search. Just draw a circle over Asia and find the cheapest rates for the area.
Here is our review of Kiwi.
More Hostels and Destinations
When in India, you might consider travelling as well to Sri Lanka. We spent here a full month and fell in love with the culture, the food, and incredible nature – and of course their hostels.
Check our guide here to the best hostels in Sri Lanka.
Find all the best hostels in Asia here.
Over to you
So here you go, we just gave you the 3 best hostels in Mumbai, India. We hope you love them as much as we do!
Do you have any questions, doubts?
Then please leave us a comment. This list of awesome Mumbai hostels should be as informative and useful as possible.
Your question(s) will help me to understand what I have missed to mention.
Therefore, do not be shy, drop us a comment, we are keen to help you!
Last note: Our commitment
This is a genuine article to help you travel a bit smarter and find the best place on a budget! We ONLY recommend places we know you will enjoy, no matter what.
We will never recommend you any place we haven't evaluated or are not convinced by. We only share with you places we also recommend to our best friends and family!
Enjoy this fine hostel selection and all 5 Star Hostels.
 – – –
pin it for later
Your Smart Packing List
It is time to see what you should pack in your backpack or suitcase. Make sure you always pick a quality hostel, it totally reduces the things you need to pack. Here is our ultimate hostel packing list. It features 23 items you should really throw in your backpack.

The most important things to pack are: Read the full packing list here.