Namaste! To ensure your venture to a city of 1 million is safe, fun and memorable, we've put together this epic guide to the 3 best hostels in Kathmandu, Nepal.
This is the land of incredible hiking opportunities, stunning architecture and the goddess of Kumari.
And of course great hostels. No doubt you saw that one coming!
Your shortcut:

Yakety Yak Hostel – top pick for solo travellers
Yog Hostel – great for couples
Zostel Kathmandu – one for backpackers
We've collected fun hostels in Kathmandu to suit design lovers and solo travellers that love a cosy shared dorm.
This guide is perfect for YOU, when …
tired of bad and crappy hostels
want to avoid the "young party kids"
happy to spend 1-2€ for a better experience
Looking for a party hostel to create memories? You needn't search anywhere else – we've found the coolest party hostel in Kathmandu just for you.
You can find all 5 Star Hostels here with Hostelgeeks and all guides to "Best Hostels In" here.
Quick Introduction to Kathmandu
Average price for a bed: Hostels in Kathmandu cost 2€ – 8€ per night for a bed in a dorm. A private room starts from 9€ up to 30€ per night. This is a rough average just to give you an idea.
Prices always depend on season and holidays. Please always check exact rates on Hostelworld.com or Booking.com.
Check-In and Check Out: The average check-in time is from 15:00 (3pm), while the Check Out time is before 11:00 (11am). Hostels usually offer luggage storage in case you arrive earlier or leave later. Make sure you check if luggage storage is free or if there is an extra cost.
Student Hostels in Kathmandu: It's helpful to know that there is a wide range of private boys and girls hostels spread across Kathmandu. These are designed for students or young working people looking for shared accommodation.
Luckily for you, most of these 'hostels' have the word Boys or Girls included, so it should be quite obvious which ones to avoid.
Best to opt for one of the great hostels in Kathmandu mentioned in this article. That way you can't go wrong!
New to Hostels? Read our full hostel starter guide here. We especially recommend to read:
The 3 Best Hostels in Kathmandu
Let's jump right into the boutique hostels in Kathmandu.
We put all three accommodation on the map, you will find the map at the end of the article.
1. Yakety Yak Hostel
Yakety Yak Hostel is certainly our favourite purpose-built hostel in the city. So much planning and dedication has gone in to the spaces here, it's obvious.
No matter if you choose a mixed, female dorm or a private room, you'll have tons of space and sturdy beds.
Each room has sound insulation to restrict outside noise. Rest easy, no problem.
These guys tested 8 different mattresses before deciding on one. That tells us that they really care about your comfort!
But let's focus a bit more on the social spaces, because this is where the heart of Yakety really lies.
Although it's only big enough to hold 72 beds, there is plenty of shared space for all traveller types.
We're pretty sure the staff know you're going to love the:
Huge lounge area
Sunny terrace
Coolest bar in town
On-site restuarant
If the hostel restuarant menu doesn't quite cut it, never fear; there are 3 other restaurants in the complex to choose from.
What about the staff? They have that genuine Nepalese hospitality that will have you feeling at home in no time.
On Sundays they offer a walking tour which is a must do if you're feeling sociable. They're also at hand 24/7 – find them at reception if you need anything.
Location: is top notch! From here everything you need is within minutes of the property. It's also located in an area of Thamel that allows traffic so your taxi can pull up right outside.
This is one of the best hostels in Kathmandu for
Compare prices and read reviews at: Booking.com | Hostelworld
2. Yog Hostel
Yoga in the morning, a rooftop to chill and super friendly staff. Come on in and discover Yog Hostel!
This is no doubt a home-from-home in Nepal, created by mature staff that know what it is travellers are looking for when they choose a hostel.
Firstly, you have to decide between the spacious private rooms and cosy shared dorms.
Dorms come with 6 beds, linen, a light and a cute little fan to help regulate your preferred temperature. Don't you just love details such as this!
There's a seating area in the rooms, and some of them come with a balcony space. The free Wi-Fi also reaches here if you're looking for some private time.
Fancy a local Asian dish, or perhaps are in the mood to cook?
Well at Yog Hostel it's possible to do both thanks to the restaurant and shared kitchen.
Alongside yoga in the morning, there are also evening activities that you can join.
The friendly staff, at hand on reception 24 hours a day, will happily fill you in on the happenings during your stay.
There's a real backpacker atmosphere to the place here, full of positive vibes. The pool table, music and comfy cushions really add the the relaxed spirit.
From here, Kathmandu Durbar Square is just over 2km away from the hostel. Local transport is aplenty and the lovely staff will happily help with that.
This is one of the best hostels in Kathmandu for
Compare prices and read reviews at: Booking.com | Hostelworld
3. Zostel Kathmandu
Get ready for a lively and hip backpacker hostel in the centre of Kathmandu. We love it, and no doubt you will too.
The one and only Zostel Kathmandu is located in the Thamel region and captures the true essence of the city.
That is of course made easier when you can venture up to the rooftop bar and peer down on the city below!
Don't be fooled though as this is no party hostel. Instead the staff encourage a quiet drink to appreciate great views and an exchange of epic travel stories.
Yet the rooftop is not the only place to do so. There's also:
A garden cafe
A hammock in the sun
FREE changing daily tours
It always helps to get a better sense of a place when you have local, friendly staff at hand to help. That's exactly what Zostel offer.
Alongside tips, these guys hand out doses of laughter and epic experiences by the bunch.
As for the rooms, dear readers, you're going to be blown away by the comfort and design.
There's quite a lot to choose from, from 4-bed female and mixed en-suite to private twin and deluxe double rooms.
Little perks you can expect include:
Air-conditioning
Mountains views
Lockers
Bedside lamp
Free Wi-Fi
And as for the overall design of this hostel, it's pretty cool. Marvel at impressive paintings as you walk up the stairs or sit on the rooftop.
This is one of the best hostels in Kathmandu for
Compare prices and read reviews at: Booking.com | Hostelworld
What about cheapest hostels in Kathmandu?
If you are traveling on a shoe-string budget and you wanna save every penny, there are ways to find the cheapest places in Kathmandu.
Open Hostelworld with full list of budget places to stay in Kathmandu
Order the listing by price
Simple as that.
Read: 15 hacks for booking hostels
Make sure you use then the other filters and rank per price.
Also keep a close eye on the ratings, especially the "extreme ratings". Meaning, the best and worst. These ratings can give great insight on what to expect.
Best Hostels in Kathmandu for Solo Travellers?
What is seriously the best hostel in Kathmandu for solo-travellers?
We're easily going to stick by our favourite and #1 hostel in the city, Yakety Yak Hostel.
Sure, it's well designed and welcoming, but it's also perfectly suited to solo travellers.
Solo ladies can enjoy a beautiful female dorm, and sociable travellers have the on-site bar and rooftop as means of making new like-minded friends.
If you're unsure of exploring Kathmandu, speak to the awesome staff that are on hand 24/7.
Compare prices and read reviews at: Booking.com | Hostelworld
Party Hostels in Kathmandu
Although not strictly a party hostel, WanderThirst Hostels is a great place if you want to meet people, have fun and feel at home.
There is an on-site restaurant and bar, but like we said there are no party activities arranged here. Instead, head out in to Thamel and enjoy the backpacker vibe.
If you're feeling crazy, why not get a tattoo whilst you're there? Yep, there is a tattoo studio at WanderThirst!
There's also a games room, coffee shop and open garden movie theatre.
The rooms are gorgeously designed, spacious and come in all shapes and sizes for all traveller types.
Compare prices and read reviews at: Booking.com | Hostelworld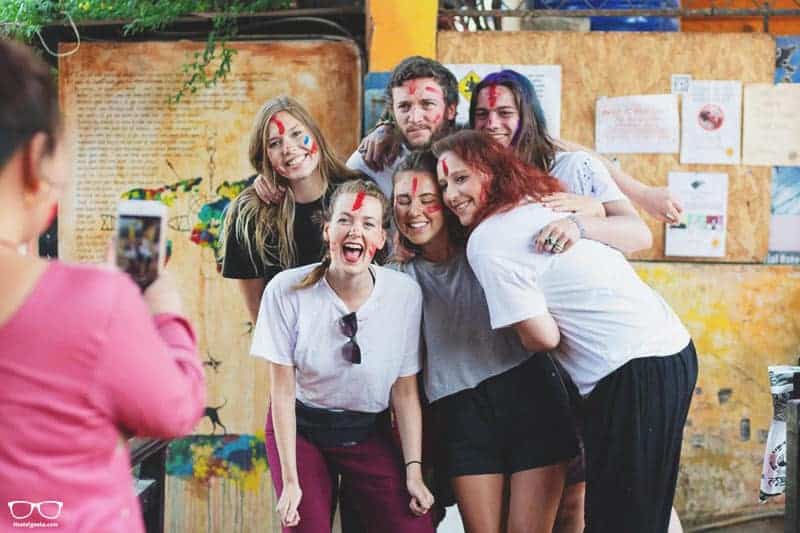 How to book?
We recommend using Booking.com or Hostelworld for your reservations.
Hostelworld is the most popular website when it comes to hostel bookings.
Read: step-by-step guide on how to book with Hostelworld
On both platforms your credit card is 100% protected and the booking 100% confirmed.
We included the handy links to each of the recommended hostel. Just click on the hostel name. The link will lead you to check prices and availability.
Here is the overview:
Yakety Yak Hostel: Booking.com | Hostelworld
Yog Hostel: Booking.com | Hostelworld
Zostel Kathmandu: Booking.com | Hostelworld
We recommend booking your hostel as early as possible!
All of Kathmandu best hostels are popular; especially in high-season. To make sure you end up in those stylish hostels, secure your room or bed as soon as you have your travel dates fix.
Any Discounts?
Currently, we have no special hostel discounts in Kathmandu. I know, it's a pity. You can subscribe to our newsletter to receive our newest hostel discounts always to your inbox.
You can find all our hostel discounts worldwide here.
All 3 Hostels put on a map + sights
Let us have a look on the map. Below we list all three best Kathmandu hostels on a map.
Personally, we love to plan our trips with a map having all sights and potential hostels on it. We thought this map will help you with planning your trip too.
We also included the main tourist attractions you've to know in this list:
Swayambhunath Stupa
Shree Pashupatinath Temple
Kathmandu Durbar Square
Thamel
Garden of Dreams
Narayanhiti Palace Museum
Ratna Park
Check out these uniqe activities and tours you can do in Kathmandu:
Flights to Kathmandu?
We enjoy Omio.com and Kiwi.com to find cheap flights all over Kathmandu.
This new website has super cool features like a so-called radius search. Just draw a circle over Asia and find the cheapest rates for the area.
Here is our review of Kiwi.
More guides
Alright, this is your answer to where to stay in Kathmandu.
We did the leg work for you and bring you more hostel guides to destinations:
You can find all our new and updates articles for Best Hostels in here.
We also created a huge guide to hostels. Here we cover how to build lifetime friendships in hostels, the perfect packing list and more.
Over to you
Was this useful? Do you have any questions, doubts?
Then please please leave us a comment. This list of awesome Kathmandu hostels should be as informative and useful as possible.
Your question will help me to understand what I have missed to mention.
Therefore, drop us a comment, we are keen to help you!
Last note: Our commitment

This is a genuine article to help you travel a bit smarter and find the best place on a budget! We ONLY recommend places we know you will enjoy, no matter what.
We will never recommend you any place we haven't evaluated or are not convinced by. We only share with you places we also recommend to our best friends and family!
Enjoy this fine hostel selection and all 5 Star Hostels.
– – –
pin it for later

Your Smart Packing List
It is time to see what you should pack in your backpack or suitcase. Make sure you always pick a quality hostel, it totally reduces the things you need to pack. Here is our ultimate hostel packing list. It features 23 items you should really throw in your backpack.

The most important things to pack are: Read the full packing list here.