You are clearly about to travel to Morocco and are looking for the best hostels in Marrakech to stay. Two things: We envy you, Marrakech is amazing!
And second: Congrats, you have just come to the perfect place to find your best hostels and Riads in Marrakech.
This guide is perfect for YOU, when …
tired of bad and crappy hostels
want to avoid the "young party kids"
happy to spend 1-2€ for a better experience
There's a few things you should know when backpacking Marrakesh.
It can be overwhelming and sellers can be quite pushy. We wrote up a few handy tips you should know before traveling to Marrakesh.
What we cover in this article:
After Marrakesh, you can travel by bus to Tagahzout. Here you find the surf and yoga hostel Amayour Surf Hostel.
You can find all 5 Star Hostels here with Hostelgeeks and all guides to "Best Hostels In" here.
Quick Introduction to Marrakech
Average price for a bed: SUPER CHEAP!!
Hostels in Marrakech cost anything between 4€ and 12€ per night for a bed in a dorm.
A hostel in Marrakech with private room costs 20€ up to 50€ per night.
This is a rough average just to give you an idea. Prices always depend on season and holidays. Please always check exact rates on Hostelworld.com or Booking.com.
Check-In and Check Out: The average check-in time is from 15:00 (3pm), while the Check Out time is before 11:00 (11am). Hostels usually offer luggage storage in case you arrive earlier or leave later. Make sure you check if luggage storage is free or if there is an extra cost.
Tourist Tax: There is a tourist tax of 2.27€ per night. Most hostels, riads and hotels in Marrakech do not have this tax included in the room price.
What is a Riad? Riad means "gardens", and it is a large traditional house built around a central courtyard. These riads are nowadays often converted into a hotel, hostel or guesthouse.
Therefore, do not get obsessed with staying in a Riad. Most hostels on this list are actually hostel-turned Riads.

New to Hostels? Read our full hostel starter guide here. We especially recommend to read:
The 3 Best Hostels in Marrakech
Let's jump right into the boutique hostels in Marrakech.
Quick overview:
We put all three accommodation on the map, you will find the map at the end of the article.
1. Rodamon Riad Marrakech
We are quite convinced we already found your #1 place to stay in Marrakesh: Rodamon Hostel!
A traditional Riad with swimming Pool, social vibes, cool staff and top location.
Only 10 minutes from Djeema el Fnaa Sqaure, the Rodamon Riad hostel has a view of the Atlas Mountains and Kotoubia Mosque.
The hostel combines local flare and creature comforts such as board games and a television to make you feel at home.
It is an easy walk from the Rodamon Riad Hostel to many of the top tourist destinations in Marrakech.
Private rooms range from 1-4 people, while dorms have 4, 6, or 8 beds.
There are female only dorm rooms. All beds in dorm rooms come with curtains, power sockets and reading lights. All rooms come with a private bathroom.
A breakfast bar is available for a minimal extra cost, and snacks will remain out during the day for you to grab. In the evening there is a restaurant and rooftop bar on site where you can have a drink and relax.
Free WiFi
No curfew
24-hour reception
Rodamon Riad hostel has a swimming pool on the patio where you can enjoy a swim, or relax by the water with a drink.
Staff can help you organize tours to the souks and desert as well as trekking, balloon and aerial tours, and quad and 4-wheeler tours for to make the most of your time in Morocco.
One of the best hostels in Marrakech for
Solo travellers
Female solo travellers
Families
Couples
Compare prices and read reviews at: Booking.com | Hostelworld | Full review
2. Equity Point Hostel Marrakech
Equity Point Hostel is located in the heart of Marrakech, just a stone's throw from Djemaa el Fnaa Square – the main square at the centre of the city.
Meaning: the location could not be better.
The staff here are happy to help you during your stay at the hostel, as well as arranging tours to the Sahara desert, and transportation to the airport.
This hostel is focused on providing an experience of elegance and luxury. The bedrooms come with a bathroom, sofas and mirrors. There are also common areas for guests to enjoy in the hostel and on the rooftop terrace.
Shared rooms are a mix of 8, 6, and 4 bed suites that can include twin beds or bunk beds.
Private rooms are a mix of 3 beds, twin, and double suits.
The hostel also offers:
Free Wi-Fi
Breakfast
Laundry
Access to a hostel kitchen
Security lockers
Swimming pool open from April to October (weather dependent)
24-hour reception and no curfew
Good to know: Travellers under 18 years old can only stay in private rooms or in dormitory rooms that have been booked entirely by their family or the group they are travelling with, they cannot share a dormitory room with other guests.
Anyone under 18 years old must be travelling with his or her parent or legal guardian or tour group.
There is a restaurant and bar on site, serving local Moroccan cuisine with live music. The restaurant serves an a la carte lunch menu for roughly 100Dhs. If you're hoping to eat at the restaurant in the hotel though it's important to book at least one day in advance.
The hostel offers cooking classes where guests can learn to prepare different Moroccan dishes.
There is a spa on site where you can relax and get a massage. Sounds pretty nice, right?
If you're hoping to see the desert, you can take one of the hostel's Fresh Air tours to the Sahara.
Be advised that if you're hoping to see sand dunes, you will need to take the two-night/three day tour.
Equity Point Hostel is the best place for:
Compare prices and read reviews at: Booking.com | Hostelworld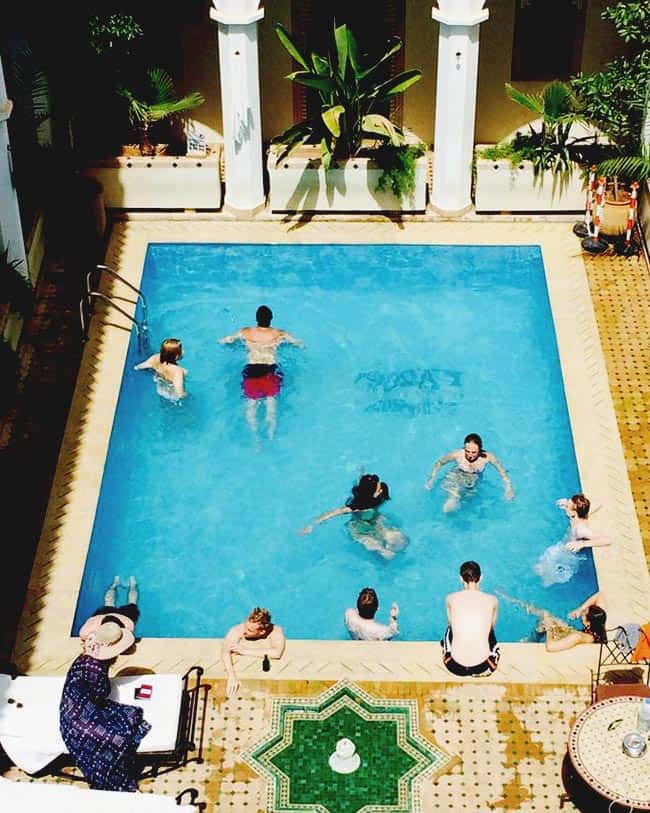 3. Boho 27 Hostel
If you're looking for a cozy experience where you can enjoy the city and make new friends, the Boho 27 Hostel, with a capacity of only 26 people may be just right.
The 4 bedrooms have open balconies or patios, bathrooms, and free toiletries.
The beds unfortunately do not have the popular privacy curtains; these you can only find at Rodamon Hostel.
The common areas include seating and desks to relax, or catch up on some work. We recommend Boho 27 to every digital nomad and peace-seeker. The downside after Rodamon Riad Hostel and Equity Point is clear: there is no swimming pool here.
The hostel is less than a 10 minute walk from the Bahai Palace, and less than a 15-minute walk from the Boucharouite Museum (interesting to visit!).
Amenities at Boho 27 include:
Free WiFi
Airport transfers
Bike rental
No curfew
Kitchen
BBQ
There is a restaurant on site where you can have a buffet breakfast and that offers French, Indian, and European cuisine if you are in the mood for something from home.
The staff can arrange activities outside the hostel such as trips to the Sahara desert, mountains, quad biking, and camel riding.
Back at the hostel you can enjoy dinner or a cooking class.
Even if you are not staying here, we recommend a cooking class in Marrakesh. It is really fun, and the Moroccan cuisine is unique and so tasty.
Boho 27 Hostel is the best hostel in Marrakesh for:
Solo-travellers
Digital Nomads
Small Hostel lovers
Travelers of +40
Compare prices and read reviews at: Booking.com | Hostelworld
More Marrakech Hostels worth a mention
We have already shared 3 amazing Morocco Hostels with you. Yet, there are more hostels worth a mention.
#4 Earth Hostel Marrakech
The Earth Hostel is situated a five minute walk or less from the Marrakech Museum, Medersa Ben Youssef, Souk of the Medina, and Djeema el Fnaa Square.
The front-desk is staffed 24 hours, and hostel staff can help you with hiring a bike or car, or participating in sand skiing, a popular activity in the area near the hostel.
Rooms vary from accommodating 4 to 8 guests and have shared bathrooms. Some rooms additionally include a balcony.
Amenities include:
Free breakfast buffet
Free WiFi
Luggage storage
Book exchange
Microwave
Hot tub
There is a spa on site if you're hoping to relax after a long day. If you don't feel like going out to eat, there is a restaurant and bar on site.
For travellers looking for the social experience, Earth Hostel offers common areas to hang out as well as cooking classes to make friends and try your hand at making some authentic Moroccan cuisine.
What can be said about the location?
If you're hoping to be right near all the points of interest Marrakech has to offer, this is the place for you. Earth Hostel is not only near to the sites mentioned earlier, but also Koutoubia, Bahia Palace, and El Badi Palace.
Earth Hostel is the coolest place for:
Quiet-Seekers
Budget Traveler
Groups
Compare prices and read reviews at: Booking.com | Hostelworld
What about cheapest hostels in Marrakech?
Hostels in Marrakech are already cheap. The ones we list above are averagely priced.
Of course, there are always cheap and even cheaper hostels.
We think, it's not worth it to go with the cheapest hostel out there.
Why?
Well, the quality drops dramatically. Same as Hostels in Vietnam, the cheap ones are really something to avoid in our opinion.
Good to know: We met a few fellow backpackers in Marrakech. They stayed in a place for 4€ a night; it was super dirty, cockroaches, you name it. They were not happy with the place, but happy to save every penny.
If you are traveling on a shoe-string budget and you wanna save every penny, there are ways to find the cheapest places in Marrakech.
Open Hostelworld with full list of budget places to stay in Marrakech
Order the listing by price
Simple as that.
Make sure you use then the other filters and rank per price. Also keep a close eye on the ratings, especially the "extreme ratings". Meaning, the best and worst. These ratings can give great insight on what to expect.
Here's a guide on how to use Hostelworld for booking hostels.
Our best recommendation for a cheap hostel in Marrakesh Morocco is Earth Hostel.
Best Hostels in Marrakech for Solo Travellers?
What is the absolute best hostel in Marrakech for solo-travellers?
There is no doubt that Hostel Rodamon is the coolest place to stay for male and female Solo-Traveller.
With all that luxury, the pool, the interior and activities; what else do you need?!
As a Backpacker looking for some partying, keep reading. For you we have the Waka Waka Hostel.
Compare prices and read reviews at: Booking.com | Hostelworld
Party Hostels in Marrakech
Alright, so you are looking more for a backpacker's experience, a party hostel perhaps?
Not to worry, there are hostels for every type of traveler here.
Have a look at WAKA WAKA Hostel.
Smoke some Shisha, mingle in the common area, have a few drinks with your new hostel mates. Waka Waka Hostel is the best Youth hostel you will find. It is great for backpackers and young people that appreciate a small price, and a very basic comfort.
The dorms are kept simple, the service is simple.
A big no-go is for us the super slow WiFi; and some fellow mates informed us that the receptionists tries to charge high-rates for taxi.
Again, a fun place. Just get your own SIM card and book your activities elsewhere.
Compare prices and read reviews at: Booking.com | Hostelworld
How to book?
We recommend using Booking.com or Hostelworld for your reservations.
On both platforms your credit card is 100% protected and the booking 100% confirmed.
We included the handy links to each of the recommended hostel. Just click on the hostel name. The link will lead you to check prices and availability.
Here's a guide on how to book with Hostelworld.
Here is the overview:
Any Discounts?
Currently, we have no special hostel discounts in Marrakech.
I know, it's a pity. You can subscribe to our newsletter to receive our newest hostel discounts always to your inbox. You can find all our hostel discounts worldwide here.
All 3 Hostels put on a map + sights
Let us have a look at the map. Below we list all three best Marrakech hostels on a map. We also included the main tourist attractions you've to know in this list:
Get lost in Medina, the Old Town
Jemaa el-Fnaa
Majorelle Garden
Bahia Palace
Koutoubia Mosque
Menara gardens
El Badi Palace (SUPER COOL!)
We also marked the Old Town Medina, so you get a better idea.
(You can activate and deactivate the layers in the left sidebar. Open the map in a new tab here.)
Few more Tips about Marrakech
You made it this far, that is a good sign. It means you are ready to get prepared.
Before we traveled the first time to Marrakech, many of our friends gave us excellent tips. This helped us a lot to get our expectations set correctly.
Paradise or Stress?
If you are under the impression you will walk into your personal paradisaical reliving of One Thousand and One Nights; well, think again!
Yes, it is absolutely beautiful. But there's also tourist scams in Marrakech, and there are also stressful street sellers.
Get ready to get stressed and annoyed. Once you have this in your mind, you will enjoy it much more. At the same time, make sure you charge your camera. It is a gorgeous city, so picturesque.
Simply put: get ready for a stressful city, and don't forget to smile and enjoy!
Tourist Scams
Jemaa el-Fnaa is the square and market place in Marrakesh's medina quarter; literally it is the heart of Medina, the Old Town.

This means as well that prices are steep and scams are common.
The most common scam is by street sellers charging an arm and a leg for water. But, yeah, that is easy to avoid.
The most sneaky ones would be the
snake-whisperer
Henna-Tattoo Lady
The Snake-Whisperer is literally walking around with a snake around the neck. He will try to put the snake on you, so you can take a photo. Once done, get ready for a big fat price for that photo.
The Henna Tattoo Lady was almost the most annoying part. There's a few ladies running around that offer "free" Henna Tattoos.
Even if you decline, they try to start drawing the Henna-tattoo on your hand.
If you do not insist and stay strong by saying NO (or LA in Arabic!), she will try to give you the Henna Tattoo – followed up by a nasty smile and a fee.
Things To Do
We wrote up a guide on things to do in Marrakesh.
Read it, it will be helpful.
We also included a secret street stall on the market; for locals and those who do not care for a dirty plate only.
Marrakesh vs Marrakech vs. Marrakesch
You may have noticed the different spelling of the Blue City. Well, don't worry. All three spellings are for the same city. It is really only the difference in the language. It's
Marrakech in French
Marrakesh in English
Marrakesch in German
That may not be life-changing information. But hey, now you know.
Flights to Marrakech?
Flying to Marrakech is so easy.
Many European budget airlines like Ryanair fly to Marrakech Airport.
You can find very cheap flights from Barcelona, for instance. The airport itself is not far away from the center. You can either take a bus, a taxi or ask your hostel for a private airport pick-up.
The hotel or hostel Airport Pick-Up service is usually cheaper, or at least around the same price as a taxi.
Remember: Always ask first for the price before taking a taxi or ride!
We enjoy Omio.com and Kiwi.com to find cheap flights all over Europe and the world.. This new website has super cool features like a so-called radius search. Just draw a circle over Europe and find the cheapest rates for the area.
Here is our review of Kiwi.

More guides
Alright, this is your answer to where to stay in Marrakech. We did the leg work for you and bring you more hostel guides to destinations:
You can find all our new and updates articles for Best Hostels in here.
We also created a huge guide to hostels. Here we cover how to build lifetime friendships in hostels, the perfect packing list and more.
Over to you
Was this useful? Do you have any questions, doubts?
Then please please leave us a comment. This list of awesome Marrakech hostels should be as informative and useful as possible.
Your question will help me to understand what I have missed to mention. Therefore, drop us a comment, we are keen to help you!
Last note: Our commitment
This is a genuine article to help you travel a bit smarter and find the best place on a budget!
We ONLY recommend places we know you will enjoy, no matter what. We will never recommend you any place we haven't evaluated or are not convinced by.
We only share with you places we also recommend to our best friends and family! Enjoy this fine hostel selection and all 5 Star Hostels.
– – –
pin it for later
Your Smart Packing List
It is time to see what you should pack in your backpack or suitcase. Make sure you always pick a quality hostel, it totally reduces the things you need to pack. Here is our ultimate hostel packing list. It features 23 items you should really throw in your backpack.

The most important things to pack are: Read the full packing list here.