Let us, the Hostelgeeks, introduce the 3 Best Hostels in Cartagena, Colombia. This city is really on top of the hostel game. You can find many fantastic hostels, offering swimming pool, fun events, cool and clean dorms.
We've strived to find you the real deal, the 3 best hostels in Cartagena on offer, suitable for female and solo travellers, couples and backpackers.
The 3 best hostels in Cartagena de India are…
In this backpacker guide we've included all the necessary information and handy links to make your booking easier and faster.
This guide is perfect for YOU, when …
tired of bad and crappy hostels
want to avoid the "young party kids"
happy to spend 1-2€ for a better experience
We condensed it all to the 3 coolest hostels in Cartagena.
Read: complete guide to the best hostels in Colombia
Cartagena is a tropical Caribbean paradise. This 16th-century old town offers cobbled streets, colourful buildings and beautiful Colombian beaches. It is on everyone's bucket list when backpacking Colombia.
All you need to add is a cool Cartagena hostel and you're ready to go!
What we cover in this article?
Traveling around Colombia?
If you're spending some time exploring this part of the world; check out all of our 5 Star Hostels in South & Central America.
Quick guide to the 3 Best Hostels in Cartagena
Are you ready to discover some amazing hostels, including a cool party hostel in Cartagena?
Alright, let's waste no more time.
We picked these three hostels as they stand out due to their design, facilities and vibes.
We put all three accommodations and the major sights in Cartagena on the map. This way it is easier for you to understand locations.
You will find the map at the end of the article.
1. Bourbon St Hostel Boutique (pool party anyone?)
Welcome to the gorgeous little Bourbon St Boutique hostel.
This boutique hostel hosts a total of 42 guests, spread over 3 mixed dorm rooms of 12, 14 and 16 beds. This is for us on top of all the best hostels in Cartagena for solo-travellers.
Why? It is a small, yet sociable design that we think is wonderful for solo travellers in particular.
The decor has created a lovely warm, homely vibe throughout the accommodation. At the same time, you will find live music here, events organized such as Halloween and a few more fun events every traveler loves.
Compare prices and read reviews at: Booking.com | Hostelworld
What's included in the rooms?
Linen
Blackout curtains, 4 plugs + night light per bed
Lockers
Free WiFi
Air Conditioning
Free breakfast
There is also a free breakfast on offer, as well as the use of a fully furnished kitchenette.
On the top floor is Bourbon St Bar-Restaurant where live music is regularly free to enjoy.
Good to know: guests at the hostel can enjoy 2 for 1 on meals in the restaurant. Yum!
Feeling sociable?
Make new friends at the on-site swimming pool and attached bar or over a game of billar pool.
There is also a TV lounge and plenty of seating space throughout the building.
Reception is open 24-hours so there's no need to worry about a curfew ruining your evening plans.
This hostel is found 100 yards from Bolivia Park and only a 15-minute drive from the airport.
Bourbon St Boutique hostel is the best hostel in Cartagena for:
Solo Travellers
Party animals
Compare prices and read reviews at: Booking.com | Hostelworld
2. Republica Hostel (double bed dorms + social vibes)
We recommend Republica Hostel if architecture, food and history are your kinds of thing.
This is a pretty big hostel, with a total of 100 dorm room beds.
Don't worry though; the maximum per room is 14.
This hostel is located in a stunning 3-story colonial building and has one of the largest courtyards in the entire Old City.
Along with the many dorms on offer, Republica also has two private rooms.
Good to know: the 10-bed dorm includes double beds as well as single!
Compare prices and read reviews at: Booking.com | Hostelworld
Read: Sex in hostels? 4 Dos and Don'ts
Everyone can expect their own personal locker and linen included.
What else:
Free breakfast and coffee
Air-conditioned rooms
Two bars on-site
Swimming pool
Rooftop deck with hot tub
Two large lounge areas
Add the superb staff and you're set for a wonderful experience, no doubt.
There are daily activities at this hostel, too.
On Mondays, the staff encourages one guest to cook a typical dish from their country to share together as a big family.
Wednesday is beach games and Saturday drinking games. The team is reallz creative when it comes to events. Keep an eye on the black board or simple ask the staff what is going during your stay.

We hope you're ready to make lots of new friends!
Read: the unwritten rules at hostels to make life-time friends
What about the location, you might ask? Republica Hostel is located within the walls of the beautiful Old City.
This instantly sets the scene for an authentic Colombian experience.
The Santa Andria is within walking distance. A paradisical beach on Isla Barú is also wonderfully close by. In a nutshell, the location is really great and many sights are in walking-distance. A top choice, really!
Republica Hostel is the best hostel in Cartagena for:
Couples
Social butterflies
Compare prices and read reviews at: Booking.com | Hostelworld
3. Be Lounge (relax like a royal)
Let us talk about the #3 on this list of the absolute best hostels here in Cartagena. This one is also a really great choice, you will see.
Ever wondered what a 400-year-old-colonial house renovated into a modern, minimalist hostel would look like?
Welcome to Be Lounge Cartagena Hostel.
The clever blend of old and new offers a cosy, unique hostel in the heart of Cartagena.
Dorm lovers will be pleased: choose between 5, 6, 7, 8 and 10-bed dorms.
This includes a 10-bed Female dorm.
Read: 7 Pros and 4 cons of female dorms
The reception is open 24-hours. We know this is important to you, and also to us. It adds some security and obviously you can check-in when you arrive late. Just make sure you let the hostel know when you arrive. That always helps.
The friendly staff speak English, Spanish and Portuguese and love offering their guests tips and tricks about the area. So just ask! They have also a map on the reception to show you the main sights in the city.
Make sure you also ask about walking tours and the events going on inside the hostel.
Compare prices and read reviews at: Booking.com | Hostelworld
A few extras to be aware of:
Free Wi-Fi available
Breakfast included
Terrace surrounding rooms (2nd floor)
Book exchange
Shared kitchen
As for relaxing after a day of exploration?
Choose between the seating area in your room, a terrace, the bar and restaurant, garden and the sun deck area. You're really spoilt for choice, it would seem.
It is a really social place, easy to connect thanks to the many different areas.
What about the location of Be Lounge? This great hostel is located just a 2-minute walk from Palace of the Inquisition. Other nearby interests include Cartagena's Walls and Bolivar Park. Have a look on our map we created below for more details.
Be Lounge is the best hostel in Cartagena for:
Female Travellers
Solo travellers
Sloths
Compare prices and read reviews at: Booking.com | Hostelworld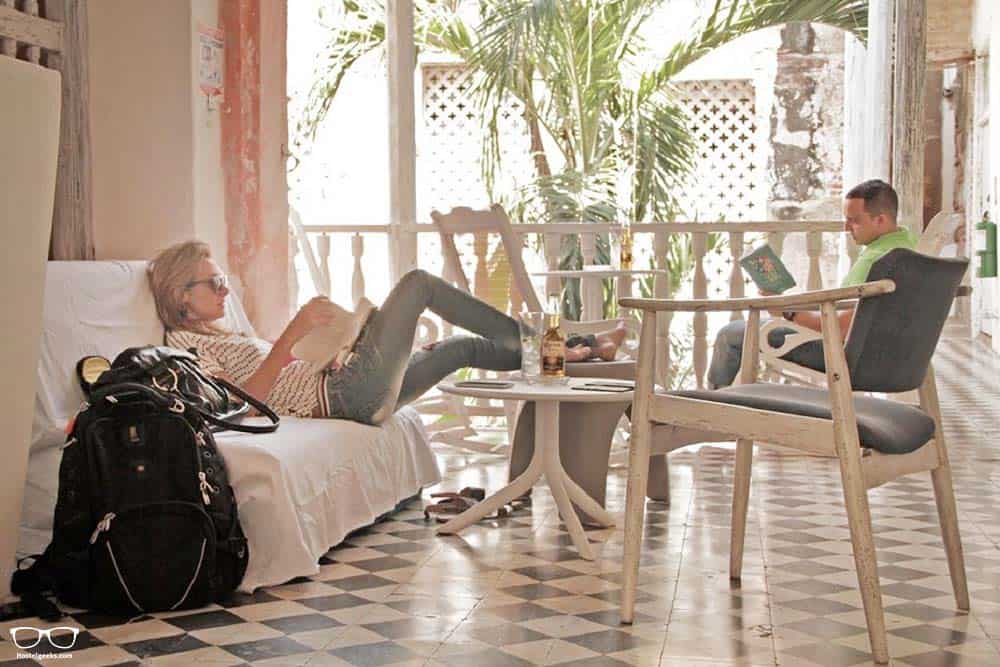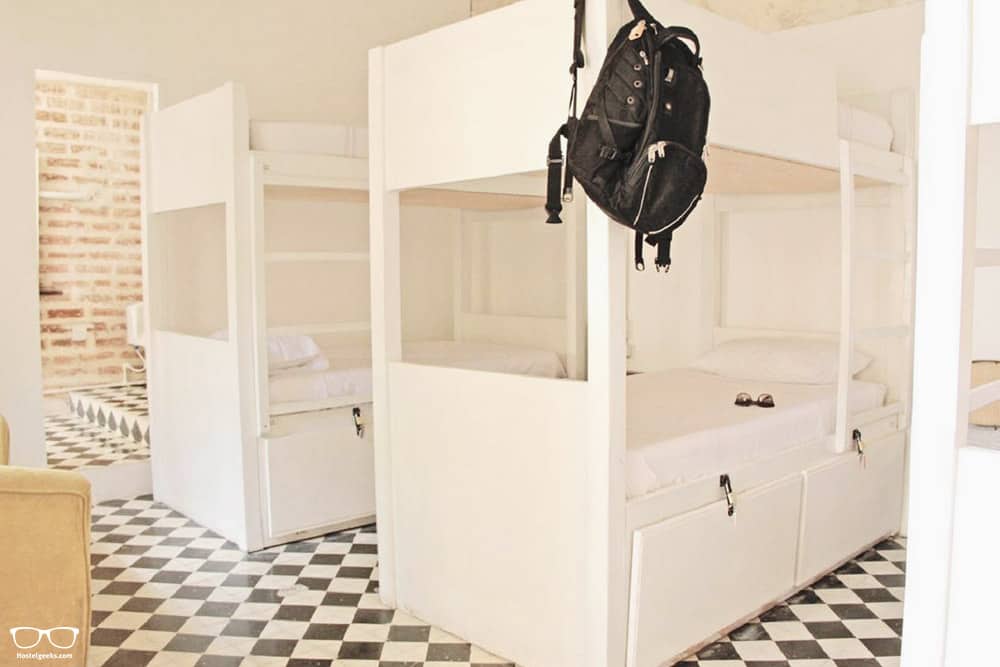 Best Party Hostels in Cartagena
It was actually a little too easy for us to find you an amazing party hostel in Cartagena.
The city is known amongst party backpackers for wild nights out.
So, what are the best party hostels in Cartagena?
Let us explain why Wonderland Hostel Cartagena had to be our number one.
During the day the staff encourages you to join free dance classes. Learn how to dance Salsa, Bachata and Champeta like a local. Fun guaranteed!
Grab a free bike and explore the city or join one of the many activities put on by this Wonderland party hostel.
In the evening, head to the on-site bar – open to the public as well as guests.
The bar closes at midnight so those who want to sleep, can actually get a rest. But if your party is only getting started; continue it in the Old Town with the rest of the crew.
They know the best places to party in Cartagena until the sun rises.
After a crazy night fill up on your free breakfast and Colombian coffee.
The only thing left to do is to relax on the quietest beach in the area, close by to the hostel. Have a look on our map below to find more details.
Perfecto!
Compare prices and read reviews at: Booking.com | Hostelworld
OK OK so we gave in and decided to include another Cartagena party hostel option. You can thank us later.
Option two is the energetic Viajero Cartagena Hostel.
Here you can also enjoy free dance lessons, plus many more activities in a relaxed, fun atmosphere.
Enjoy a drink in the colonial-style courtyard and relax on the nearby beach after a big night with new friends.
We think WONDERLAND Hostel is a tick better since you can relax on the swimming pool.
Compare prices and read reviews at: Booking.com | Hostelworld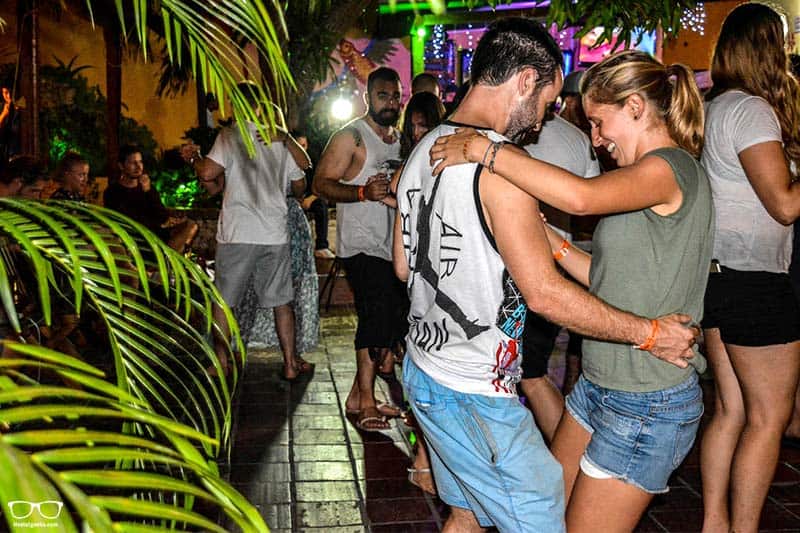 If you are looking for the backpacker hostel in Cartagena, Colombia.
Let us tell you why Hostel Mamallena Cartagena should be also on your list.
They may not consider themselves a party hostel but they know how to party and provide a great backpacking experiences.
This hostel has great and plenty of space to chill and make some friends.
Choose from:
El patio or El bar
The bar opens until 2 am and has great deals as 2 for 1 on drinks.
La hora feliz! all day , rrr!
They have a bar, but they still let you bring your own alcohol into the hostel.
Drinks are very cheap but if you want anyone to visit you at this hostel, they have no problem letting your friends inside either.
Everyone is so welcome, even the animals!
They own a very friendly dog and a cat.
This place is so homie, they really make you feel at home here.
But if you are on you way to somewhere else, they can help you with that as well. At this hostel you can book your trips to Playa Blanca, Santa Marta/Taganga and boats to Panama if that's where you are heading.
This backpacker's hostel in Cartagena brings a lot of value to your visit.
So think know more!
Compare prices and read reviews at: Booking.com | Hostelworld
Any Discounts or Promo Codes?
Currently, we have no special hostel discounts or Promo Codes for hostels in Cartagena. They all expired already and we would not give you discount codes that are not valid anymore.
Yet, you can always get the 35€ discount for Airbnb here.
Wanna be updated? Subscribe to our newsletter.
Here we share our newest promo codes for hostels and hotels in Cartagena and all other destinations first.
Map of the 3 Best Hostels in Cartagena and Sights
So here it is, the magical map. The useful map of all the hostel locations and cool sights, just for you.
We also included the main tourist attractions you've to know in this list:
Playa blanca (beach)
Bazurto Market
Castillo de San Felipe de Barajas
Ciudad Amurallada
We do totally recommend taking a mud bath at Totumo Volcano!
FAQs
If you are not sure about where to start, here the answer to your most asked questions
What is the best hostels in Cartagena?
If you are looking for the best hostels in Cartagena, check this guide with our top 3 we recommend for you
Look no more!
Best hostels in Cartagena for solo travellers?
If we have to choose one hostel from this guide for solo travellers,
We do recommend you to check the Bourbon house Hostel,
It is a small and cosy hostel in Cartagena, Colombia.
Yet sociable design that we think is wonderful for solo travellers in particular.
Bogota or Cartagena which city I should visit?
If you are looking for ideas on which city to visit,
We recommend to read this guide for 3 of the best and coolest hostel in Cartagena,
You find, where to go, where to eat and where to party
But, if you still no sure that Cartagena should be on your list,
we recommend to read our full guide best hostels in Bogota for more.
Flights to Cartagena?
We enjoy Omio.com and Kiwi.com to find cheap flights all over the world, including Cartagena, Cuba and more.
This new website has super cool features like a so-called radius search.
Just draw a circle over Central America and find the cheapest rates for the area.
Here is our full review of Kiwi.
More Epic Hostels in South America
You know what, we gave written even more guides for you.
We at Hostelgeeks are here to help you to stay in safe and epic hostels around the world. Check out the finest hostels in the world, the 5 Star Hostels.
For more cool hostel guides around South America, check out:
What about 5 star hostels? We have a great selection in and around South America:
Find all our hostel guides around the world here.
Over to you
We hope we've helped you to choose the best hostel in Cartagena, Colombia. We gave you the 3 best hostels in Cartagena, two best parts hostels and finally a huge detailed map.
Perhaps you've already stayed in one of them? As always, drop us a comment below with your stories, questions and anecdotes.
Any questions, doubts?
We want to make this guide as useful and detailed as possible. Your question(s) actually help us to improve and helps you to get your travels sorted out.
Therefore, do not be shy, please. Write your questions below in the comments and we will get back to you rapido rapido.
Last note: Our commitment
This is a genuine article to help you travel a bit smarter and find the best place on a budget!
We ONLY recommend places we know you will enjoy, no matter what.
Also, we will never recommend you any place we haven't evaluated or are not convinced by.
We share with you exclusively places we recommend to our best friends and family!
Enjoy this fine hostel selection and all 5 Star Hostels.
– – –
Pin it for later
Your Smart Packing List
It is time to see what you should pack in your backpack or suitcase. Make sure you always pick a quality hostel, it totally reduces the things you need to pack. Here is our ultimate hostel packing list. It features 23 items you should really throw in your backpack.

The most important things to pack are: Read the full packing list here.