Awarded as the Best Designed Hotel in Taiwan, the Ximen WOW Hostel in Taipei is carefully designed hostel with sharing character. Stay here in the heart of the city, and experience the vibrant culture on offer, before relaxing in a traditional Taiwanese setting. And not just that, but also in a complete stylish environment. Ximen Wow is a top notch hostel we are keen to share.
The infobox on Ximen Wow Hostel
How to book Ximen Wow Hostel?

Congrats, you just found the coolest hostel in Taipei, Taiwan. Now, what about your booking?

Check out the official website of Ximen Wow Hostel. Why? There you can get the lowest prices!

Compare all rates at

Good to know: Booking the 5 Star Hostels on their official website is the cheapest and safest place to book.

Location Advantage of Ximen Wow Hostel

Ximen WOW Hostel has the best location in Taipei. 3 minutes walk to the Ximen metro station and one station away to Taipei main station.

If you're hungry or trying to buy some souvenirs, just go downstairs and you can do everything.

Ximen Wow Hostel, 108, Taiwan, Taipei City, Wanhua District, Hanzhong St, 42

All room types at Ximen Wow Hostel

Shared Room Types available: Female dorm, Mixed dorm, Double bed mixed dorm

Not sure what room to pick? Our guides will help you to decide:

Guide to hostels

We care about you and your hostel experience. Therefore, we created the ultimate guide to hostels, covering all topics around hosteling.
If your wish is to indulge in delicious Asian cuisine, explore a bustling city and meet new friends within a cosy setting; this is the hostel for you.
Ximen WOW Hostel holds its name proudly, wishing to bring people together.
Because let's face it, things are better 'when we are together'!
We are Hostelgeeks, your independent shortcut to the world's outstanding hostels, the 5 Star Hostels.
The brother-hostel Beimen Wow Poshtel is also home in Taipei and awarded with 5 Stars.
Same goes for the impressive Hualien Wow Hostel, located in the coast town of Hualien on the east-side of Taiwan.
And there are even more 5 Star Hostels across Taiwan:
Here is our complete backpacking guide with best hostels in Taiwan Country.
Ximen Wow Hostel is a 5 Star Hostel because…
Without further delay, let's have a look to see why Ximen WowHostel meets all of the transparent criteria.
1. From nursing home to a 5 Star Hostel
The main concept behind Ximen WOW Hostel is built around being environmentally conscious.
When up-scaling from nursing home to industrial hostel, materials were chosen carefully, recycling concrete and bricks where possible.
The result?
A really homely interior that aims at hitting that all important nostalgia spot for travelers.
But it's not only the concrete that holds it altogether that plays an important role.
Check out the decorations inside.
Traditional Taiwanese trinkets leave their mark in social areas to encourage travelers to trace back to the old times of Taiwan.
Small details such as free toiletries also support the environmental-conscious concept.
You will find soap and shampoo dispensers in the showers. No need to bring your own and use more plastic – share and share alike!
Read: smartest packing list for hostels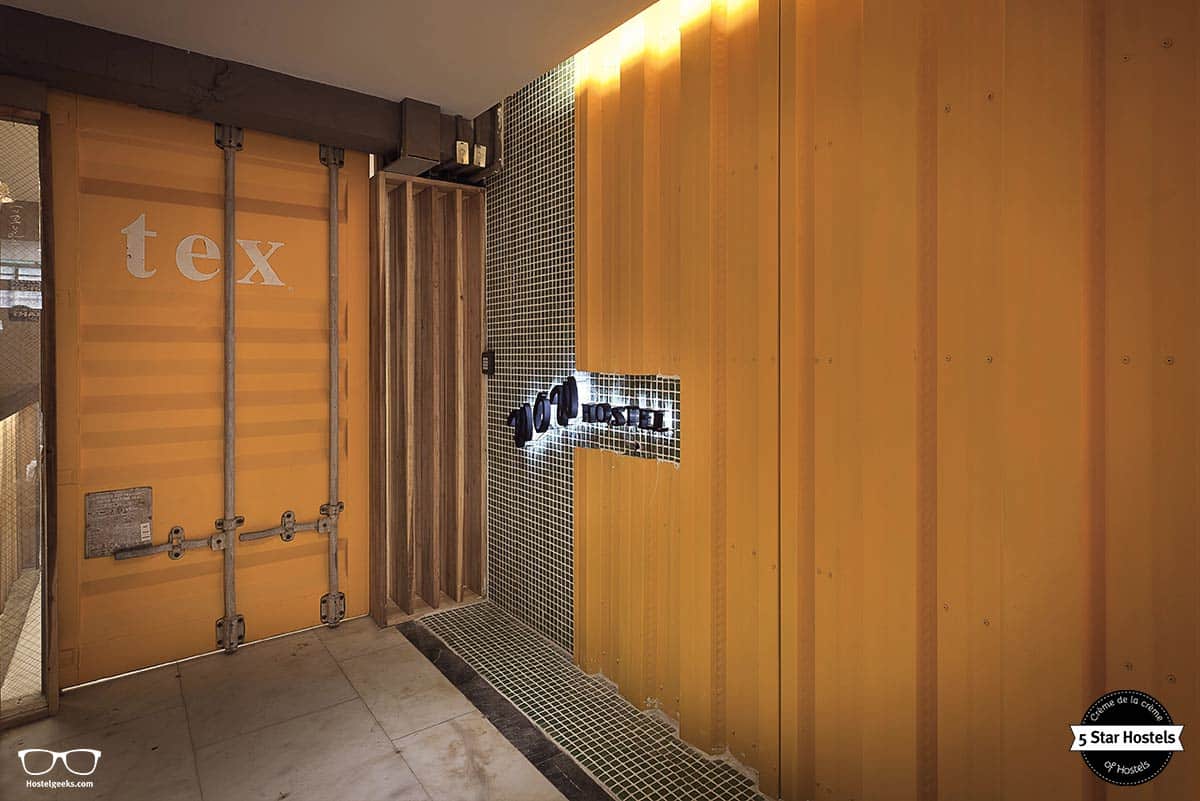 When you wander around the district Ximening with its tattoo street itself, you can experience the nature and delight of old Taiwan – something the staff have put effort towards bringing inside the hostel.
We think it is special when you can immerse yourself in the culture, whilst enjoying a fresh coffee inside the hostel or on the terrace; it allows for wonderful people watching too.
2. Industrial design with warm feelings
The design of a hostel can sometimes be one of the most intriguing parts when deciding on where to stay.
Let us tell you; Ximen WOW Hostel will not let you down here!
It has been awarded as the Best Designed Hotel in Taiwan.
Let us tell you why.
When the building was re-designed for the hostel, the exterior was kept to look the same.
The interior however, received a complete rebirth in order to create an environmentally friendly, intimate and warm living space.
The theme of this design uses old, up-cycled containers; some wooden, some iron.
Step inside the iron container door, and find inside a mix of concrete ceilings with steel components and long wooden tables.
There is in fact quite a lot of wood used throughout the hostel, and this mixed with warm, orange light really creates a home-away-from-home feel about the place.
Do you want more Design Hostels?
We collected more than +105 design hostels you will love to stay at.
The shared dorms are wonderful – specifically designed for privacy in mind.
Draw your personal curtain and enjoy comfort with the all important personal light, plug socket and locker.
There is as well a double-bed in the dorm!
We wrote up a full overview of all hostel room types.
Ximen Wow Hostel is a mix of old and new, and this has been successfully demonstrated within hostel.
3. Homely tranquility in Taipei busiest area
The hostel name, WOW, means 'home' in Chinese.
Whilst the hostel is located in the busiest area of Taipei, extra effort has gone in to make the space as homely as possible.
The balcony outside allows for travelers to enjoy the unique tranquillity of Ximen, whilst overlooking the hustle and bustle of the streets.
It is a very special point of view that only Ximen WOW Hostel guests can enjoy, so get up there and embrace the contrast of Taipei and home life.
There are also quirky hidden extras here at Ximen WOW Hostel.
Well, we say hidden, you just need to look carefully and you will find them.
How about treating yourself to something sweet – there is a sweet machine in the communal area – you deserve it whilst you're on holiday!
Don't forget to capture the moment either.
There are Polaroid cameras in the lounge area, so take a cool snap and be sure to share it on social media and add it to the WOW wall.
Oh and one last thing: Ximen WOW Hostel encourages travelers to tell their stories or show off their skills.
The staff post these special skills on Facebook to share with their audience, and you'll get the special discount for accommodation in return – sweet!
We at Hostelgeeks also love to share stories, read some real-life short travel stories from travelers around the world.
4. When we are together – sharing!
The motto at Ximen WOW Hostel is:
When we are together!
So let's explore this more.
Within this mix of home and industry-styled recreational area, travelers are invited to feel warm and relaxed.
The communal spaces are not particularly big, but this supports the cosy feel and creates a perfect platform for people to strike up conversation easily.
Traveling alone isn't alone in Ximen WOW Hostel; it is better 'when we are together'!
Start your day, or perhaps kick-start your evening with a tea/coffee at the 24-hr self service bar.
It's a good excuse to head there to start with, and who knows who you might meet.
That also stands for a free breakfast in the morning.
There are always ideas floating around in the hostel, to make exploring Taipei all that much easier.
Check out the top places to visit and tastiest foods to try: It is definitely the best way to better understand the local life of Taiwanese people.
Here some interesting articles:
5. Core value of Ximen Wow Hostel
The core value of Ximen WOW Hostel, and many more of our 5 Star Hostels, is to have wonderful, helpful staff.
The staff here conveys the idea of home wonderfully, helping travelers to make long-lasting friends during their trip.
After all, they are a group of people passionate for travel, so of course they have a good idea of what their guests expect/enjoy.
Due to the handy location of the hostel, the staff often hold walking activities around Taipei city to experience the real local life.
If you have time, you should join them and learn what Taiwanese like to do, and what they like to eat.
It's a fun way to experience authentic life, and get to know the passionate staff all at the same time.
Promo Code for Ximen Wow Hostel
Fancy a promo code for Ximen Wow Hostel? Who doesn't?!
Now, there is no easy way to say this: Currently we do not have a valid discount for Ximen Wow Hostel. We are working on getting more promotional codes for Ximen Wow Hostel in Taipei, Taiwan and all the other top hostels we reviewed for you.
How about we send you a quick email once we got a new promo code? Subscribe here to our newsletter. It it the quickest way to get the news straight to your inbox.
You can find all our current valid hostel promo codes here
Your Smart Packing List
It is time to see what you should pack in your backpack or suitcase. Make sure you always pick a quality hostel, it totally reduces the things you need to pack. Here is our ultimate hostel packing list. It features 23 items you should really throw in your backpack.

The most important things to pack are: Read the full packing list here.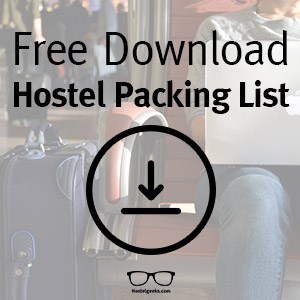 Update November, 2019: How to find flight deals to Taipei, Taiwan?
Still looking for cheap flights to Taipei, Taiwan? We LOVE Kiwi.com.
You can search here with a so-called "radius search". It is incredible easy to find sweet flight deals to Taipei, Taiwan and area.
Read our full review of Kiwi.com here