We are Hostelgeeks, your shortcut to the most stunning hostel-typed accommodations around the world.
We collect and award 5 Star Hostels, making the decision where to stay easier for you. For each destination, we only pick the one stunning hostel you can fall in love with.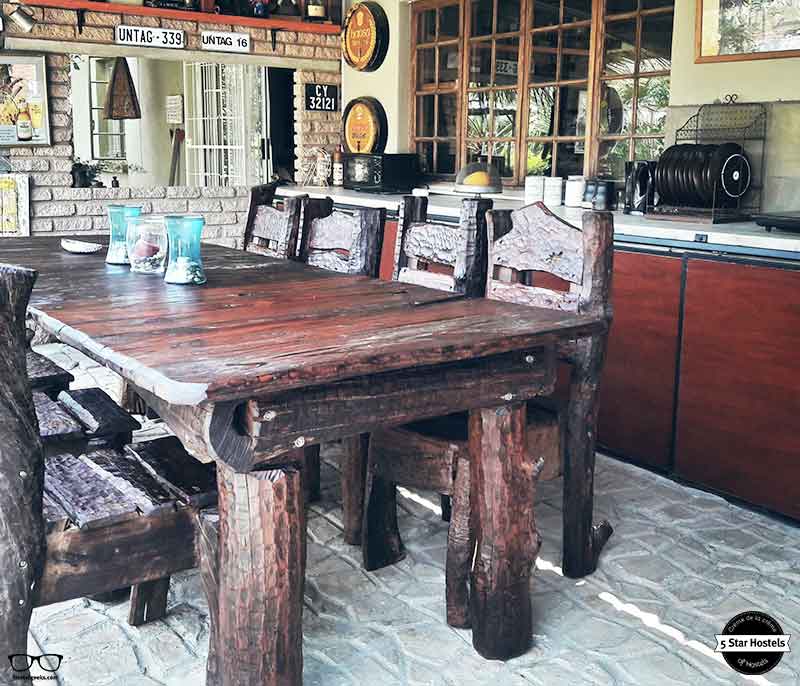 Tsumeb Backpackers in Tsumeb in review
So, let's get comfortable, grab yourself a drink and enjoy the reading on how to get your Africa-experience started.
1. Eco-friendly
The first criteria for being awarded the 5 Star Hostel title relates to their Eco-friendly efforts and sustainability.
In Tsumeb Backpackers, Dean and Lizelle aim to recycle and preserve the nature. After all, nature is one of the main reasons people are traveling to Namibia. Around the garden, you can see old pots used as planters, all kinds of DIY ideas made from Dean, who loves to work with his hands, and also wood furniture.
Read: 13 home decoration ideas you can steal borrow from hostels
The big table and the chairs outside are made using recycled wood. The BBQ place is made out of bricks, aiming to long-term constructions.
They position themselves in the direction of sustainability rather than the current culture of disposability.
Electricity is a limited resource in Tsumeb, that is why not all the rooms comes with air conditioning. Some of the dorms have only a fan. Consumption is reduced here, as well as your price you've to pay for accommodation.
Also important for the local business, they work with a local tourist company to provide transfer services to the different attractions nearby.
Tsumeb Backpackers also collaborate with a charity company. They collaborate in the prevention of the wild mustangs dying out in the harsh desert of Namibia.
And, last but not least, to explore the area in a very eco-friendly way, they do offer bicycle rentals. Perfect way to discover the surroundings in a green way!
2. Familiar design in an epic Lodge/Villa
Dean and Lizelle wanted to offer a familiar and cozy design to every traveler visiting their home country.
Once you have entered Tsumeb Backpackers, you will feel surrounded by their garden.
Welcome to your personal Oasis.
After a day plenty of adventures, a place to relax is all every traveler wishes! Plants, wood furniture, and the greatest thing in a warm country: a swimming pool are waiting for you. You can splash all year long, as the minimum temperatures in Tsumeb are around 24°C/75°F.
Inside the house, a big common area to relax with sofas and a fully-equipped kitchen are waiting for you.
Time to share, time to cook and get involved by the homely feeling. What about watching some sports all together as a family? Or even better, sharing all the experiences of the day.
Local materials are used all around the house: the bedrooms have concrete shelves.
In the bathroom, you can also notice that they used concrete for the bathroom sink. Concrete is commonly used in many houses in the area and Namibia. That is why you will see it all around the lodge/villa. They used it a lot in the kitchen and we've to admit, the design is simple and clean. We like that!
Stones are also a local material used in Tsumeb, and you can notice they not only used it for exterior furniture as sofas or seats, but also interior. There is a sofa made with stones in the common area, you should try it!
It is more comfortable than you might think.
3. Unique? Community guesthouse
Tsumeb is a fantastic place to spot animals in the nature. Etosha National park is about 120km from here and there you can spot four of the big 5 (elephant, rhino, buffalo, lion and leopard).
It is called the Big 5 Game.
The national parks in Namibia are much less crowded than in South Africa, and the wildlife is just as breathtaking.
The northwest of Namibia is home to the free-roaming black rhino, and the Otjitotongwe Cheetah Park (south of Namibia) gives you the opportunity to get up close and personal with cheetahs, the fastest animal on land (you can even stroke these big cats!).
Tsumeb Backpackers will be your oasis to refresh your mind and body. With a cool splash pool to dip in all year long, this 5 Star Hostel will be your home after a long day trying to capture animal with your camera.
For more convenience, there is also a free parking inside Tsumeb backpackers, so coming straight from your journey trip to the accommodation cannot be easier.
You do not have to think where to park, you just have to arrive home and relax and recover your energy for the next day.
Tsumeb backpackers is like a community guesthouse where you could have your intimacy and also meet other fellow travelers.
In the common area, you will be able to meet other travelers, and maybe organize a day trip together.
And once you want to rest, you can go to your room and relax, sleep or look for some information. WiFi is reliable and each bed on the dorm has an individual lamp in order not to disturb your room mates.
4. Homely and Social (and a swimming pool)
Homely and yet social, that would be the perfect destination for Tsumeb Backpackers.
In this 5 Star Hostel with only 5 rooms you will feel like at home.
There is a television room with a big TV for movie time. You can propose to watch a movie and surely more guests and travelers will join! There are more board games to enjoy your evening and make connections.
There is also an outdoor braai, just next to the wooden table in the garden. It is the perfect place to share your experiences and knowledge about the area with your fellow travelers while having dinner.
What will cheer you up after a long day on the safari?
A swimming pool to refresh and reflect about your day.
Due to the magnificent weather conditions, the swimming pool is open all year long.
5. The amazing hosts
Dean and Lizelle are amazing hosts who love helping travelers throughout their stay.
Once booked, they send a confirmation with detailed information and communicating with the travelers to answer any queries they may have. So even from the very first moment, they are already willing to help with your trip organization.
Guests that arrive from around the globe often leave as friends.
In case guests need it, they can organize pick ups and droppings to the bus station. Do not forget to send a request via email beforehand so they can plan it. The email is tsumebbackpackers[at]iway.na
Also, as citizens of Tsumeb, they are extremely knowledgeable about area and surroundings, and have plenty information about the town as well as advices for your day trips. Don't be shy and ask, they even can help you find cheap transport to Etosha National park, which is quite difficult.
Tsumeb Backpackers work with a reliable tourist company, Oshikoto Tourist Transfers.
They provide services including day trips to Etosha National Park, Caving, wine tasting, cheetah conservation camp, meteorite, Oshikoto & Guenas Lakes, Bushmans of Namibia, transfers from Hosea Kutako Airport to Tsumeb plus many more.
We had a look to some information about Namibia and found some interesting articles for you to prepare your trip. Ready to start dreaming about the things you may do?
Your accommodation research is already done by now, so here are more useful links: