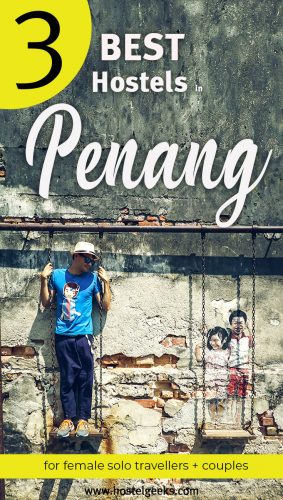 If Malaysia is your next point of call, we cannot wait to tempt you with our collection of the best hostels in Penang.
You can forget cramped rooms and dirty spaces – the standard of these hostels is up there with western accommodation. They just happen to be a lot cheaper!
Social butterflies and solo travellers prepare yourselves.
There's even a super fun party hostel Penang for the party animals out there. Keep scrolling!
Your shortcut:

House of Journey Penang – great for solo travellers
Queen's Hostel – female ONLY hostel
The 80's Guesthouse – one for couples
This guide is perfect for YOU, when …
tired of bad and crappy hostels
want to avoid the "young party kids"
happy to spend 1-2€ for a better experience
Check out also our full guide to the best hostels in Kuala Lumpur with 5 star Paper Plane Hostel.

What we cover in this article?
You can find all 5 Star Hostels here with Hostelgeeks and all guides to "Best Hostels In" here.
Quick Introduction to Penang
Average price for a bed: Hostels in Penang cost 5€ – 9€ per night for a bed in a dorm. A private room starts from 13€ up to 38€ per night. This is a rough average just to give you an idea.
Prices always depend on season and holidays. Please always check exact rates on Hostelworld.com or Booking.com.
Check-In and Check Out: The average check-in time is from 15:00 (3pm), while the Check Out time is before 11:00 (11am). Hostels usually offer luggage storage in case you arrive earlier or leave later. Make sure you check if luggage storage is free or if there is an extra cost.
New to Hostels? Read our full hostel starter guide here. We especially recommend to read:
The 3 Best Hostels in Penang
Let's jump right into the boutique hostels in Penang.
We put all three accommodation on the map, you will find the map at the end of the article.
1. House of Journey Penang
Shall we kick start with a cosy option in the heart of historical Georgetown? Oh go on then!
House of Journey Penang is a bit of a show off when it comes to local heritage. The building dates back to the 1850s, incorporating newly renovated western toilets for that modern touch.
There's a surprising amount of rooms on offer, too.
Mixed dorms come with 6-12 beds, and there are twin and private doubles in case you're looking for privacy.
Though the bunks are simple, they do have handy additions such as a personal light and charging point.
Simple touches that every solo traveller appreciates, right?
Part of the deal when choosing to stay here includes:
24 hour hot showers
Simple breakfast
Free Wifi & 24/7 access
For that all important mingling, head to the shared retro bar area.
This is where canned drinks, satellite TV and board games can be enjoyed. And of course space for yourself, if you prefer.
Note: check in time is between 2pm-9pm as reception is not staffed all the time.
Location: Certainly a highlight of House of Journey. As it's connected to Chulia Street and Love Lane, great street food and epic nightlife is within easy reach. Save those coins and use your feet – it's a hostel ideal for exploring on foot.
This is one of the best hostels in Penang for
Solo travellers
Backpackers
Compare prices and read reviews at: Hostelworld
2. Queen's Hostel
Alright ladies, Queen's Hostel is the one for you and ONLY you.
Yep: this is a female-only hostel in Penang.
The vibrant colours and tranquil environment is designed to release your inner queen. Prepare to indulge in affordable luxury!
Forget bunkbeds; instead you'll have your very own canopy with hanging curtains to close yourself in.
But okay, we didn't tell the entire truth.
Alongside a beautiful female-only dorm, there is also a Queen+1 private.
That means one lucky Queen can share a double room with her male companion. It also happens to be soundproof!
For that added bit of lady luxury, enjoy:
Full length vanity mirror
Complimentary toiletries
Hair dryer & OPI nail lacquers
Powder room
There is a colourful lounge area which is great for chilling. Grab a book from the shelf and relax in to one of the beanbags.
For the adventurous, borrow one of the bikes and explore the area on two wheels.
As a bonus, each person is given a security card for the building. That means no curfew, yay!
Location: Also located in UNESCO heritage Georgetown, all that you may want to explore is within walking distance. This includes great food, bars and temples.
This is one of the best hostels in Penang for
Compare prices and read reviews at: Booking.com | Hostelworld
3. The 80's Guesthouse
So what's in the title of our chosen #3 hostel, The 80's Guesthouse?
Well, it's the 80's that inspired this guesthouse to merge old and new to create a timeless feel for their guests.
Authentic character has been preserved, decorated with vintage furniture and original floorboard.
We love the patchy and broken worn walls, brickwork and aged door. It's certainly quirky!
First off you'll probably want to choose a room and throw your bags down.
It's a great hostel for different traveller types. Dorms come with 4-6 beds including a 4-bed female option. Couples can opt for the queen private, and friends might like to splash out on a twin.
Each dorm bed comes with a big locker, individual lamp and charging socket.
Awesome: the 4-bed mixed dorm has double beds, sleeping up to 4 couples!
In case you need further convincing, there's much more to enjoy…
Breakfast is included
Towels, linen & toiletries are thrown in
Tea & coffee is flowing all day
Security cameras roll 24/7
The lounge is a great place to relax and unwind at the end of the day with a movie.
Otherwise, take advantage of the location and explore the nearby streets under the cover of darkness.
Location: Once again you'll find yourself in the midst of Georgetown. That means the delights of Love Lane are close by; restaurants, bars etc. Little India and Kuan Yin Temple are also within easy reach.
This is one of the best hostels in Penang for
Compare prices and read reviews at: Booking.com | Hostelworld
What about cheapest hostels in Penang?
Of course, there are always cheap hostels.
We think, it's not worth it to go with the cheapest hostel out there.
Why?
The difference is usually 1-2€ ($1-2) per night, and a lot of amenities are not included. This can be breakfast or linen.
However, if you are traveling on a shoe-string budget and you wanna save every penny, there are ways to find the cheapest places in Penang.
Open Hostelworld with full list of budget places to stay in Penang
Order the listing by price
Simple as that.
Read: 15 hacks for booking hostels
Make sure you use then the other filters and rank per price.
Also keep a close eye on the ratings, especially the "extreme ratings". Meaning, the best and worst. These ratings can give great insight on what to expect.
Best Hostels in Penang for Solo Travellers?
What is seriously the best hostel in Penang for solo-travellers?
This one is easy; we stick by our #1 recommendation, House of Journey Penang.
For one thing, the location is spot on allowing for roaming on foot to all the top sights in Georgetown.
Furthermore, the rooms come with 6-12 beds to match how sociable you're feeling.
Hang out in the bar, or simply enjoy the free wifi from the comfort of your bed. It's ideal for all types of solo travellers, no doubt about it.
Compare prices and read reviews at: Hostelworld
Best Party Hostel Penang?
Alright party animals, we'd like to pat ourselves on the back for finding you the best party hostel Penang has to offer.
But don't take out word for it just yet! Let us show you why.
Where in Georgetown can you find a party hostel that offers:
Free drinks
Awesome cocktail deals
Beach outings
City heritage tours AND
A good night's rest?
At Tipsy Tiger Party Hostel, that's where.
And that's not all. There is a party every night at the onsite bar, free hot chocolate and a free buffet breakfast which includes pancakes. Yes please!
The hostel closes at 11:30pm leaving you with two choices; carry on the party at nearby bars, or head to bed for some beauty sleep.
Compare prices and read reviews at: Booking.com | Hostelworld
How to book?
We recommend using Booking.com or Hostelworld for your reservations.
Hostelworld is the most popular website when it comes to hostel bookings.
Read: step-by-step guide on how to book with Hostelworld
On both platforms your credit card is 100% protected and the booking 100% confirmed.
We included the handy links to each of the recommended hostel. Just click on the hostel name. The link will lead you to check prices and availability.
Here is the overview:
We recommend booking your hostel as early as possible!
All of Penang best hostels are popular; especially in high-season. To make sure you end up in those stylish hostels, secure your room or bed as soon as you have your travel dates fix.
Any Discounts?
Currently, we have no special hostel discounts in Penang. I know, it's a pity. You can subscribe to our newsletter to receive our newest hostel discounts always to your inbox.
You can find all our hostel discounts worldwide here.
All 3 Hostels put on a map + sights
Let us have a look on the map. Below we list all three best Penang hostels on a map.
Personally, we love to plan our trips with a map having all sights and potential hostels on it. We thought this map will help you with planning your trip too.
We also included the main tourist attractions you've to know in this list:
Kek Lok Si Temple
Penang Hill
Penang National Park
Leong San Tong Khoo Kongsi
Love Lane
Entopia by Penang Butterfly Farm
Penang Botanic Gardens
Flights to Penang?
We enjoy Omio.com and Kiwi.com to find cheap flights all over Penang.
This new website has super cool features like a so-called radius search. Just draw a circle over Asia and find the cheapest rates for the area.
Here is our review of Kiwi.
More guides
Alright, this is your answer to where to stay in Penang.
We did the leg work for you and bring you more hostel guides to destinations:
You can find all our new and updates articles for Best Hostels in here.
We also created a huge guide to hostels. Here we cover how to build lifetime friendships in hostels, the perfect packing list and more.
Over to you
Was this useful? Do you have any questions, doubts?
Then please please leave us a comment. This list of awesome Penang hostels should be as informative and useful as possible.
Your question will help me to understand what I have missed to mention.
Therefore, drop us a comment, we are keen to help you!
Last note: Our commitment

This is a genuine article to help you travel a bit smarter and find the best place on a budget! We ONLY recommend places we know you will enjoy, no matter what.
We will never recommend you any place we haven't evaluated or are not convinced by. We only share with you places we also recommend to our best friends and family!
Enjoy this fine hostel selection and all 5 Star Hostels.
– – –
pin it for later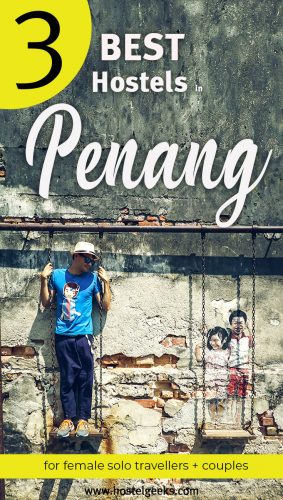 Your Smart Packing List
It is time to see what you should pack in your backpack or suitcase. Make sure you always pick a quality hostel, it totally reduces the things you need to pack. Here is our ultimate hostel packing list. It features 23 items you should really throw in your backpack.

The most important things to pack are: Read the full packing list here.