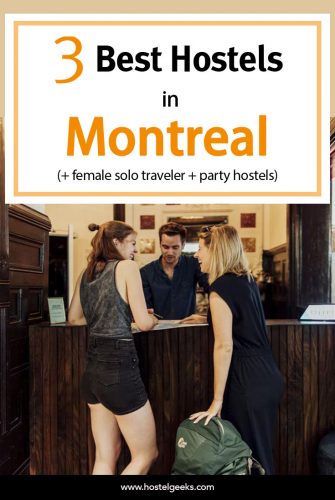 It's time to get excited about Canada as we're keen to show you the absolute best hostels in Montreal.
Keep reading if you're keen on experiencing a rooftop Jacuzzi and enjoy a good old game of pool. Frankly, you'll be missing out if you choose to stop here.
Your shortcut:

M Montreal Hostel – top pick for solo travellers

Auberge HI Montreal Hostel – great for groups
Auberge Bishop Downtown – one for backpackers
Psst! There happens to one an extra recommendation – a fabulous party hostel for the fun-loving travellers out there.
Forget Montreal hotels; this is an awesome guide to Montreal hostels – the only one you'll need.
This guide is perfect for YOU, when …
tired of bad and crappy hostels
want to avoid the "young party kids"
happy to spend 1-2€ for a better experience
For those exploring more of Canada, check out our guide to the 3 best hostels in Vancouver.
You can find all 5 Star Hostels here with Hostelgeeks and all guides to "Best Hostels In" here.
Quick Introduction to Montreal
Average price for a bed: Hostels in Montreal cost 11€ – 18€ per night for a bed in a dorm. A private room starts from 57€ up to 195€ per night. This is a rough average just to give you an idea.
Prices always depend on season and holidays. Please always check exact rates on Hostelworld.com or Booking.com.
Check-In and Check Out: The average check-in time is from 15:00 (3pm), while the Check Out time is before 11:00 (11am). Hostels usually offer luggage storage in case you arrive earlier or leave later. Make sure you check if luggage storage is free or if there is an extra cost.
Tourism Tax: Be aware that there is a 15% tax charge NOT included in the price of any of the hostels listed in this articles.

New to Hostels? Read our full hostel starter guide here. We especially recommend to read:
The 3 Best Hostels in Montreal
Let's jump right into the boutique hostels in Montreal.
We put all three accommodation on the map, you will find the map at the end of the article.
1. M Montreal Hostel
Ok seriously, if we can't convince you that M Montreal Hostel is the absolute BEST hostel in the city, we give up.
Frankly, we wouldn't stay anywhere else.
Don't take our word for it – have a look at the photos and read this epic list of inclusions:
On-site 'M bar' w/ daily activities
'M cafe' selling smoothies & coffee
Rooftop swimming spa ( x2 jacuzzi!)
Rooftop terrace
Wi-Fi throughout the property
Are you surprised then if we tell you this is also one of the highest rated hostels we've come across? Thats says a lot.
Work by day in the huge social areas and play by night – there's even a full-size pool table here.
With a capacity of 490 beds, we doubt you'll have trouble finding a room that suits you.
The dorm bunkbeds were made in Montreal and feature all the goodies such as a curtain, hangers, lights and outlet. You'll even get your own locker.
Dorms range from 4-14 beds, some of which are female only. It just depends on how sociable you are feeling.
This is also a wonderful choice for flashpacker couples.
Enjoy some space in the one bedroom apartment, or splash out on a studio with king size bed. Yes please!
The cherry on top? Breakfast is included and reception is open 24/7 so arrive any time.
M Montreal is surrounded by all of the best neighborhoods including Old Montreal and Festival District. Berr-UQAM station is just a few minutes away by foot.
This is one of the best hostels in Montreal for
Book M Montreal Hostel here
Compare prices and read reviews at: Booking.com | Hostelworld
2. Auberge HI Montreal Hostel
Auberge HI Montreal Hostel is the ideal choice for travelling groups as it can accommodate 231 guests over a range of modern rooms.
Having said that, because there is such a choice of rooms, we don't limit this option to only groups.
Choose between:
2-bed dorm
4-6 bed male/female only dorms
10-bed mixed dorm
En-suite twin room
En-suite double room
Budget private room
Family room
This hostel ticks all the boxes for comfort, cleanliness and great location. The staff obviously love their job as they maintain a warm welcome time after time.
Chill out in the social area that has comfy sofas and a pool table.
It's nice to see a kitchen and dining area that matches the size of the property – there won't be any standing on toes here!
By day explore the nearby main sights with a rental bike, and return to a cold beer at the on-site bar in the evening.
But before you do any of that enjoy the free continental breakfast served every morning.
To entice you even further, HI Montreal organises a bunch of cool activities including a games night and canal and Old Montreal walks.
This is one of the best hostels in Montreal for
Groups
Female solo travellers
Compare prices and read reviews at: Booking.com | Hostelworld
3. Auberge Bishop Downtown
Our third recommendation, Auberge Bishop Downtown, has been described as more like a B&B because of the super friendly staff that love to engage.
Stay here and you'll be in walking distance from downtown Montreal, minutes from the main attractions.
This is once again a big place, offering a selection of dorm rooms with 3-15 beds.
Yet there are no private rooms here.
Note: some bunks are stacked three high. Ask the hostel nicely in advance if you require a bottom.
A few other little perks include:
24/7 reception
Breakfast included
Fully equipped kitchen
Lounge area
From the wooden staircase to the cosy fireplaces, the 1800s architecture is sure to impress.
We're pretty sure it's the homely design that makes it so easy to meet people and get chatting at this hostel. Here's to making new friends!
This is one of the best hostels in Montreal for
Compare prices and read reviews at: Booking.com | Hostelworld
What about cheapest hostels in Montreal?
If you are traveling on a shoe-string budget and you wanna save every penny, there are ways to find the cheapest places in Montreal.
Open Hostelworld with full list of budget places to stay in Montreal
Order the listing by price
Simple as that.
Read: 15 hacks for booking hostels
Make sure you use then the other filters and rank per price.
Also keep a close eye on the ratings, especially the "extreme ratings". Meaning, the best and worst. These ratings can give great insight on what to expect.
Best Hostels in Montreal for Solo Travellers?
What is seriously the best hostel in Montreal for solo-travellers?
Without doubt the best hostel for solo travellers in Montreal is M Montreal Hostel.

To be honest, it's the best hostel full stop.
It's a big place with plenty of opportunity to socialise thanks to the on-site bar and cafe.
Don't forget about the two rooftop jacuzzis!
What's great is that the dorms range from 4-14 beds so you can always wind down and get some 'you time' in your room.
Compare prices and read reviews at: Booking.com | Hostelworld
Party Hostels in Montreal
Alexandrie Montreal doesn't have an on-site bar for two reasons:
It will be cheaper at the convenience store
They hit the town every night, anyway
On the contrary, there is a great common room full of up cycled furniture, and a spontaneous activity put forward every day.
The awesome nightlife of Montreal is right on the doorstep of Alexandrie, so it's impossible to miss out (unless you stay in).
End the night either in a no-frills dorm or the new one with its very own en-suite. Sleep well and dream of the free breakfast awaiting you.
Compare prices and read reviews at: Booking.com | Hostelworld
How to book?
We recommend using Booking.com or Hostelworld for your reservations.
Hostelworld is the most popular website when it comes to hostel bookings.
Read: step-by-step guide on how to book with Hostelworld
On both platforms your credit card is 100% protected and the booking 100% confirmed.
We included the handy links to each of the recommended hostel. Just click on the hostel name. The link will lead you to check prices and availability.
Here is the overview:
M Montreal Hostel: Booking.com | Hostelworld
Auberge HI Montreal Hostel: Booking.com | Hostelworld
Auberge Bishop Downtown: Booking.com | Hostelworld
We recommend booking your hostel as early as possible!
All of Montreal best hostels are popular; especially in high-season. To make sure you end up in those stylish hostels, secure your room or bed as soon as you have your travel dates fixed.
Any Discounts?
Currently, we have no special hostel discounts in Montreal. I know, it's a pity. You can subscribe to our newsletter to receive our newest hostel discounts always to your inbox.
You can find all our hostel discounts worldwide here.
All 3 Hostels put on a map + sights
Let us have a look on the map. Below we list all three best Montreal hostels on a map.
Personally, we love to plan our trips with a map having all sights and potential hostels on it. We though this map will help you planning your trip too.
We also included the main tourist attractions you've to know in this list:
Mount Royal
Notre-Dame Basilica of Montreal
The Montreal Museum of Fine Arts
Saint Joseph's Oratory of Mount Royal
La Ronde
Old Port of Montreal
There are a couple of cool ways to explore the city:
Flights to Montreal?
We enjoy Omio.com and Kiwi.com to find cheap flights all over Canada and USA including Toronto, Montreal, New York City and all the cool backpacker places.
This new website has super cool features like a so-called radius search. Just draw a circle over North America and find the cheapest rates for the area.
Here is our review of Kiwi.
More guides
Alright, this is your answer to where to stay in Montreal.
We did the leg work for you and bring you more hostel guides to destinations:
You can find all our new and updates articles for Best Hostels in here.
We also created a huge guide to hostels. Here we cover how to build lifetime friendships in hostels, the perfect packing list and more.
Over to you
Was this useful? Do you have any questions, doubts?
Then please please leave us a comment. This list of awesome Montreal hostels should be as informative and useful as possible.
Your question will help me to understand what I have missed to mention.
Therefore, drop us a comment, we are keen to help you!
Last note: Our commitment

This is a genuine article to help you travel a bit smarter and find the best place on a budget! We ONLY recommend places we know you will enjoy, no matter what.
We will never recommend you any place we haven't evaluated or are not convinced by. We only share with you places we also recommend to our best friends and family!
Enjoy this fine hostel selection and all 5 Star Hostels.
 – – –
pin it for later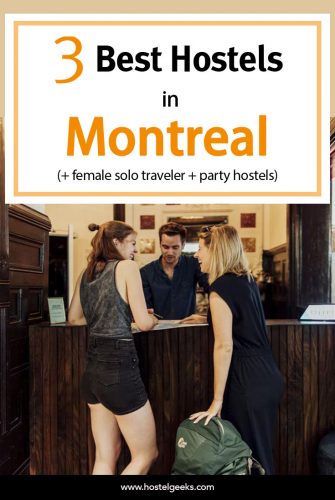 Your Smart Packing List
It is time to see what you should pack in your backpack or suitcase. Make sure you always pick a quality hostel, it totally reduces the things you need to pack. Here is our ultimate hostel packing list. It features 23 items you should really throw in your backpack.

The most important things to pack are: Read the full packing list here.