Cluj, Romania was celebrated not too long ago as the European Youth Capital of 2015.
And if there's one place you should stay to get in touch with the city's unique vibe, then it's the Spot Cosy Hostel.
Featuring bright colors, wooden floors, and art painted on the walls from local artists, this cheery hostel focuses on creating great vibes amongst its guests.
We took a close look at this unique hostel which opened its doors back in 2014, and we love what we found.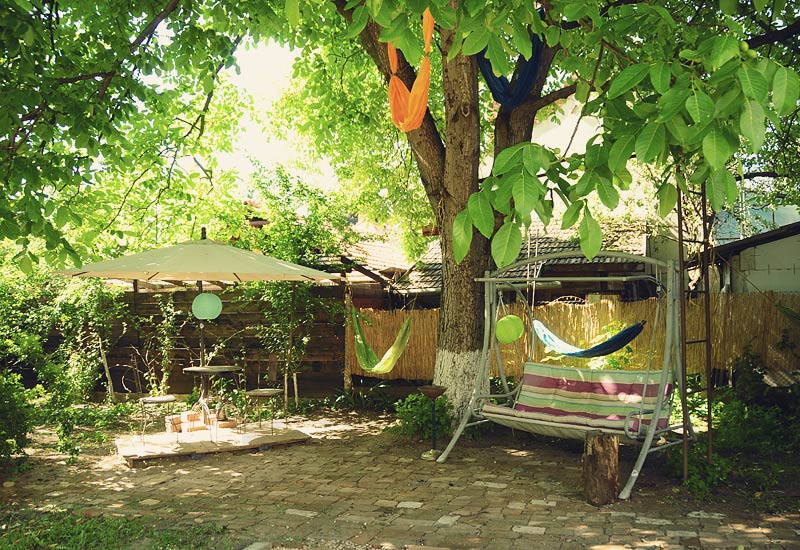 Hostelgeeks is your shortcut to the world's best hostels, the 5 Star Hostels.
Looking for a few more near Cluj? In Timisoara you can enjoy the cool backpacker place Hostel Costel, and in Budapest there's the famous Maverick City Lodge.
The Spot Cosy Hostel is the best hostel in Cluj
Let's have a look why the Spot Cosy Hostel is your new home in Cluj.
This place comes with garden, good vibes and a handmade design.
Seriously, all the design items you see, are handmade – by the owners and friends.
1. Easy Being Green and Sustainable
It couldn't be easier to stay green at this hostel.
Everything in and around the hostel has been handmade by local artists and the owners, who live on the grounds of the hostel themselves.
"Everything" includes the furniture, the barbecue fireplace in the garden, and the benches outside.
They also plant their own vegetables in a small garden, which is lit using solar panel lamps.
They grow all kinds of good stuff, from nuts to fruits to avocados.
The owners always try to reduce their use of any polluting products.
And their love for all thing natural extends to the animal kingdom, too.
There are two dogs and two cats living alongside the owners in the hostel.
But this furry foursome don't fight like cats and dogs at all; instead, they're best friends.
2. Handmade Eclectic Design Elements
The idea behind the design at The Spot is that it's more than just a hostel – it's a home.
The homey vibe was created by local artists and the owners, who used their own hands to make their ideas become reality.
Don't worry – they have great taste and some pretty handy DIY skills.
Each room has its own theme, and the mix of colorful paintings on the walls and the wooden floors give the hostel a cool but laid-back feel.
They've re-used 1940s newspapers to decorate the chairs, and they're not the only things that have found a new home and function here.
Upcycling is big in the cosy hostel, just as it is in the city of Cluj itself.
Read: +105 design hostels around the world
3. Home Away From Home – more than a slogan
It's called the Spot Cosy Hostel for a reason – and that's because you really do feel like you're in somebody's very comfy, cosy house here.
The atmosphere is super warm and friendly, and it'll take you just minutes to feel like you're staying at a friends house – partly because they have some very enticing hammocks strung up all around the hostel.
That's helped by the welcoming owners and the hostel's pets, too.
Plus, the hostel employees live right next to the hostel, which only adds to the feeling.
Everybody becomes one big, happy family here.
Relax in one of the hammocks, join in a garden barbecue, cook up a meal with the employees in the kitchen, fire up the X-Box with some fellow travelers, or simply get chatting – you'll feel right at home in no time.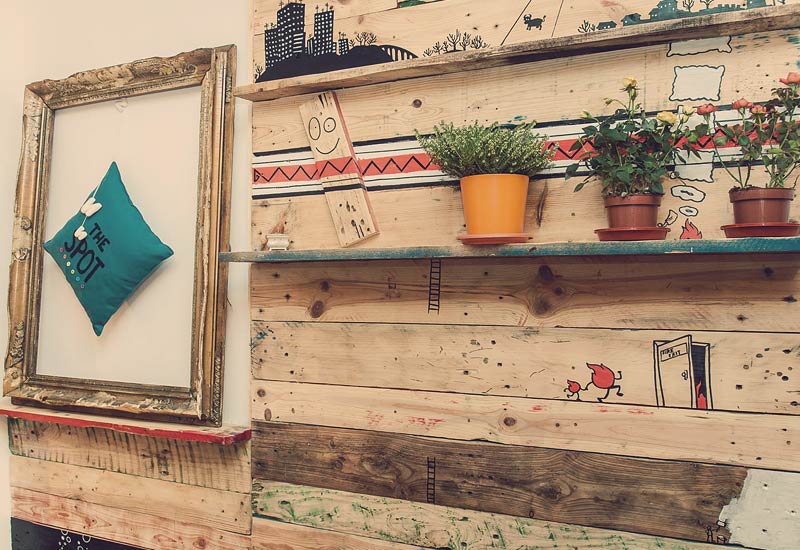 4. Good Times, Good Vibes
The owners like to say that they welcome guests into their home, not into a hostel.
With an attitude like that, it's almost impossible not to feel the good vibes soaking in.
One particular guest featured on their Facebook page liked the hostel so much that she stayed for 3 whole months!
Another guest forgot her cellphone in a taxi, so hostel staff called them back right away to help her get it back.
When she came back to the hostel, her phone was gift-wrapped and waiting on her bed.
You'll almost always find guests chilling in the relaxing backyard garden or enjoying the stylish living room.
Some even find themselves staying longer than they'd originally planned, as it's so easy to have a good time here.
5. Passionate People & Friends & Pets
It's pretty clear by now that one of the major factors that makes the Spot Cosy Hostel such a great place to stay is the people behind it.
Everyone who works here is really passionate about what they do, and the owners make sure that they've got staff who keep their guests happy and safe.
The people who work here are young and travel lots, so they love meeting people with the same passion for exploring the world.
They'll always try to give you the best help or information that they possibly can (that's part of the reason they get a perfect 100% rating on a major hostel review site).
As the staff are local, they know pretty much every inch of Cluj.
Ask them for suggestions for things to do and see, and they'll be happy to share their insider information.