The owners describe Bergamo Hostel in three words; urban, cozy and comfy, and we can see why.
It is the place to unwind in bright, open social spaces and enjoy a local experience thanks to the staff and their local connections.

Bergamo Hostel is described as urban as it is just a stone's throw from the beauty of Citta Alta (a hilltop medieval town), yet the hostel itself is surrounded by a green, beautiful and peaceful environment.
We created more handy guides for your Italy Backpacking trip.
Here you find the complete guide to the best hostels in Italy – with itinerary.
Ostello di Bergamo has not meet all the criteria to become 5 Star Hostel, but it is still a cool hostel to stay if you are in Bergamo.
Come with us as we take you on a journey through the hostel, to find out exactly why.

1. Recycling and energy saving plan
Ostello di Bergamo has done well to create a recycling program.
On a small scale they use ecological cleaning products, and they have an even cooler energy saving plan for the next few years.
For example, they will replace their old lights with LED to save on power.
Important and smart for a spacious hostel such as this!
The hostel itself is managed by local people. Of course, they know the area like the back of their hands.
Not only that, but they've made great effort to team up with local tour providers to ensure guests get the best possible experience.
As this is an upcoming destination, we think it is wonderful that Bergamo Hostel has tried hard to become an authentic gem of North-Italian culture.
2. Open, bright and colourful
The building was built in 1970 and is a local architectural 'masterpiece'.
It was in spring 2016 that the owners decided to renovate the common space.
They collaborated with Okam Studio, a young and award winner of architecture, and as a result, the common areas are open, bright and colourful.
The space is certainly big enough to socialize and relax and if you're keen; have a go and see if you can win a game of foosball.
When you enter the rooms, you will notice bright, modern décor and a continuing theme of blue and yellow.
There are of course bunk beds, but it is refreshing to see that Bergamo Hostel has tried a new approach and used single beds where possible.
Along with a private bathroom and the possibility of a balcony, we think the room design is super cool!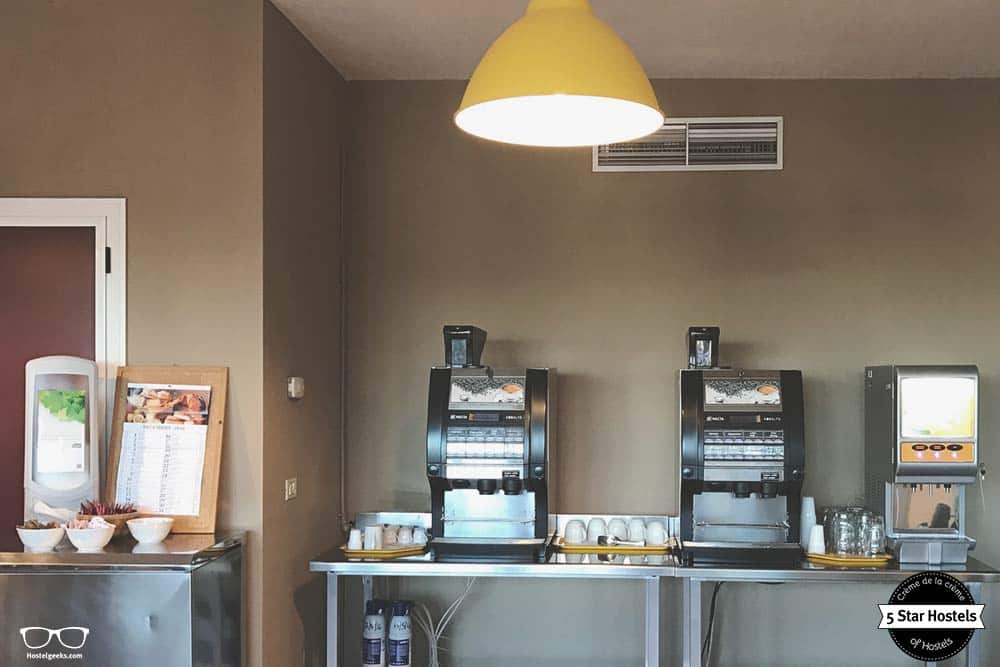 Stroll on over to the kitchen in time for brekky, and enjoy filling your bellies for free – it doesn't matter what type of room you book, it is open for all guests.
Choose between:
juices,
yogurt,
cereals,
bread and
hot and cold drinks
A good breakfast is a wonderful way to start the day!
3. Rooftop views over the city
What makes this urban, cozy, comfy hostel unique?
Well for one, you better check out the view of Bergamo upper town from here. They claim it is the best view in town and there is only one way to find out!
No, you don't need to splash out on a room with a balcony to see for yourself; just head to the awesome rooftop and private garden welcome for all paying guests to enjoy.
It's a great way to better orientate yourself and no doubt you will meet other cool travelers to mooch into the city with.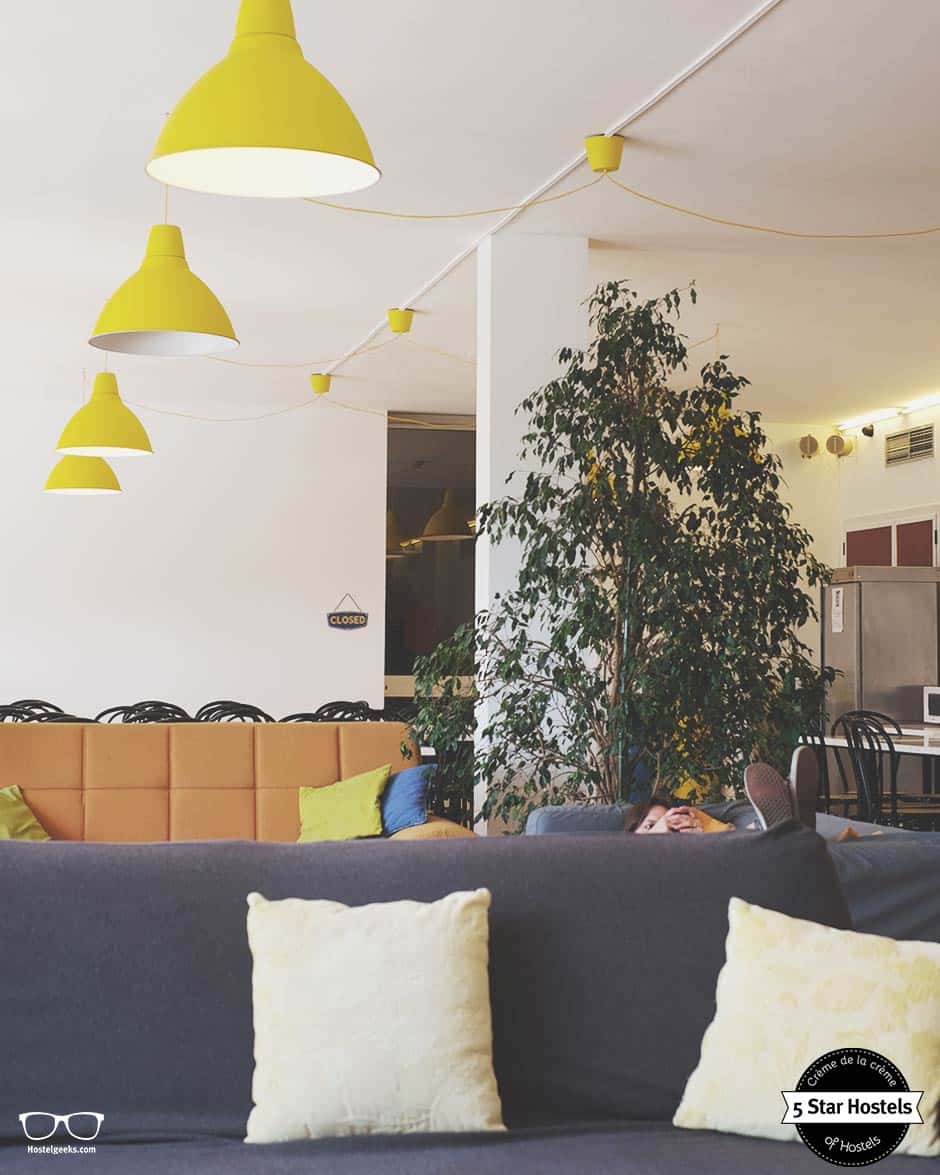 4. Cool vibes all around
For sure, Bergamo Hostel is neither a pub nor a café, but that doesn't mean it isn't social and full of cool vibes.
Check out the size of the communal area – there are many possibilities to meet like-minded travellers there. Don't forget; the common area is open until midnight so make the most of the space!
And don't just expect vibes inside the hostel, for Bergamo Hostel have teamed up with special and themed events in the city too.
If you happen to be in town in July, head on over to the Punk Rock Raduno music festival, and get a cheap(er) stay at this wonderful hostel.
Awesome rock music combined with a stay in a super-cool 5 star hostel, what more could you ask for?! Check out the Raduno website or contact the hostel directly to find out what deals are in store.
5. Helpful staff
Being welcomed by local people is always special, and can help you to settle in straight away.
Reviews say it all, and the staff at Bergamo Hostel rarely seem to disappoint.
Need help with figuring out what to do? Want to book a tour, or just need an excellent restaurant recommendation?
The staff are always around to help you!
Summary Bergamo hostel
So, is Bergamo near Milano in your plans? If so, Bergamo hostel is a good option to stay in.
Compare prices and read reviews at: Booking.com | Hostelworld
If you are traveling around Italy, here you have the best hostels in Italy.
And of course, if you wanna experience a 5 Star Hostel in North Italy, choose between:
former monastery with canal views in Venice, Combo Venezia
young hostel in the pasta lovers paradise, We Bologna
a homely space in Verona for Romeo and Juliet's of the world, The Hostello