Every traveler is welcome at Hostel Costel and there is no age-limit.
The huge garden at Hostel Costel and the numerous events including concerts and BBQs make Hostel Costel a social backpacker accommodation to enjoy life and your stay in Timisoara.
We are Hostelgeeks, your independent shortcut to the worlds best hostel, the 5 Star Hostels.
Timisoara is located close to Cluj with The Spot Cosy Hostel and Budapest with Maverick City Lodge.
It is a great city to stop by to experience a city off the tourist path with a young vibrant nightlife.
Another highlight in the area is Novi Sad, a true hidden gem.
It is also home to Varad Inn Hostel, a boutique hostel right at the footstep of the castle.
Hostel Costel in Timisoara is a 5 Star Hostel because …
Let's jump into the details, and see why this Hostel Costel deserves to be awarded with 5 Stars.
1. Sustainable and Eco-Friendly
Hostel Costel is locally managed by Spiri and his team.
They always try to support and interact with similar businesses in town like the local markets. The hostel has its own huge 500 m² garden that literally includes a fresh herb garden (all kinds of herbs, chili peppers, onion, tomatoes, salad, spinach, etc.).
Depending on the season you can also pick your own fruits right from the trees:
Cherries
plums
3 kinds of apples
apricots
two banana-palms all fresh
Amazing, right?!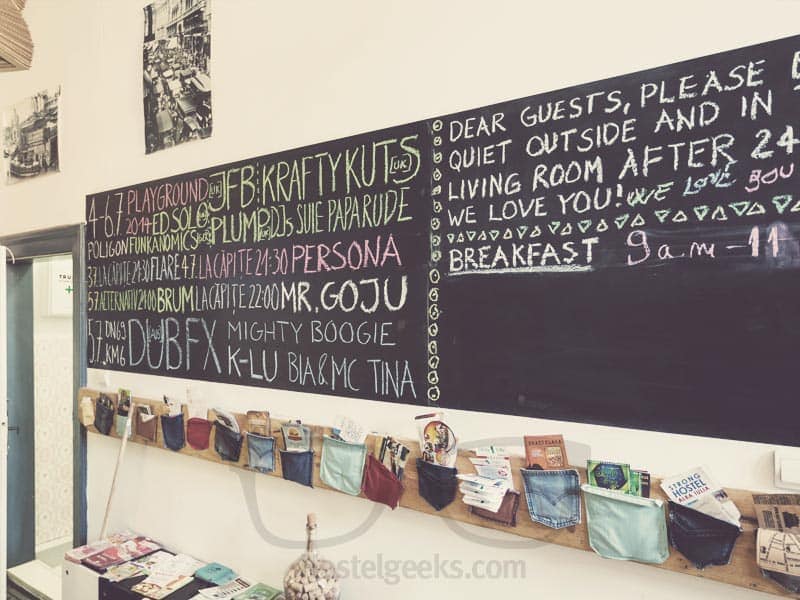 2. Eclectic design inside an epic Villa
The building itself more or less imposed the style onto Hostel Costel.
The house, more precisely the Villa, was built in 1919 – during Romania's most prosperous period.
So it came naturally that the team tries to use as much as possible of the old interior design (e.g. windows, doors, terracotta…), while combining it with modern elements and comfort.
You will find lamps made of plastic-cups, snowboards turned into cardboard shelves and all kinds of DIY ideas.
The omnipresent euro pallets are present in the terrace as furniture. All the friends of the Hostel Costel team contributed with ideas so it ended up in a nice eclectic design and atmosphere.
You can find more 13 creative hostel design ideas here.
3. Unique mixture
Where else can you relax in a garden in a villa, listen to a concert by a local band, and connect with people from all over the world?
Hostel Costel is a place which instantly becomes a home.
This unique mixture is the reason why traveler fall in love with Hostel Costel.
The eclectic design as mentioned above in combination with this impressive villa, kept with its charm, and last but not least the warming, welcoming staff – this is what makes Hostel Costel so special.
A great 5 Star Hostel to enjoy your time in Timisoara!
4. Chill-Out in Summer, Concerts in Winter
Everybody is welcome, and is not by coincidence the Hostel Costel receives always superb ratings when it comes to the social atmosphere!
There is no age limit or exclusions.
As long as you are young-hearted, sociable, fun and have common sense, then you'll fall in love with Hostel Costel!
The kitchen and the chill-out room are the heart of the house and you can stay there all night long. When the doors are closed, the people who are sleeping there won't be disturbed.
Here you can learn more about all the different hostel room types.
The terrace and outdoors are pretty much the best place in town during summer.
Chill vibes, lots of grass, and trees…the hammock, BB place, "pool area", music – perfect for relaxation.
In winter Hostel Costel opens the door between the living room and its biggest dorm.
This way they create a huge room which they use for concerts.
5. The staff, the soul of the hostel
The staff is the heart and soul of the hostel. In fact, it is one of the criteria of becoming a 5 Star Hostel.
Spiri and his team enjoy spending time with their guests.
They'll sit down for a drink with you and give you fantastic local recommendations for Timisoara.
This is indeed an important key for a 5 Star Hostel!
"The staff is the link between the tourists, the city and the hostel. Otherwise it's pretty much just a goddamn good looking hostel without a soul",

says Spiri.
For Spiri it's very important for the staff enjoy the job, so he tries to give them enough flexibility to have fun at work.