The Bed And Be Hostel in Córdoba is a charming, comfortable and easy-going hostel, right in the heart of Córdoba, Spain. Bed and Be is located in a historic building and the special easy-going nostalgic flair reflects the town's ambient vibes. The kitchen is at the very top of the building, where you can get your breakfast included with your stay.
The infobox on Bed and Be Hostel
How to book Bed and Be Hostel?

You just found our #1 recommendation for best hostels in Córdoba, Spain. Genuinely, Bed and Be Hostel is the accommodation we recommend to our friends, family, and to you! You will like it!

Good to know: For many travelers Hostelworld is the #1 platform to book hostels. It is a trusted and safe reservation platform.

Compare the best prices at

Planning to stay at Bed and Be Hostel? Please use the links provided above.

They are completely free for you and we receive a small percentage from your reservation. This is at NO EXTRA COSTS for you!

This way you support Hostelgeeks and we will maintain this free service for you.

Hostel Location Advantage

The hostel is located right in the city center, 10 minutes from the train station and 10 minutes to the river and La Mesquita. This makes the perfect location to explore Córdoba from here. Bed And Be is directly located in the main shopping mile of the city, so if you feel like shopping (and Spain is quite famous for that), go ahead! From the roof top terrace you have a beautiful view over the roofs of the city.

How to get to Bed And Be Hostel?

The hostel is quite simple to find. When arriving via train or bus to Córdoba it takes you around 10 minutes. Leave the station to the left towards the only park around, next to the street "Av. de los Mozárabes". Turn left in the street "Avinguda Ronda de los Tejares". Go straight ahead until the main shopping street called "Calle de José Cruz Conde" and turn right. Hostel Bed and Be is the house on the left side with the house number 22.

Bed and Be Hostel, Calle de José Cruz Conde 22, 14001 Córdoba, Spain

All room types at Bed and Be Hostel

Private Room Types available: Double Rooms, Twin Room

Shared Room Types available: 4-Bed Dorm, 8-Bed Dorm

Not sure what room to pick? Our guides will help you to decide:

Guide to hostels

We care about you and your hostel experience. Therefore, we created the ultimate guide to hostels, covering all topics around hosteling.
Hop out onto the rooftop terrace and have your cereal or bread while overlooking Córdoba's majestic skyline.
Last but not least, this 5 Star Hostel organizes several awesome events on its rooftop terrace.
Eat some sushi made by the most famous sushi-chef in town, dance to some music by local bands, and just Be yourself at Bed And Be Hostel in Córdoba.
We at Hostelgeeks collect for you the finest and coolest Hostels in the world: The 5 Star Hostels! Granada is around the corner of Córdoba, and an absolutely breathtaking destination.
We've also collected 5 local things to do in Cordoba just for you.
You can find more exquisite hostels in Spain:
Here's our guide to the best hostels in Spain, including itinerary and hidden gems.
Before we start, pack smart…
Remember to pack accordingly for staying in a hostel – yet, do not overpack.
Here's our full packing list, including Noise-Cancelling ear plugs and your padlocks.
Bed and Be in Córdoba in Review
Let us introduce you to Bed and Be.
We are big fans of the whole concept of the charming Boutique Hostel. It fits with the criteria of a 5 Star Hostel.
Therefore, join us on our walk up the stairs, from the reception to the roof top terrace of Bed and Be, the boutique hostel.
Should we get started?
1. Sustainable & Eco-Friendly
Managed by your friendly local host José, Bed and Be cares about sustainability.
Bed and Be Hostel's decorations are recycled and upcycled, and you can discover different modern and vintage design elements all over the hostel.
José also offers a bike rental service directly at the hostel to discover the city in a sustainable way.
No gas needed, plus you can discover everything in and around Cordoba by bike in no time!
Have a look at the upcycled furniture at the roof top terrace and lounge.
Check out the many old school decorations like the old typewriters (they still work), and the radio, just to name a few.
2. Modern Boutique with Vintage Twist
The decoration combines vintage design elements with modern pieces of art.
The combination of unique interior design turns this accommodation into a cozy Boutique Hostel.
We love how bright and inviting the whole hostel is.
The best part: You will always find something new!
The interior design is a beautiful reflection of the city's lifestyle, especially the roof top terrace!
Just check out all the plants and hammocks on the roof top terrace – in typical Cordoba style and decoration.
We love to hang out here, soak in the atmosphere, take photos from the views, and last but not least join many of the events taking place here.
We mentioned the small details you will find all over the hostel.
Have a look at the pots, some of them have some written message on them. In the living room next to the kitchen you will listen to music coming out of an old school radio. Isn't that cool?!
Important note: Please don't confuse Onas Hostel&Suites with Bed and Be.
Both are 5 Star Hostels, located in Córdoba. However, Onas Hostel is located in Córdoba, Argentina, while Bed and Be is in South Spain, Europe.
3. Be Awesome & Be Unique!
"Bed And Be Hostel" has an amazing concept:
Simply "be".
Rent a bike, be yourself, take part of several hostel events, be at home, be social, be welcoming, be charming, you name it.
The whole concept makes this hostel in Cordoba outstanding in its unique way – truly a unique 5 Star Hostel!
You will appreciate it all when you have your cold beer on the rooftop terrace!
Indeed, it is all about "Being" here.
This charming hostel engages people to be part of the whole hostel experience, and to be part of the cultural experience in Córdoba!
4. Best atmosphere to meet people
As mentioned, the engaging part at Bed And Be to be social is very appreciated.
The hostel has an easy-going and cozy atmosphere.
No rush, no hassle, no prisa ("hurry" in Spanish)!
You'll feel right at home with lots of buddies and friends.
At the very top of the building you'll find the kitchen and a fridge full of beer.
Grab a cold one and just drop money in the open box to pay for – the honesty box adds another great value to the hostel.
Feels good to be trusted, right?! You'll appreciate every second staying in an environment of trust.
To add a special vibe to the hostels atmosphere, the team organizes several different events at the hostels roof top terrace.
Those events can be some Sushi-preparing by a local chef, small concerts by local and international bands, and more.
When we were there we enjoyed the momentum of not being obligated but engaged.
It feels very inviting, and when we were heading back to the hostel in the evening, we were already excited to hang out at the terrace.
5. Great Staff and 100% local tips
Whatever you want to know, whatever you need: José is your friendly host and knows Córdoba like the back of his hand!
He can recommend the coolest places around his town for you, and you can be sure: Those tips are 100% local!
Nowadays there are more people working at Bed And Be.
Nevertheless, the quality of the staff stays high!
The staff is passionate about the hostel and will do everything to make you feel like home.
No wonder the Bed And Be receives always a high rating for their friendliness!
Promo Code for Bed and Be Hostel
Fancy a promo code for Bed and Be Hostel? Who doesn't?!
Now, there is no easy way to say this: Currently we do not have a valid discount for Bed and Be Hostel. We are working on getting more promotional codes for Bed and Be Hostel in Córdoba, Spain and all the other top hostels we reviewed for you.
How about we send you a quick email once we got a new promo code? Subscribe here to our newsletter. It it the quickest way to get the news straight to your inbox.
You can find all our current valid hostel promo codes here
How to book Bed and Be Hostel?
You were looking for the absolute BEST hostels in Córdoba, Spain? You just found it! Bed and Be Hostel is the top place we recommend to our friends, family and to you!
Good to know: For many travelers Hostelworld is the #1 platform to book hostels. It is a trusted and safe reservation platform.
Compare all rates at
Any questions on booking your hostels? Check out our Guide to Hostels. Also, here you can find all 5 Star Hostels with Hostelgeeks.
Your Smart Packing List
It is time to see what you should pack in your backpack or suitcase. Make sure you always pick a quality hostel, it totally reduces the things you need to pack. Here is our ultimate hostel packing list. It features 23 items you should really throw in your backpack.

The most important things to pack are: Read the full packing list here.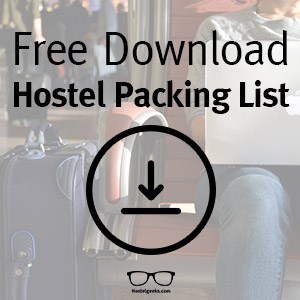 Update August, 2020: How to find flight deals to Córdoba, Spain?
Still looking for cheap flights to Córdoba, Spain? We LOVE Kiwi.com.
You can search here with a so-called "radius search". It is incredible easy to find sweet flight deals to Córdoba, Spain and area.
Read our full review of Kiwi.com here